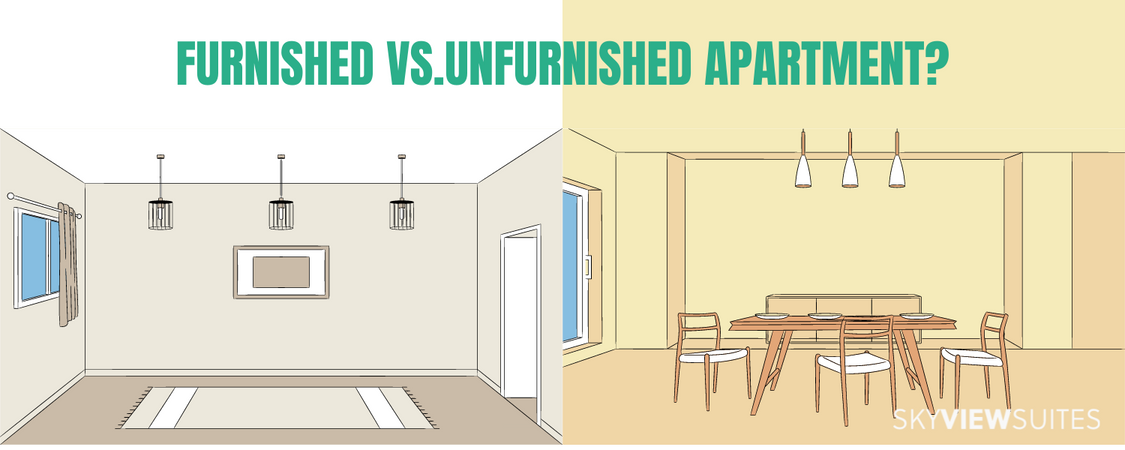 Depending on what you're looking for in your future home-sweet-home, you might want to consider the differences between furnished vs. unfurnished apartments.
What are the pros and cons of renting a furnished apartment against an unfurnished apartment in Toronto?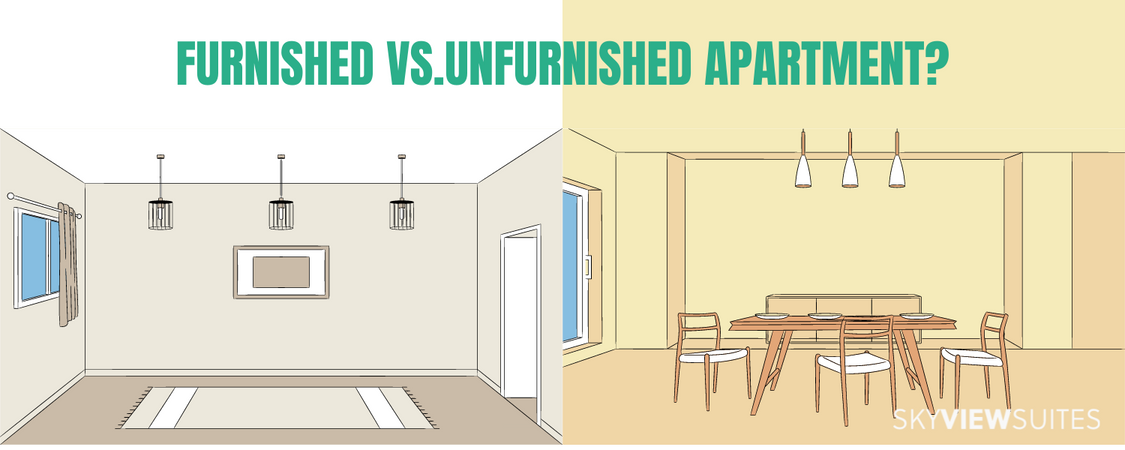 Furnished vs. Unfurnished Apartment: Pros and Cons
What is a furnished apartment?
Furnished apartments come in a selection of styles which can be broken down as either (1) fully-furnished or (2) semi-furnished.
What is a fully-furnished apartment?
Fully-furnished Apartment:
All-inclusive furnished apartments include all the basic furnishings you need from a bed, sofa, appliances, cutlery, and even decor. These detailed apartments may even have a maid that cleans the place and washes the sheets and towels regularly. Interior designers or stagers are frequently hired to decide on the furnishings, artwork, and another décor for furnished rentals.
What is a semi-furnished apartment?
Semi-furnished Apartment:
Ranging from barely furnished to almost fully-furnished, semi-furnished apartments usually include the main bulky furnishings you need such as a bed, sofa, dresser, table & chairs, and a few other small furniture items. The expectation in a semi-furnished apartment is to have some elements of furnishings that include the bare minimum of what is required.
What are the pros/cons of a furnished apartment?
Pros:

Cons:

Move In Sooner: Get settled in quicker since all the basic necessities are already there.

Move In Hassle-Free. No need to shop, move, or build any furniture.

Shorter Lease Time may be Available. Great for those that are on-the-move (such as students/traveling professionals) and not looking to settle down somewhere for too long.

Higher rent & security deposit. There is a trade-off for saving you all the hassle of shopping, moving, and building furniture.

Higher liability. Any furniture damages are liable to the renter.

No control over furnishing. Maybe the furniture might not be your style. The furniture could even potentially be used/damaged furniture.
What is an unfurnished apartment?
Unfurnished apartments do not consist of furnishings such as beds, couches or anything else. They might include a fridge, stove, or dishwasher and perhaps a washer and dryer combination. However, some may not have any appliances at all.
What are the pros/cons of an unfurnished apartment?
Pros:

Cons:

Lower rent & security deposit. Definitely the more budget friendly option.

Freedom to Furnish/Decorate. If you are looking to settle-down for a while, then you might want to choose furniture that fits your style and aesthetic.

Purchase, Move, and Build your Furniture. Where you save on rent, you will be allocating funds towards furniture expenses. Furniture shopping can be quite tedious, complicated and expensive. As well as, all your furniture needs to be moved in & moved out if you decide to relocate.

Most lease periods are a minimum of 1-year. You will be tied-down to this period of time, which will limit your mobility and freedom to travel.
What is the cost of moving into a Furnished vs. Unfurnished Apartment in Toronto?
What to expect your costs to look like when you first move into your new furnished or unfurnished rental in Toronto.
Rent: The cost of the apartment itself will be the largest cost of all. Most commonly, rent for a furnished apartment will start higher than an unfurnished apartment to account for the owner's expense for the furnishings. The average rent for a furnished 1-bedroom apartment in each capital city of Canada's provinces as of April 2022 follow:

Toronto, Ontario $3,990

Yukon, Whitehorse $4,530

Yellowknife, Northwest Territories $3,300

Iqaluit, Nunavut $4,500

British Columvia, Victoria $3,300

Alberta, Edmonton $3,510

Regina, Saskatchewan $3,300

Manitoba, Winnipeg $3,600

Quebec, Quebec City $3,570

New Brunswick, Fredericton $2,400

Prince Edward Island, Charlottetown $2,250

Nova Scotia, Halifax $3,210
Deposit: Every apartment will also require a safety deposit which is alternatively last month's rent for the owner's insurance, in case you want to end your lease early. Furnished apartments usually require a damage deposit starting at $250 in case of any damages occurred to the owner's furnishings.
Key Deposit: A key deposit is required in exchange for your safe handling of your keys until they are returned to the owner. Key deposits start at $50, but average at $250 for hot spots such as downtown Toronto.
Renter's Insurance: Similar to homeowner's insurance, renter's or tenant insurance is required and provides some protection and benefits to renters. Insurance averages around $250-300 in Ontario.
Main Furniture: The baseline, big & bulky furniture pieces that every home needs. A sofa/couch*, whether you're looking at a loveseat (2-seater), 3-seater, or sofa bed, will cost upwards from $400. You will also need a bed & mattress which are usually sold separately. A full bed frame and foam mattress starts at $150 each, which would be $300 total. For dining, you will need a table and a set of chairs. For a dining table that seats up to four, a set can start from $130.
Appliances: A TV has become an essential to every home since they were invented in the late 1920s. Nowadays, flat-screen TVs have become quite affordable starting at $280. Some unfurnished apartments will include the big appliances, but others might not, where you will be required to purchase a fridge and stove/oven. A fridge will start at $999 and an electric stove top/oven will start at $899.
Other Furniture & Appliances: Apart from the bare bones of what you need in your apartment, you might want to include some additional furniture & appliances to make your home more homey. In your living room, you may want to add a bookshelf or coffee table, which start at $40 each. If you're doing any desk work from home, you might want to purchase a work desk & chair, which would cost upwards from $200. Lastly, in this age of convenience, you might not want to cook some nights, and have a handy-dandy microwave to heat up a meal, which would start at $120.
Decor: Lastly, and completely optional, you might want to add some decor to liven up your home. This might include paintings, art, or mirrors which start anywhere from $5 to hundreds of dollars.
In total, you should be expecting the cost of a furnished apartment to start at about $4,790, and the cost of an unfurnished apartment to start at about $6,535.
Interested in learning more about furnished apartments? You can check out "What Furnishings to Expect in a Furnished Rental?" or "What to look for in a furnished apartment."