Corporate housing Toronto has been seeing a lot more guests than hotels lately. This could have something to do with rental agreements in each case. If you compare everything you get when staying at a hotel to a furnished rental, you soon realize you're missing out at hotels.
Toronto furnished condos are presented in an array of types. Whether you are contemplating visiting or must relocate for work, Toronto accommodations can be made for you.
Cityplace West is where this particular rental is offered; it's positioned in one of the most popular places downtown. People are pulled into this neighborhood primarily, since it's only a few steps to main attractions. Actually, in 5 minutes of walking you'll land on the lake, a leisurely 10 minute stroll to Toronto's financial district and the Rogers Centre.
This one bedroom and den furnished condo has astounding views and contemporary decor; it's spacious and cozy simultaneously. The unsurpassed aspects of this one bedroom rental include a private den, open concept layout and a balcony. Living in this Toronto corporate apartment works, because there's room-the living room has a relaxing leather couch and ottoman. The flat screen digital TV sits on handy furniture which stands on the hardwood floors.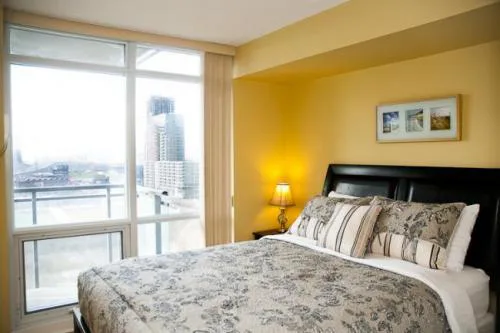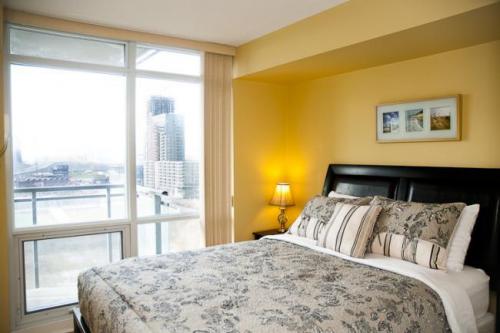 You will find a queen sized bed inside the bright and sunny bedroom. Within the kitchen there are brand new appliances, granite countertops and custom bamboo cabinetry. Everything is fully serviceable; that includes having the tools you need if you feel like cooking Mediterranean cuisine. Beats the plastic cups at hotels and ordering room service every night, and surly saves coin alright. A dinner party doesn't seem too far fetched even if you are away, because there's room for that too. Four chairs sit on a contemporary table just behind the island.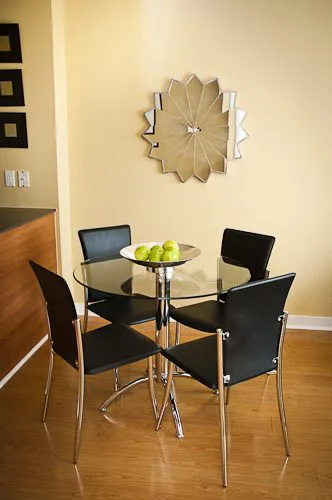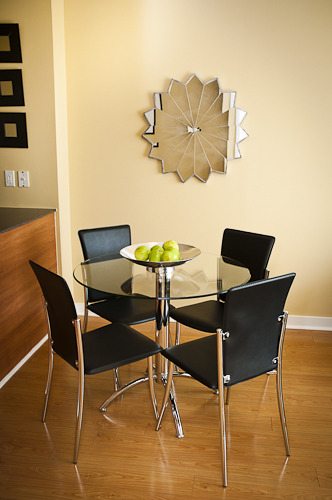 Getting work done: check, you have a den for that, an enclosed area where distractions stand no chance. Free internet wireless is also provided for you during your stay; didn't you have to pay last time you stayed at a hotel? The washroom is sanitary and modern, and since it's a Toronto serviced apartment, your towels and sheets get cleaned regularly. Furthermore, you get your own en-suite washer and dryer to keep your clothes fresh.
In addition, access to the building amenities is included; there are business facilities, an outdoor pool, a fitness center, party room. Not only that, but there is round the clock concierge, for your security. It's also nice to go up to the rooftop garden where to clear your thoughts. Grilling can be done in the BBQ area, and for more heat there's a sauna and spa.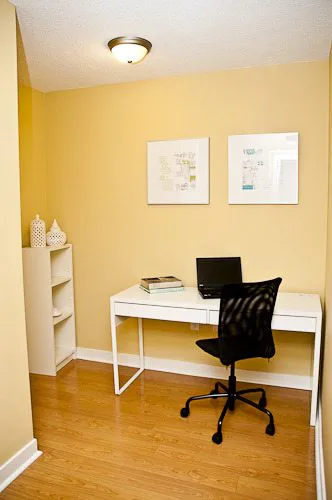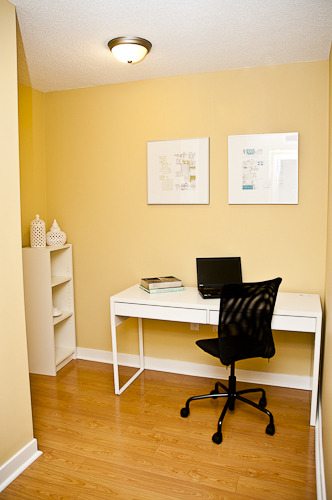 11 Brunel Condos climbs 49 stories high and 604 suites collectively; located just West of Spadina, and North of the Gardiner Expressway. For more information about this listing you can visit our page about Cityplace West B
*SkyViewSuites present a cost-effective alternative to hotels with the privacy and luxury of a residential condominium. What's most exciting is our all-inclusive pricing policy; that's right; there are no surprises or hidden costs upon checkout. Our fully furnished apartment rentals are the perfect blend of residential living and state-of-the-art amenities similar to 4 or 5 star hotels.