Ah, nothing like looking out at a lake view from your private one bedroom unit. This is what Toronto corporate housing provides you, along with a den. Remember this next time you're away on business and need Toronto accommodations.
One of the highlights of this exquisitely furnished one bedroom and den suite is the 9″ ceilings along with the crown moulding. The flooring has the look of hardwood, but practicality of laminate. A galley kitchen with sparkling granite countertops, glass backsplash, custom cabinets and stainless steel appliances is yours for the duration of your stay. All the culinary tools you need to whip up something to eat are at your disposal. Plates, pans, pots, you name it, you got it.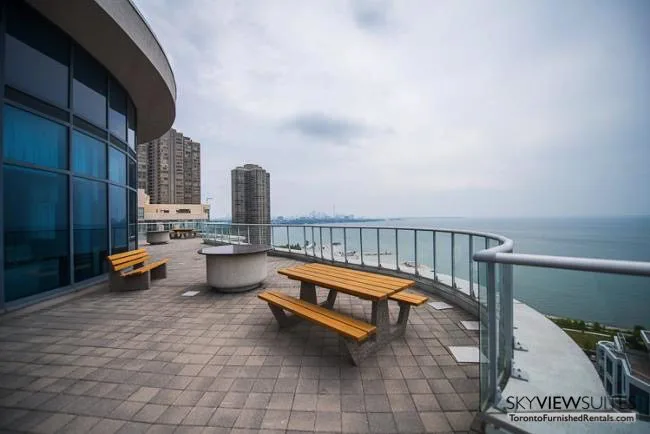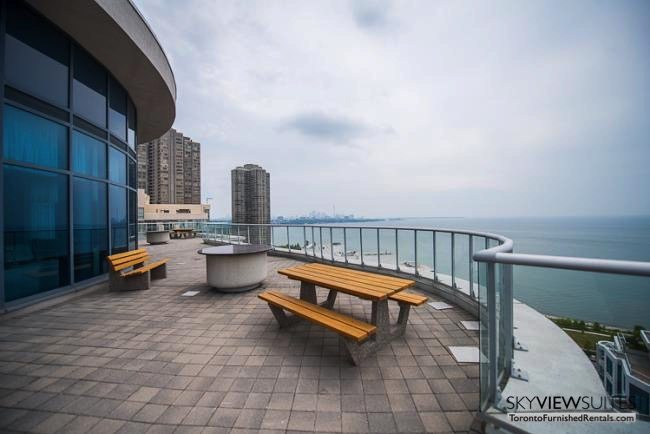 Just outside the kitchen is the bright and open living room which contains up to date furniture. The chocolate brown leather couch is comfortable enough to fall asleep on while watching the flat screen TV. On the left of that is the dining table which seat 2-4, under it is a space to store wines.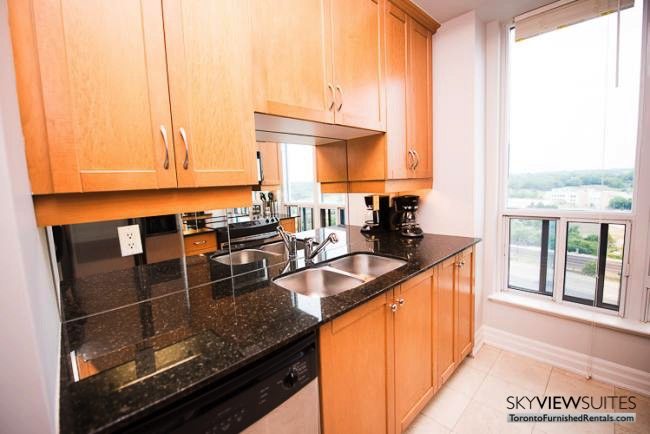 In regards to the master bedroom, there is a stylishly fitted queen sized bed and drapes that reduce light. There is direct access to the washroom which happens to be contemporary and clean since it is a Toronto serviced apartment. There is a corner den which absorbs so much sunlight through the windows throughout the day that it becomes ideal to work in.  Finally, a personal balcony can be used to catch more lake views, or some fresh Ontario air.
This breathtaking one bedroom plus den unit is built inside the wonderful Waterford Towers which is a luxury condo development consisting of three detached towers positioned on the coast of the Etobicoke waterfront. Direct access to the Gardiner Expressway, a short 10 minute drive from downtown Toronto is what you will find in this condominium at the Palace Pier tower.
The edifice itself boasts an elegantly designed lobby, and has an architecturally detailed precast glass exterior and a rooftop terrace. Now, there is a third place to take in the sights of the lake. Extensive exterior landscaping has taken place to include formal gardens and a unique water feature. What a superb place to socialize with neighbors, family or friends.
Of course there are perks when business people choose to stay in Toronto furnished suites, like free wireless internet and cable TV. Not to mention the bi-weekly cleaning service that refreshes sheets and towels. Besides that, there is a fitness facility which can be taken advantage of, a swimming pool perfect for laps and a hot sauna too. Executives who come with a car? No worries, there's free parking.
Ultimately, it is the lake that lands the deal; no one can deny its magnificence. Maybe the appeal is also in the marvelous matching of the inside. The decor is soothing and sexy at the same time, not cluttered or cramped.
For more information about this furnished apartment in Toronto, click here: Furnished Rentals 
*SkyViewSuites present a cost-effective alternative to hotels with the privacy and luxury of a residential condominium. What's most exciting is our all-inclusive pricing policy; that's right; there are no surprises or hidden costs upon checkout. Our fully furnished apartment rentals are the perfect blend of residential living and state-of-the-art amenities similar to 4 or 5 star hotels.