/
This 2 bedroom and 2 bathroom suite is a great option for those looking for a beautifully furnished apartment in Toronto's downtown core. This spacious two bedroom apartment features a great location, stylish furnishings, as well as down-home comfort.
From the front entrance of the suite, guests are led down the front hallway, which features light hardwood flooring, to the master bedroom. In the master bedroom is a Queen size bed, large closet, side tables, and a wall-mounted personal flat screen television. The bathroom, which has locking doors to both the bedroom and the front hall, features beautiful tiling. All linens (including bedding, sheets, pillows, and towels) come complimentary.
The kitchen, dining area, and living room all share the same expansive space. The kitchen is fully furnished with large appliances, small appliances, flatware, dishware, glassware, and pots and pans. The granite large granite countertop allows guests for plenty of space to cook their own meals during their stay.
A table with seating for four is in the dining area, which also features an entrance to this furnished apartment's private balcony patio. Throughout the suite, tasteful art is hung on the halls. The living room features a rug, comfy sofa and a large flat screen television.
Request this suite
Walk Score
Floor plan
How to Book
Request this suite
Request this suite
[contact-form-7 404 "Not Found"]
Walk In Score
Floor plan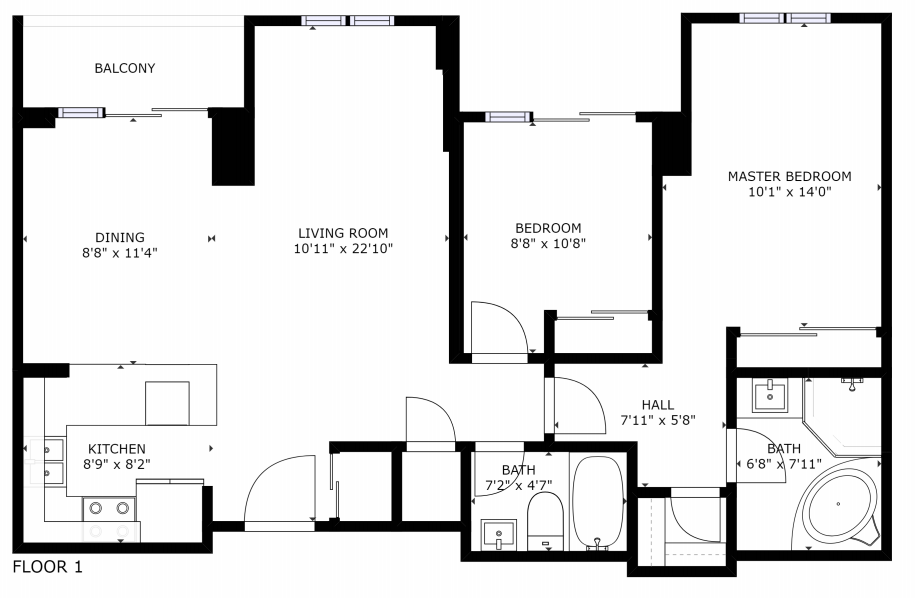 How to Book