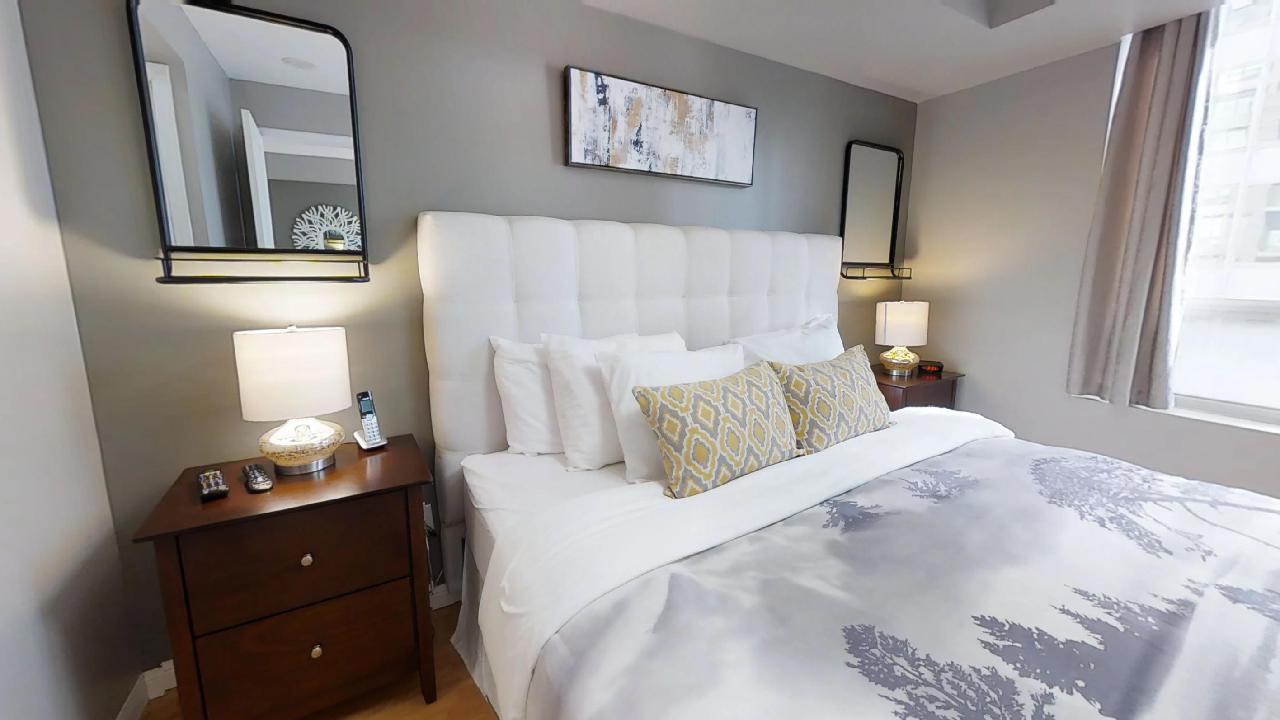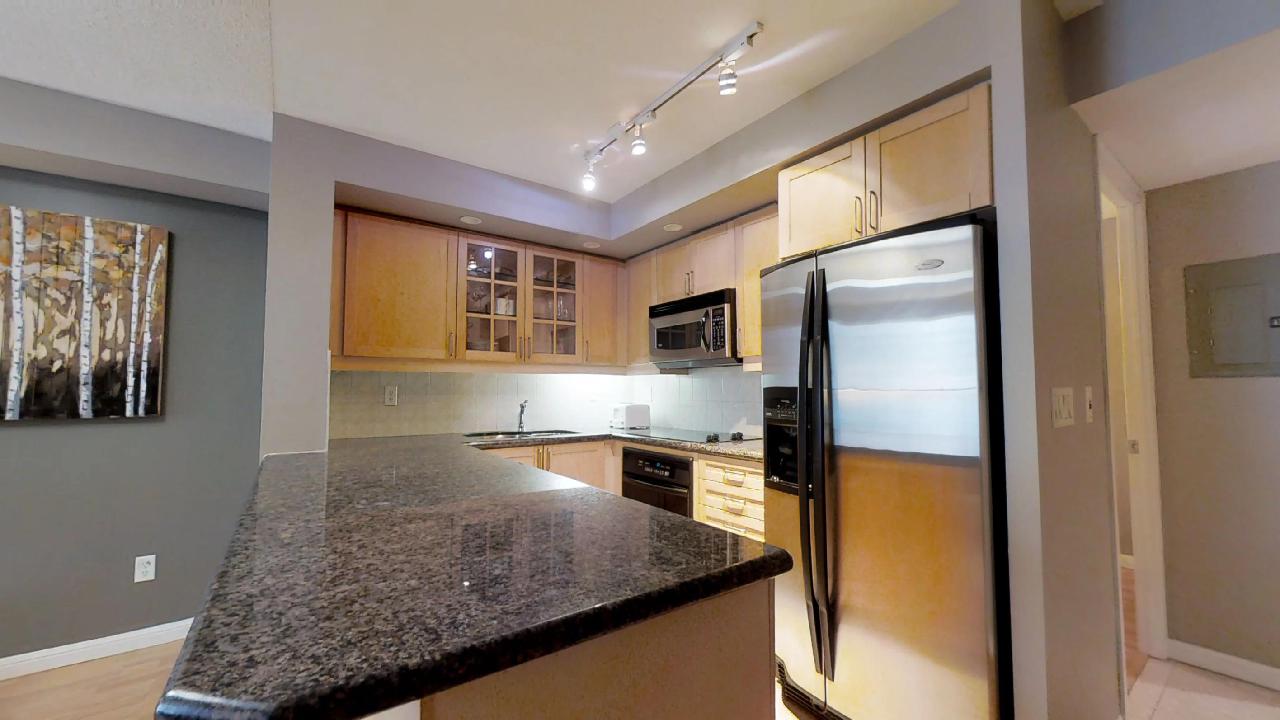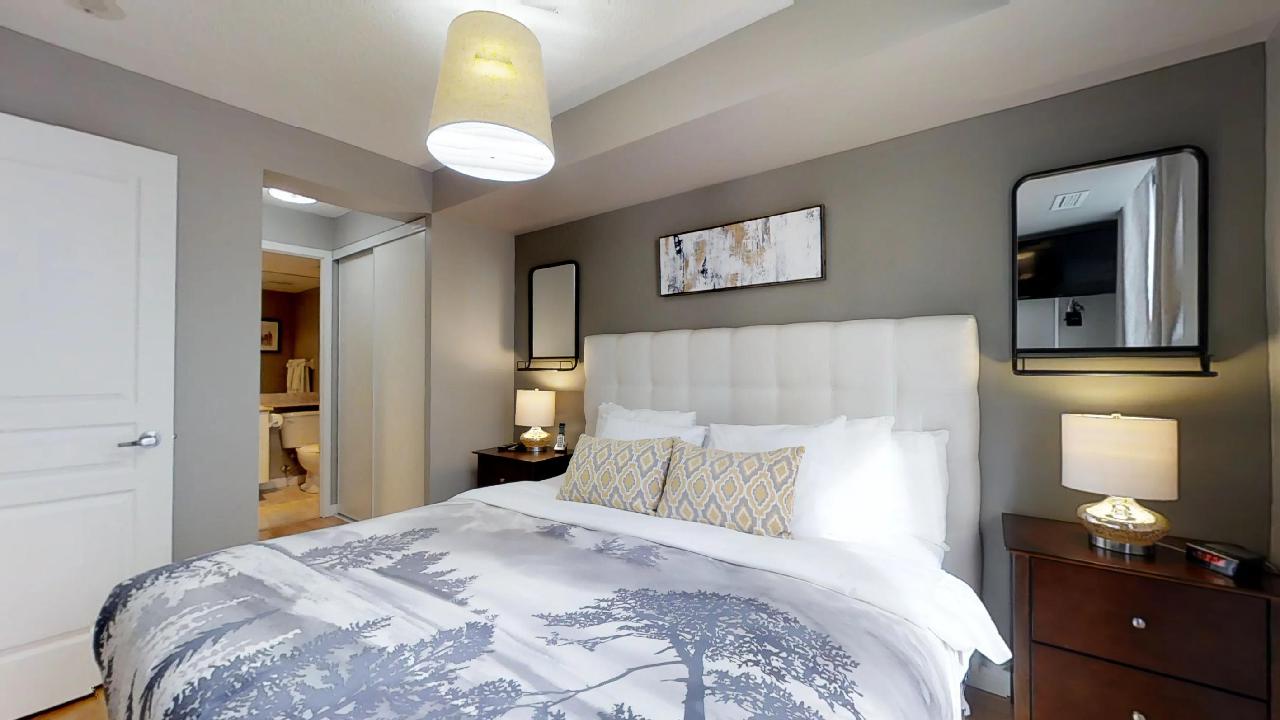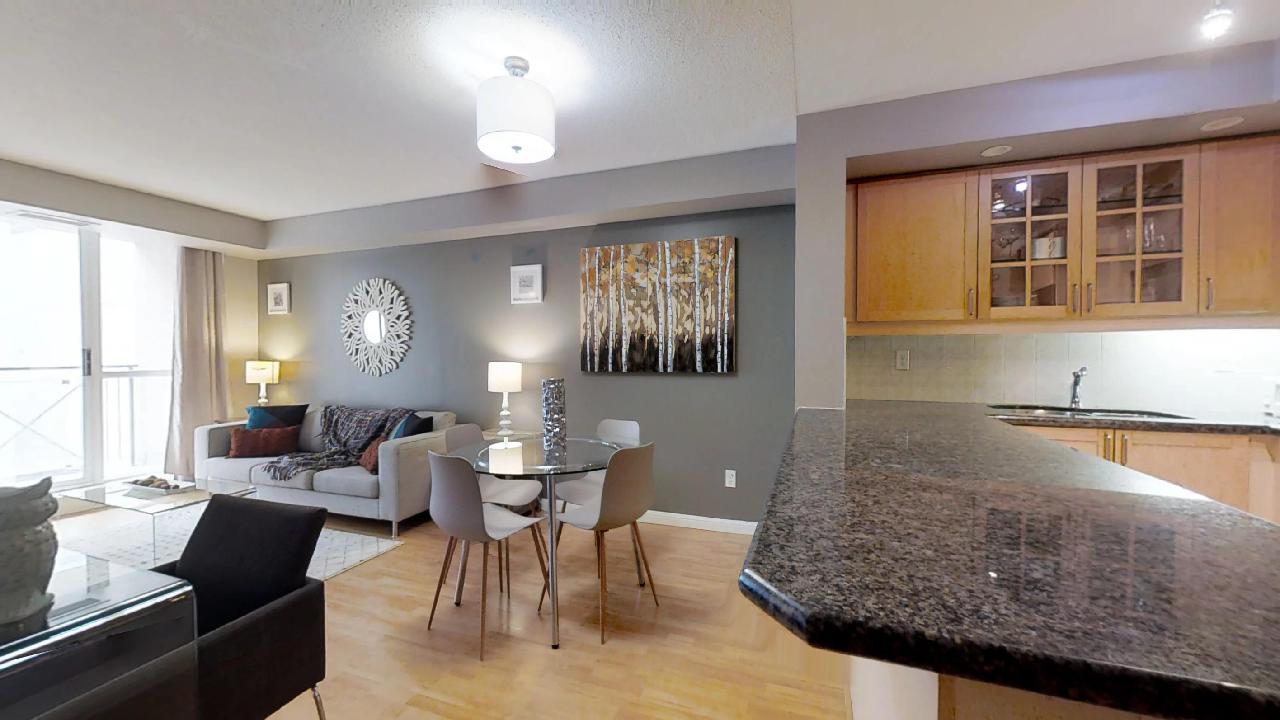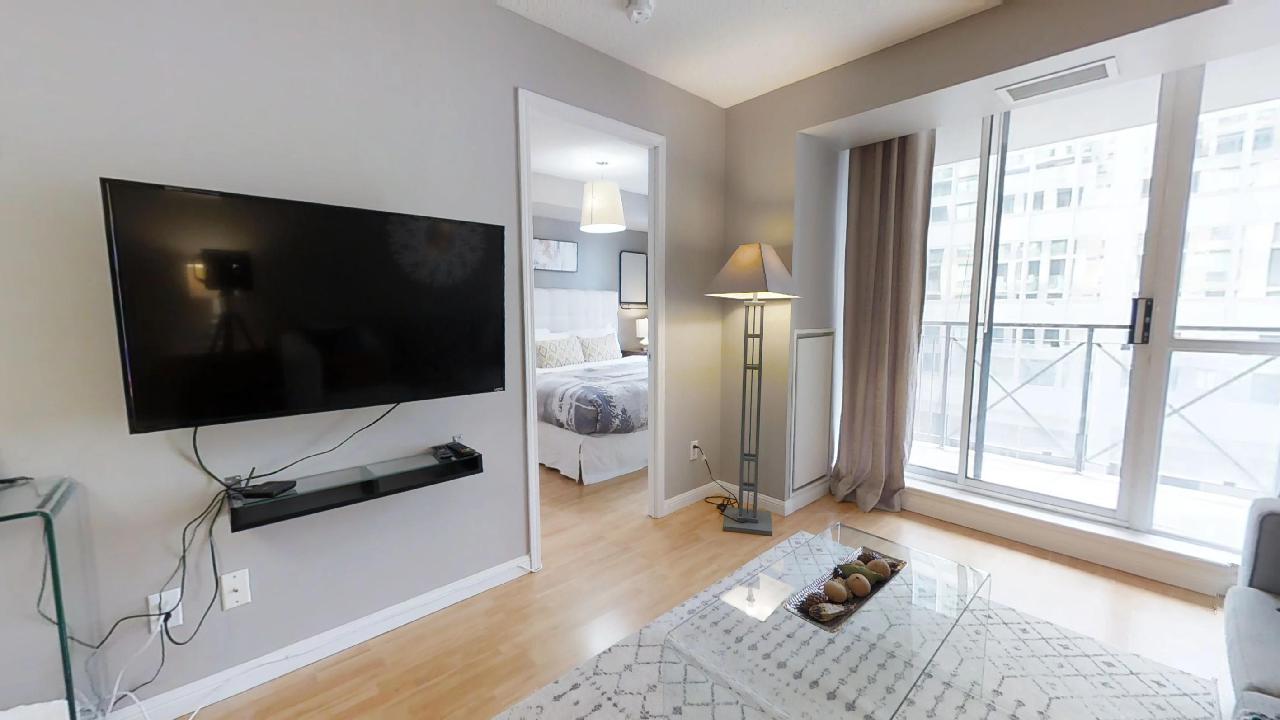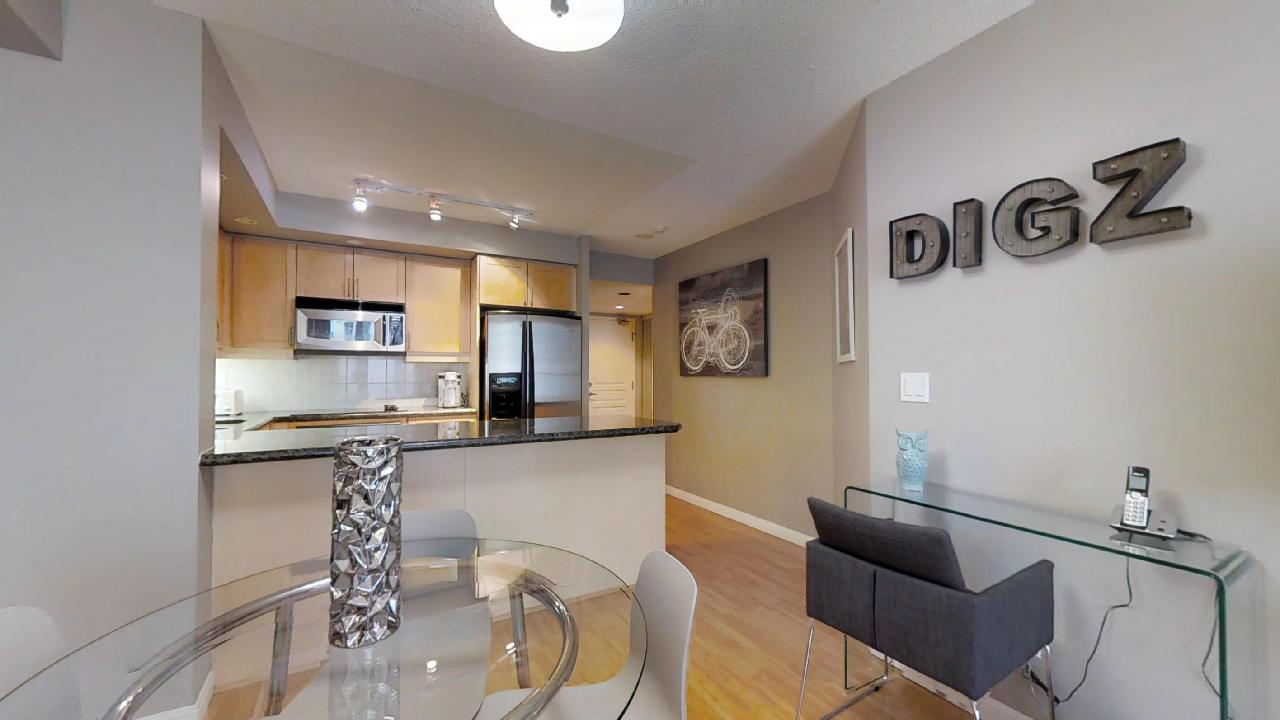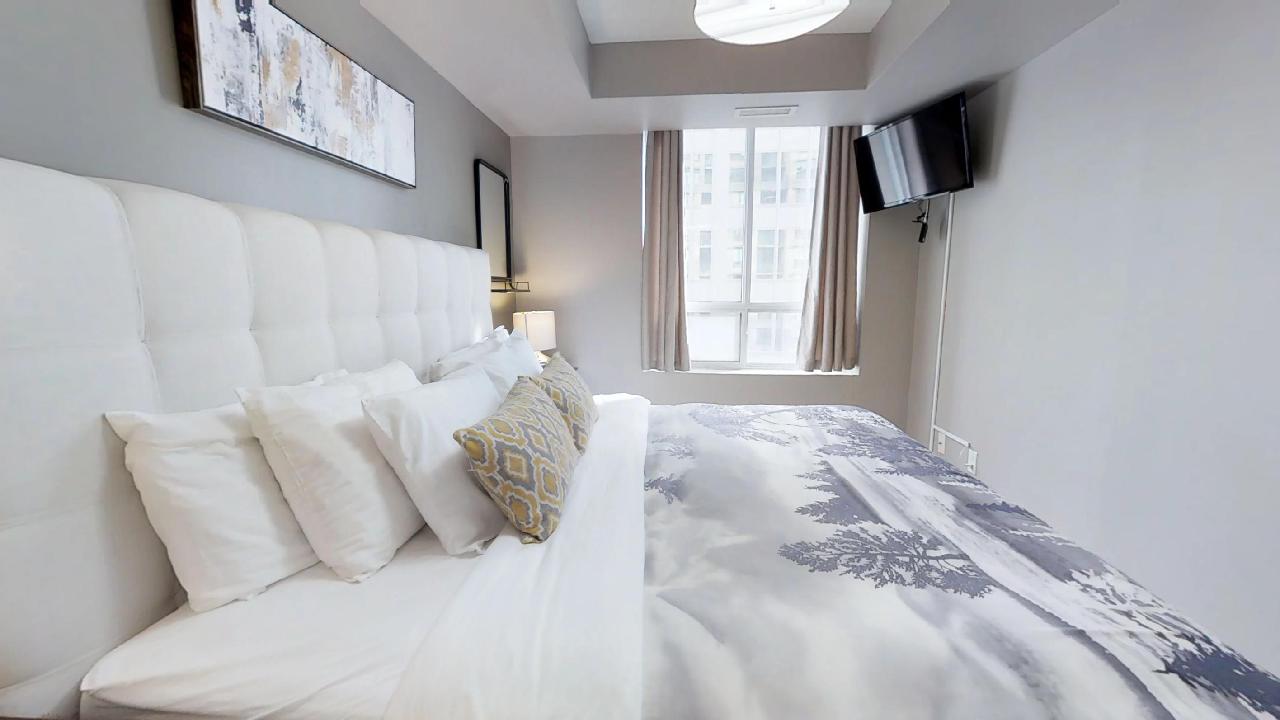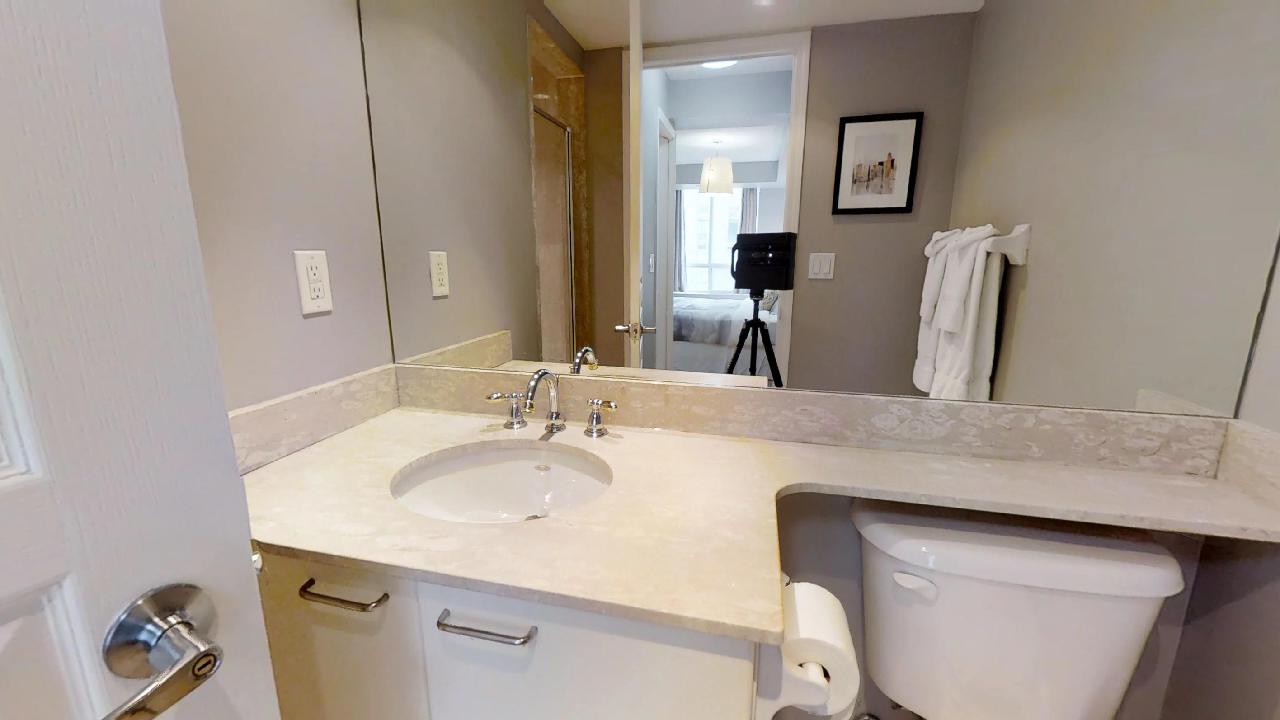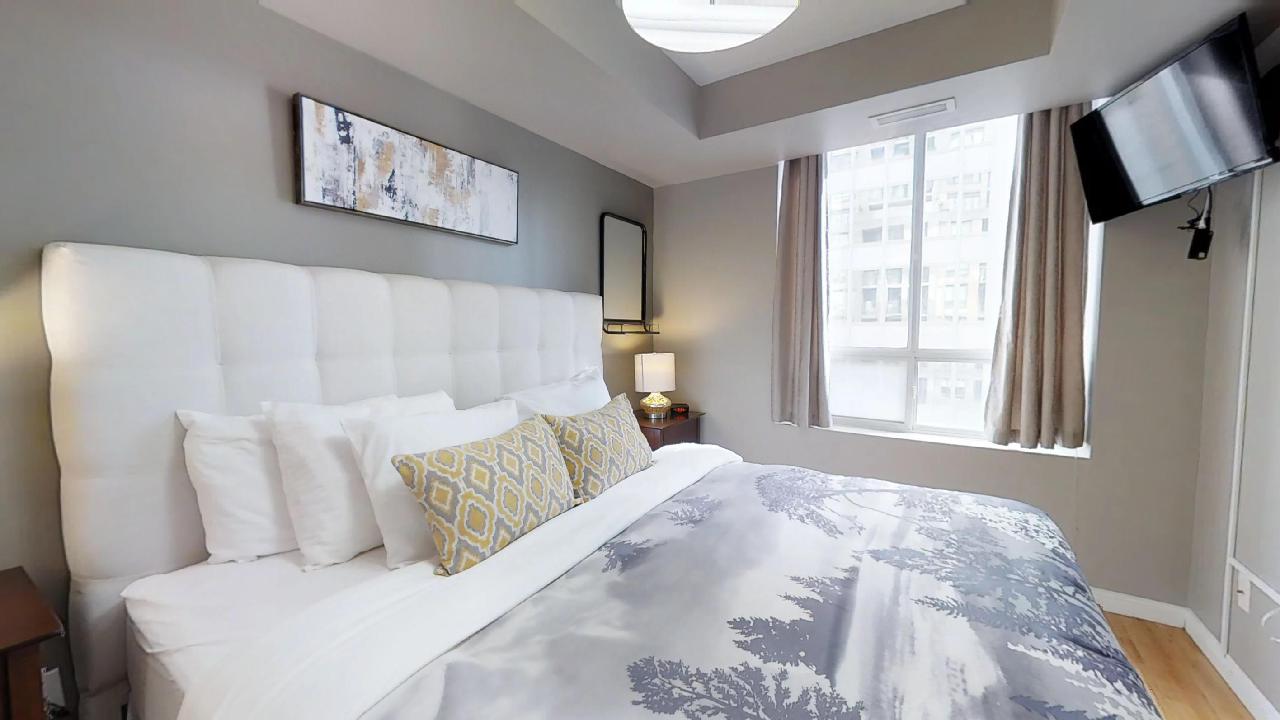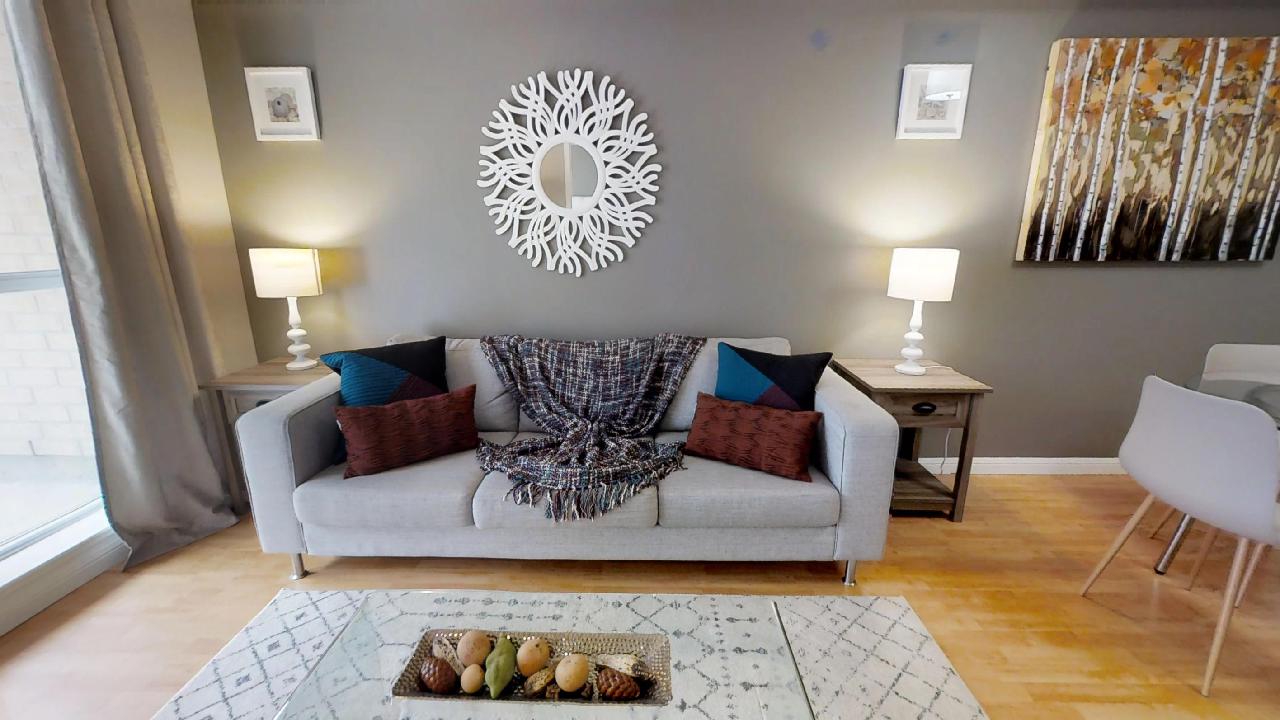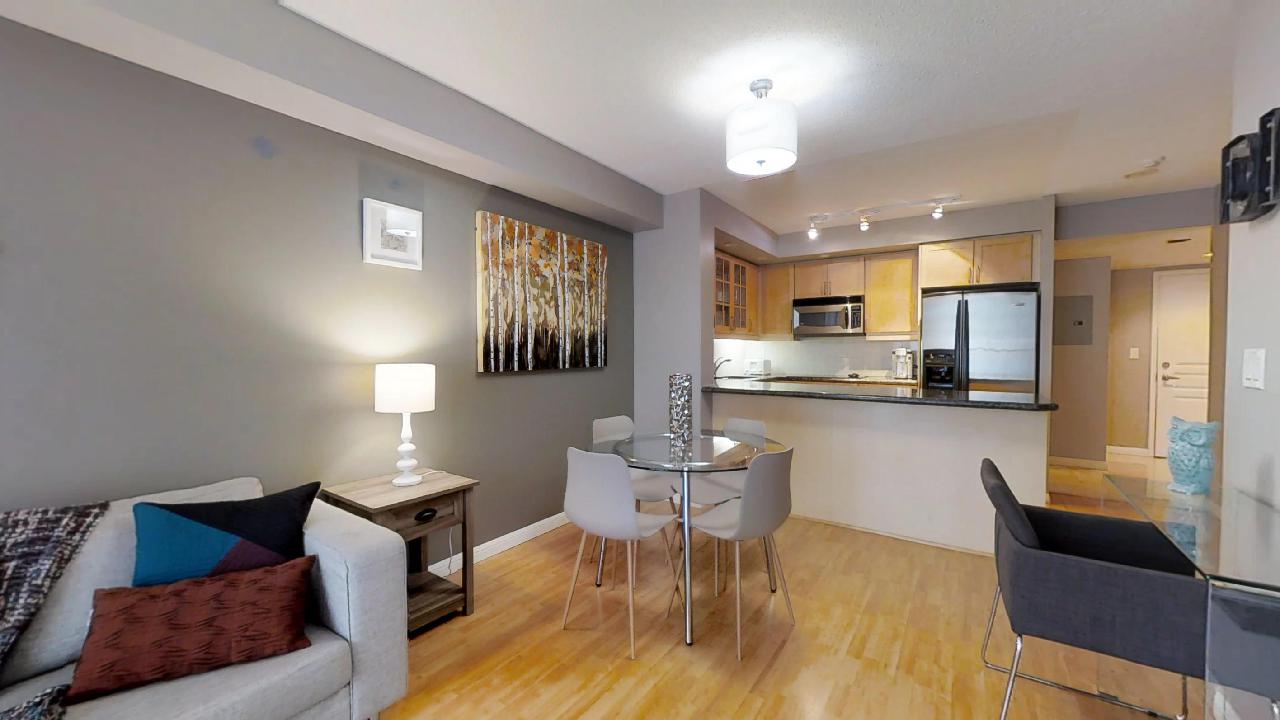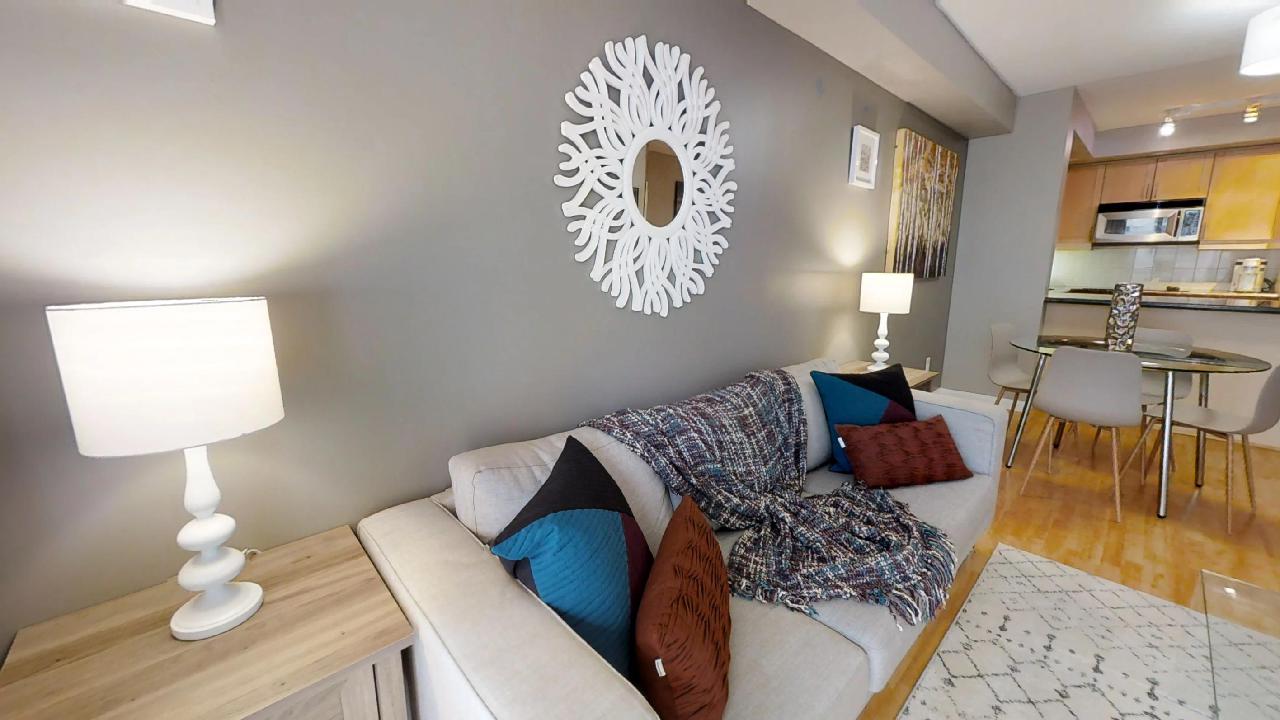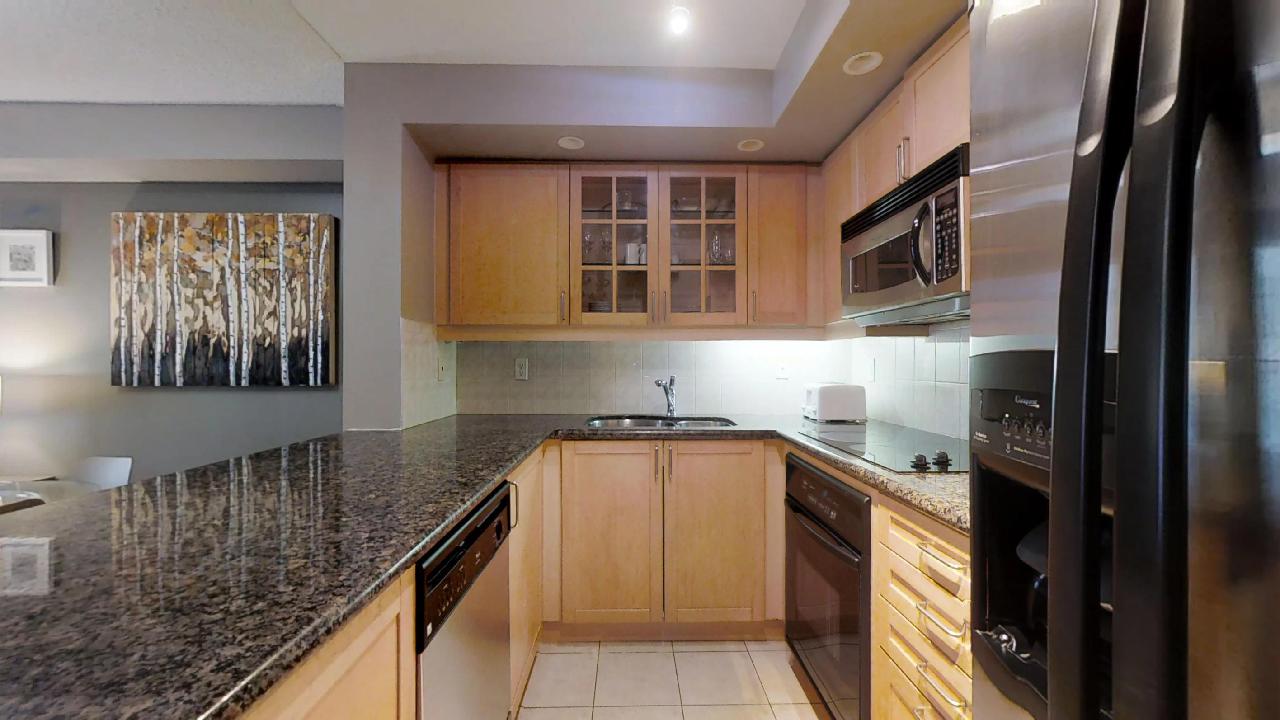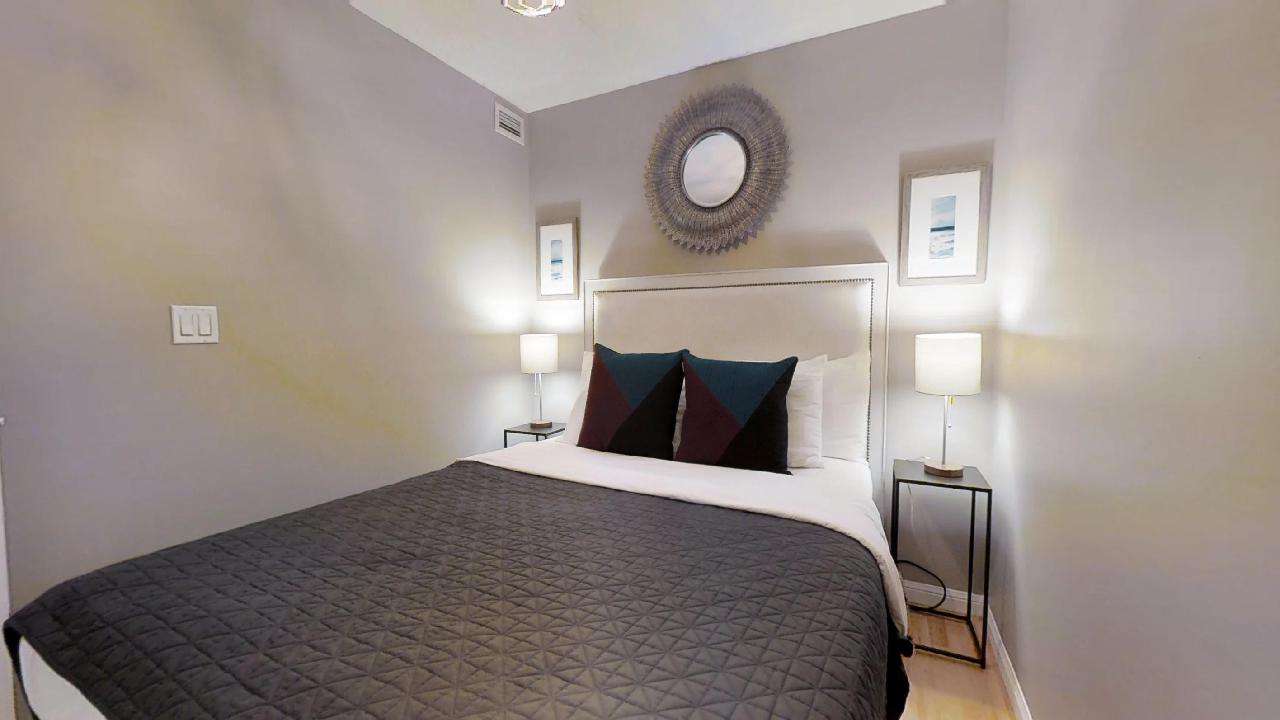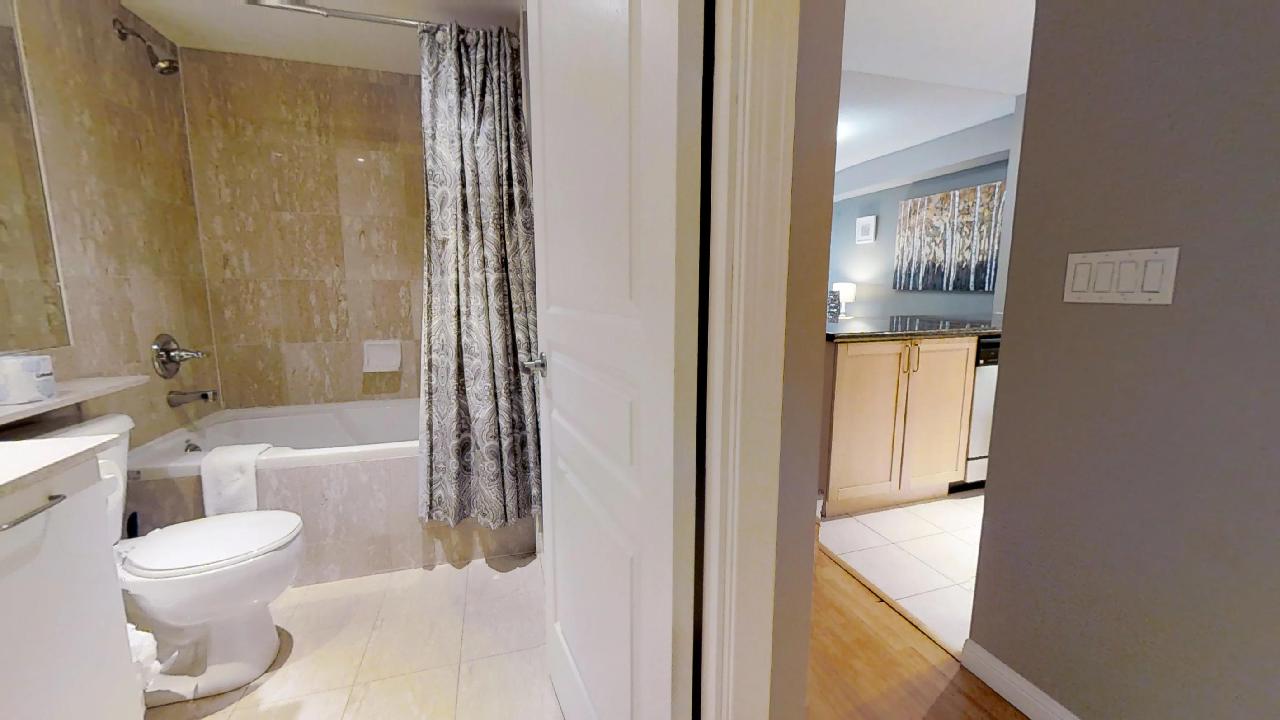 /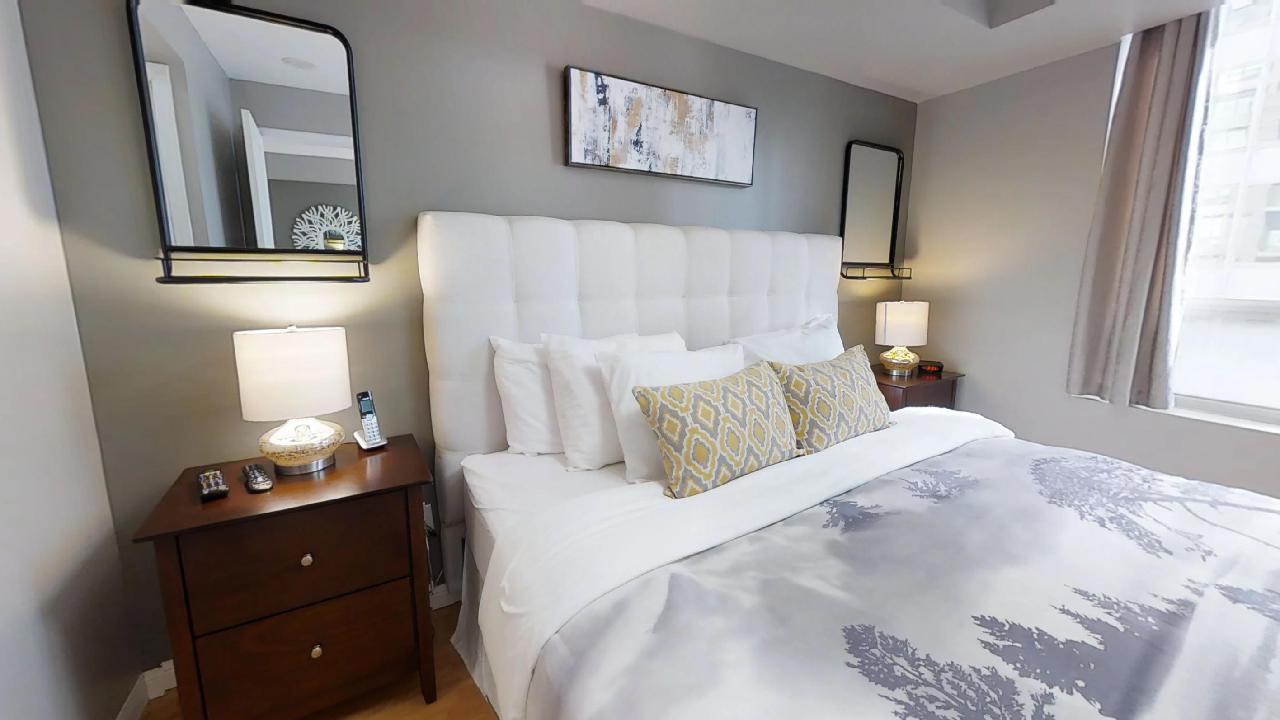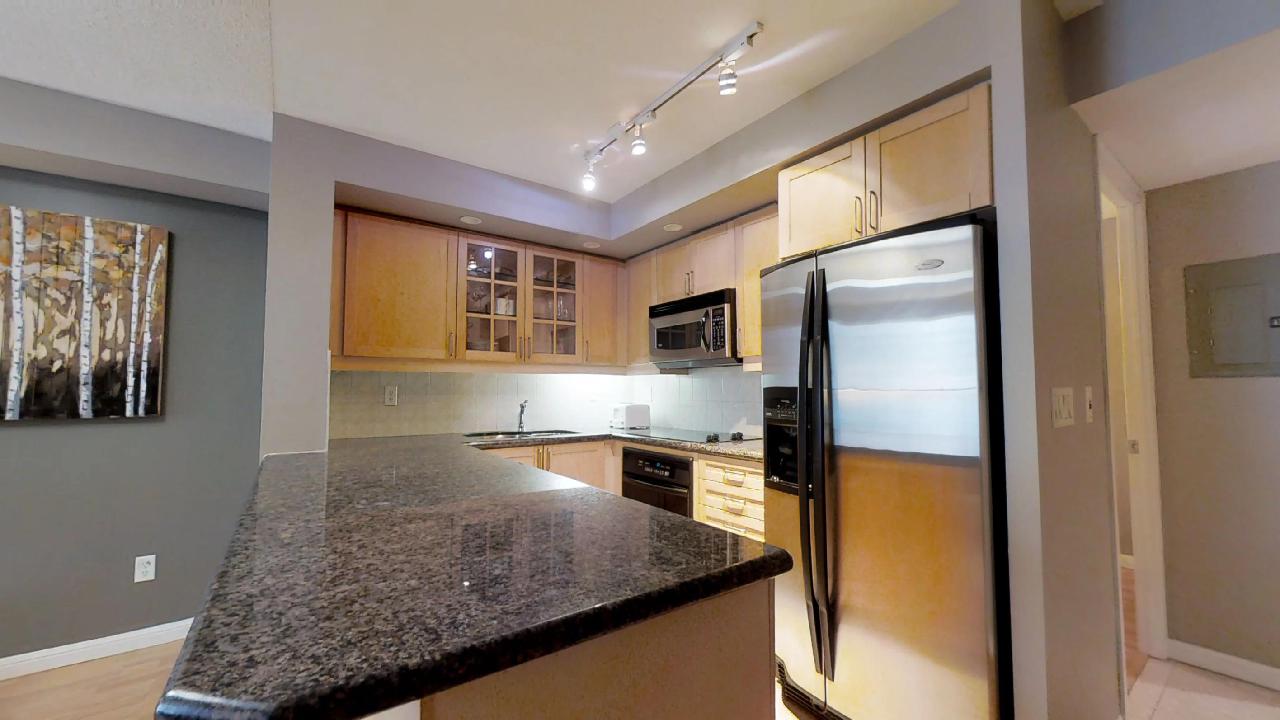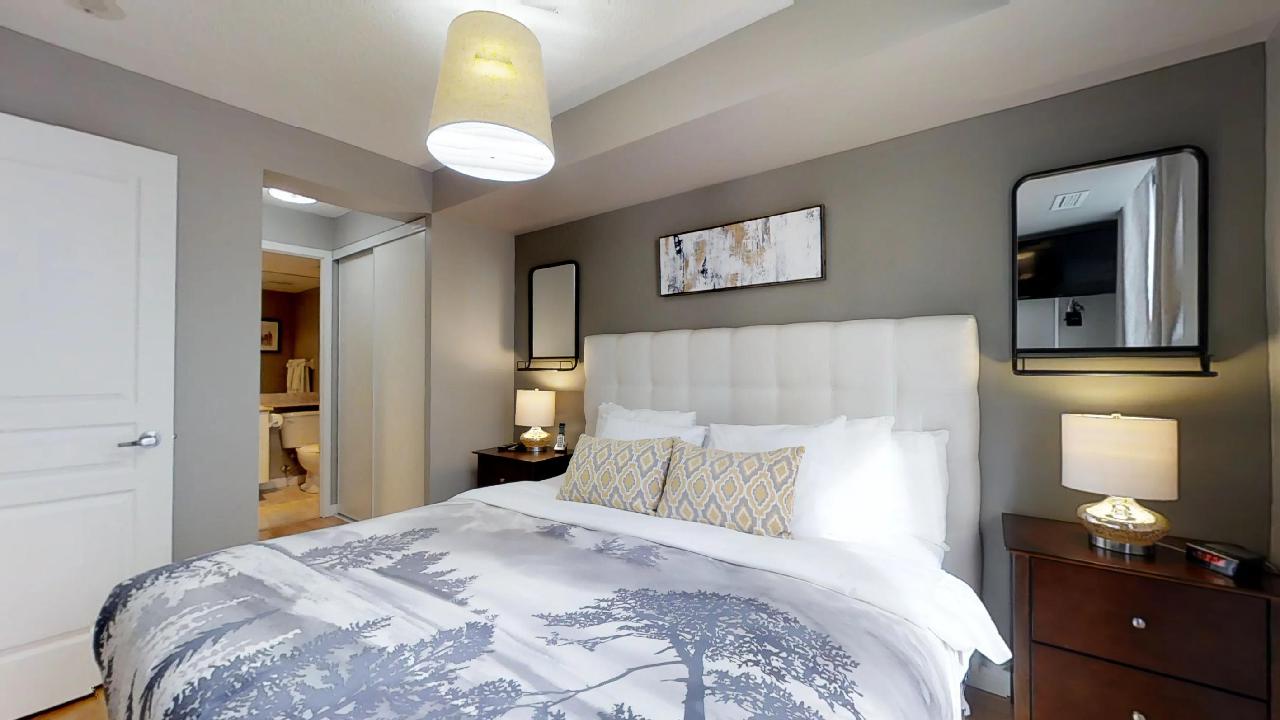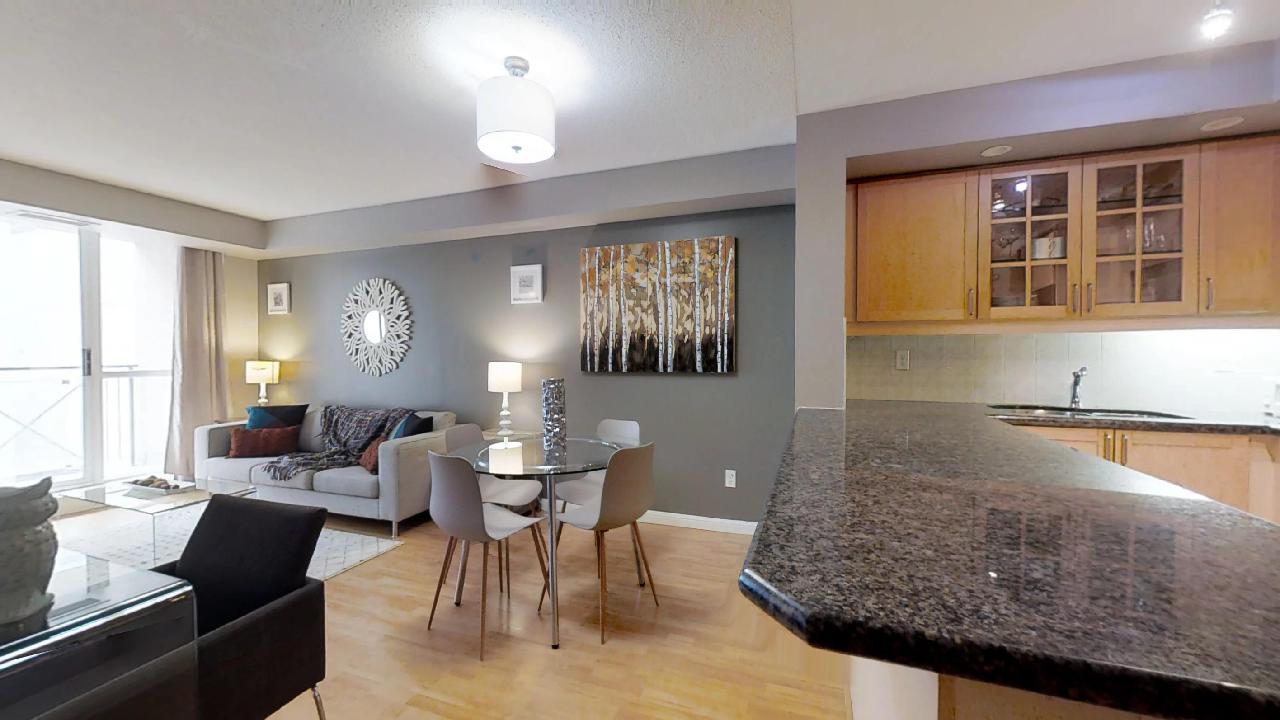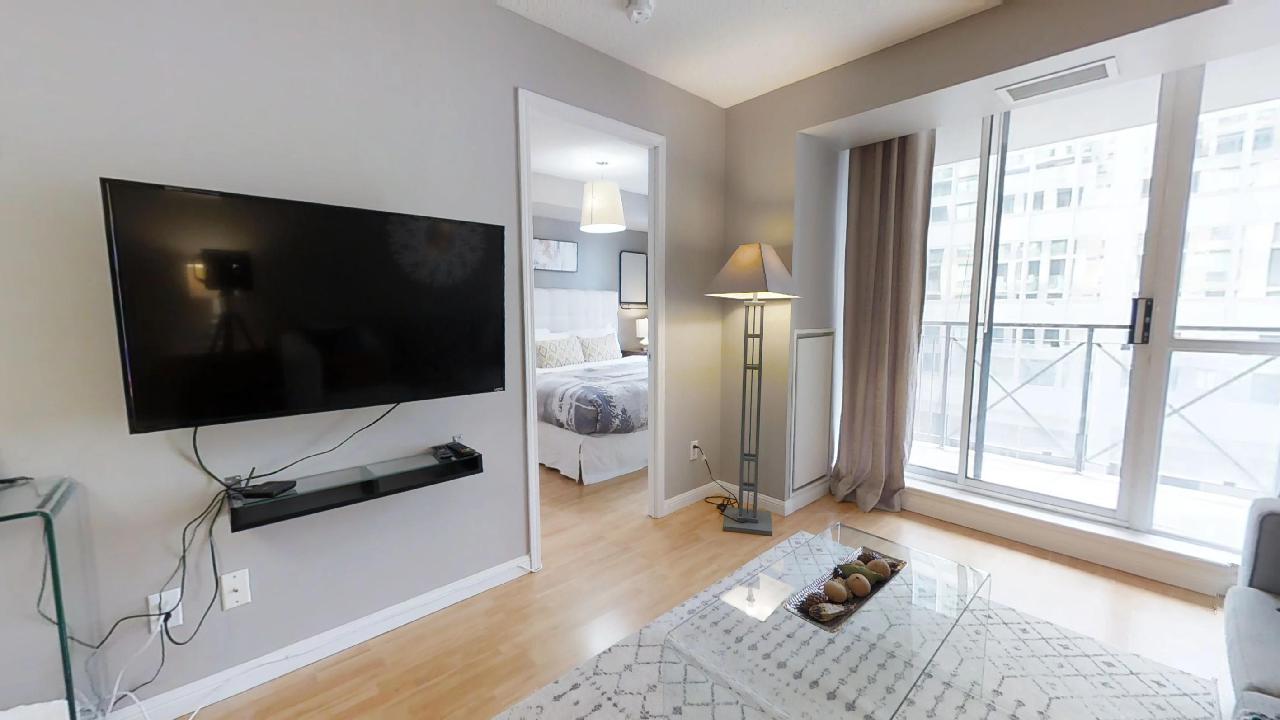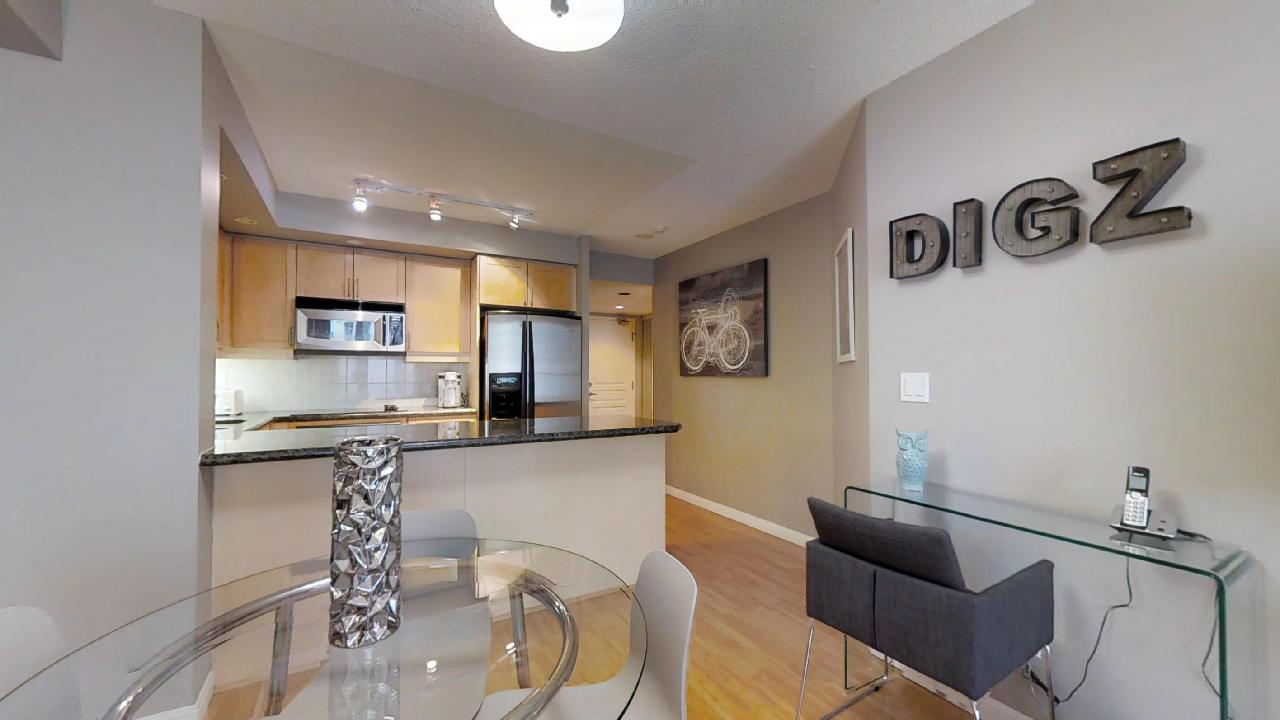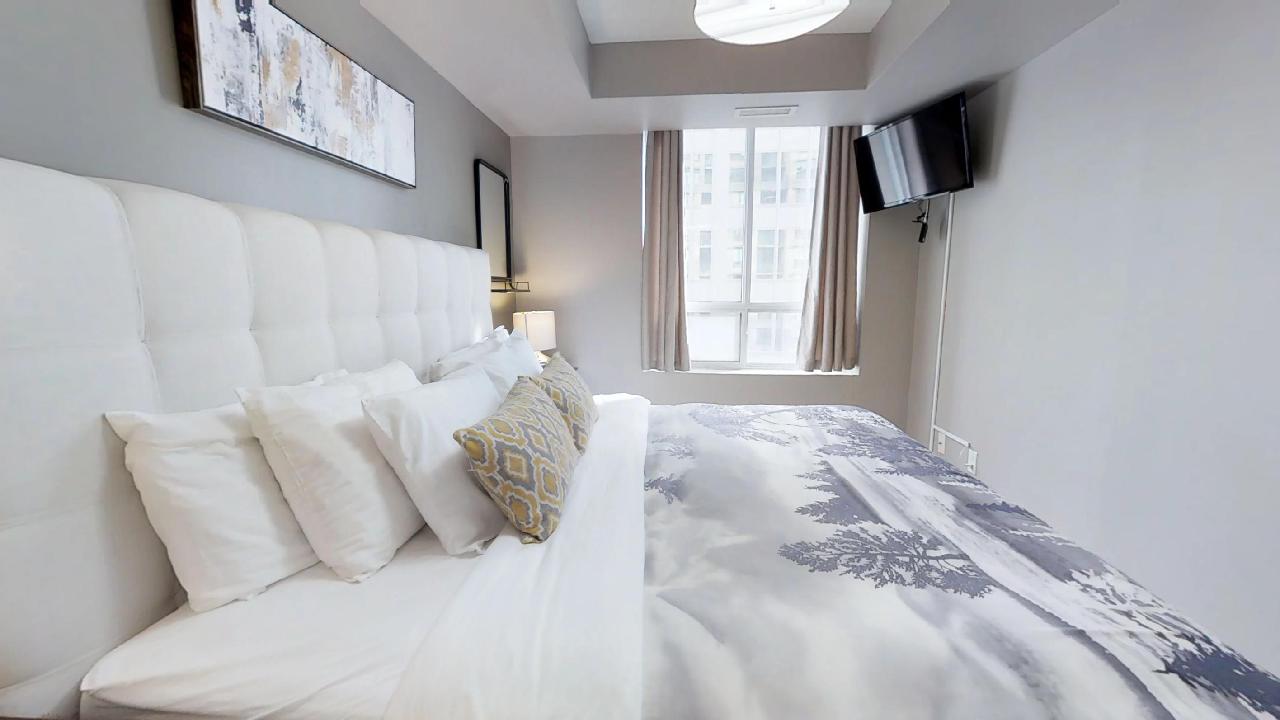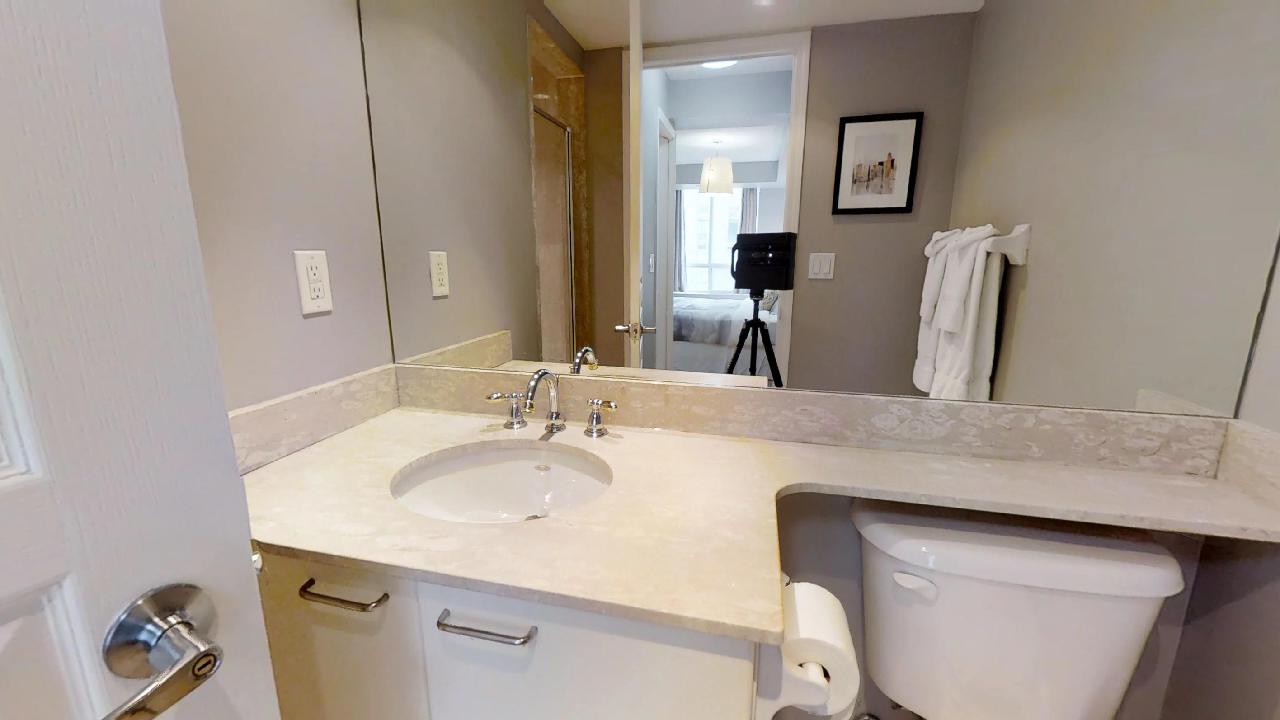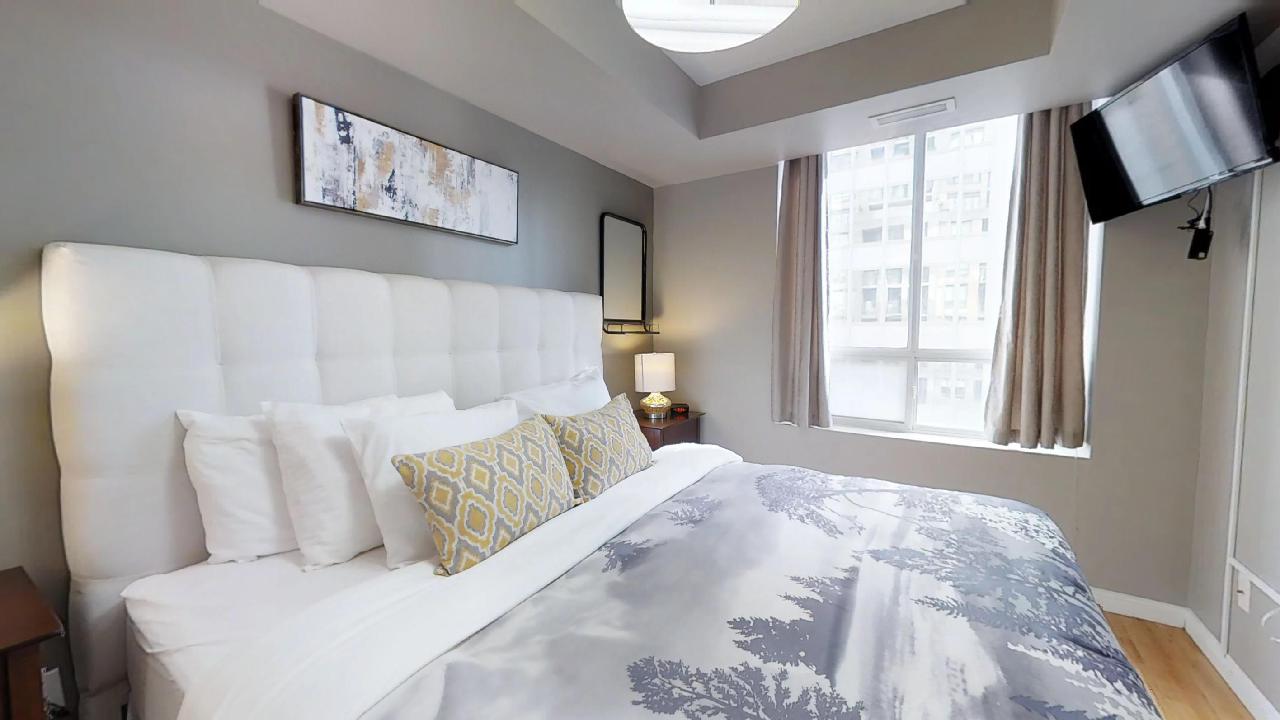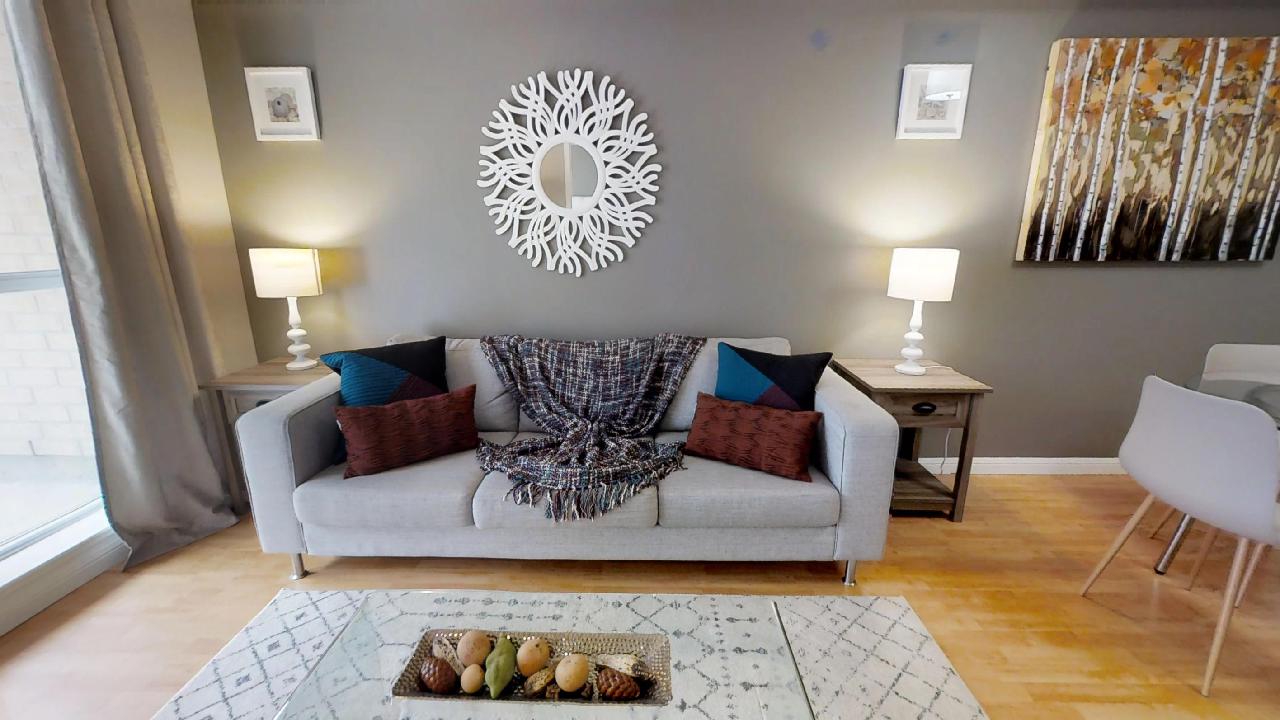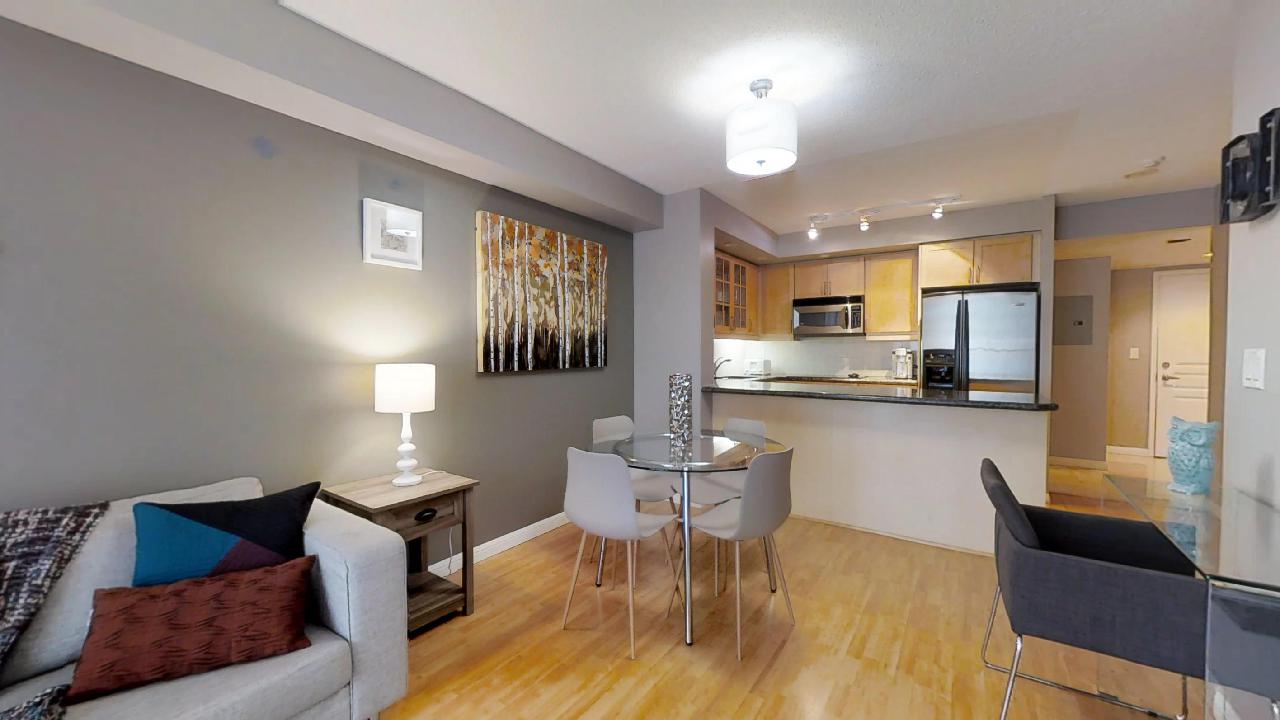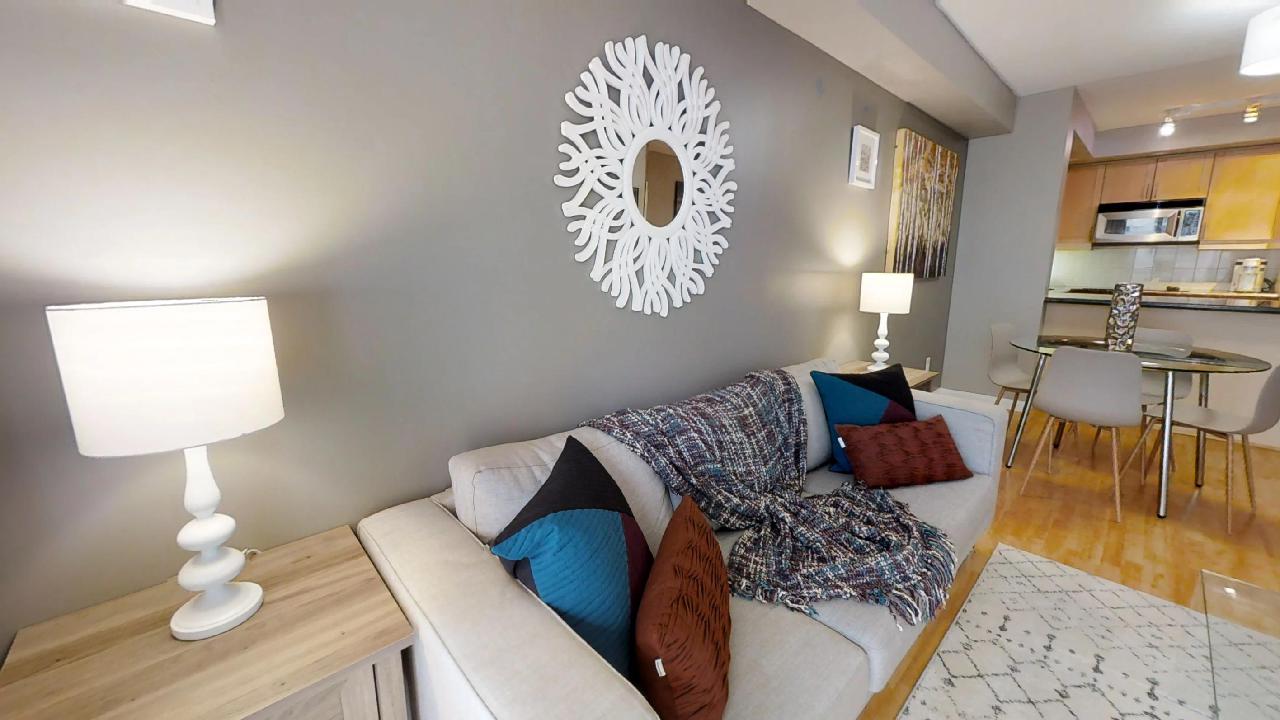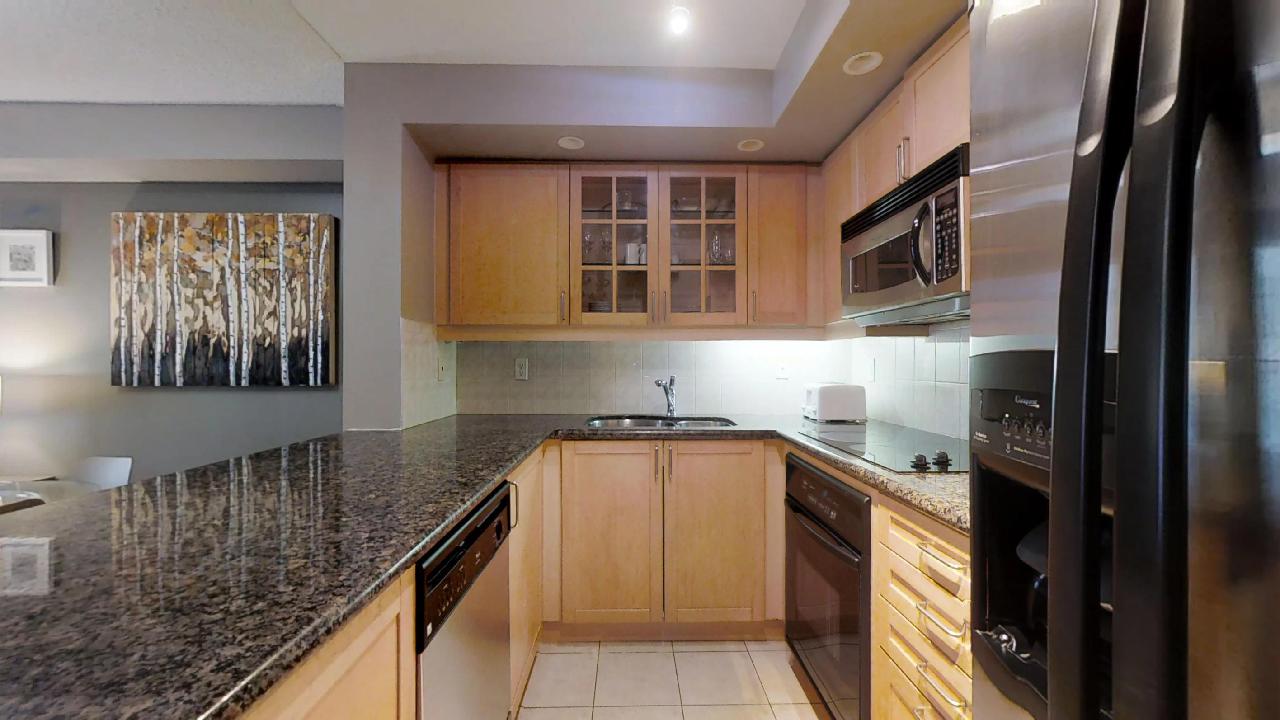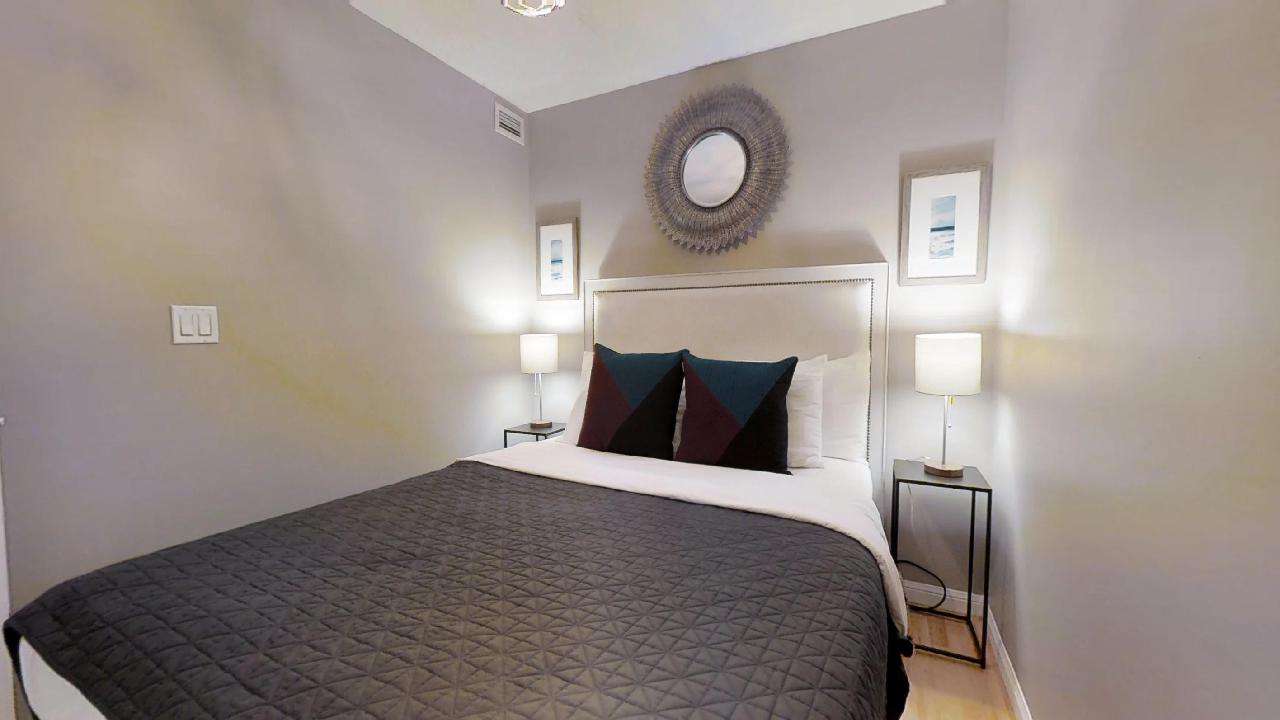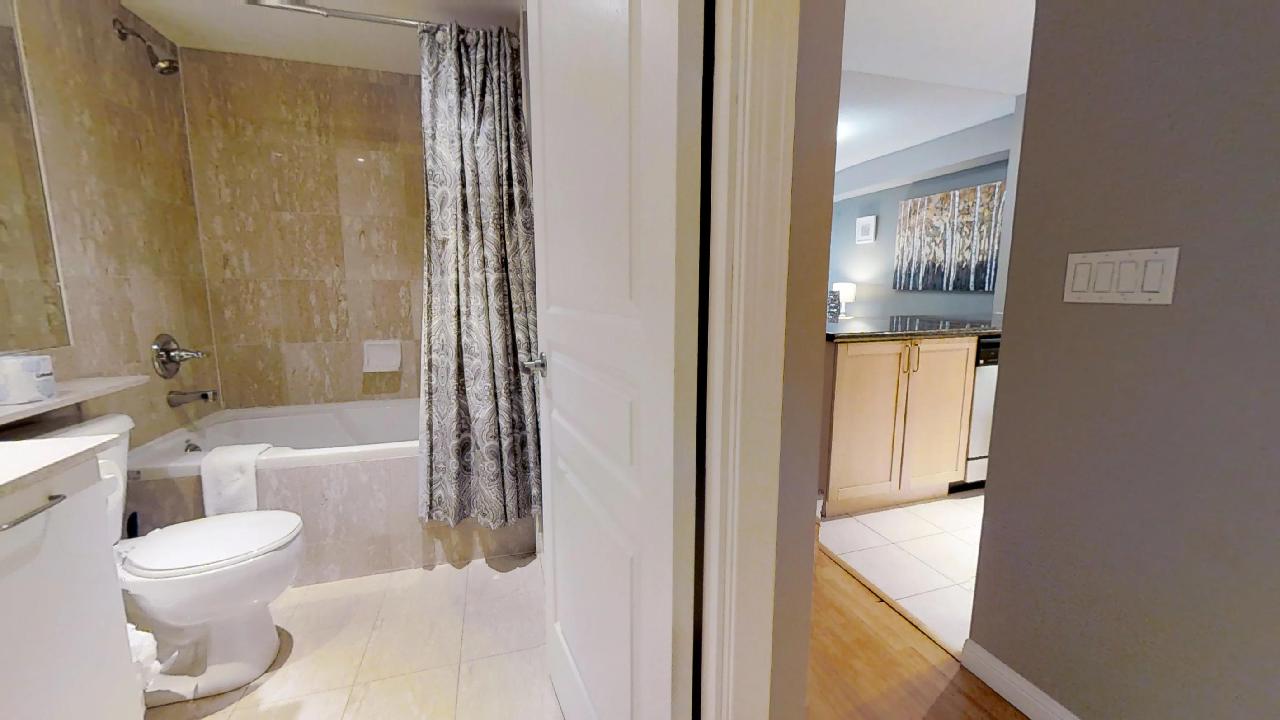 Sky View Suites' University Plaza AA is perfect for those seeking a spacious furnished apartment in the downtown core of Toronto. This two bedroom apartment features stylish furnishings, down-home comfort, and a convenient location.
The front entrance of the suite contains the coat closet, and the unit's washer dryer. To the right is the second bedroom, which features hardwood flooring, beautiful wall art, and a queen sized bed. A closet offers plenty of storage space. Across from the second bedroom is a bathroom that contains a shower and bathtub combination. All bedding and towels are provided at no extra charge.
The kitchen contains all the major appliances (refrigerator, oven, dishwasher and microwave). Small appliances, flatware, pots and pans, glassware, and dishware are also provided. This furnished apartment is ready to use upon move-in! The wraparound counter provides ample counter space to use while cooking or eating.
In the main living space there is a dining table with seating for four, and a glass desk with one chair. Beside the desk is a wall-mounted flat screen television, which can be watched from while sitting across the room, on the comfortable couch. Stylish finishes, lamps, and a glass coffee table give the room a modern, yet authentic touch. Finally, the suite's balcony is accessible from the living space's sliding glass doors, located beside the couch.
The spacious master bedroom features a queen sized bed, wall-mounted flat screen television, and both a regular and walk-in closet. An en suite bathroom with a shower finishes off the master bedroom.
The Neighbourhood
The building is located near the Financial District and the Entertainment District, which are two of the city's most convenient and bustling neighbourhoods. Within a five-minute walk in any direction, you will be able to find great restaurants, big businesses, and plenty of entertainment.
The area is also extremely convenient in terms of transit. Within 5 minutes walking distance are several subway, streetcar, and bus stops. Slightly further away (15 to 20 minutes walking distance) is Union Station, the Union Pearson Express, and the GO stations.
The Building
The building lobby will set you at ease, with 24-hour concierge service, and couches next to a fireplace. On the top floor of the building, you will find the fitness centre, and party room. During the summer months, tenants have access to the building's rooftop patios and barbecues.
Request this suite
Walk Score
How to Book
Request this suite
Request this suite
[contact-form-7 404 "Not Found"]
Walk In Score
How to Book