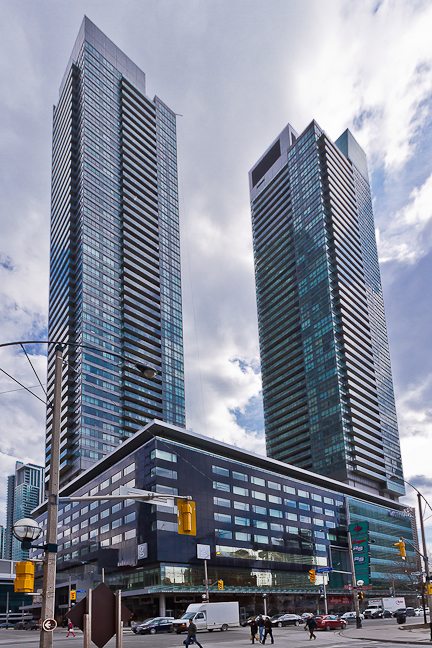 /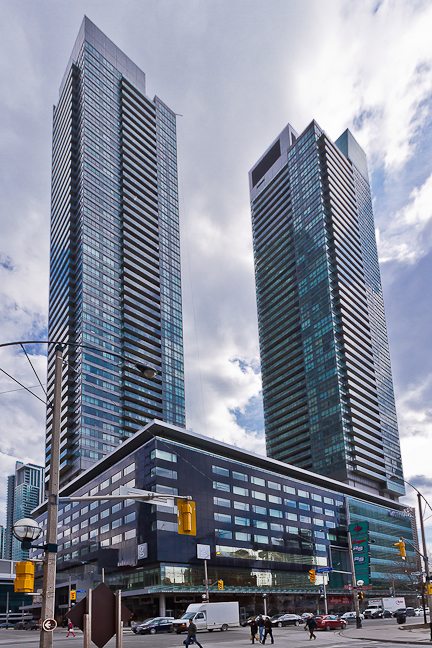 Any other accommodation pales in comparison to this short term rental high in the sky. A remarkable view and practical location make this the perfect spot whether you're visiting for the sights or for business.
Once you enter the door you'll see that everything you could ever want in a suite is right before your eyes. The massive floor-to-ceiling windows put the whole city on exhibition as you sit on the table for two right next to the glass. The living room complete with a comfy couch gives you a dual view of both of the big screens; the TV and the window.
The kitchen has wonderful wooden cabinetry accompanied by appliances that make your life a whole lot easier. With a stove, oven, dishwasher, microwave, and coffee machine, you're options are wide open for preparing a delicious meal, some coffee and effortless cleanup.
The bed is tucked in the corner of the room, offering up a lot of space throughout the rest of the apartment. This plush mattress will have the sheep counting you as you fall asleep as soon as you hit the bed. If you like to do a little reading at night, don't worry, there is a lamp just above the bed that will provide the perfect lighting while still being accessible from the comfort of your bed.
This is far from the only suite we have in Maple Leaf Square Condos, take a look at one of our 2-bedroom suite that can function as both regular and Corporate Housing.
The Neighbourhood
Though we wouldn't blame you if you stayed in your suite your whole stay, there are amazing places to visit that will pry you away from your serviced apartment. With attractions like the Princess of Wales TheatreThe Building
As you would expect, with a fantastic furnished apartment comes equally fantastic amenities. Whether you need to relax, congregate, or work-out, you'll find that Maple Leaf Square Condos has you covered.
Although your room may not be quite large enough to host a sizeable gathering, the party room (with full kitchen) and business centre can easily accommodate you, whether it be for pleasure or business. Furthermore, the shopping centre on the ground level can serve as a great place to spend a night and shop, or even prepare for the get-together you have planned.
Unfortunately, we can't spend all of our time with friends and colleagues. Luckily for you, there is an outdoor pool with an expansive tanning deck that can act as a good substitute. Don't forget about the sauna and hot tub as well for an even more relaxed day or evening. If you wanted to pick up the pace, it is no problem at all with our fully-equipped fitness and weight room.
With Sky View Suites, your stay comes flush with cable, internet, local calling, parking, a full kitchen, cleaning service, and a non-smoking, furnished living space. What more could one ask for?
Additional Info
Wireless Internet
Cable TV
Local calls
Fully Equipped Kitchen
En-suite washer/dryer
Bi-weekly cleaning service
Paid Parking
Fitness Facility
Swimming Pool
Whirlpool
Non-Smoking
Toll-Free Help Desk Mon to Sat