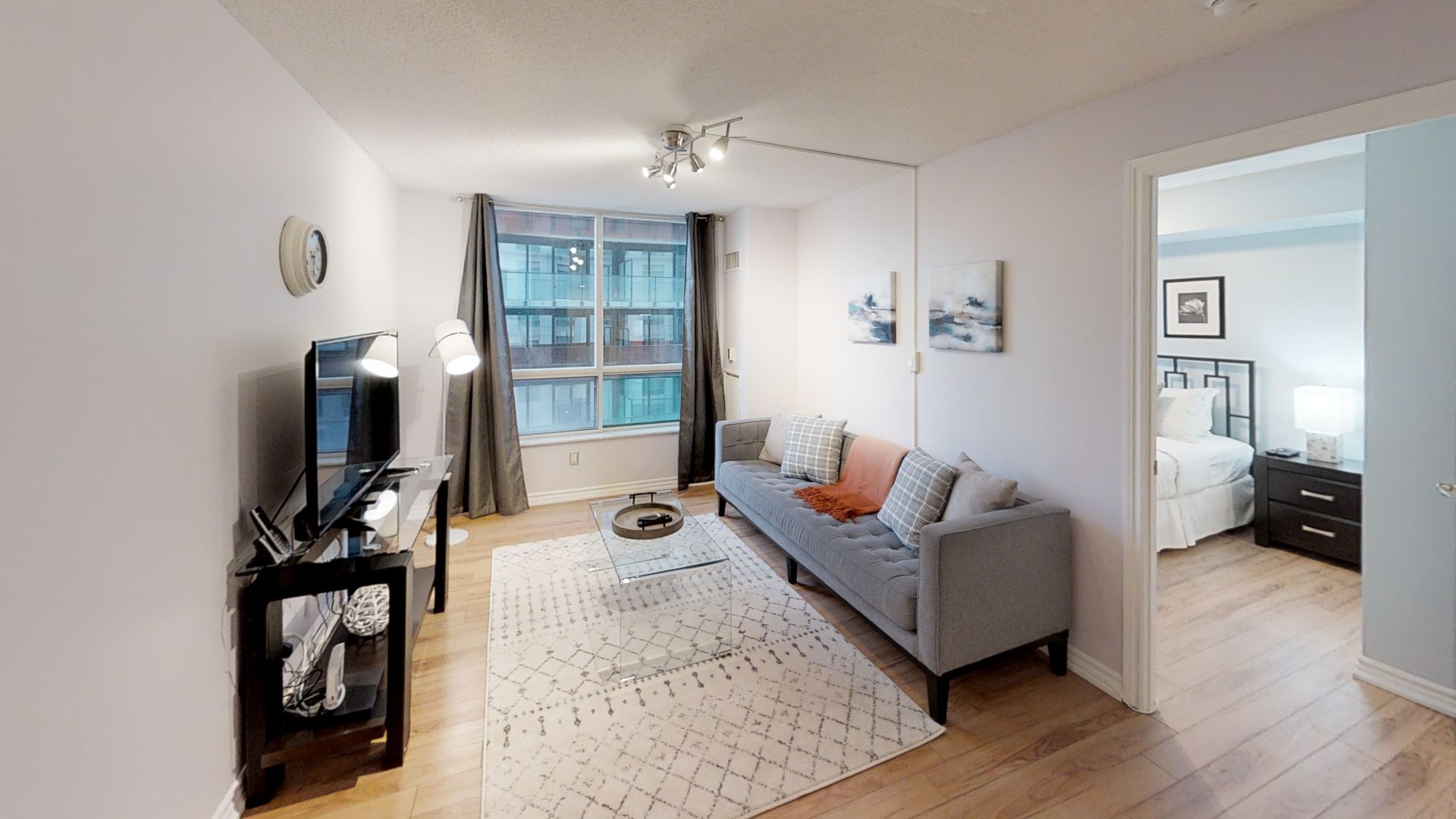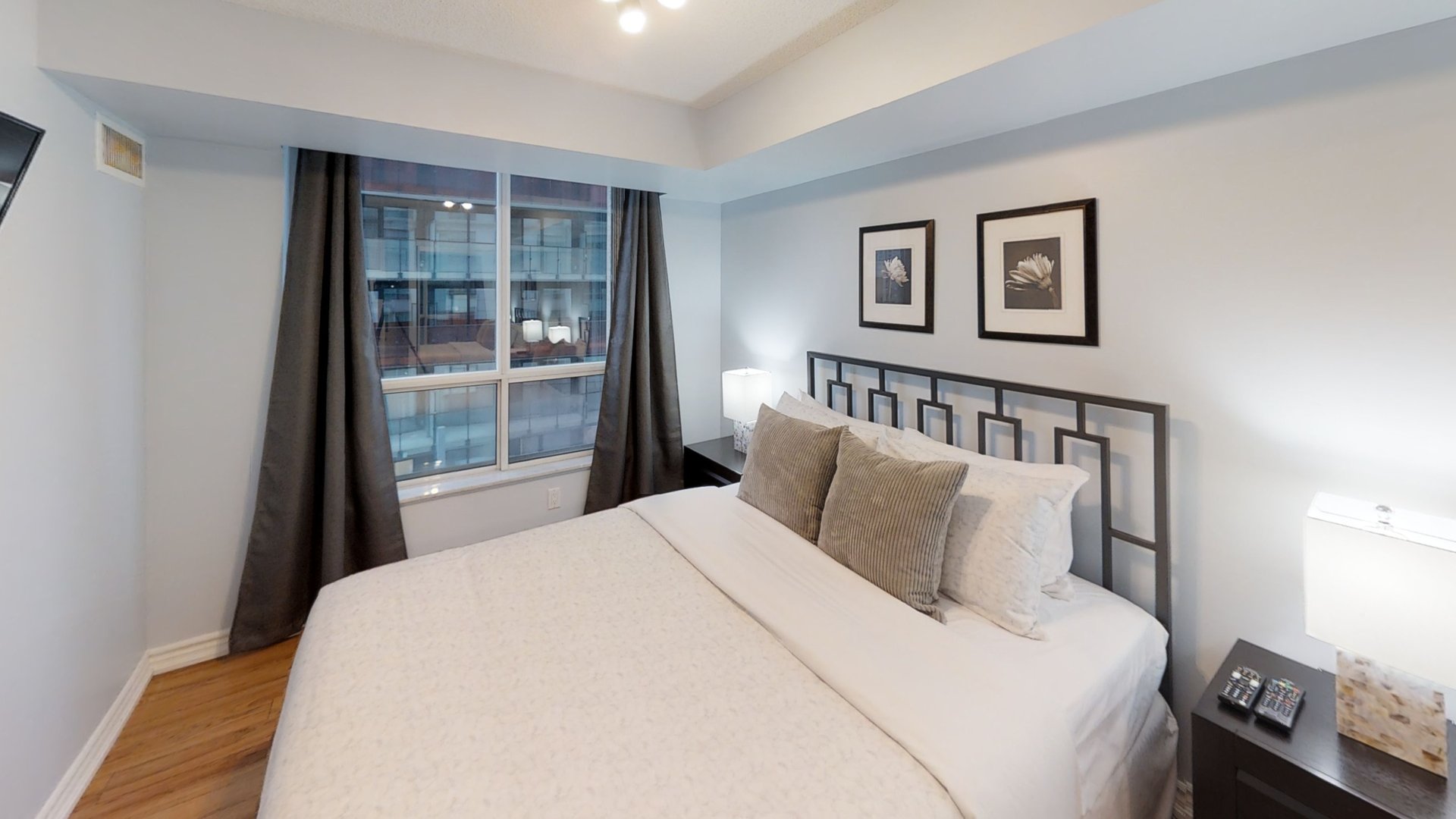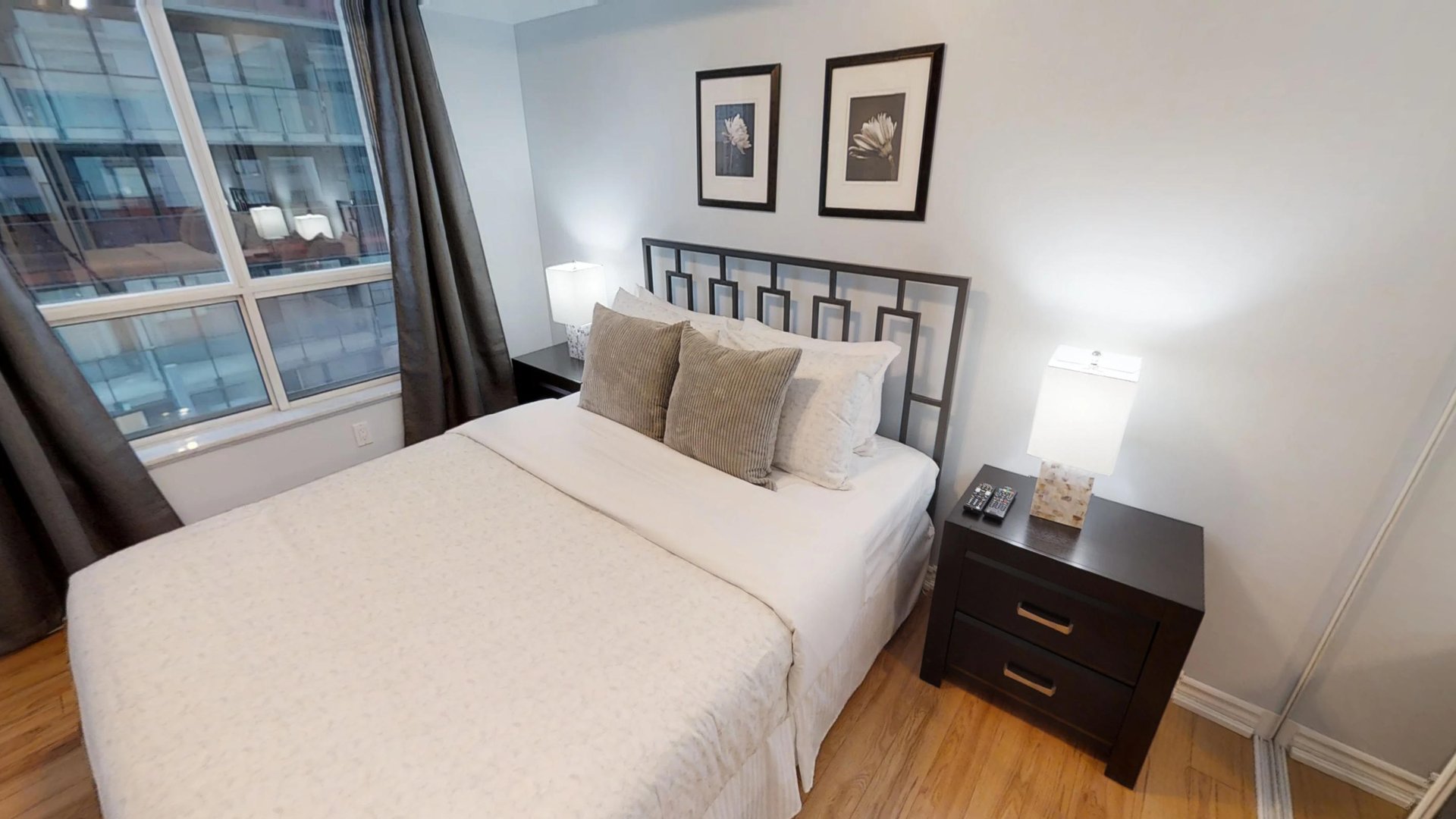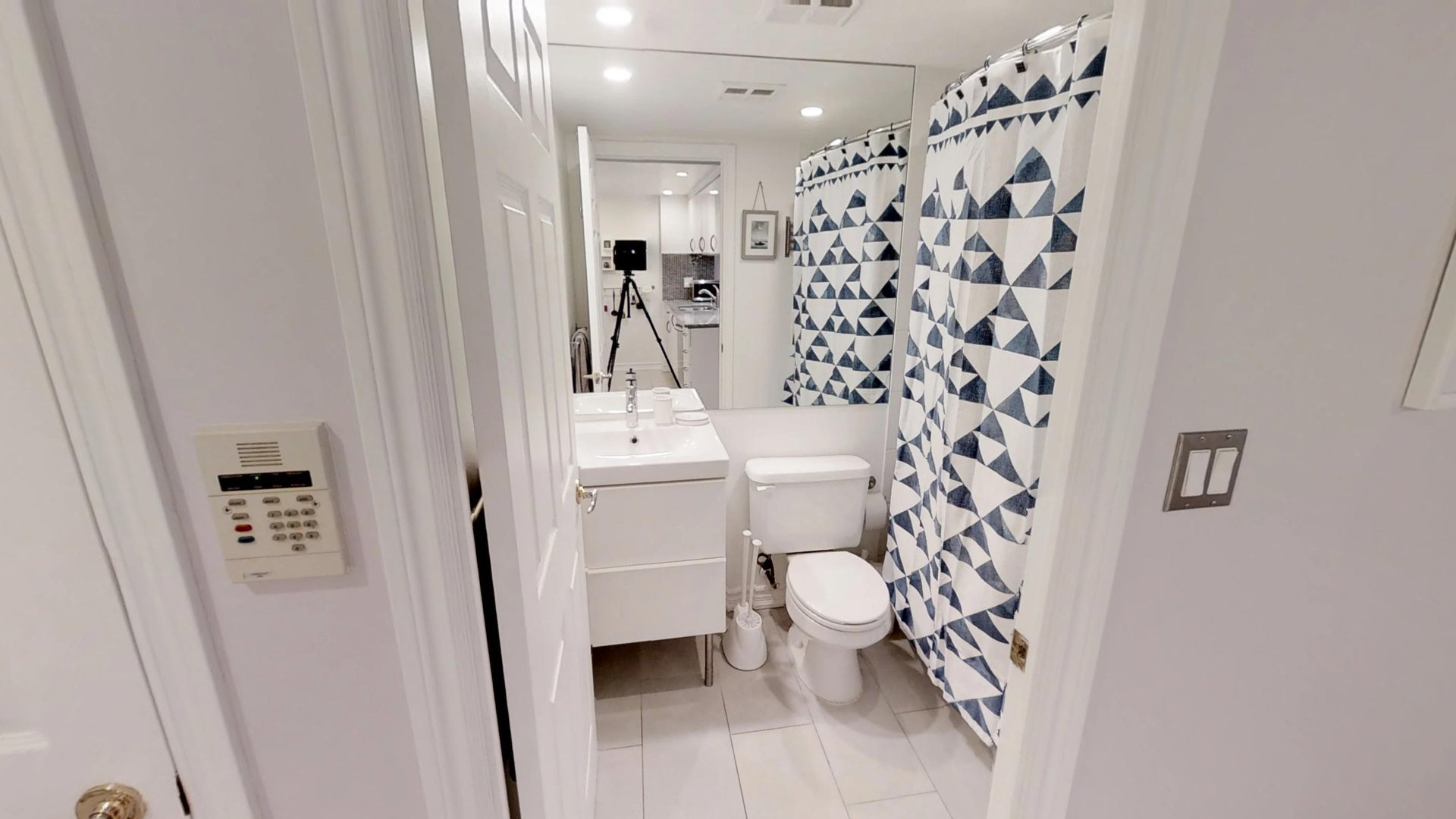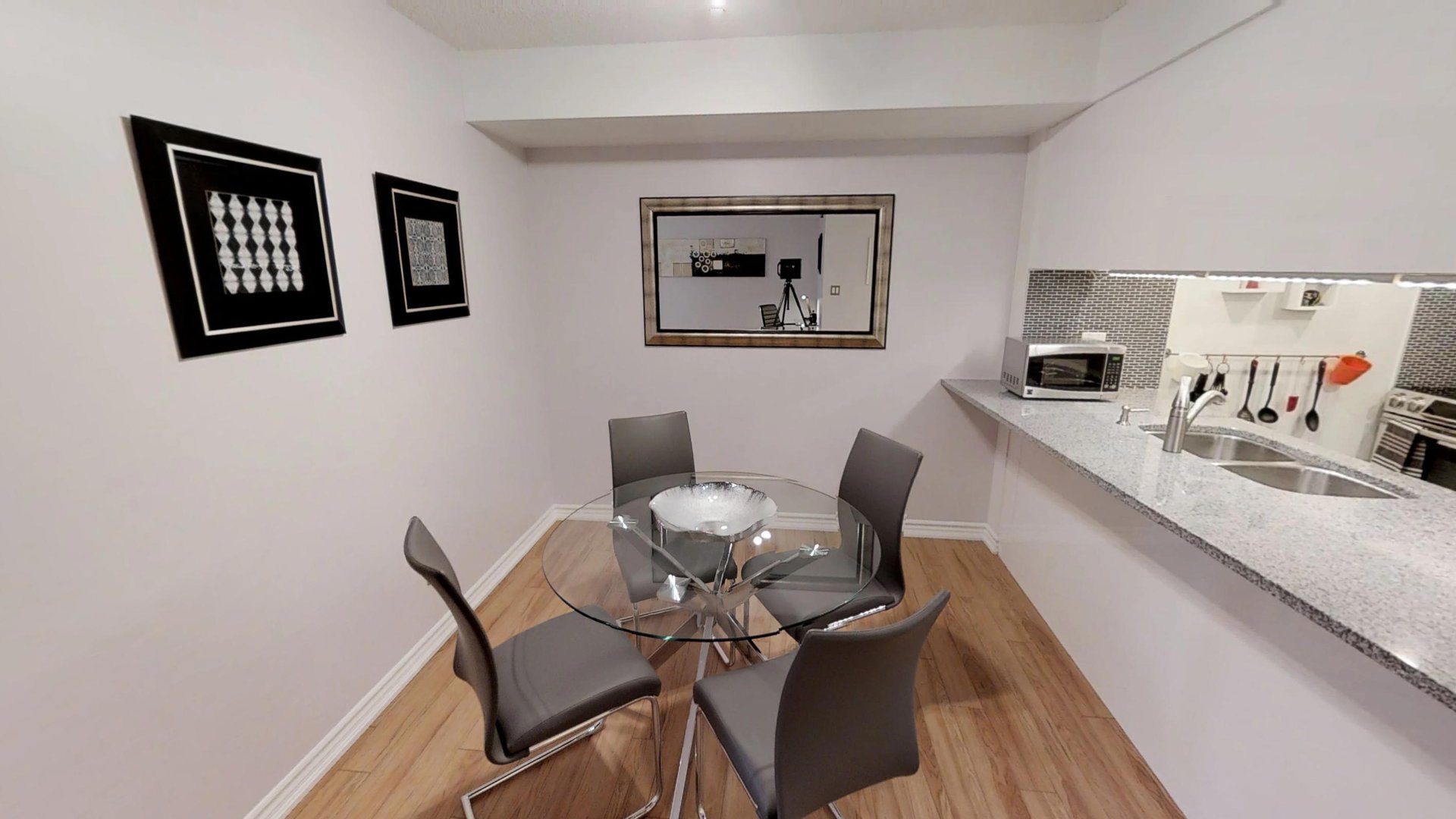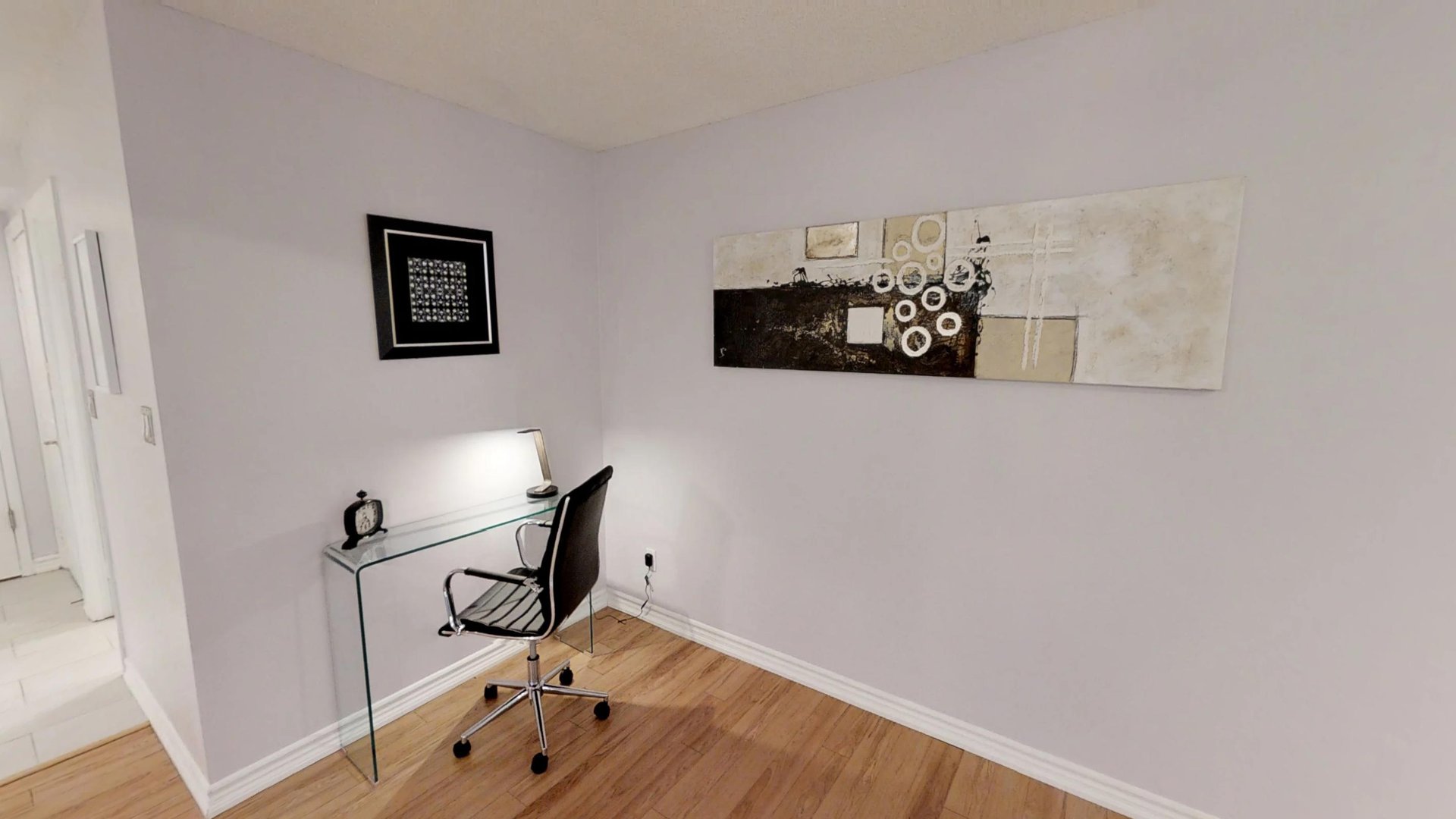 /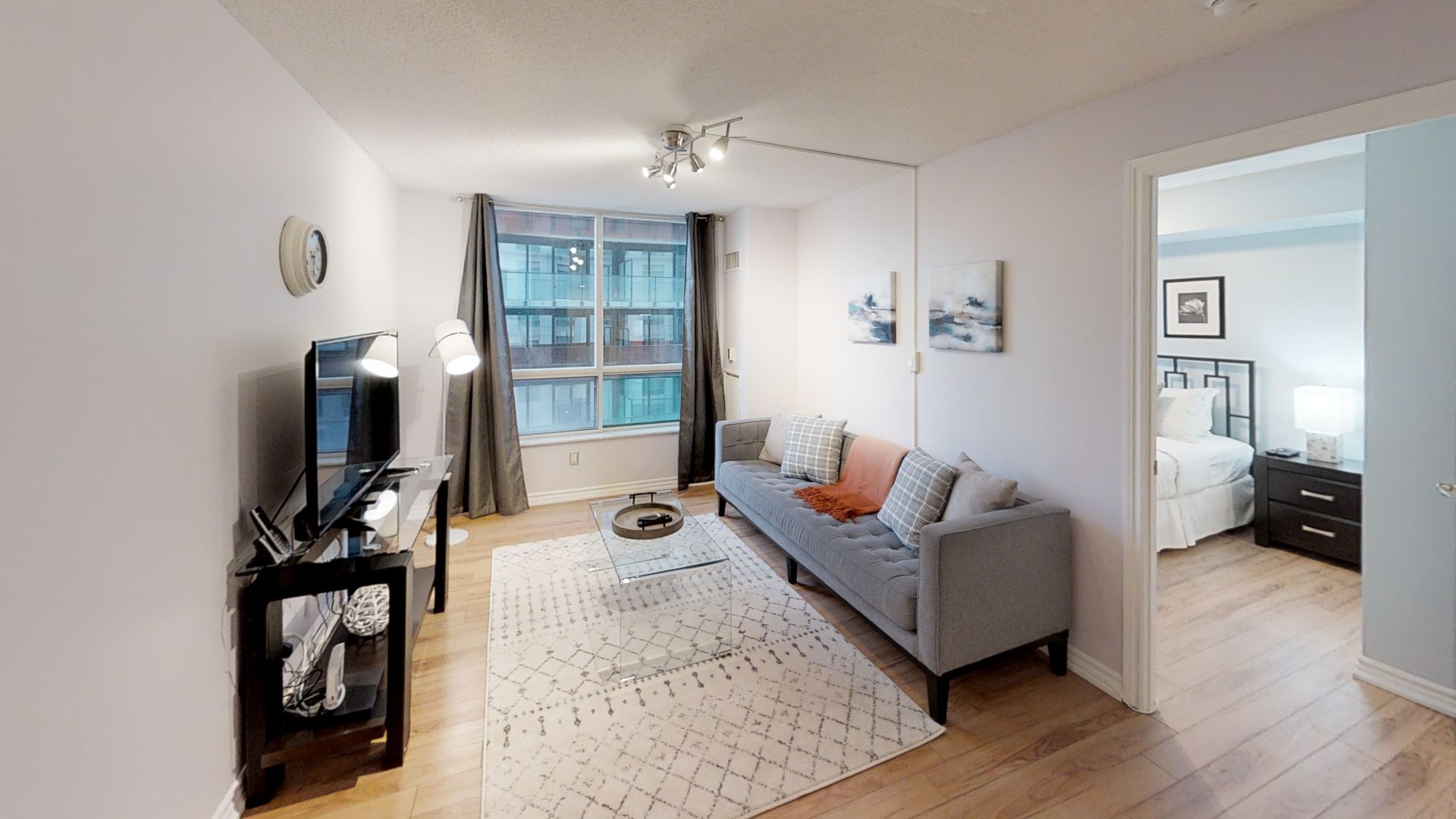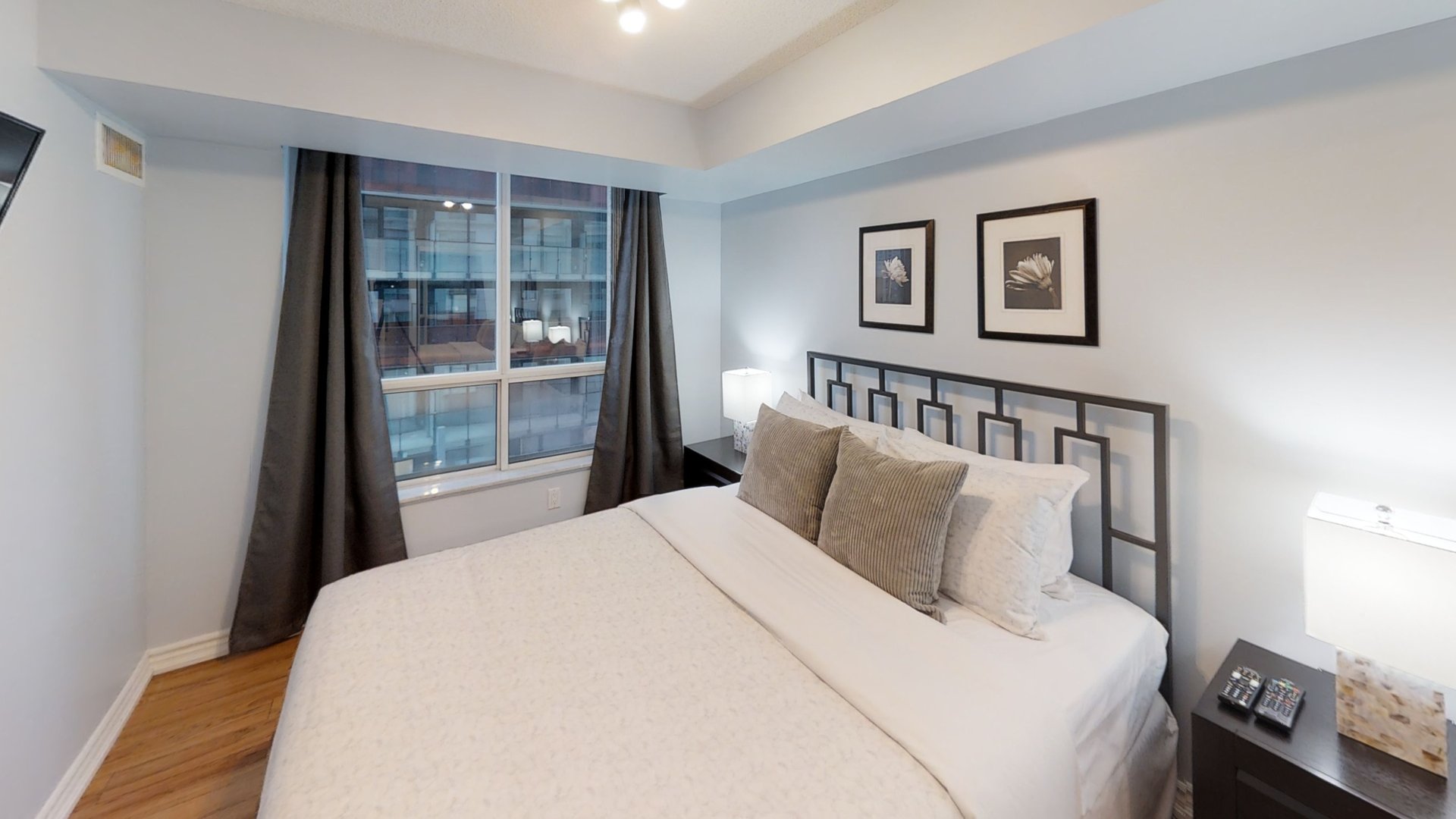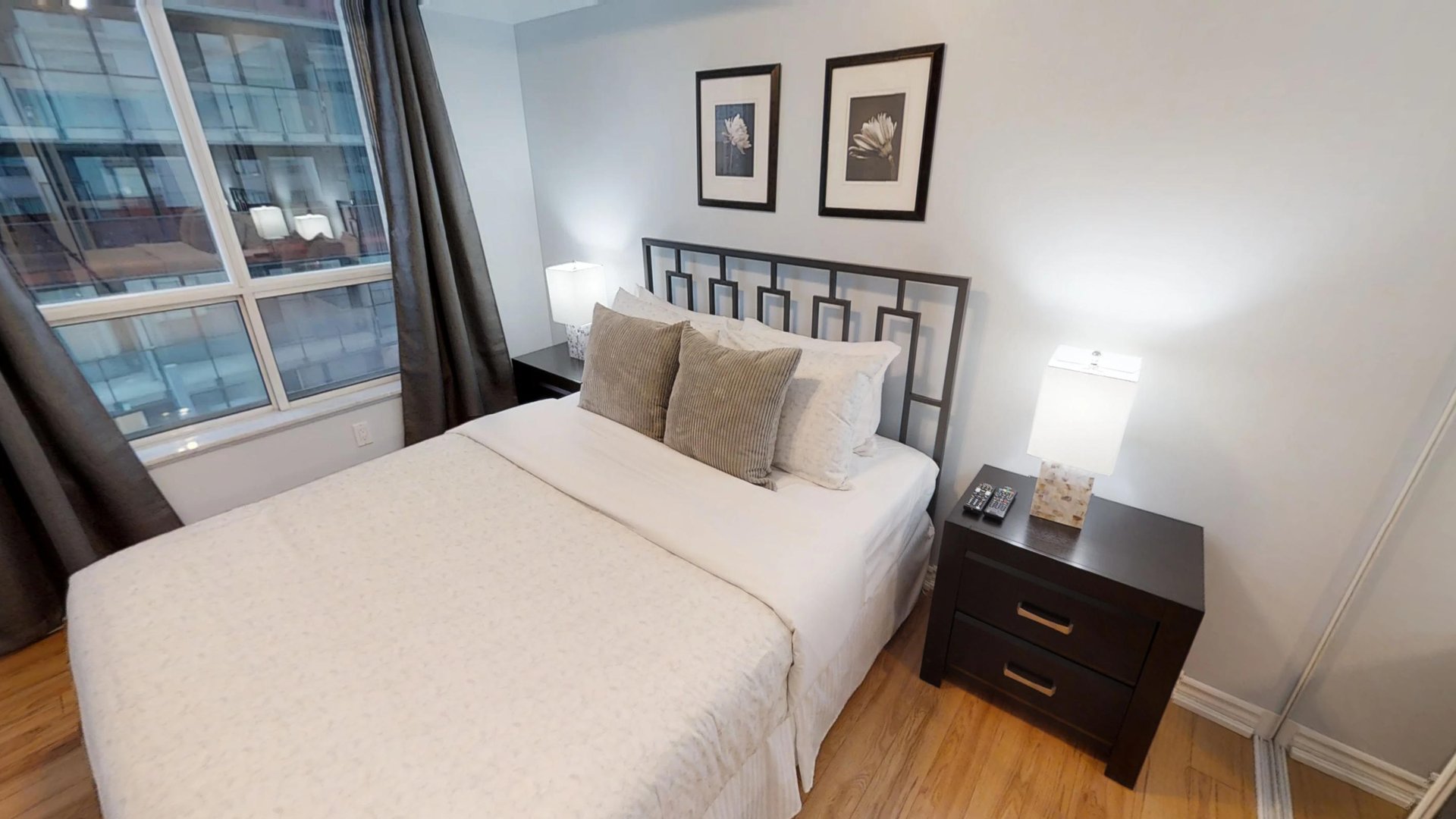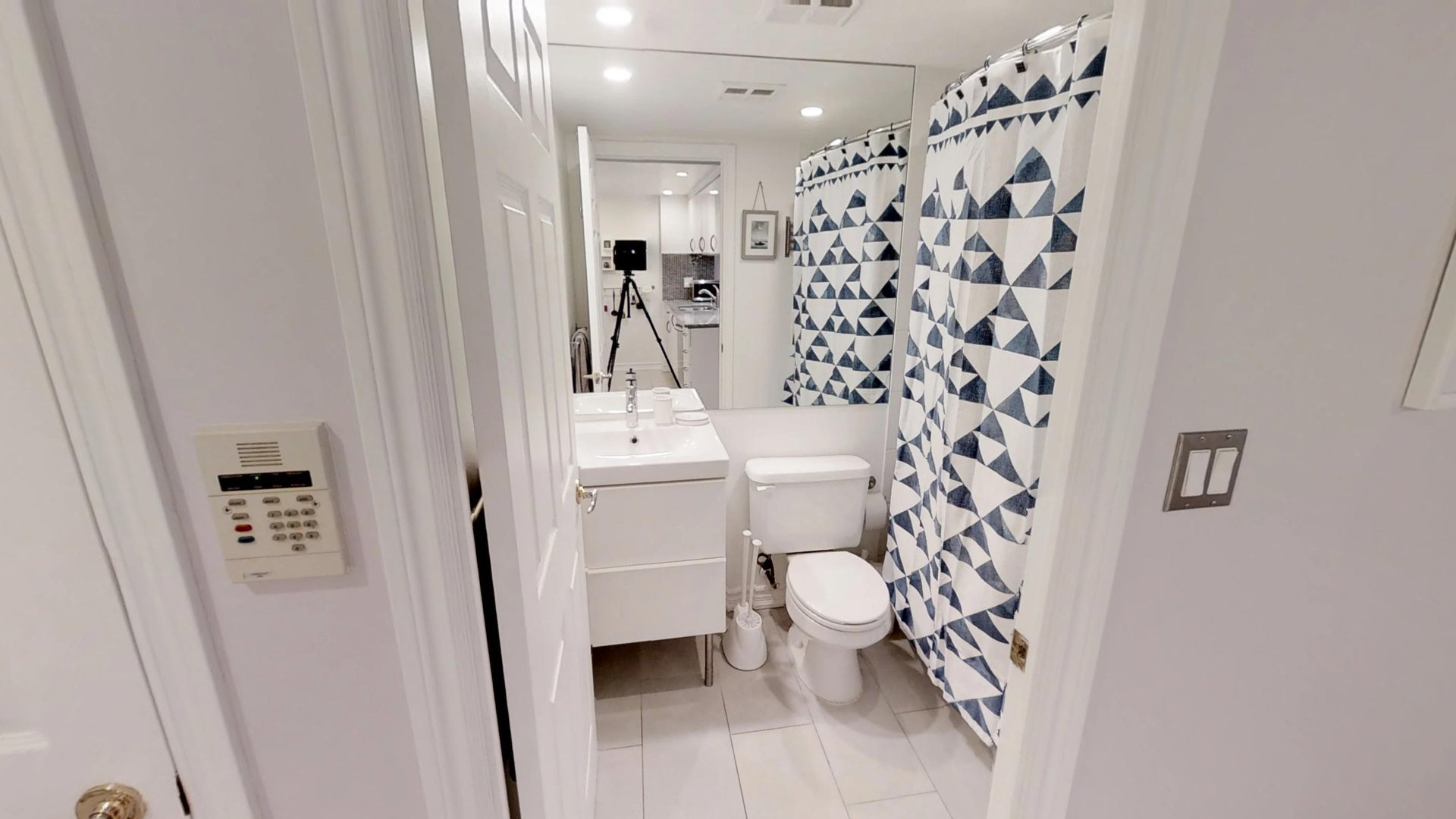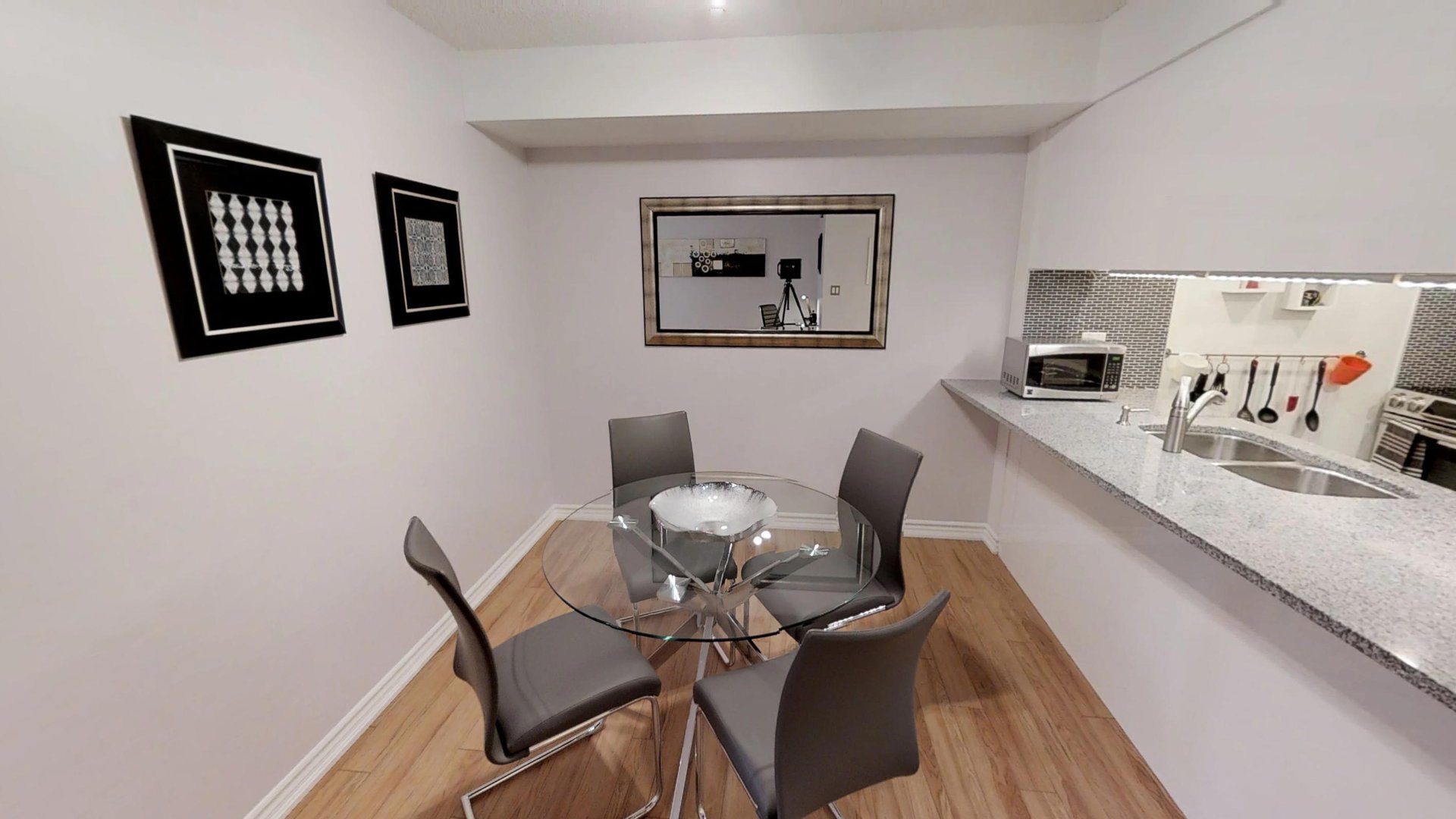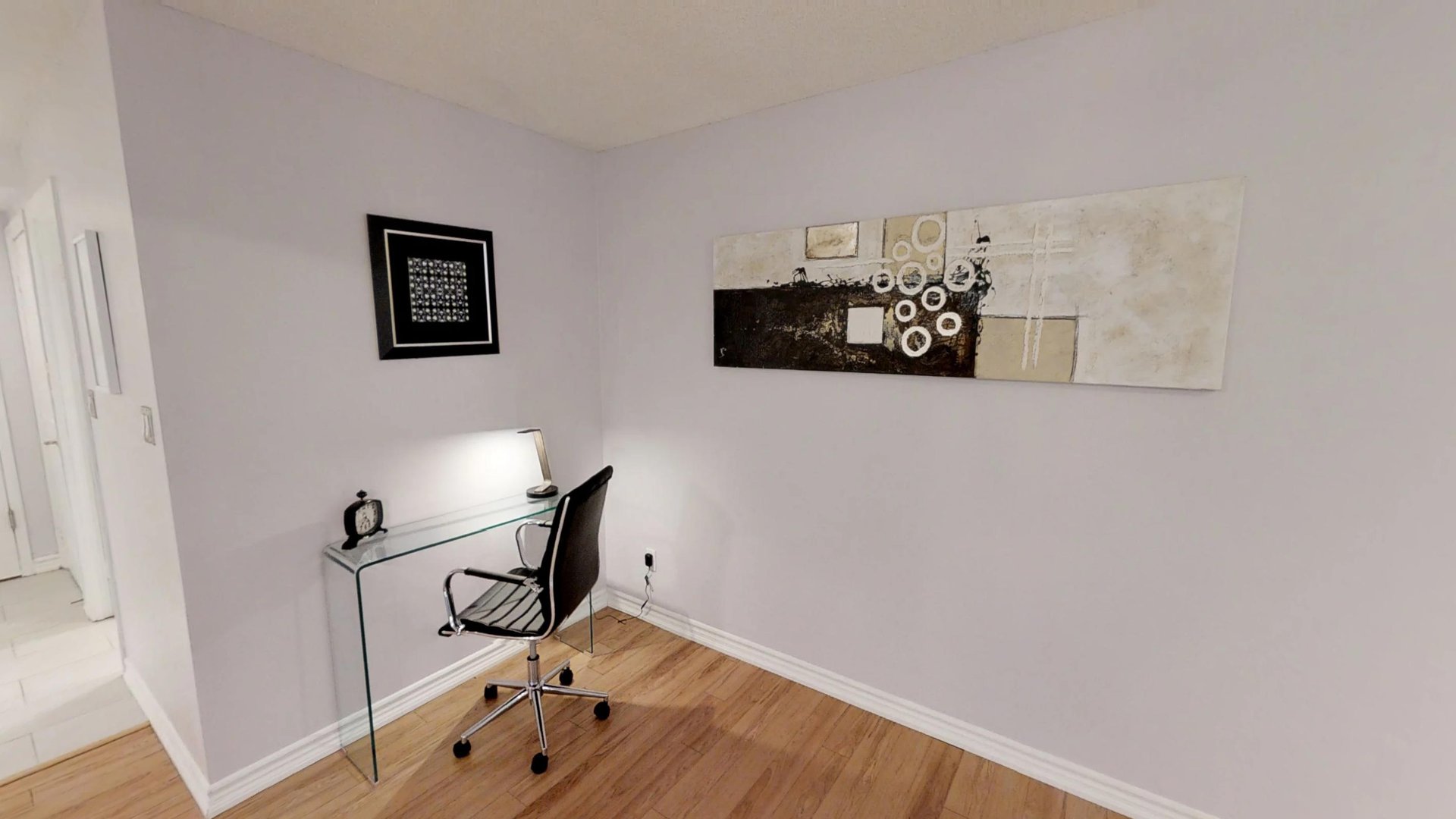 This recently renovated suite is one you do not want to pass on.  The Qwest Y Toronto furnished apartment is equipped with everything you will need during your short term stay.  Tucked in a surprisingly residential area between the Entertainment District and Financial District, this suite has a lot to offer: it is conveniently located, fully stocked and has great building amenities.
The updated appliances give you full capability to cook as if you were in your own kitchen.  We encourage all of our tenants to utilize all of the utensils we have provided in the suite.  The kitchen contains all major appliances, such as a refrigerator, microwave, and oven. Also in this fully furnished kitchen are small appliances (coffee machine, toaster, etc), glassware, dishware, flatware, and pots and pans needed for preparing a home-cooked meal.
Just outside of the kitchen, in the den, there is a  dining table for four. After dinner, guests can relax on a comfortable sofa, which sits opposite the large flat screen television. A beautiful glass is situated infront of the televtion so that guests may enjoy a beverage as they relax. Also featured across the living space is a glass desk for those who need to get some work done while they are in the suite.
The bedroom features a beautiful queen bed, a large mirrored closet, a side table, and a dresser, as well as a wall-mounted personal flat screen television. All linens are provided. The bathroom is clean and updated, with towels included. The apartment also has a full-sized clothes washer and dryer.
The Neighbourhood
This fully furnished apartment is on the cusp of Toronto's entertainment district and Toronto's financial district. Right across the street is Toronto's Opera House. Within a 5 minute walk is Toronto's City Hall, and court offices. As mentioned above, Osgoode subway station is a one minute walk. Also within a 2 minute walk is a connection to Toronto's unerground PATH system. This underground network connects you to the financial district and Union station without going outside. This feature is especially important during Toronto's cold winters. A pharmacy is located just outside the building and a 24 hour grocery store can be found a block away.
After work, our corporate housing guests are steps from the lively King West district, which has some of the city's best restaurants and lounges (a few blocks west of the building). Guests at this furnished apartment will also enjoy easy access to Toronto's best cultural and arts centers, including the Royal Alexandra Theatre, the Princess of Wales theatre, and for music lovers, the Roy Thomson Hall.
The Building
This extended stay suite is sure to meet all of your needs with a vast array of on-site amenities, including well-appointed lobby entrance & waiting area (complete with a 24-hour security and a large gas fireplace). The building's fitness centre is available to help you maintain your fitness goals, offering a choice of weight-lifting and cardio machines.
Other amenities include a games room (with a billiards table, a media room with a large screen TV great for entertaining, and a party room available for larger gatherings (complete with a full kitchen and a separate dining and lounging area).
Best of all, with Sky View Suites, there are no hidden costs. Free wireless internet, cable TV and bi-weekly maid service (once every 2 weeks) are included in the price.
Request this suite
Walk Score
How to Book
Request this suite
Request this suite
[contact-form-7 404 "Not Found"]
Walk In Score
How to Book