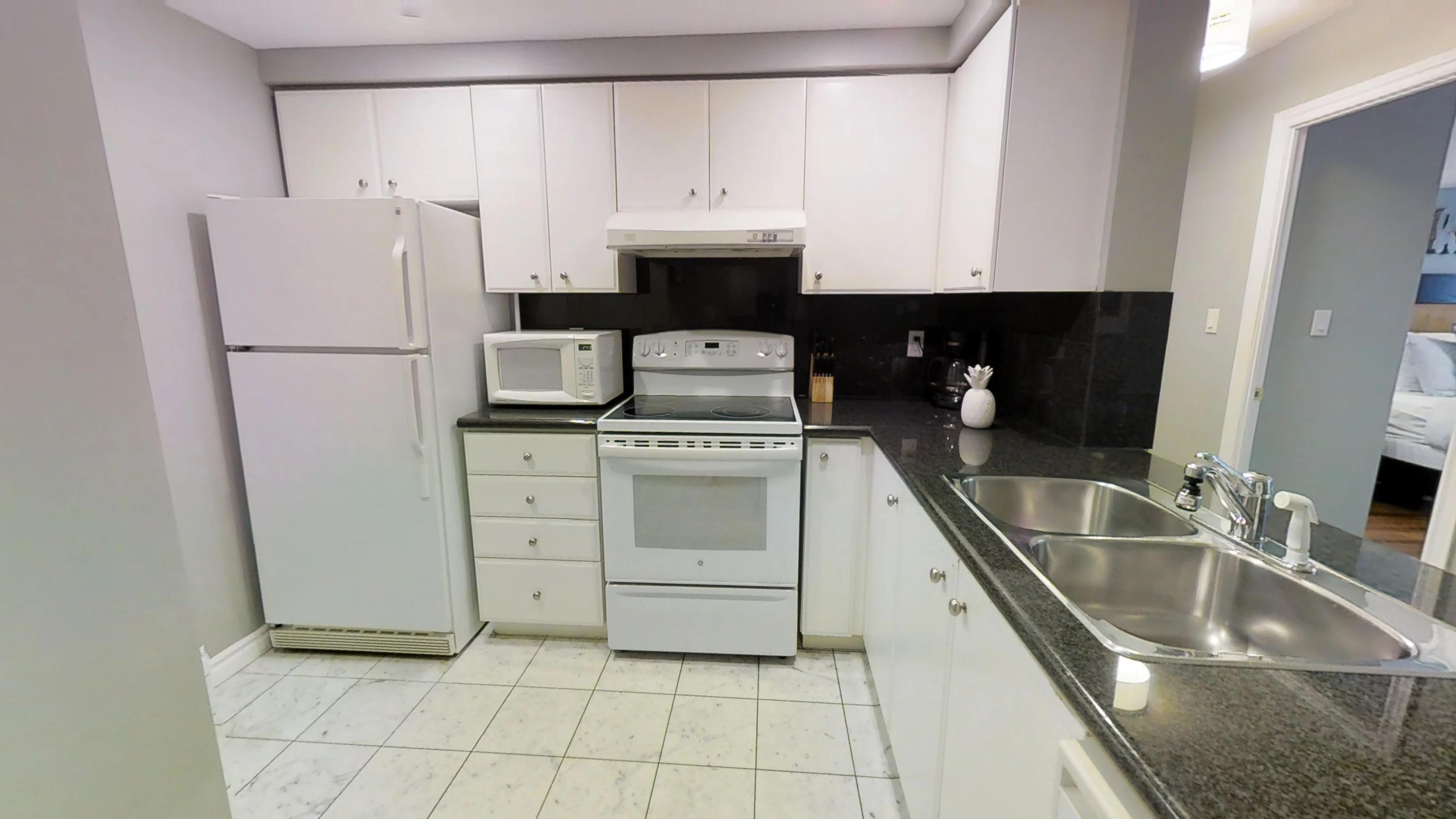 /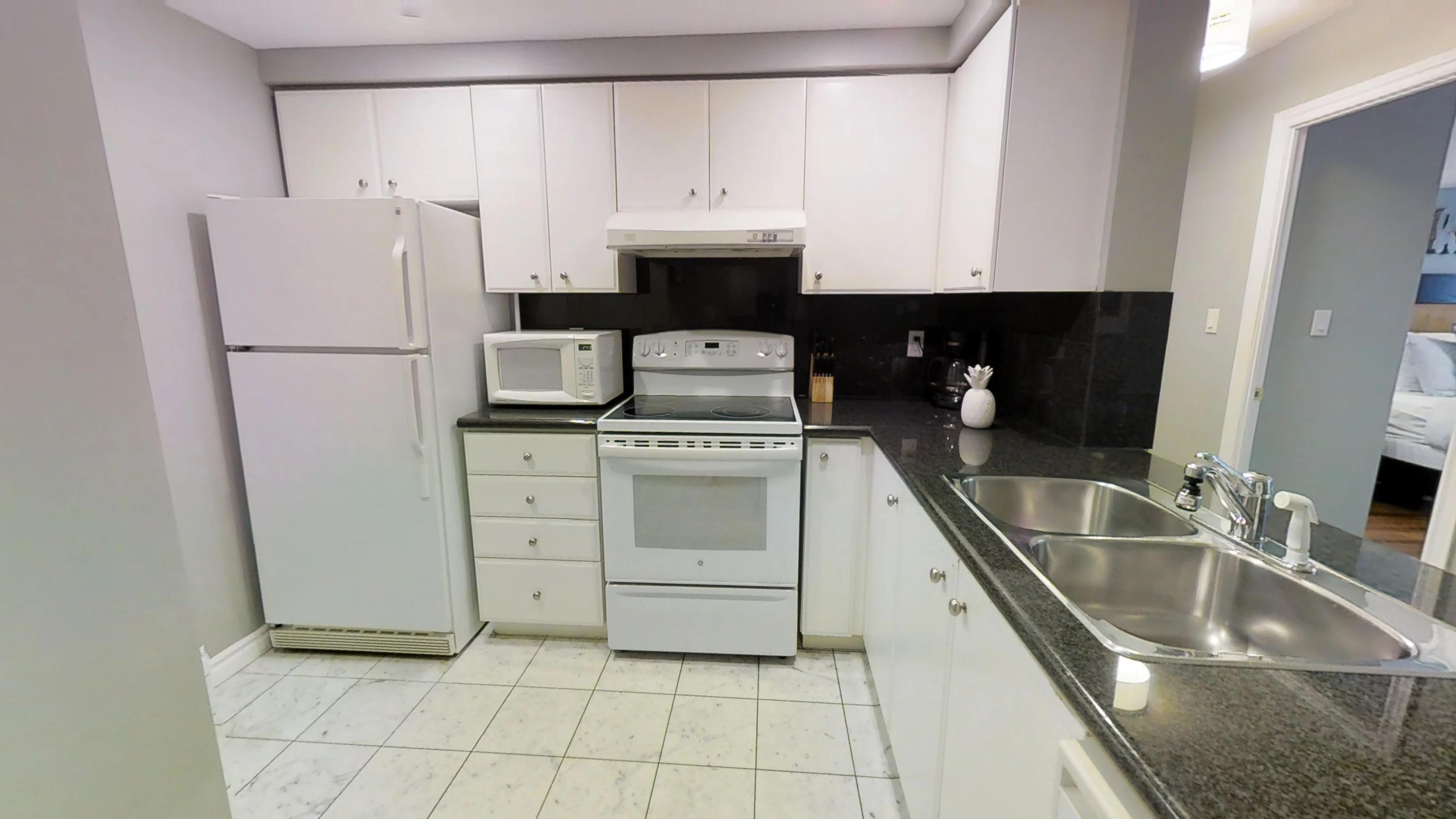 In one of Toronto's most accessible and convenient neighbourhoods, Qwest P is the perfect furnished apartment for those visiting Toronto for an extended period – be it for work, play, or a mix of both. This one bedroom suite has access to many TTC stops within easy walking distance, allowing easy transportation to the rest of the city.
The furnished kitchen features white tiling and a granite countertop. Guests have access to all standard large appliances, such as a dishwasher, refrigerator, and oven, as well as small appliances, dishes, glassware, utensils, and an array of dining and cooking equipment.
The main living area is demarcated by engineered hardwood floors, which continue throughout the rest of this extended stay suite. This open concept space features a glass dining table for three, an elongated glass desk and chair, and a cozy sitting area with a couch, chair, coffee table, and a large flat screen television.
The spacious bedroom features a queen sized bed and personal wall-mounted flat screen television. With a large closet and dresser, guests will have adequate space to store their clothing and other personal items.
The bathroom features a bathtub/shower combination, and complimentary towels for the guest's use. In addition, included in the rental of this furnished apartment are complimentary linens, bedding and pillows for the bedroom.
The Neighbourhood
The Quest P extended stay suite is straddling Toronto's entertainment district and Toronto's financial district. Countless Toronto landmarks are within walking distance of here, including the Four Seasons Centre of Performing Arts, Roy Thomson Hall, and the Royal Alexandrea Theatre. If this is your first time in Toronto, the CN Tower is within walking distance for a quick photo op!
Transit is a dream at this location! The TTC's Osgoode subway station is within a minute of walking from the front door of your building; also easily accessible are the King and Queen streetcars, allowing unrivaled access to the city from here.
The Building
This furnished condominium apartment is sure to meet all of your needs with a selection of amenities, including a lobby entrance and waiting area (complete with a 24 hour security and a large gas fireplace). The building's fitness centre is available on the ground floor to help you maintain your fitness goals, while the billiards table in the games room will turn you into a sharp shooter. Other amenities include a fabulous rooftop with barbecues available for your use.
Best of all, with Sky View Suites, there are no hidden costs. Free wireless internet, cable TV and bi-weekly maid service (once every 2 weeks) are included in the price.
Request this suite
Walk Score
Floor Plan
How to Book
Request this suite
Request this suite
[contact-form-7 404 "Not Found"]
Walk In Score
Floor Plan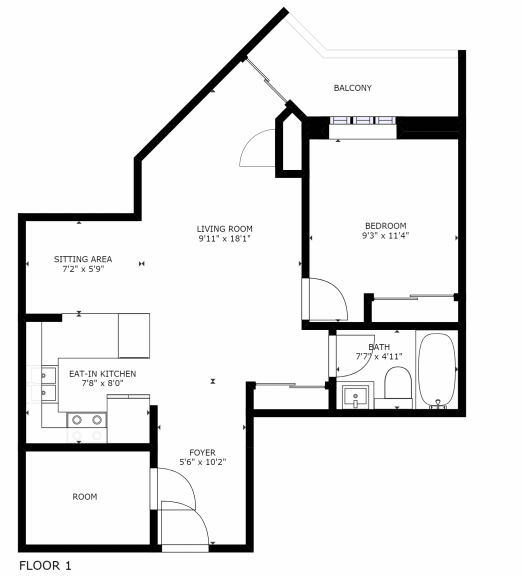 How to Book