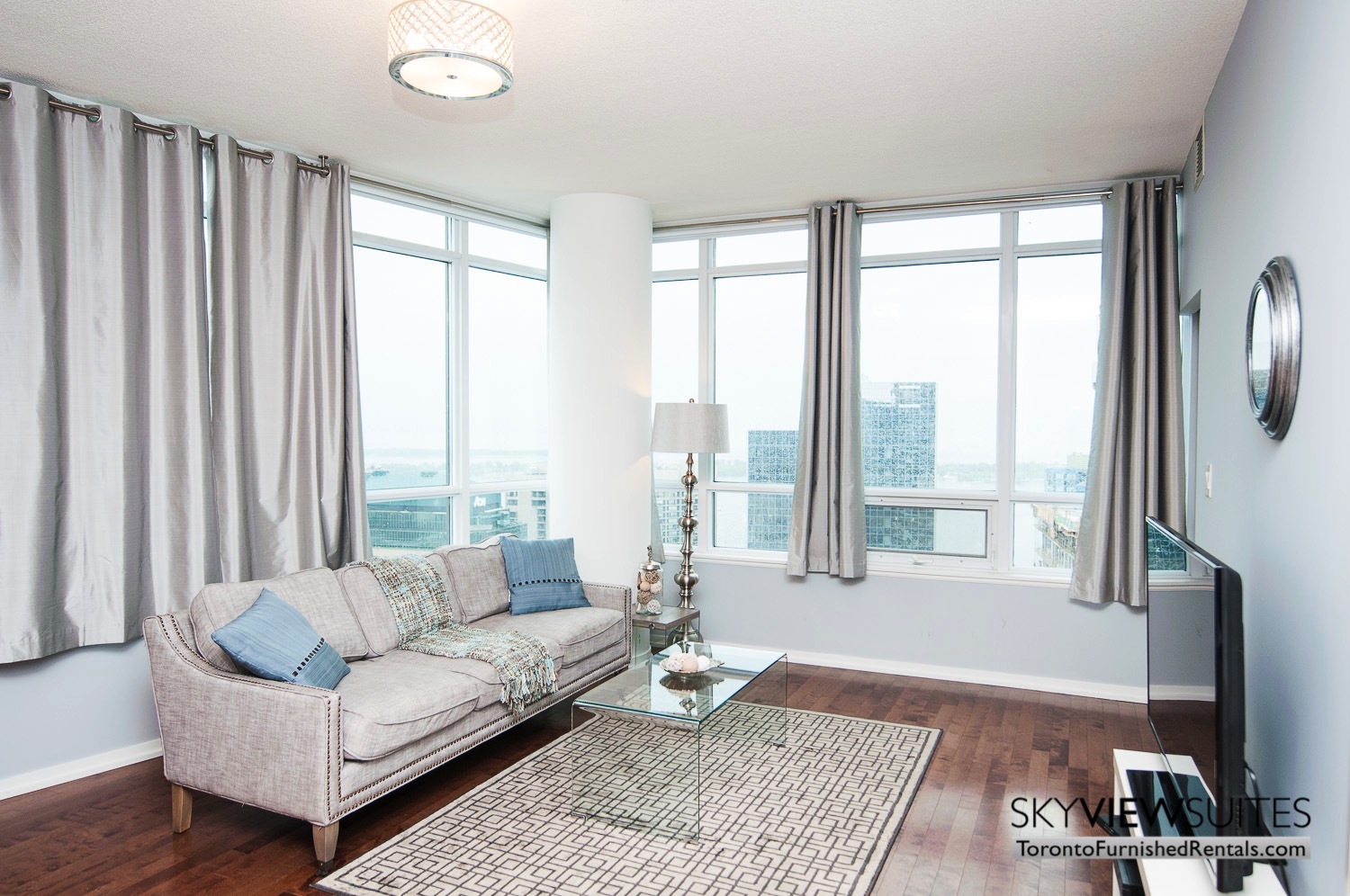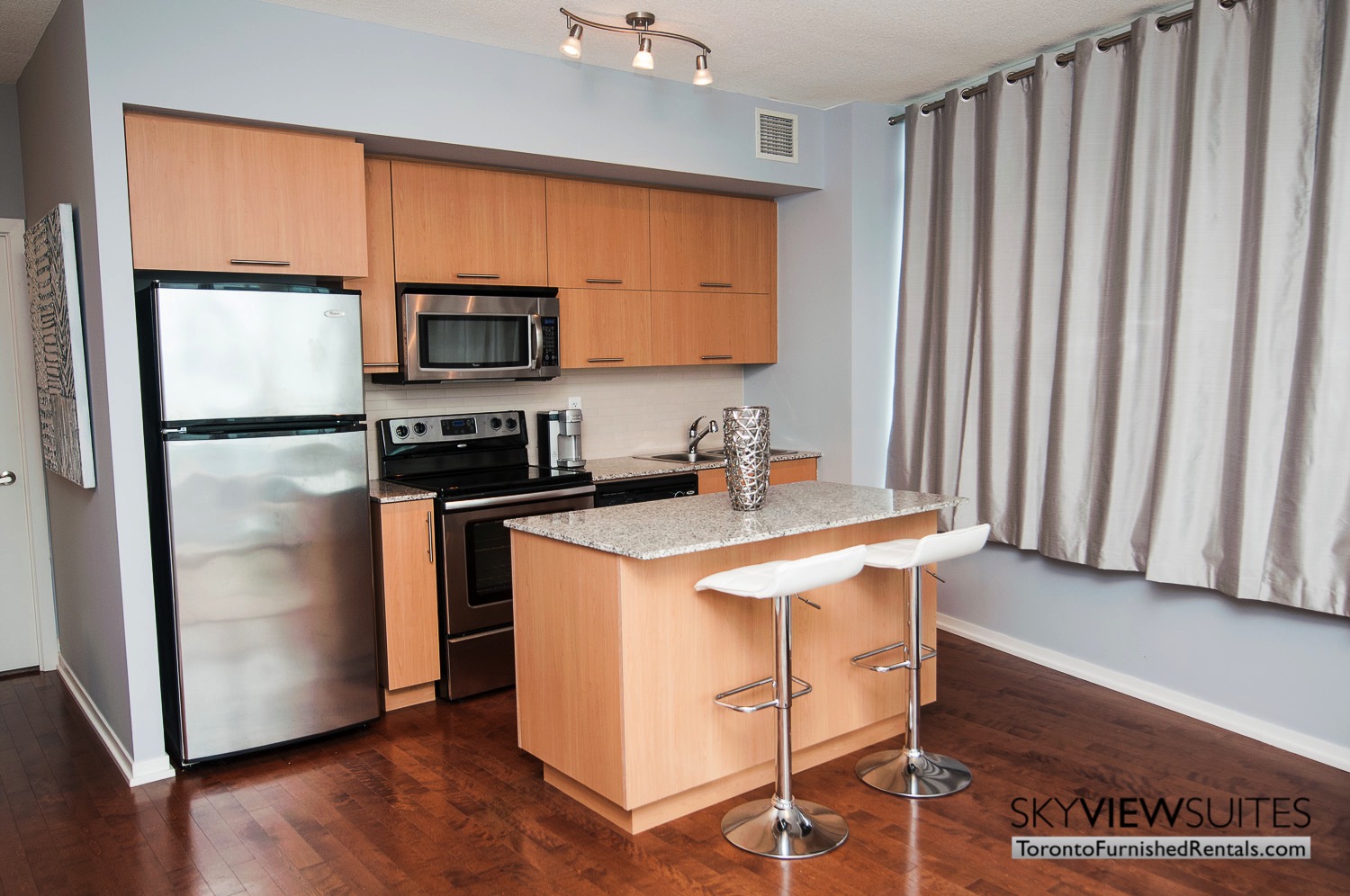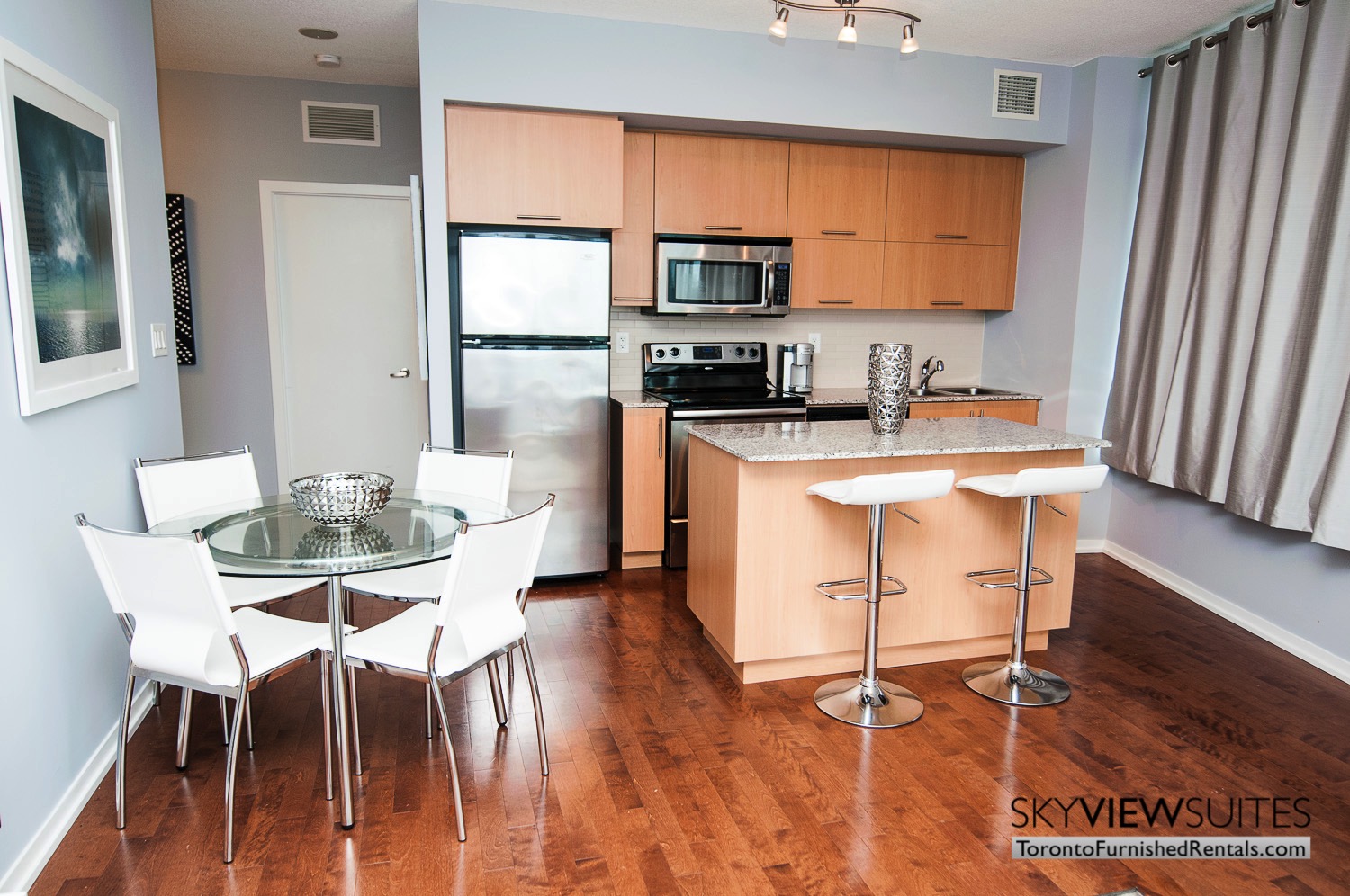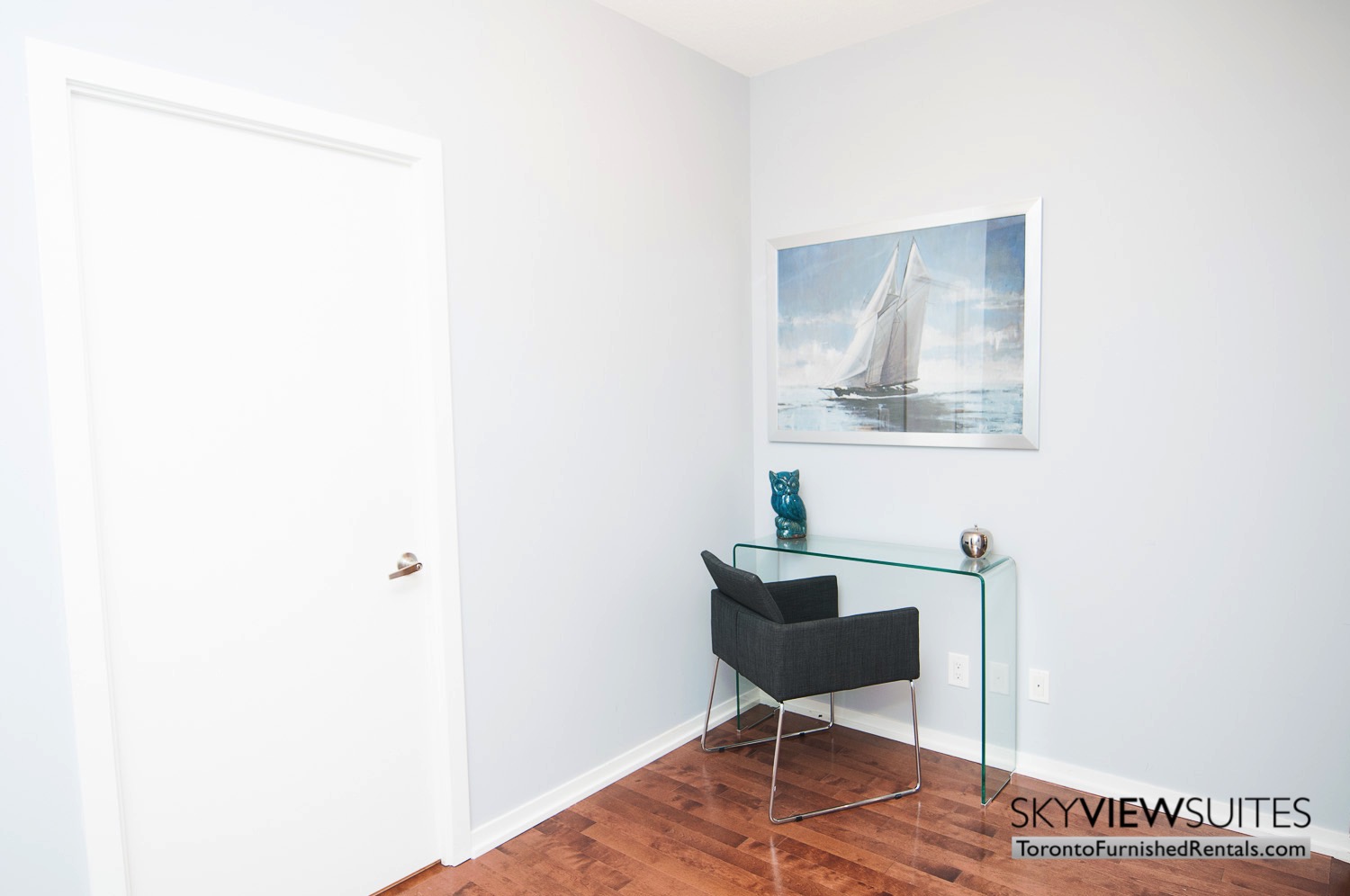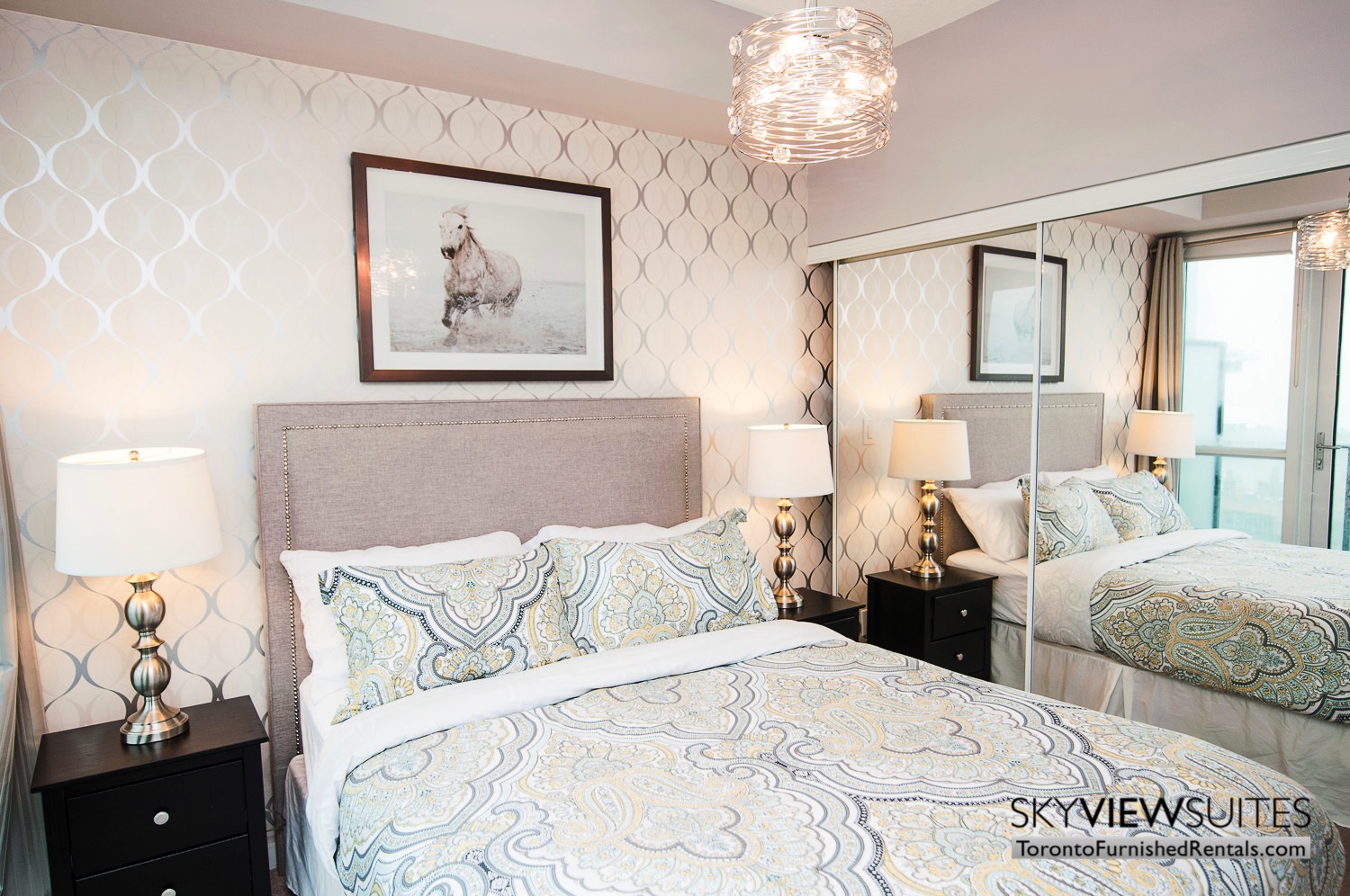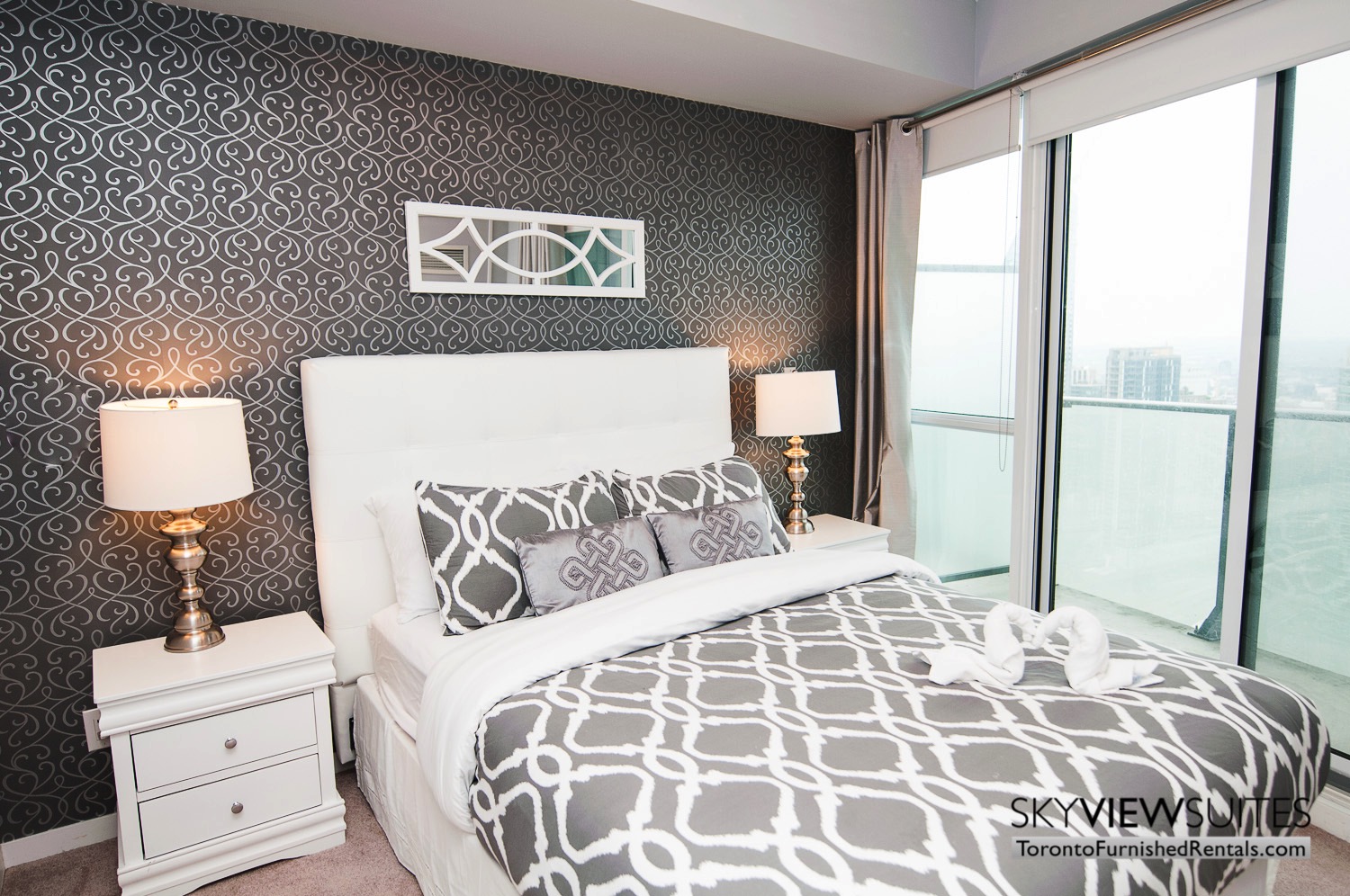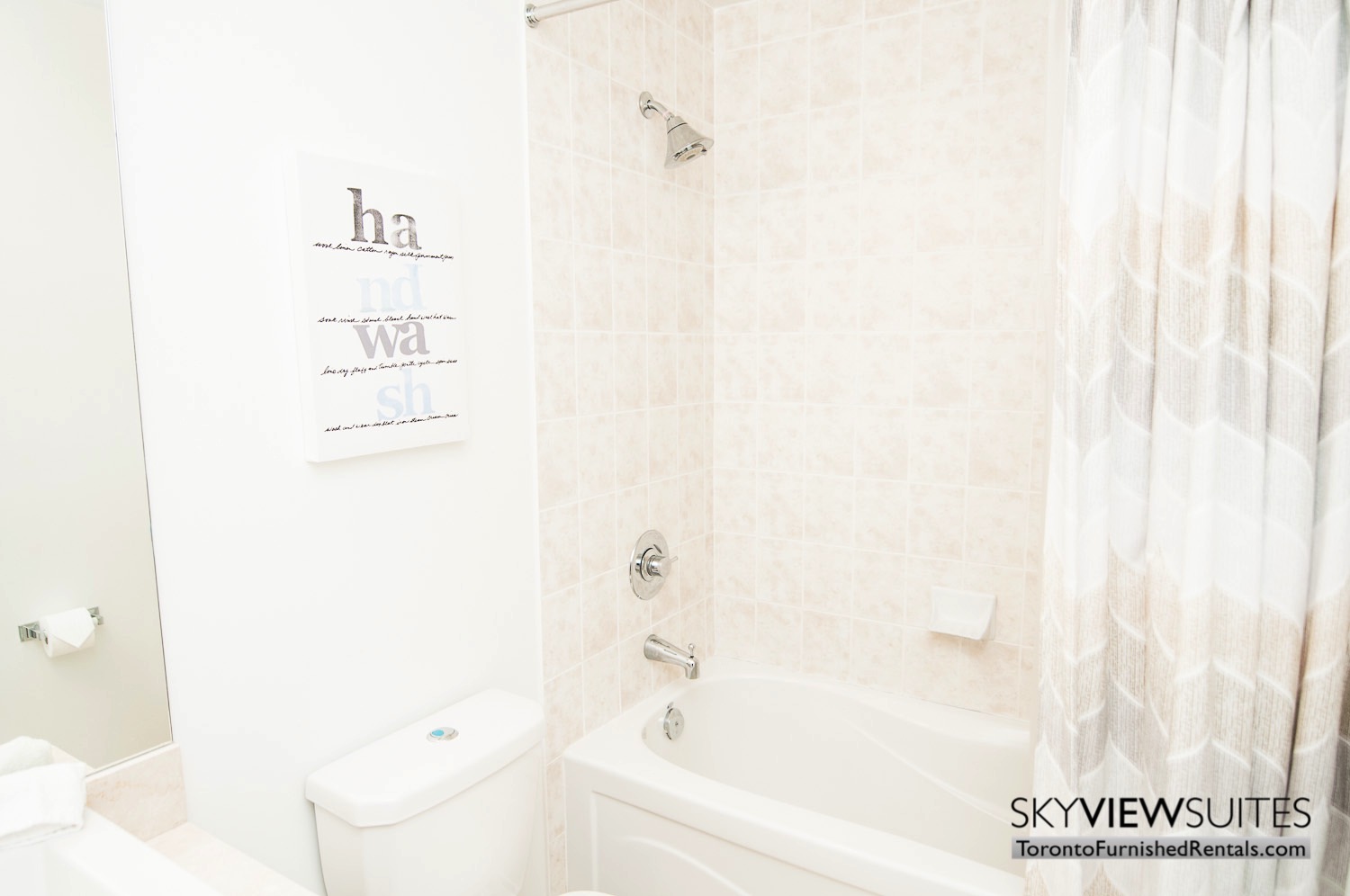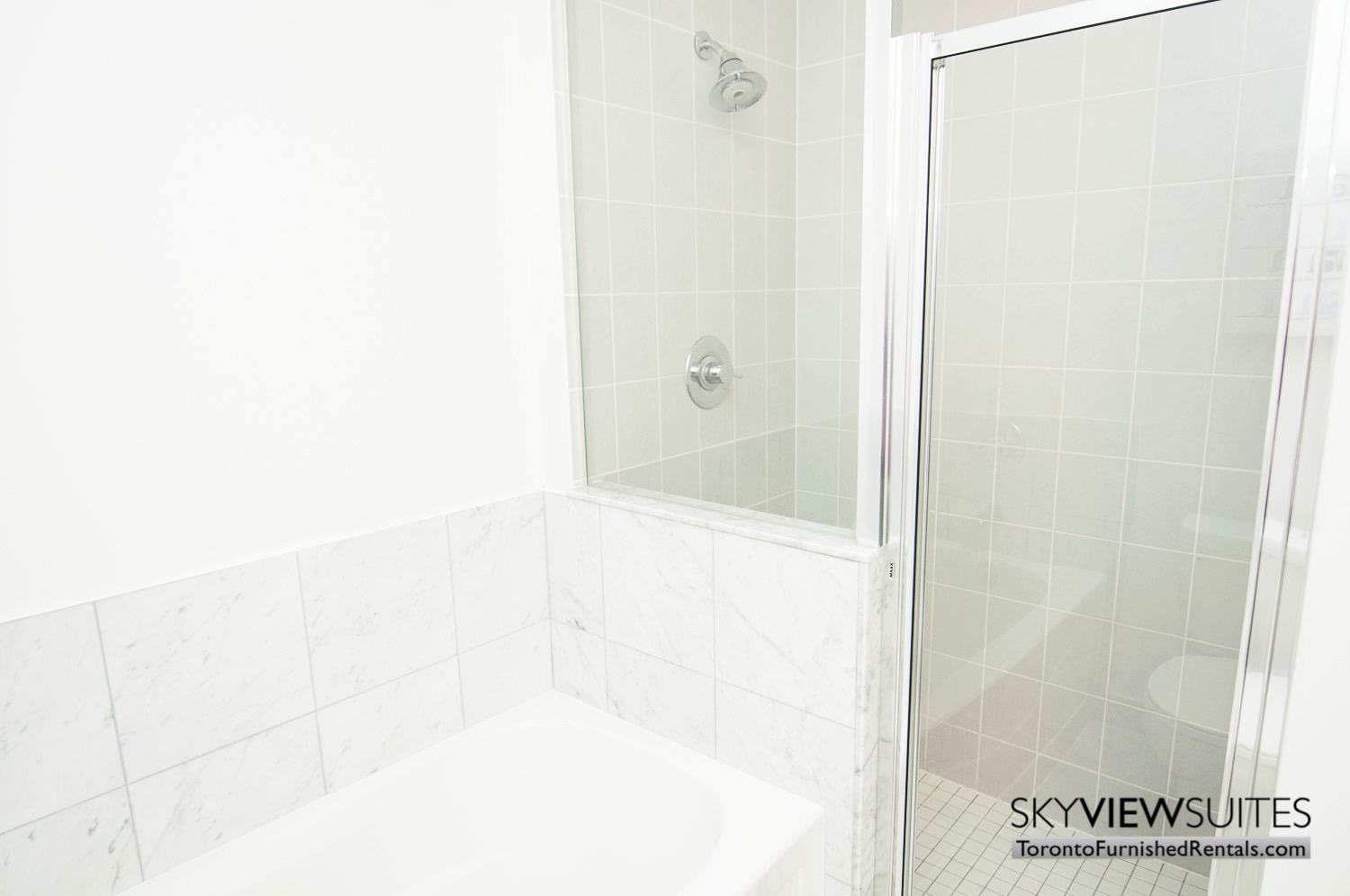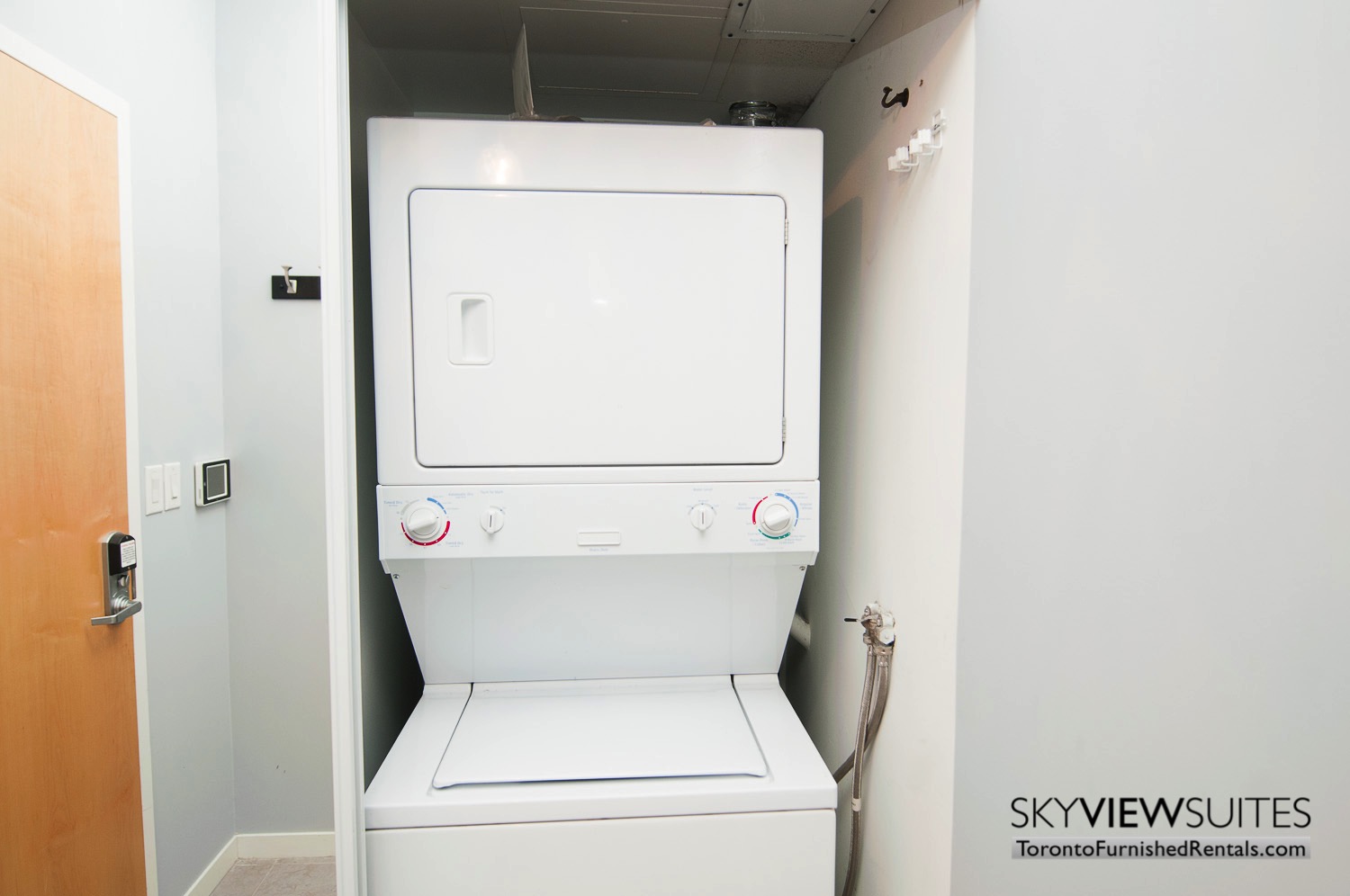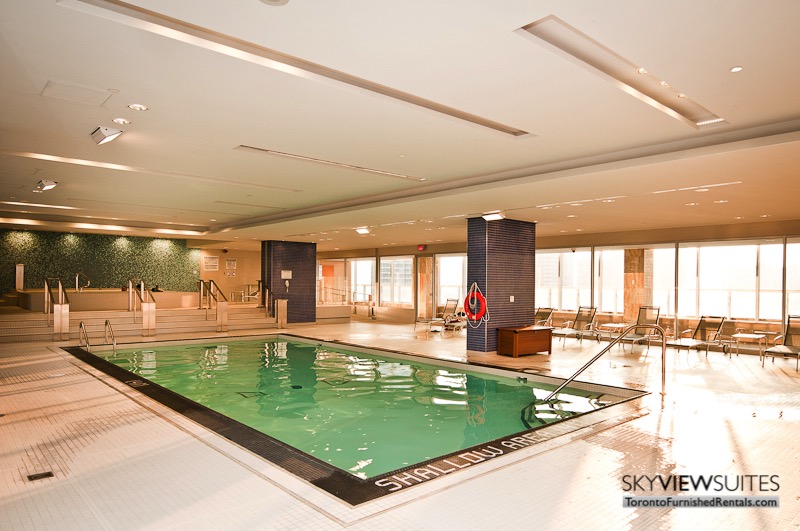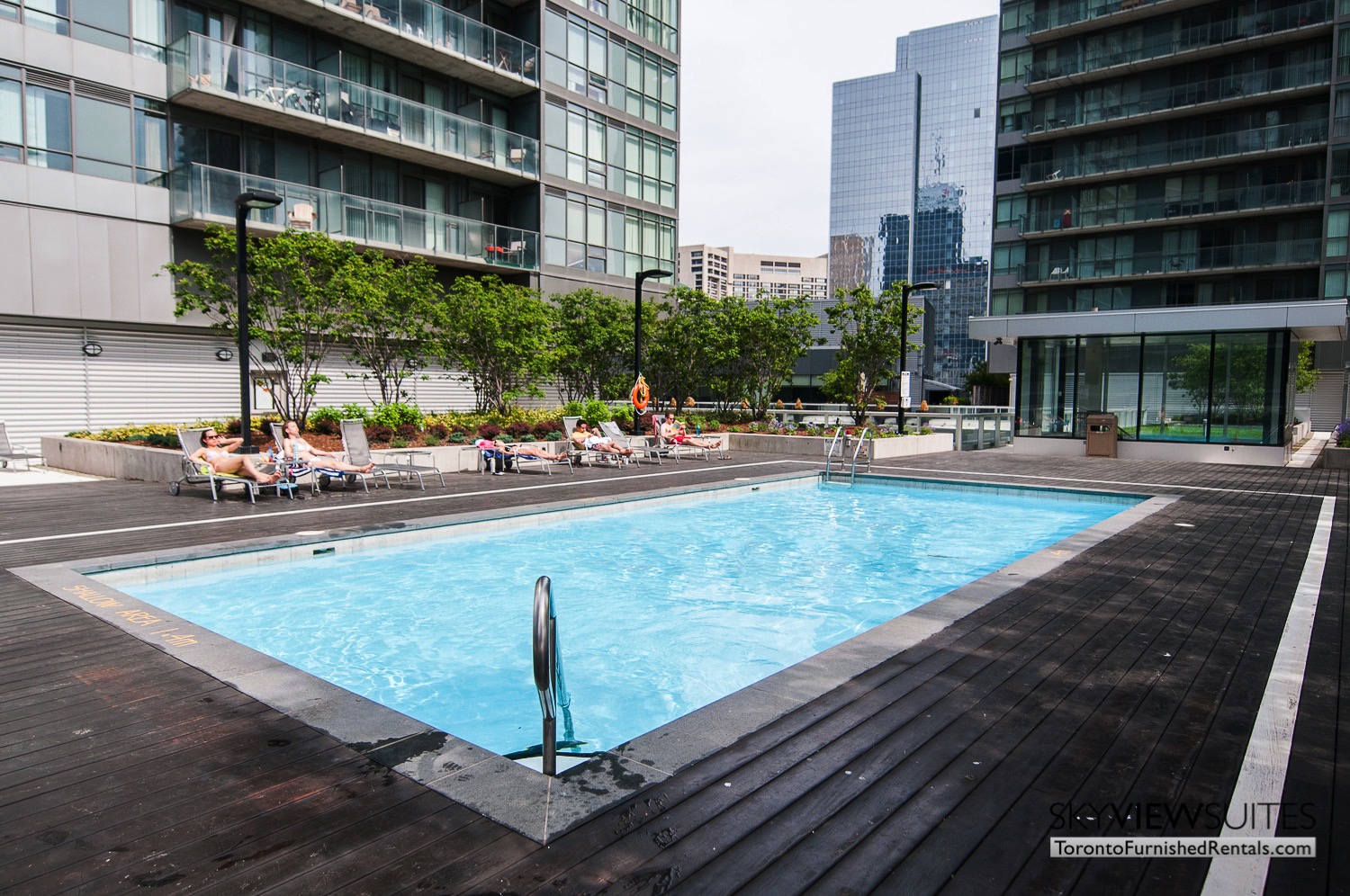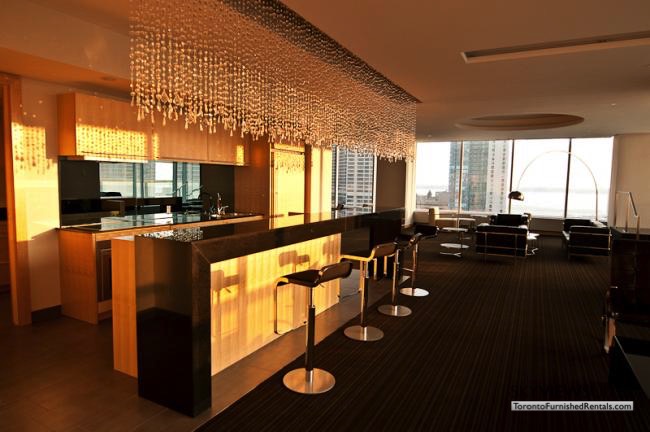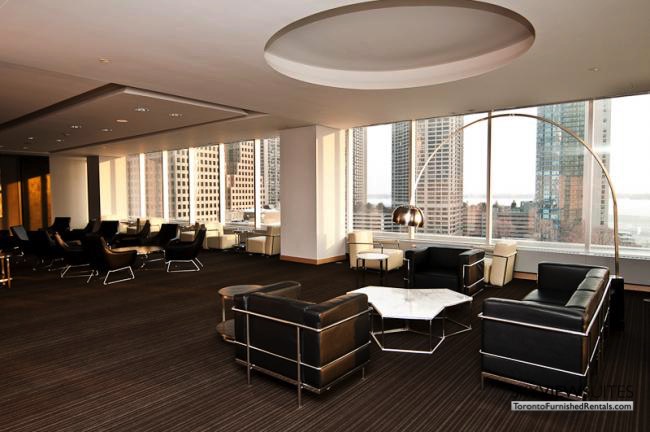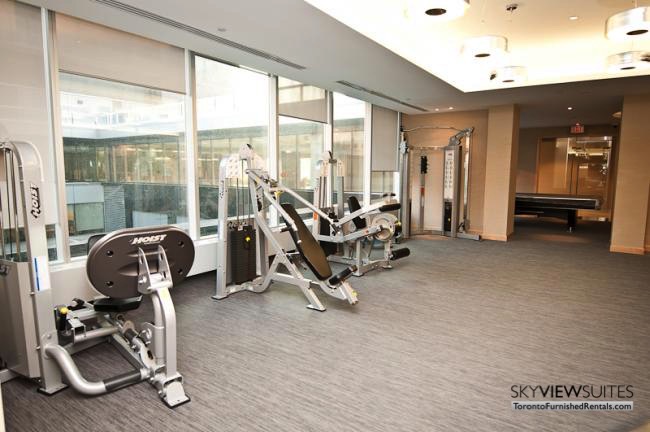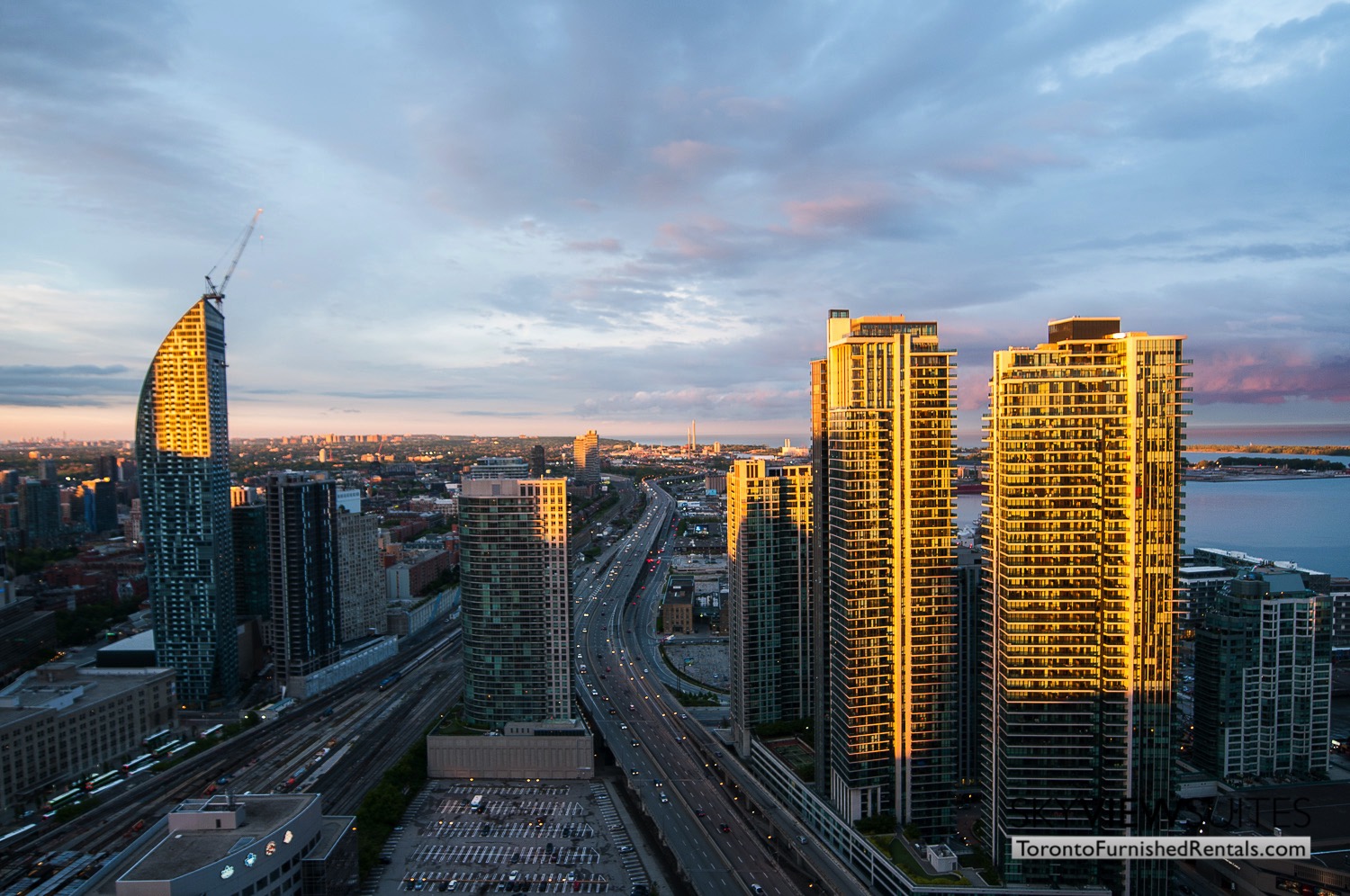 /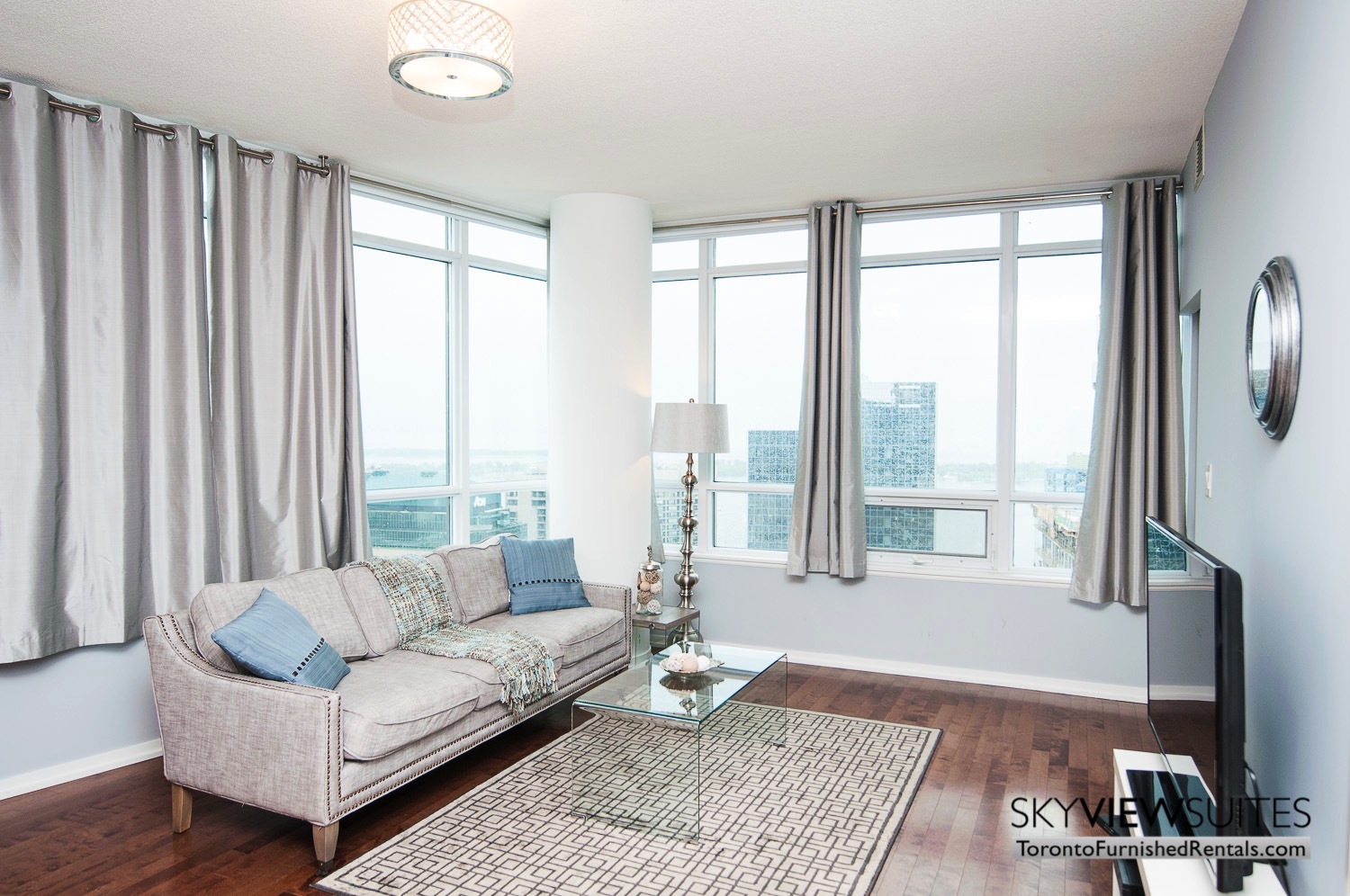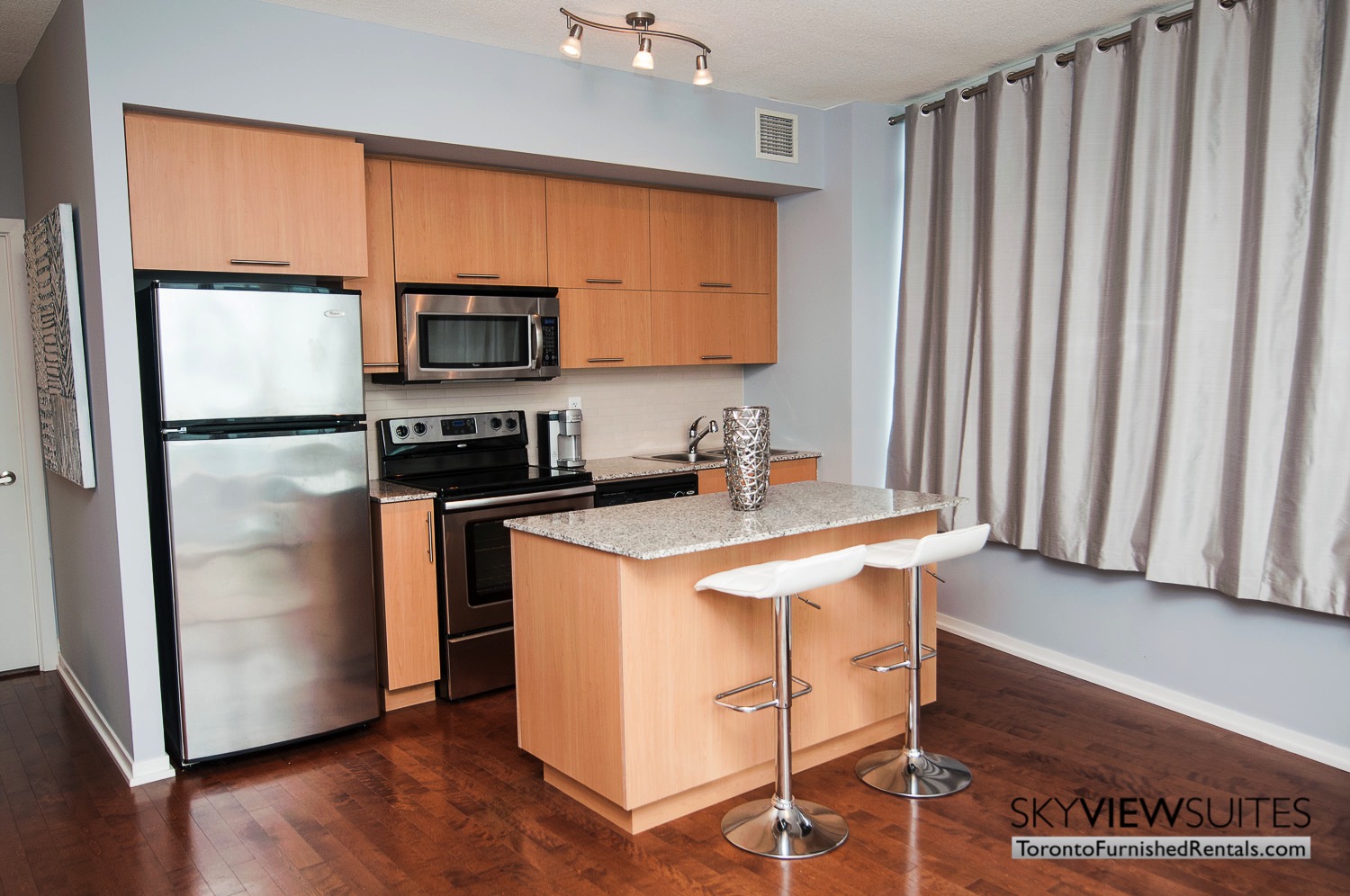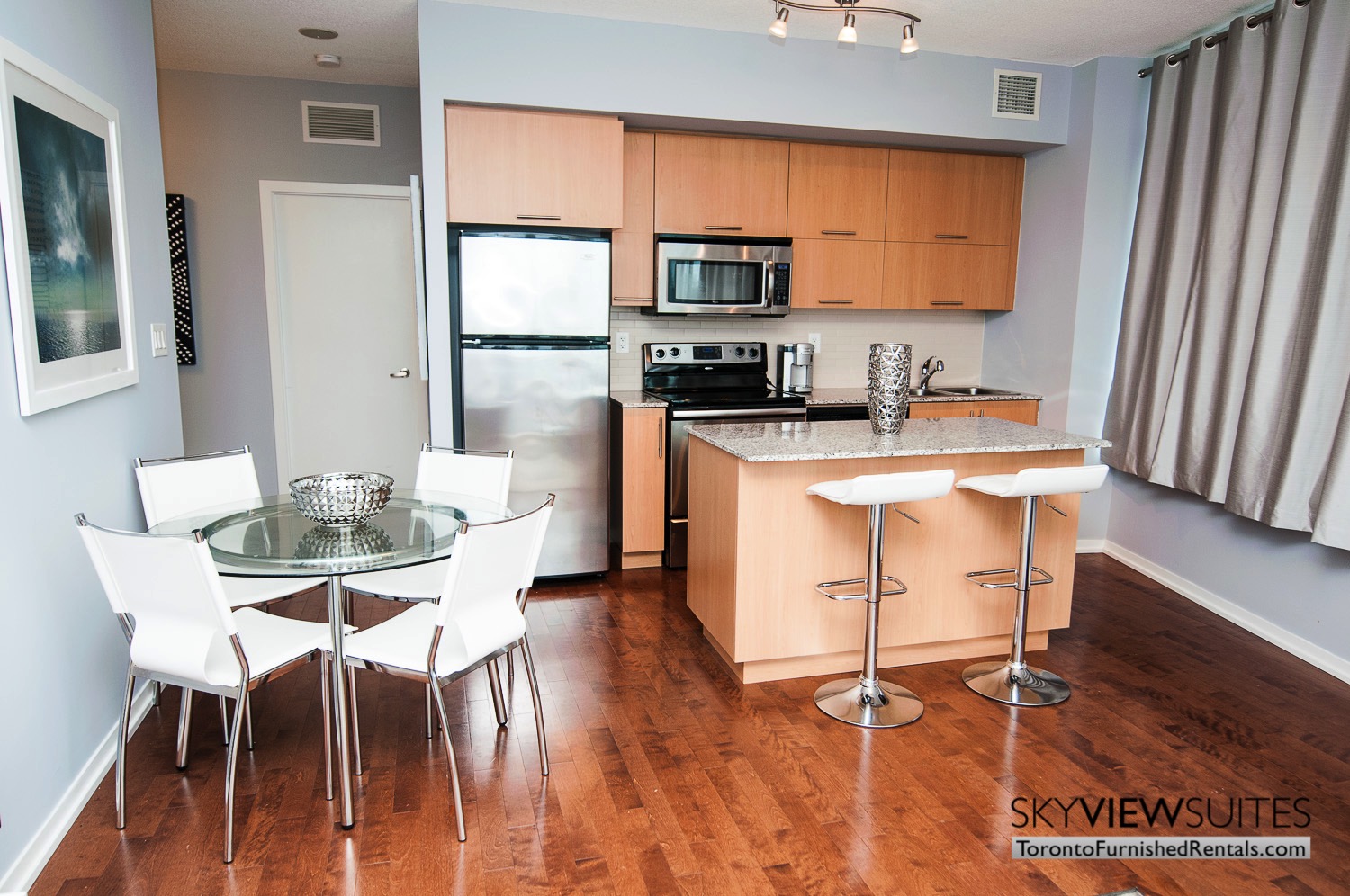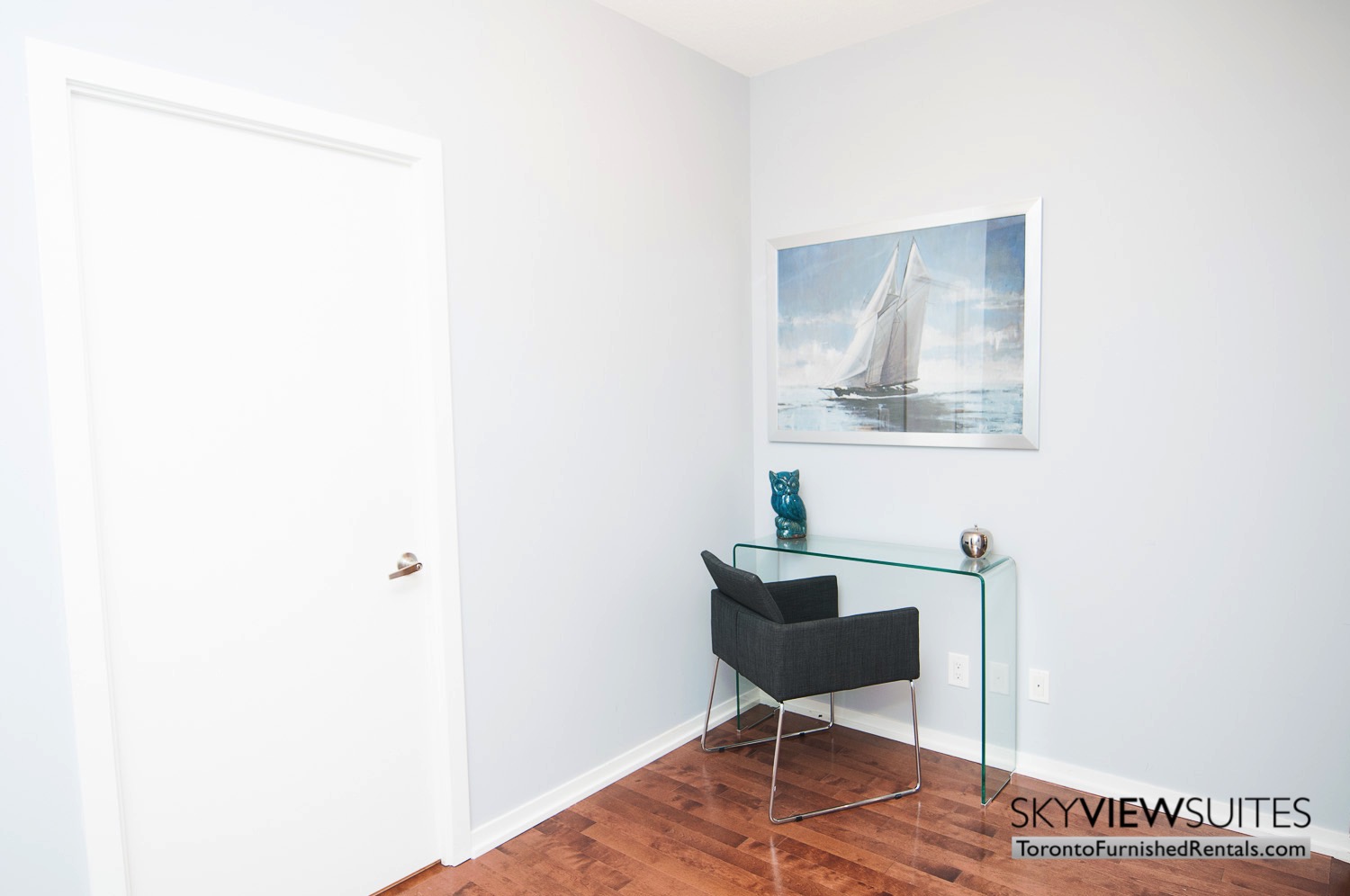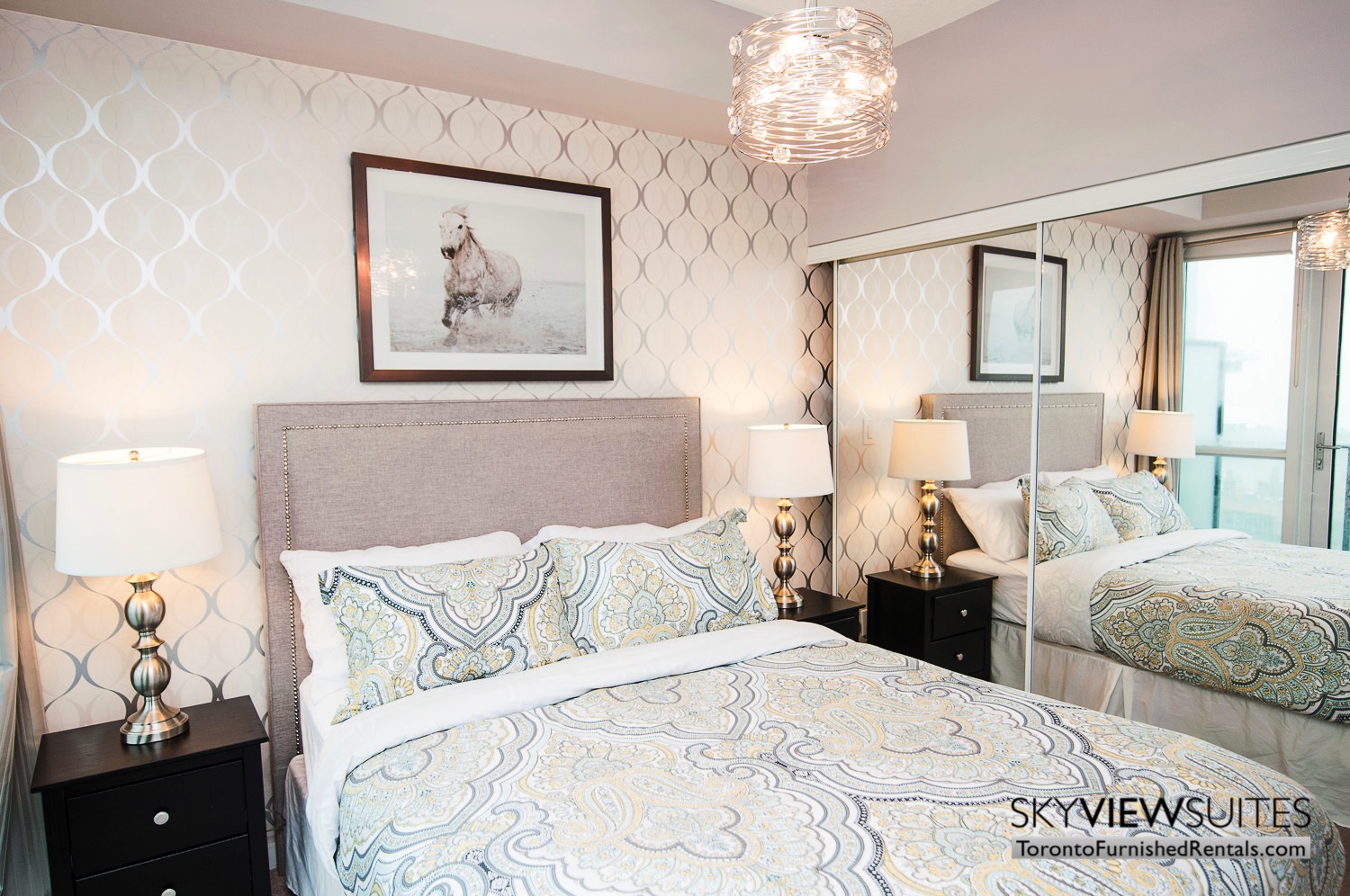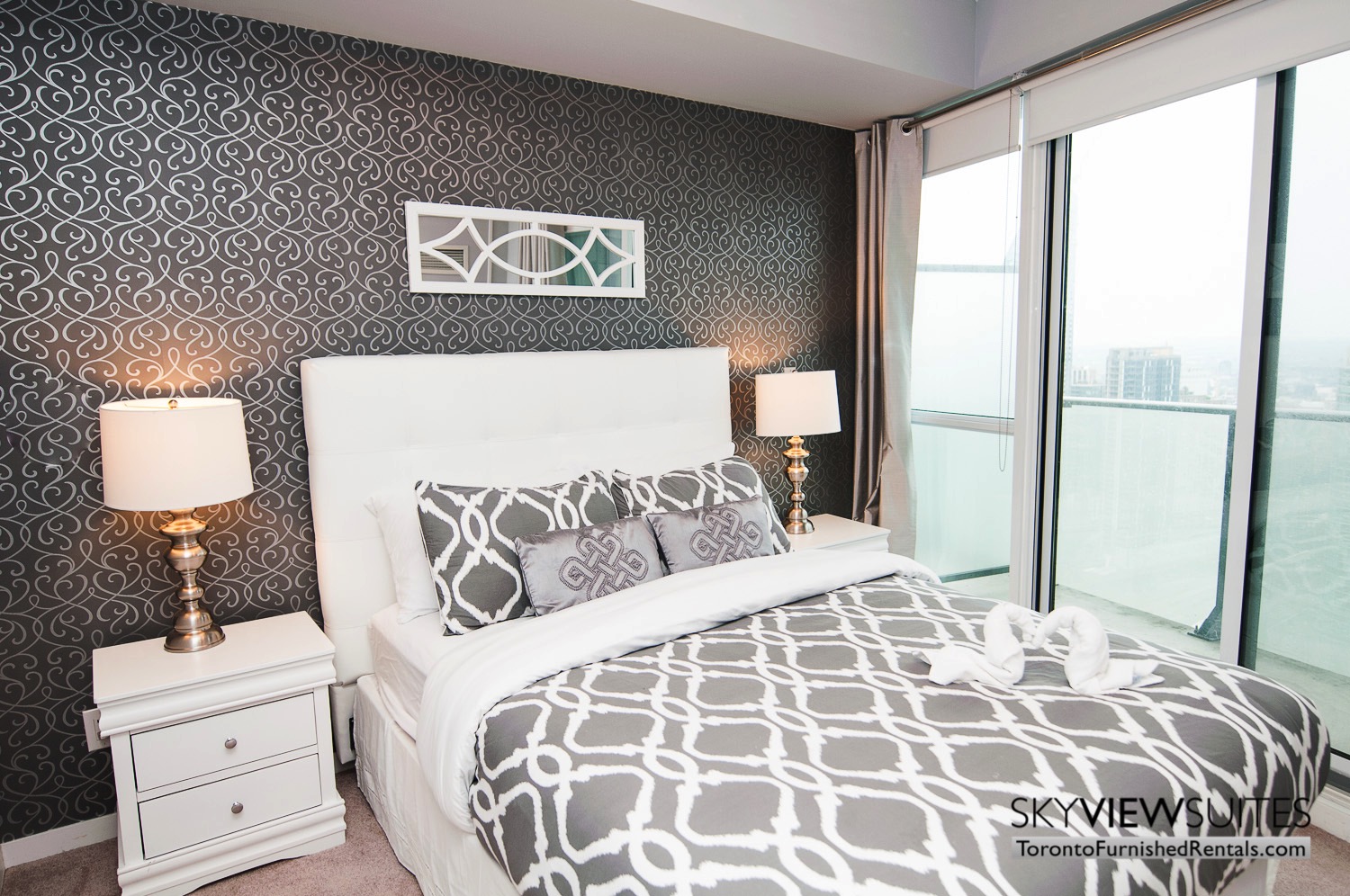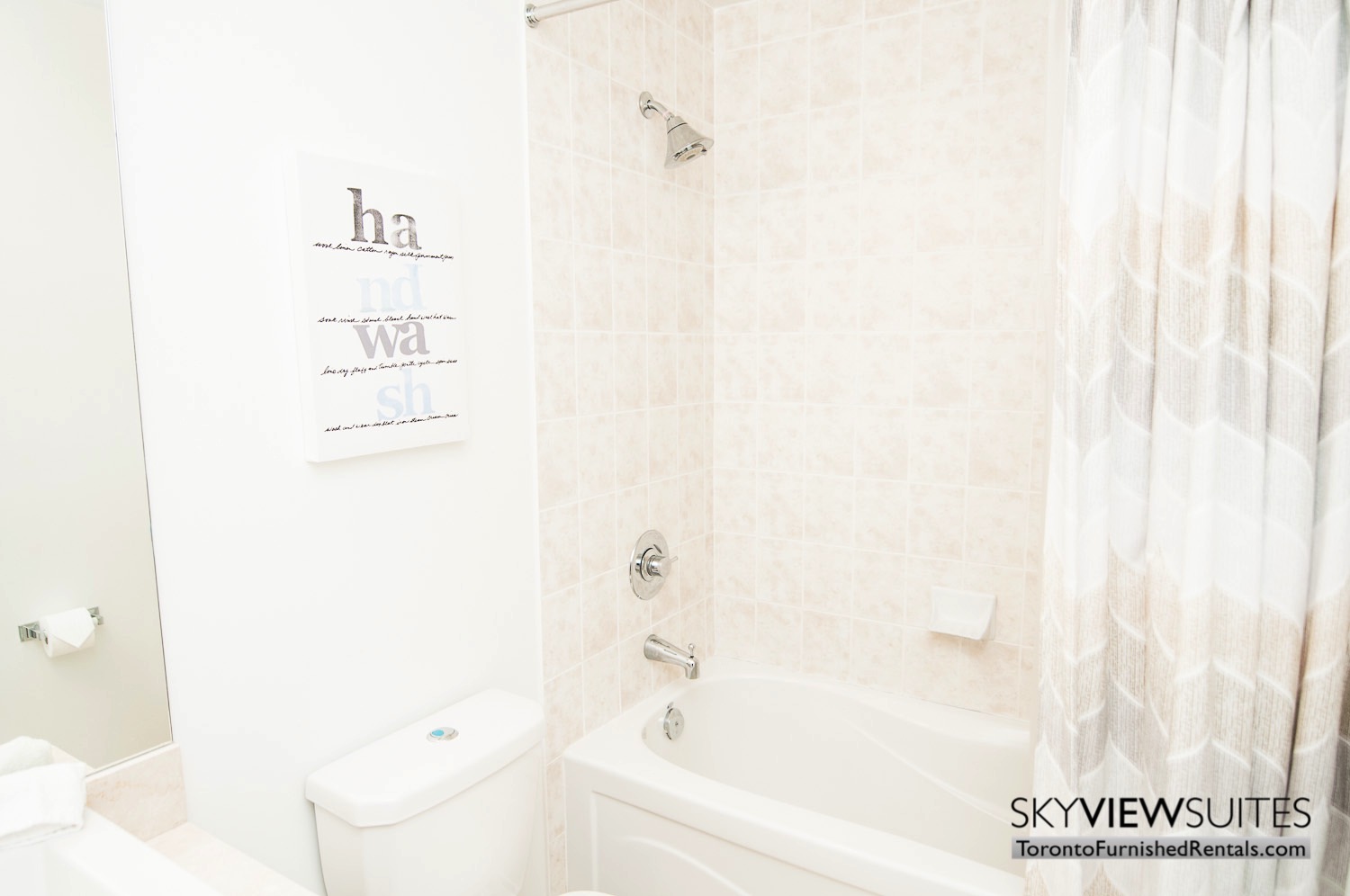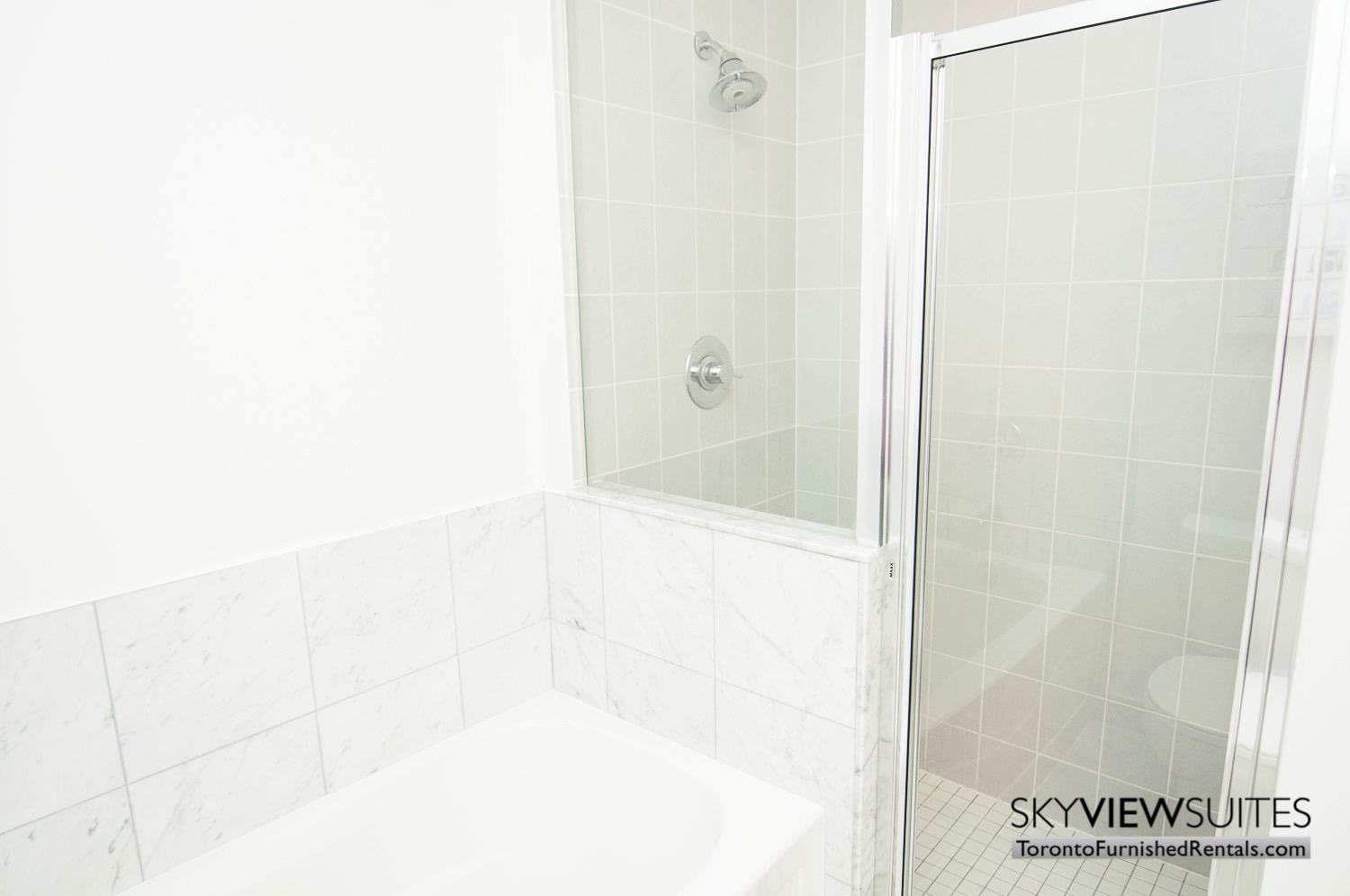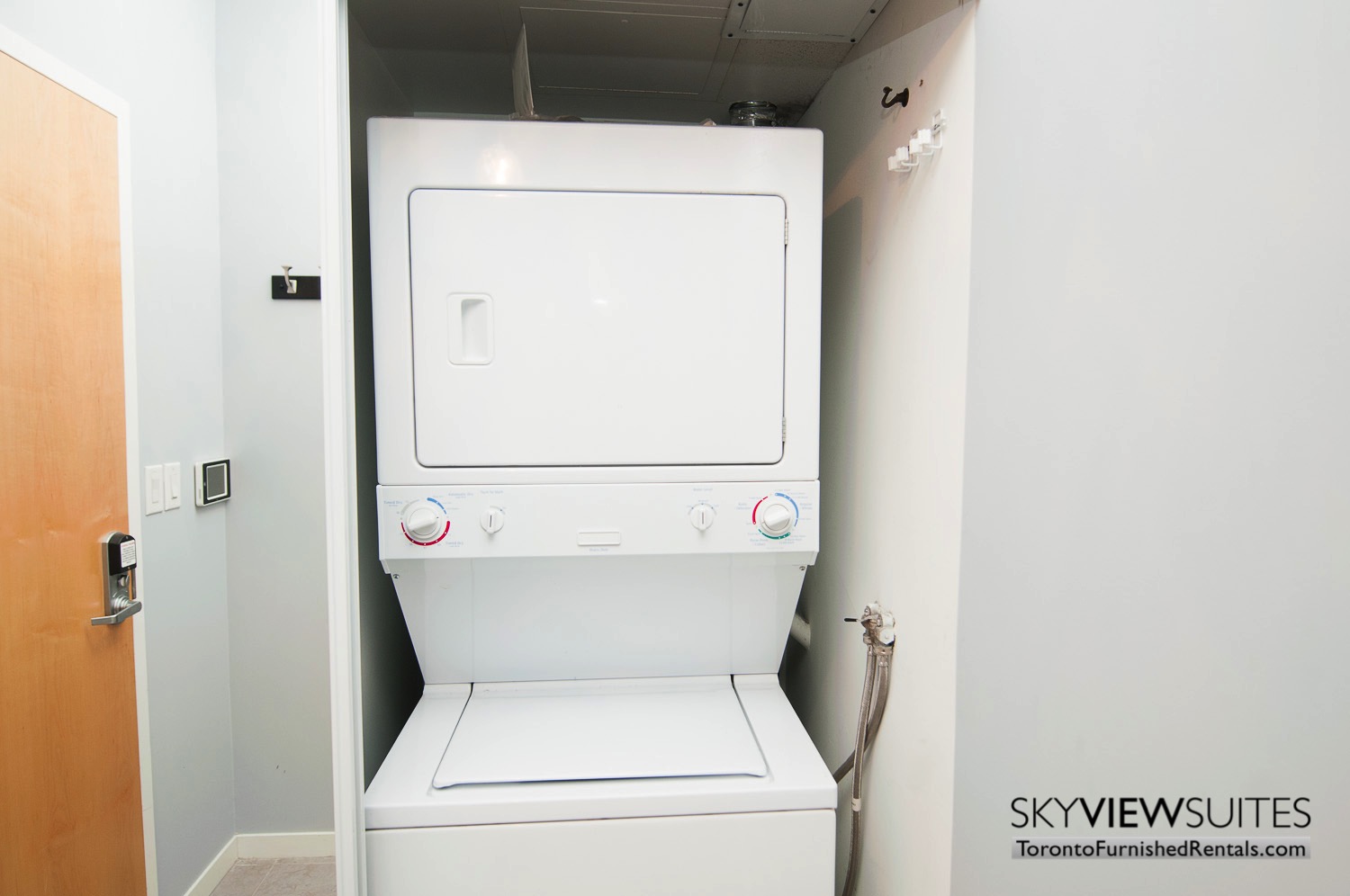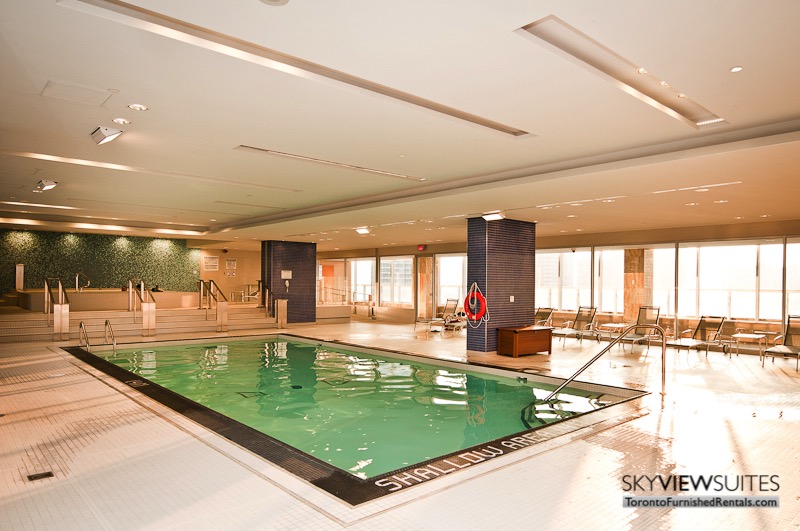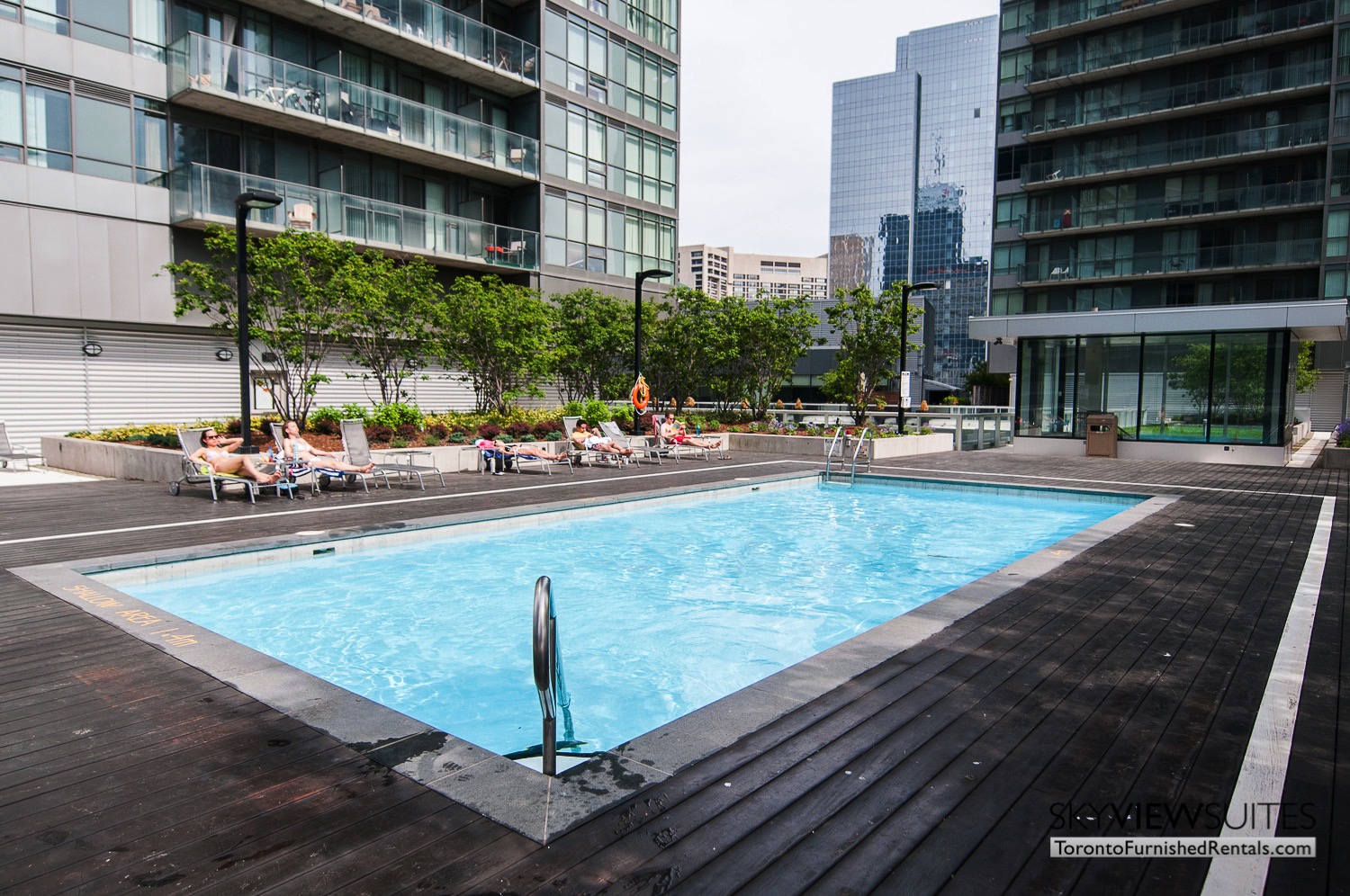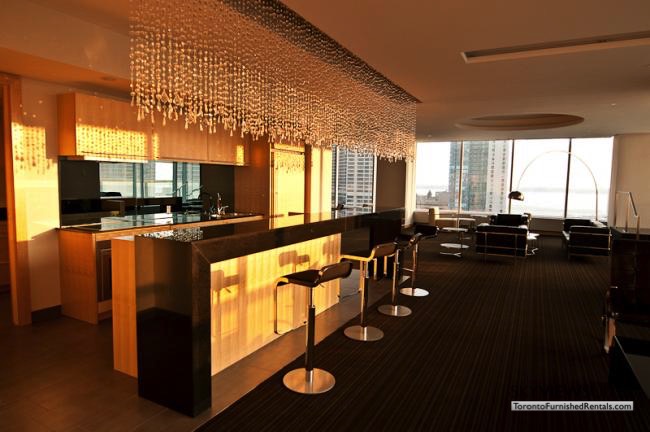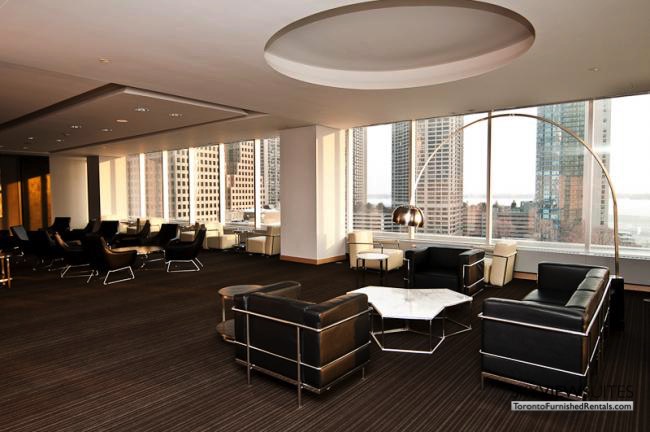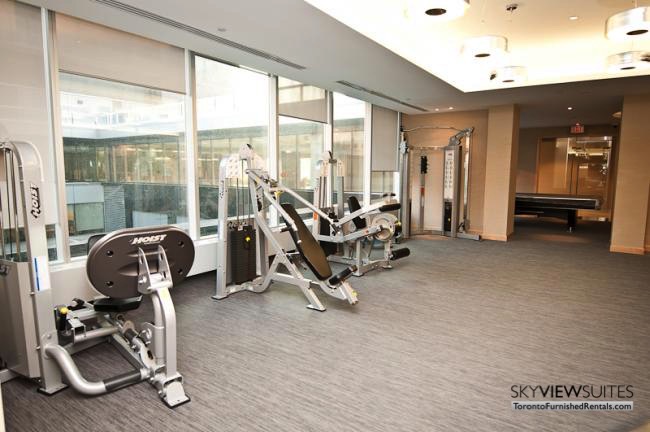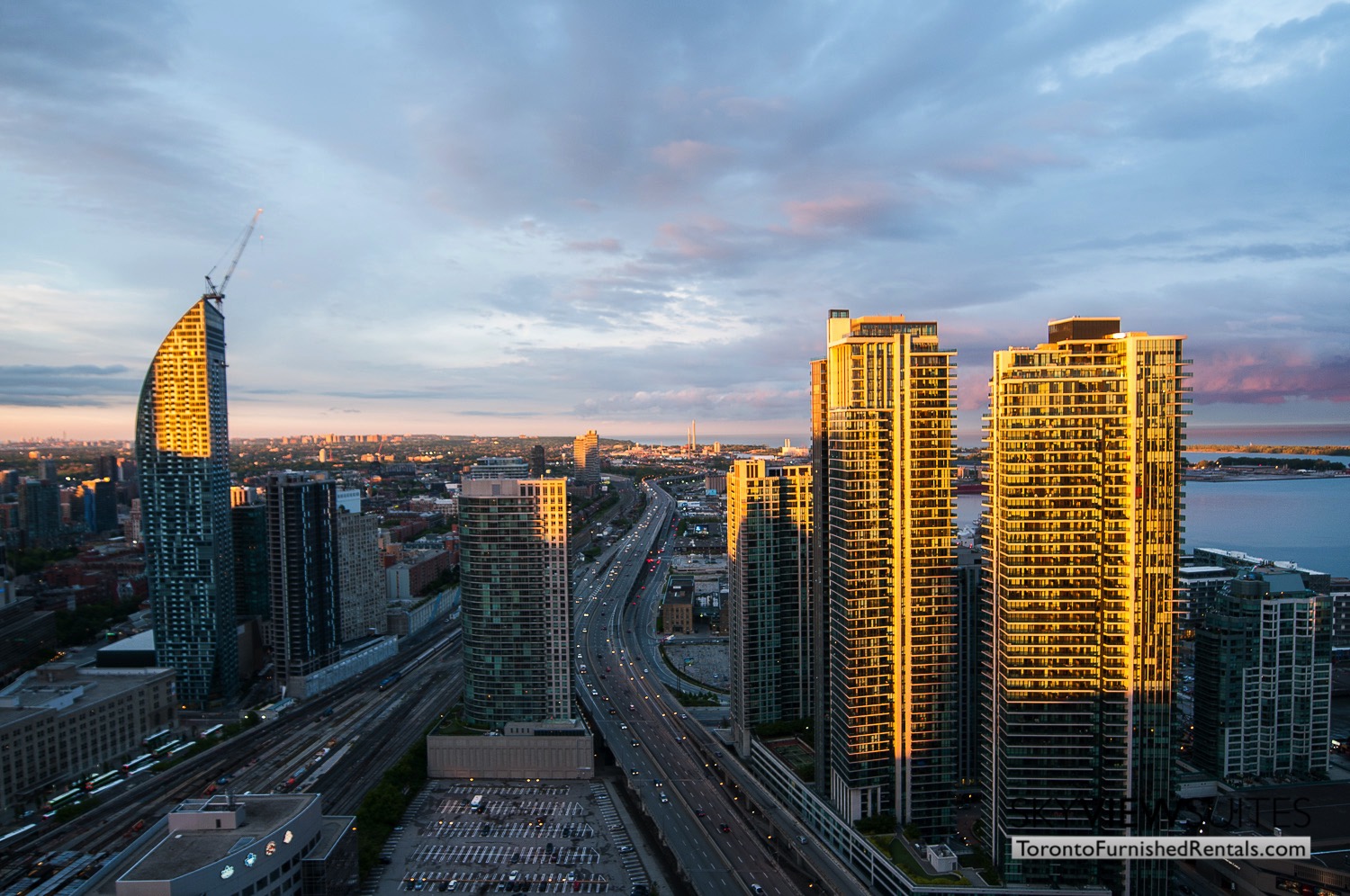 This modern and contemporary 2-bedroom furnished apartment located in the heart downtown Toronto. The space includes floor to ceiling windows, spacious bedrooms, hardwood floors and recently renovated kitchen with designer features. On the 19th floor, iconic views of the city and lake can be seen. Its a suit you won't want to leave!
The living room is filled with natural light, gorgeous view of the city skyline, and brand new hardwood floors. The living room opens up to the to the kitchen area, providing the space with overall harmony in composition. The living room is furnished with a 2 leather sofas, spacious cabinets for storage, and wall-mounted flat screen TV. This living room will provide you with all the comfort and relaxation you need after a long day in the city!
The kitchen is edgy, modern and new. It was recently renovated and stocked to provide you with the top appliances and anything you might need during your stay with Sky View Suites. This includes a brand new designer marble countertop, state of the art fridge, stove, and dishwasher. This unit also features an extendable dining table, hosting anywhere from 4- 8 people.
Both bedrooms include fully fitted queen sized beds, ensuite bathrooms, and a gorgeous floor to ceiling windows with a fantastic view. The master bedroom also enjoys a walk-in closet and access to the suite's balcony. The other bedroom includes a wall-mounted flat screen TV and a spacious closet. Both bathrooms have tons of natural light and are recently renovated.
The Neighbourhood
The location of this beautiful 2-bedroom suite is located in the heart of downtown Toronto, right off Union Station. This suite provides you with a short walk to major features of Toronto, such as the CN Tower, Rogers Centre, the waterfront. Not only are you surrounded by Toronto's most popular attractions, you are also a short distance from many local shops and restaurants, providing you with the real Toronto experience.
There are all sorts of activities that you may find in this neighborhood, there is something for everyone in the heart of downtown. Whether you like sightseeing, shopping, trying out restaurants, going to sports games, or kicking it back at a local coffee shop; this neighborhood offers it all. All within a short commute in the TTC, GO Transit and VIA Rail.
The Building
The Maple Leaf Square Condos are the host buildings of this amazing short-term rental. The building is filled with luxurious amenities to provide a once-in-a-lifetime experience for their guests. This includes; outdoor and indoor swimming pool with tanning decks, hot tub, steam room, a fitness room, a theatre room and a business center. The Maple Leaf Square Condos is also proud of its daycare center located on the 3rd floor and local shops located on the 1st and second floors for your convince.
Of course, there's more! When you rent a furnished apartment in with Sky View Suites, we provide you with additional benefits and our excellent services at no additional cost. These include; a clean non-smoking environment, unlimited high speed wireless internet, cable TV, a fully equipped kitchen, a bi-weekly cleaning service, parking and local calling.
Request this suite
Walk Score
How to Book
Request this suite
Request this suite
[contact-form-7 404 "Not Found"]
Walk In Score
How to Book
Additional Info
Wireless Internet
Cable TV
Fully Equipped Kitchen
En-suite washer/dryer
Paid Parking
Fitness Facility
Swimming Pool
Sauna
Whirlpool
Non-Smoking
Toll-Free Help Desk Mon to Sat