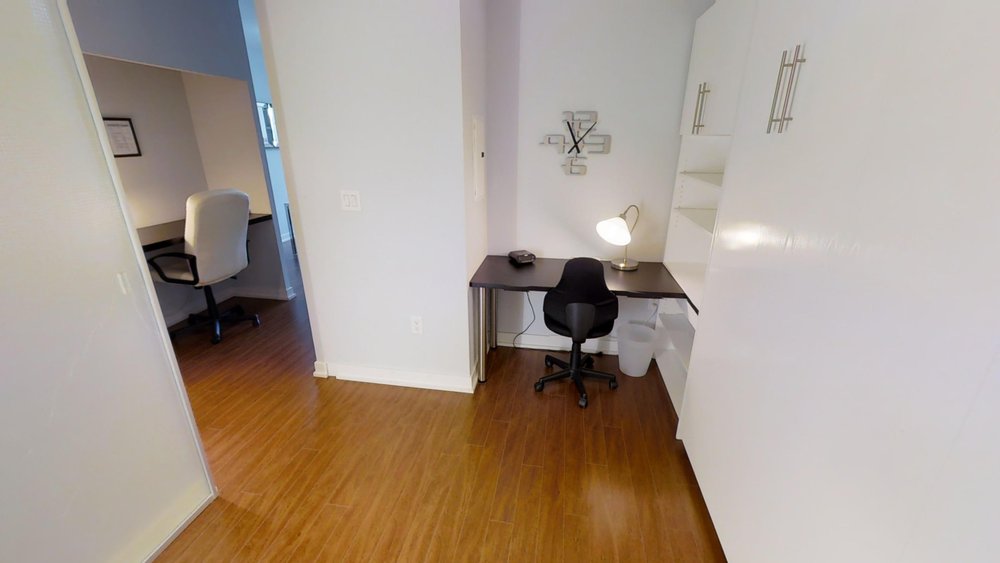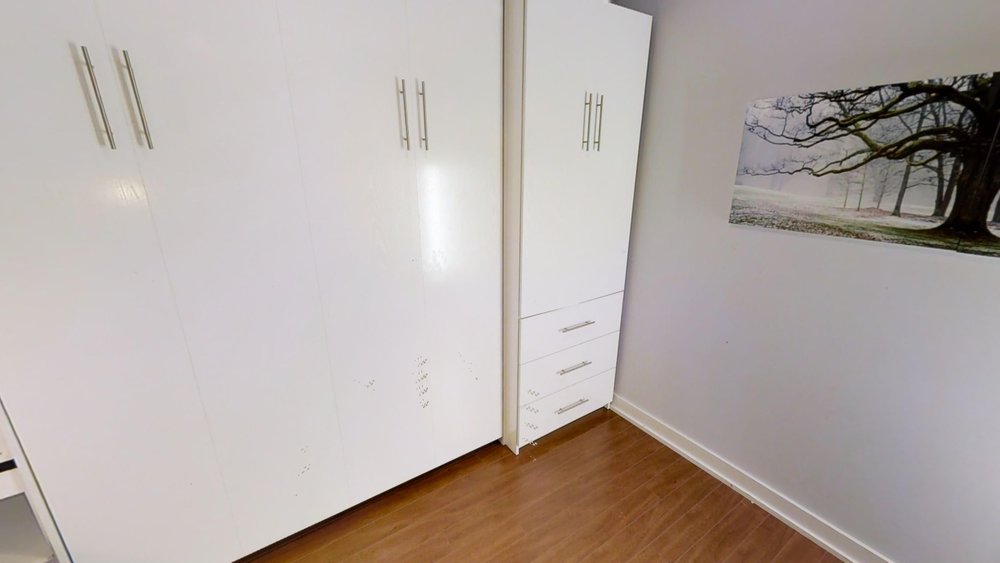 /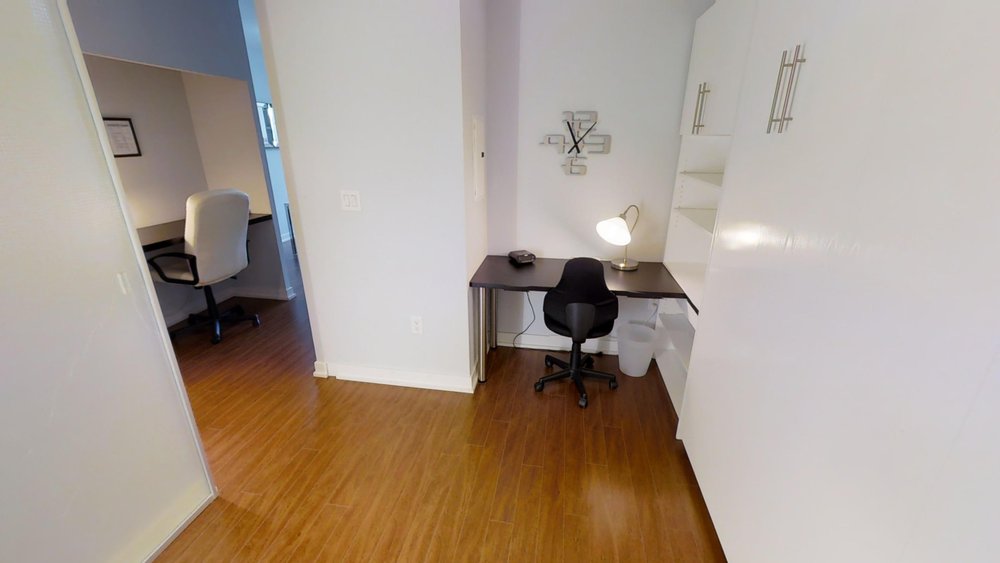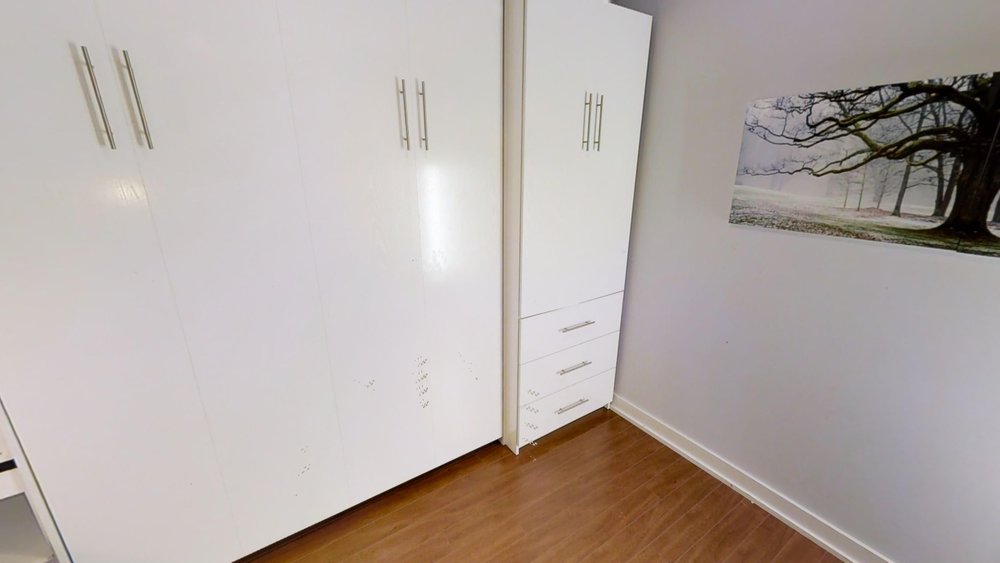 Guests looking for Toronto short term rentals in the entertainment district can be assured that this suite is everything you are looking for and more. This Toronto furnished living space is beautifully designed with stunning chestnut wood floors, soaring 9ft ceilings, and an open floor plan. It makes the 750 square ft. living space feel like a mansion.
The suite is bathed in pure natural light stemming from the beautiful collaboration of floor to ceiling windows surrounding the exterior wall of the unit. This not only negates the need for excessive fluorescent lighting but also provides guests with an unparalleled view of the bustling city. These windows also include a sliding door, which permits guests access to a private balcony.
The living room is set against these windows and comes complete with a plush sofa, footrest and flat screen TV. It is a space modelled for relaxation and comfort. Just opposite of the living room sits the modern and open kitchen. This space upholds a striking collaboration of reds, whites, silvers and blacks. It is complete with full-size appliances including; a fridge, stove, microwave, and dishwasher. A dining table is located just in front of the kitchen. It can easily sit up to four people.
The bedroom is a simple and comforting scene. It features a full sized bed fitted with fresh linens. The room also pertains adequate storage space and is finished with contemporary decor. The second bedroom features a Murphy bed and a workspace, which can comfortably accommodate up to 2 guest. The bathroom features dark black cabinetry, modern fixtures and a shower/bath combination.
The Neighbourhood
This Toronto furnished rental unit places your right in the heart of downtown, as it is situated right in the city's most popular district. Essentials such as grocery stores and pharmacies are also located within walking distance from this Toronto furnished apartment. Guests looking to take public transit will also be pleased to know that this unit is located near the Spadina street car line, which can take you all over the city.
As a guest of this unit, you will also be granted the opportunity to experience the best that Toronto has to offer. Find yourself a short distance away from the Rogers centre, Toronto's largest stadium. It is home to Canada's only major league baseball team, the Toronto Blue Jays. The CN tower is arguably Toronto's most well known attraction. It is currently the second tallest freestanding building in the world and offers guests an incredible view of the city. If you're feeling a little dare-devilish you can even take your business to the top of the tower and participate in Edge Walk. This is 30-minute hands-free walk while hanging over the edge of the building. It was one the biggest thrills in the bustling city.
The for St. Louis Bar & Grill sits just outside the Rogers Centre and offers guests slow-roasted ribs, wings spiced to order, and other pub grub. It is a great place to get some much-needed comfort food during your extended stay.
The Building
The host building of this incredible Toronto short term rental is none other than the Luna Condos. The stylish building provide guests with a handful of amenities in order to make their stay more luxurious. They include; a rooftop saltwater pool, whirlpool and patio as well as a theatre room for 20 with stadium seating and projection, two sets of locker rooms including saunas and steam rooms, a billiards room, 2 fully furnished guest suites, a party room, a conference room, dance/yoga studio, a cards/dining room, and fitness classes.
But wait, there's more. When you rent a furnished apartment in Toronto through Sky View you will also be granted all of the amenities that Sky View offers. This includes; wireless internet, cable TV, a fully equipped kitchen, ensuite washer/dryer, bi-weekly cleaning service, and parking. All of these unbelievable services are provided at no additional cost. This makes staying in a short term rental cost-effective alternative to typical hotel room rentals.
Request this suite
How to Book
Request this suite
Request this suite
[contact-form-7 404 "Not Found"]
How to Book