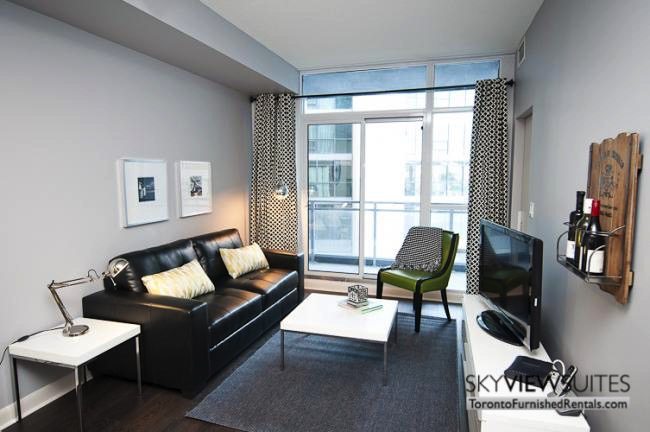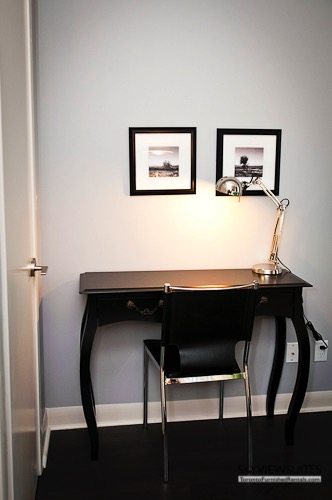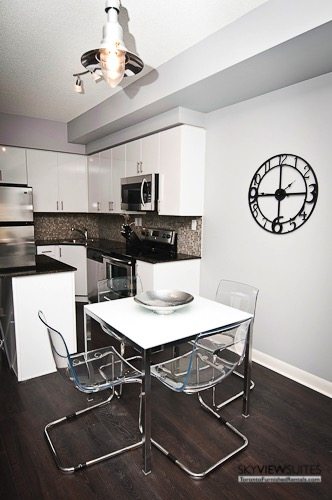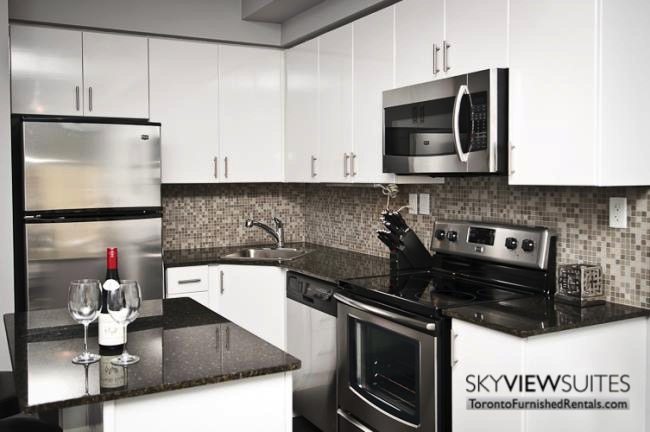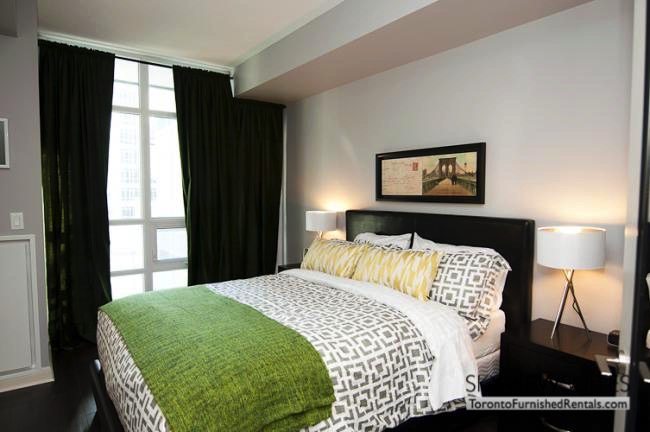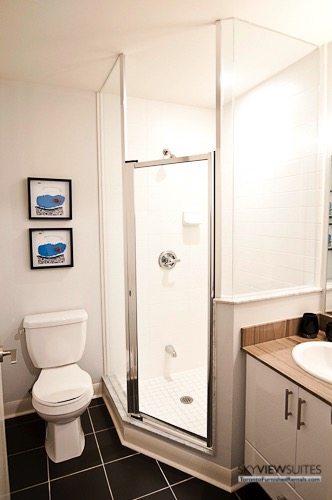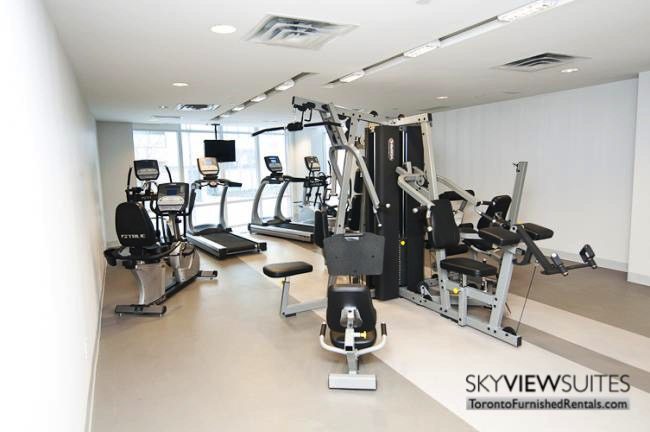 /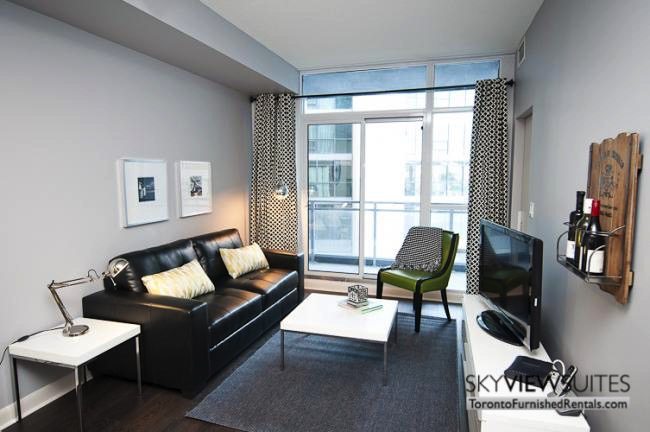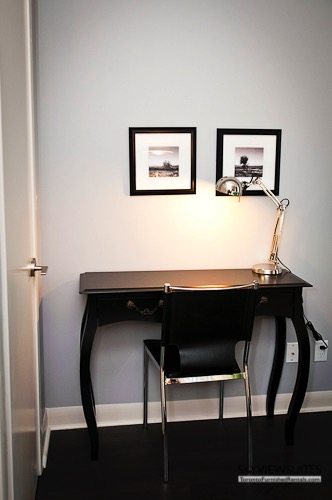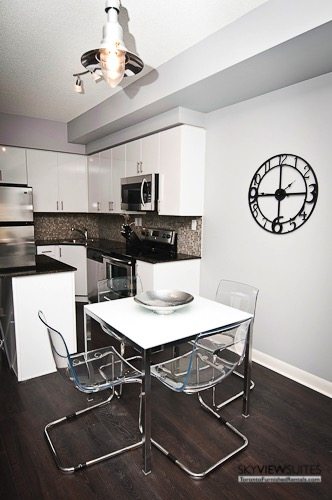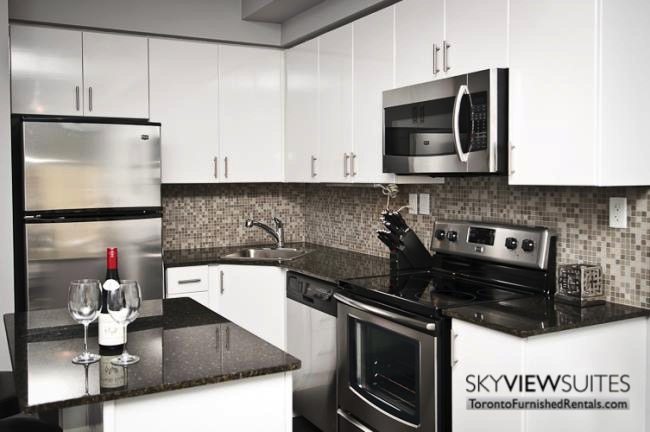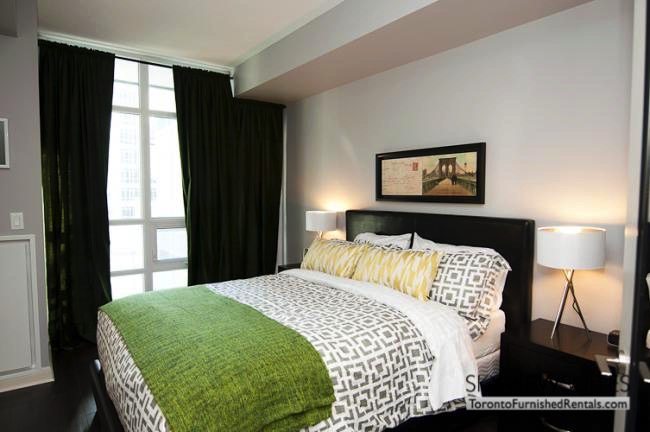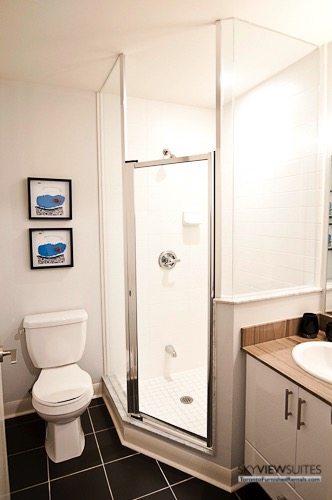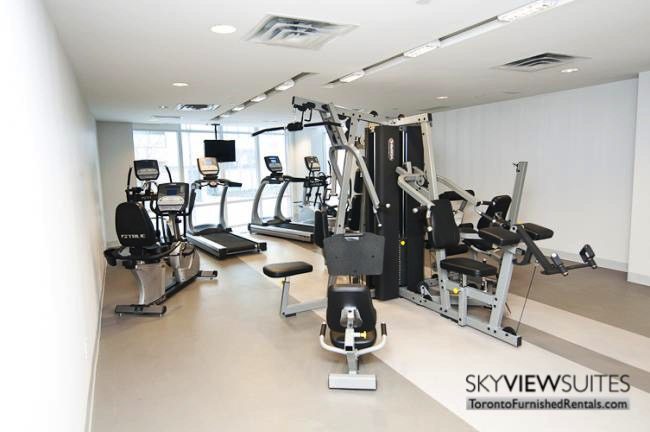 This 730 square ft. Toronto furnished living space is calling your name. If you're looking for a place to stay while in Canada's most famous city look no further.
This furnished apartment features like 9ft. ceiling, dark hardwood floors and a modern open floor plan. The entire space is decorated in sophisticated hues of black, whites and greys, with tasteful pops of colour.
Guest of this unit will have access to a fully stocked kitchen, complete with stainless steel appliances. Bright white cabinets frame the space, and are complimented by sturdy dark stone countertops. Guests do not need to worry about bringing any dishes or cookware as Sky View provides it all for your convenience. Just adjacent to the kitchen is a small dining table with room for 4 chairs.
Just off the kitchen is an inviting living space that features a comfortable black leather sofa, which is placed in front of a flat screen TV. Guests are encouraged to use this space to indulge in their included Roger's VIP cable package or just relax after a long day. This living space is also where guests will find access to the unit's private balcony.
The first bedroom features a queen sized bed, matching end tables, and a large window. It is the perfect spot to rest your head after a long day in the bustling city. The second bedroom is similar in its design and both bedrooms come with all the linens and pillows guests could need during their stay. The bathroom is decorated with black and white accents and also comes with all linens.
The Neighbourhood
The location of this Toronto furnished rental drops you right in the middle of downtown Toronto. Whether you chose to head to a nearby grocery store for supplies to cook in your own kitchen or grab a bite to eat somewhere else, everything is in a short walking distance from the suite.
Edulis, is just around the corner from your furnished rental and carries a 4.2-star rating. It is considered a cozy and local setting with a seasonal menu of wild and foraged foods used to create elevated Canadian dishes. Old York Bar Grill is another fantastic little restaurant that might tickle your fancy. It upholds a 4.5-star rating and serves eggs benedict, nachos, and wraps paired with signature cocktails in a low-key setting.
Other than food, the entertainment district is only a few minutes away. This district upholds many of Toronto's most popular tourist attractions. Toronto music garden is a Bach-inspired waterfront garden, co-designed by cellist Yo-Yo Ma. This beautiful outdoor space is a fantastic little venue that hosts various concerts during the summer months.
There are virtually hundreds of activities capable of occupying your time during your extended stay. The prime location of this rental suite makes it possible for you to participate in just about anything you desire. Take in the sights, or enjoy a relaxing evening at your suite, either way, you won't be disappointed.
The Building
This building hosts two of our Toronto short-term rentals and offers its guests an array of desirable amenities. The most notable of these amenities is their fully functioning and multi-purpose gym. The gym is a fantastic studio to work through your frustrations or get rid of some extra energy. It is conveniently located in the building so that you don't have to travel far to get your daily workout in.
It doesn't stop there. As a guest of Sky View, you will also be awarded all of the amenities that Sky View affords. These amenities include; wireless Internet, cable TV, a fully equipped kitchen, en-suite washer/dryer, bi-weekly cleaning service, local calling, and parking. All of these services are provided to Sky View's customers at no additional cost. This makes renting a furnished apartment in Toronto through Sky View is a cost effective alternative to traditional hotel room rentals
Guests looking for furnished apartments for rent in Toronto and like this particular building can also look at our LTD B unit
Request this suite
Walk Score
How to Book
Request this suite
Walk In Score
How to Book
Additional Info
Wireless Internet
Cable TV
Local calls
Fully Equipped Kitchen
En-suite washer/dryer
Bi-weekly cleaning service
Paid Parking
Fitness Facility
Non-Smoking
Toll-Free Help Desk Mon to Sat