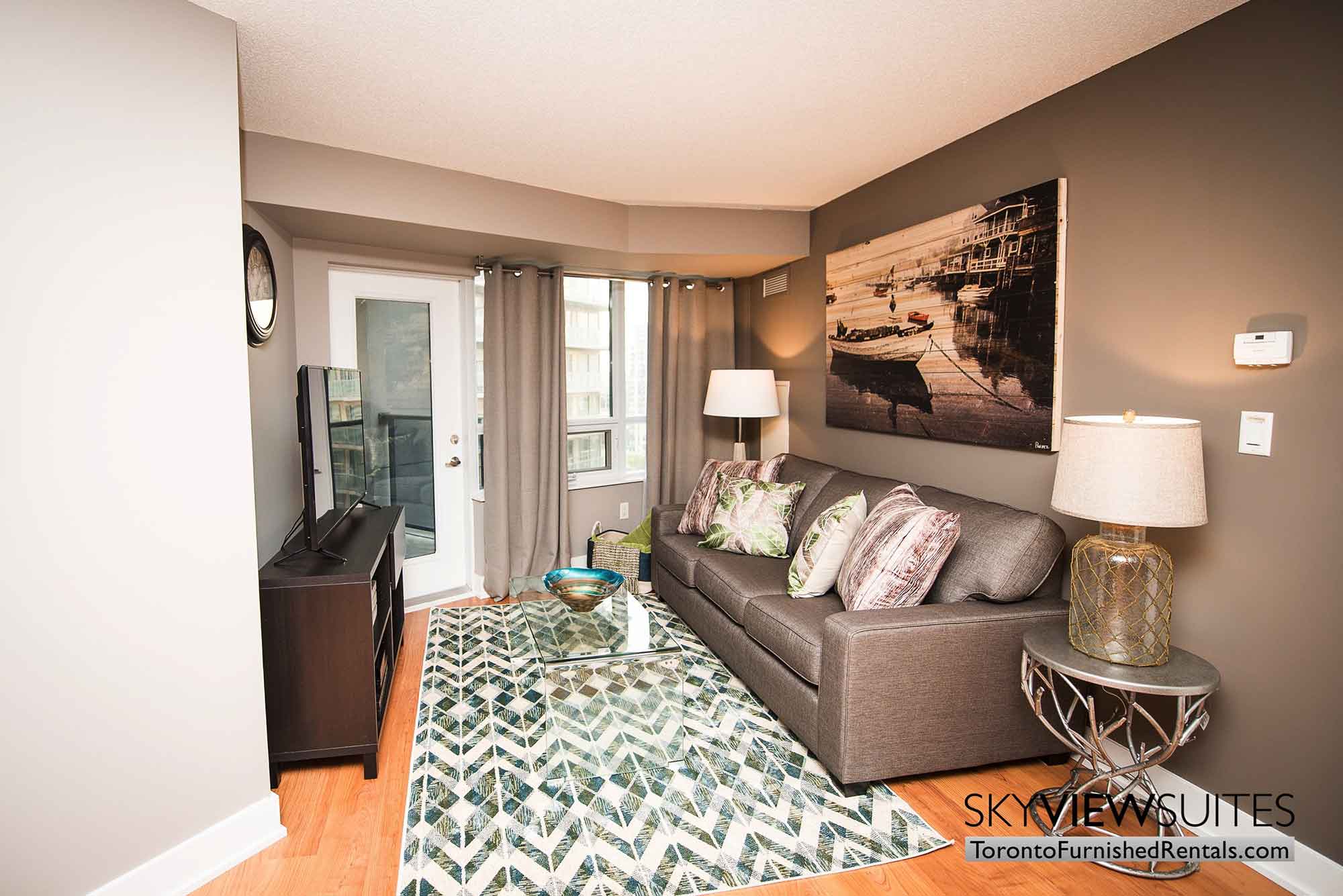 /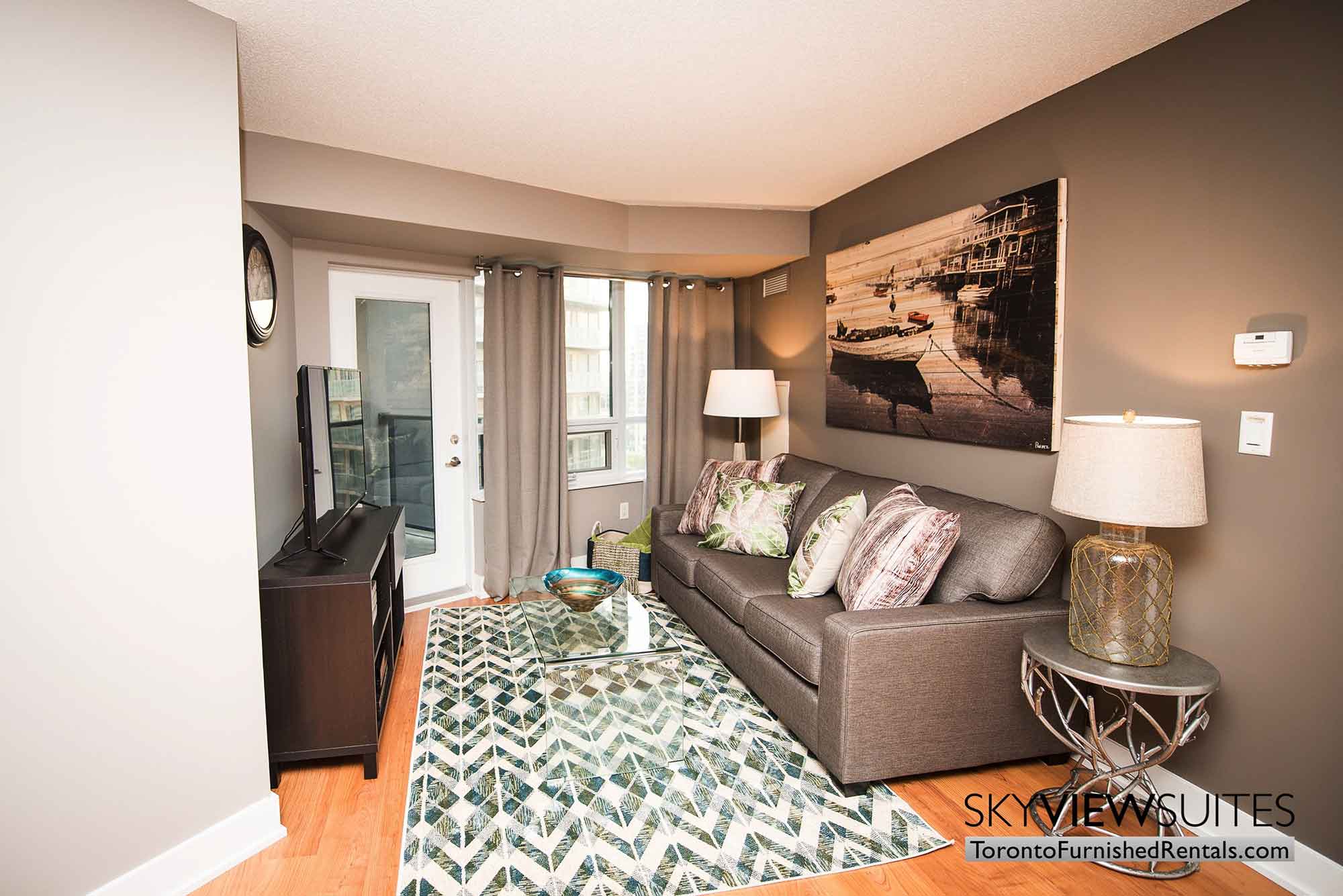 Introducing Sky View Suites Element C Toronto furnished apartment.This unit, conveniently located right downtown on Blue Jays way is the perfect place to comfortably accommodate any guest during their stay in Toronto. With its proximity to some of the best entertainment in the city as well as the luxury finishes and amenities you won't want to leave this unit at the end of your stay.
From the moment you walk in the Toronto furnished living suite, you understand that it is an elegant and comfortable space. Beautiful hardwood flooring flows throughout the unit, including the two separate bedrooms. Each bedroom is private area complete with a TV, walk in closet, desk and ensuite washroom where guests can unwind and relax even after the busiest of days. In each room guests can also find a comfortable king sized bed, complete with fresh linens and pillows for your convenience.
The kitchen of this suite features modern dark wood cabinetry and durable and sleek grey granite countertops. We invite all guests to cook just as they would at home in this space. Sky View suites provides our guests with all necessary cooking utensils and appliances as well as cutlery and dishes to serve your meals on. Right beside the kitchen there is also a dark wooden table perfect for sharing a meal on.
The main living space comes complete with a stylish and inviting grey couch. Guest will be pleased to know this couch pulls out into a full queen sized bed, offering another sleeping space. This added feature not only expands the number of guests that comfortably can sleep in the suite but it also optimizes privacy by creating three separate spaces where guests can sleep.
In the main living space, guests will also find the pull out couch is positioned in front of your very own entertainment centre. Guests looking for fully furnished apartments for rent in Toronto will also be pleased to know a flat screen TV complete with DVD player and Roger VIP Digital Cable package also comes with this unit. Use of this system and all it's features are included in the rent price. Enjoy a family movie night or settle into the comfortable couch and catch up on your favourite shows to end the day. Another aspect of this suite is that there is a small balcony just off the main living room, which is ideal for getting some fresh air.
Finally, this Toronto furnished rental offers guests the use of 3 separate bathrooms, making the space ideal for sharing with colleagues, friends and family. Each bedroom comes with it's own bathroom that features a clean and bright tiled floor as well as a vanity, sink and shower, as well as a small half bath just off the main living space. If you are looking to share a furnished apartment, look no further then Element C, as it has been set up for optimal privacy for all guests.
The Neighbourhood
Element C is located in one of the most sought after areas in the downtown core of Toronto. It is within walking distance to some of Toronto's world class attractions such as the CN tower and Rogers Centre Stadium. Corporate guests will also find the building is located close to Toronto's bustling financial district and public transit.
Expect to find essentials like banks, convenience stores, dry cleaners, restaurants, coffee shops, fast food, and even a 24-hour grocery store all mere minutes away. It is easy to see why this neighbourhood is perfect for accommodating extended stay guests.
There are also some lesser-known gems in the neighbourhood that are definitely worth exploring during your stay in the area. If you are an ice cream fan you will definitely want to check out Sweet Jesus located 5 minutes away right by King St West and John St. Indulge in one of their many outrageous soft serve delicacies any time of the year.
The Building
Guests of this furnished apartment in Toronto are sure to be impressed by this building from the moment you pass through the front doors. It welcomes you with a stylish lobby decorated in black and white. Guests staying with Sky View Suites have access to all of the amenities that the building has to offer.
This includes a fitness facility located on the top floor of the building. So you get a one of a kind view of the city while you work out. In addition there is a private theatre screening room, a games room with outdoor terrace, a billiard room and an aqua spa. With hotel style amenities and a luxurious suite to stay in, guests will be so impressed by this building and you will no doubt enjoy your stay.
Request this suite
Walk Score
How to Book
Request this suite
Request this suite
[contact-form-7 404 "Not Found"]
Walk In Score
How to Book
Additional Info
Wireless Internet
Cable TV
Fully Equipped Kitchen
En-suite washer/dryer
Paid Parking
Fitness Facility
Swimming Pool
Sauna
Whirlpool
Non-Smoking
Toll-Free Help Desk Mon to Sat