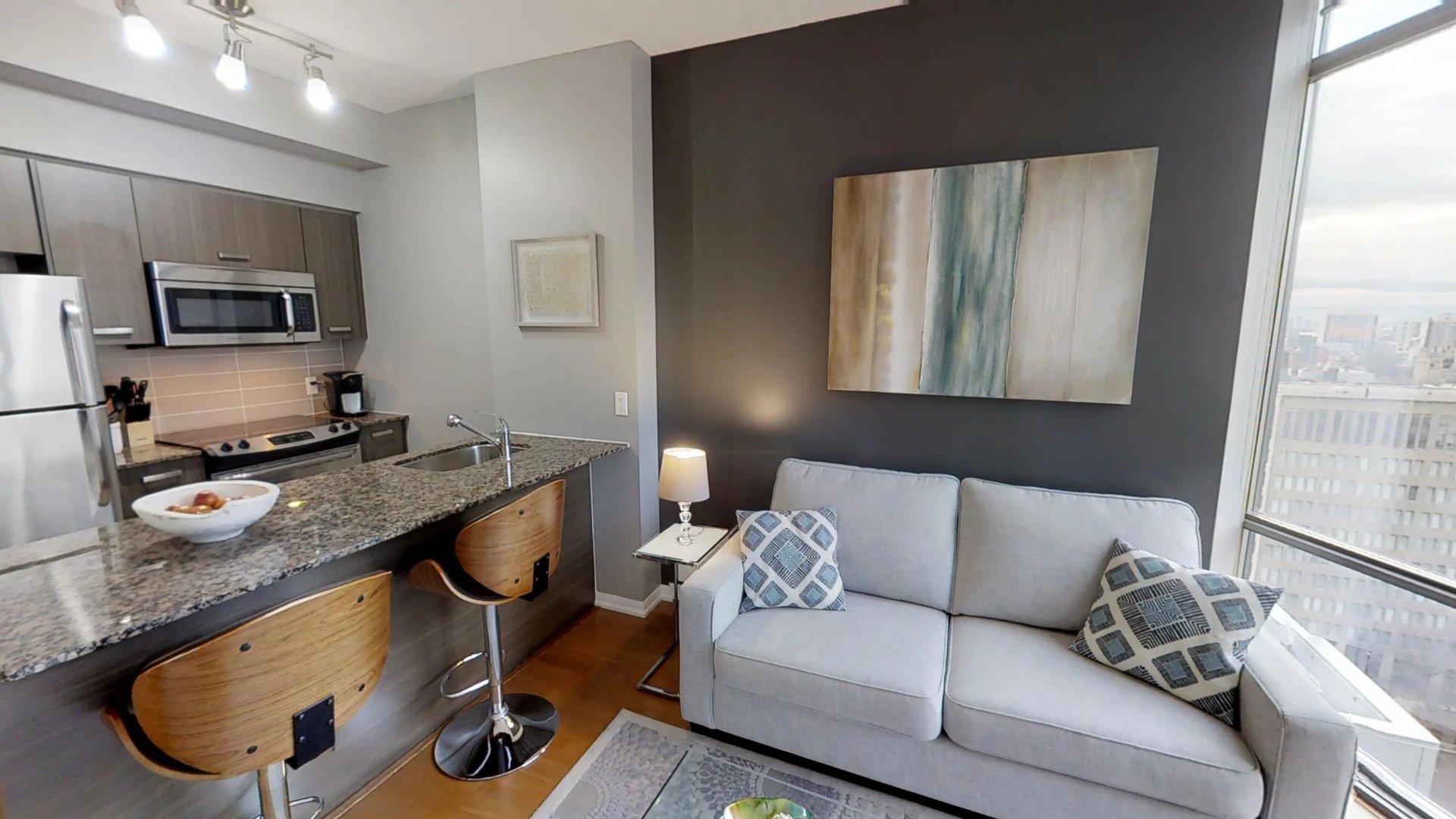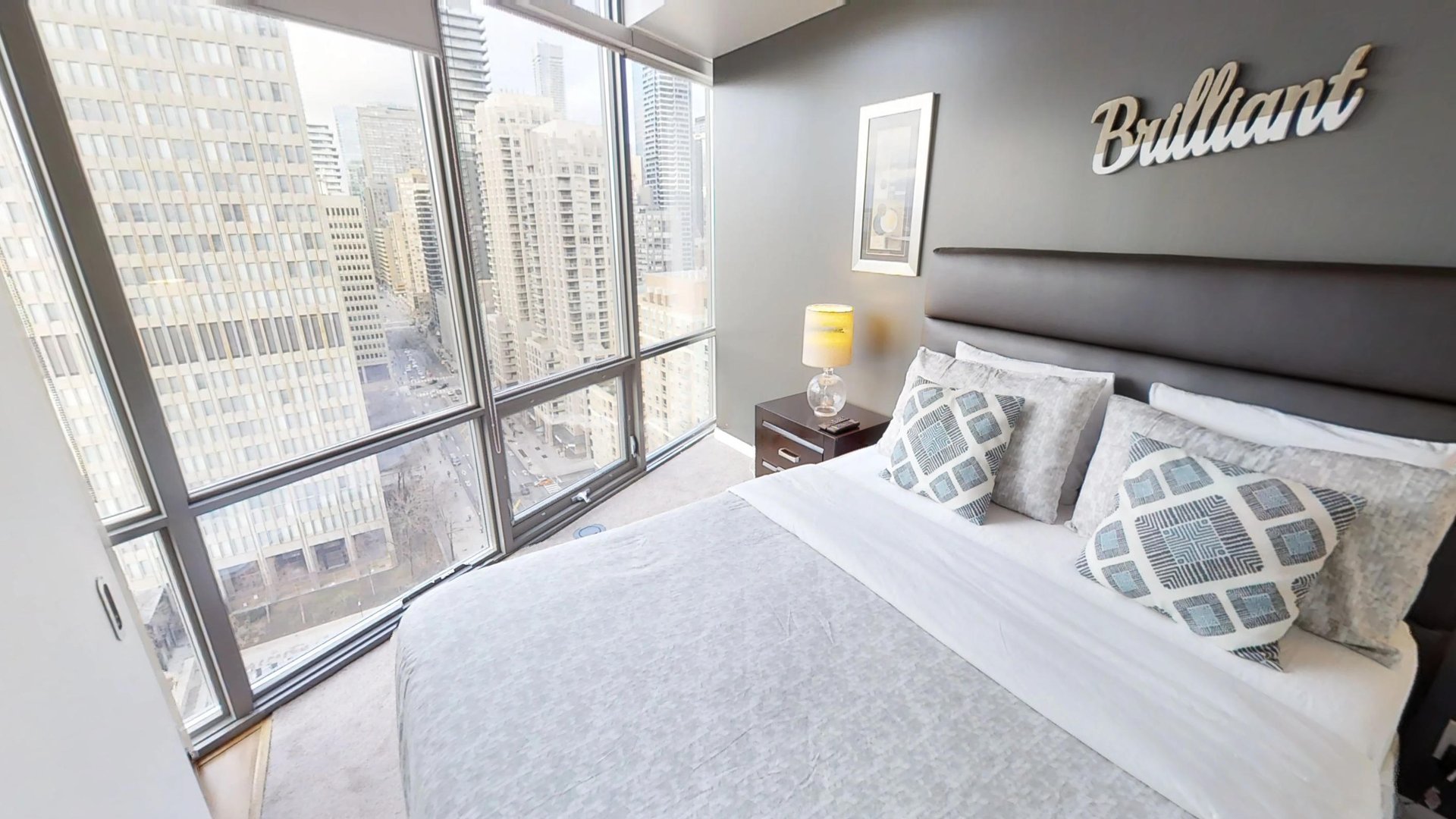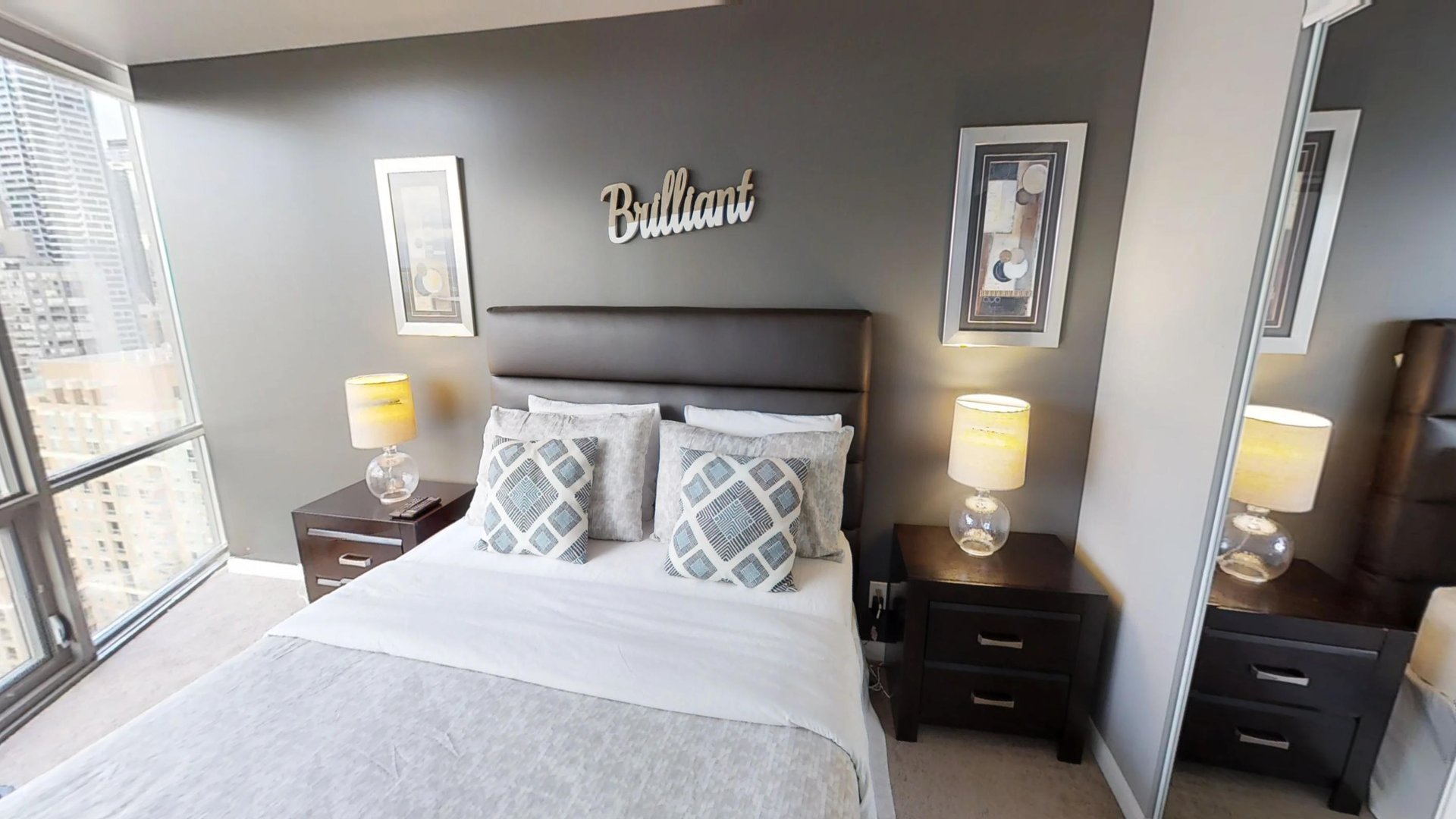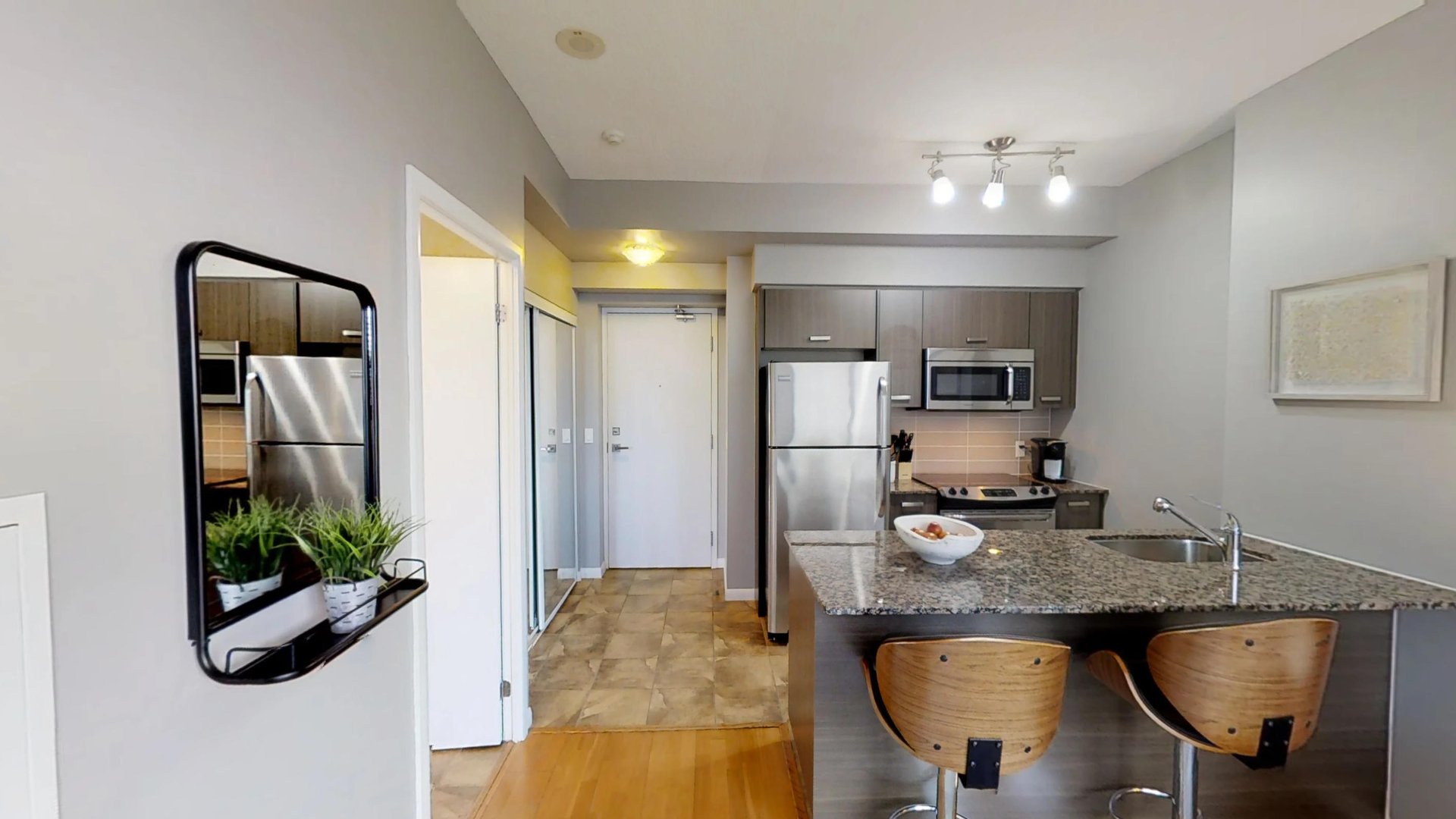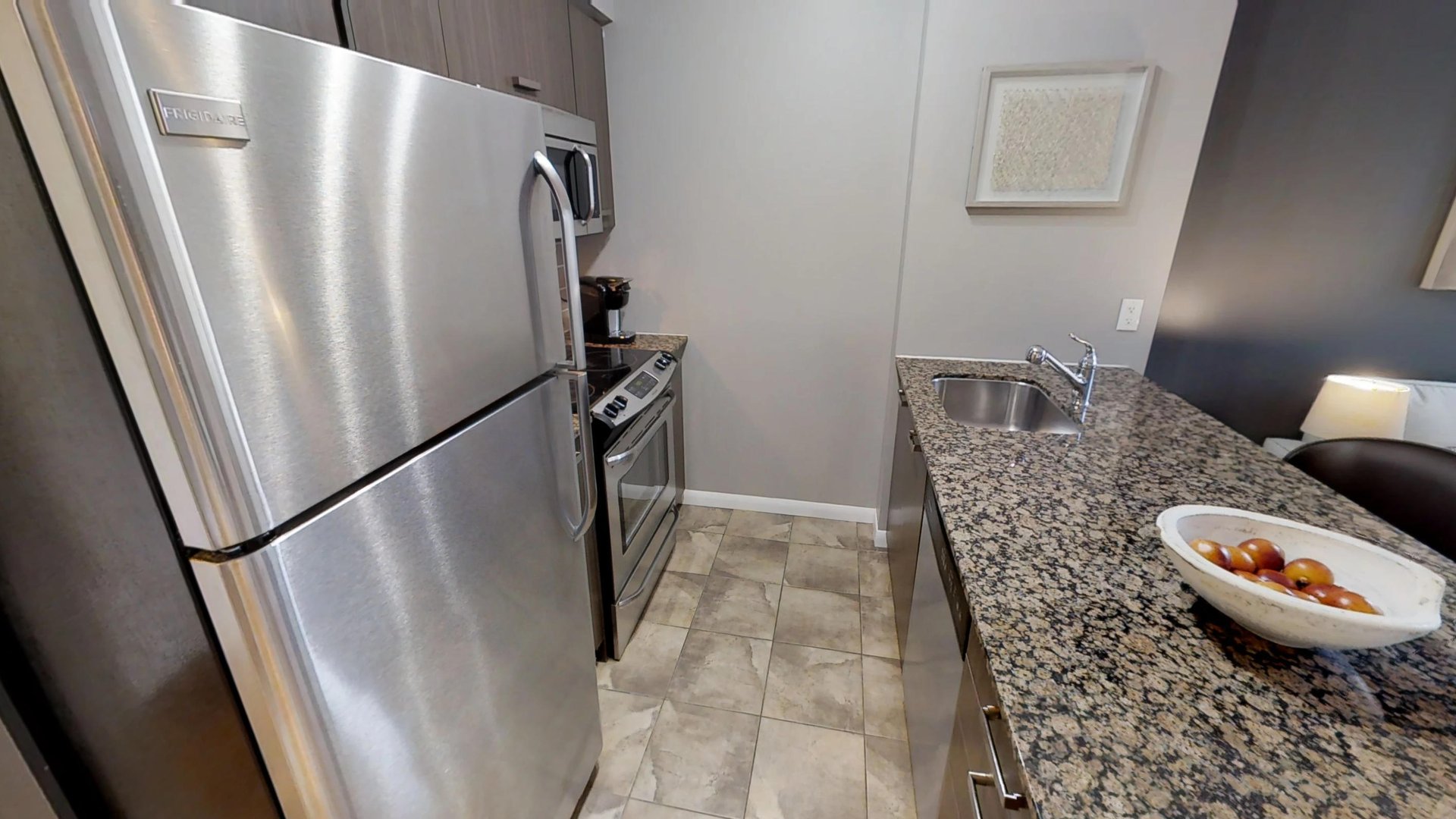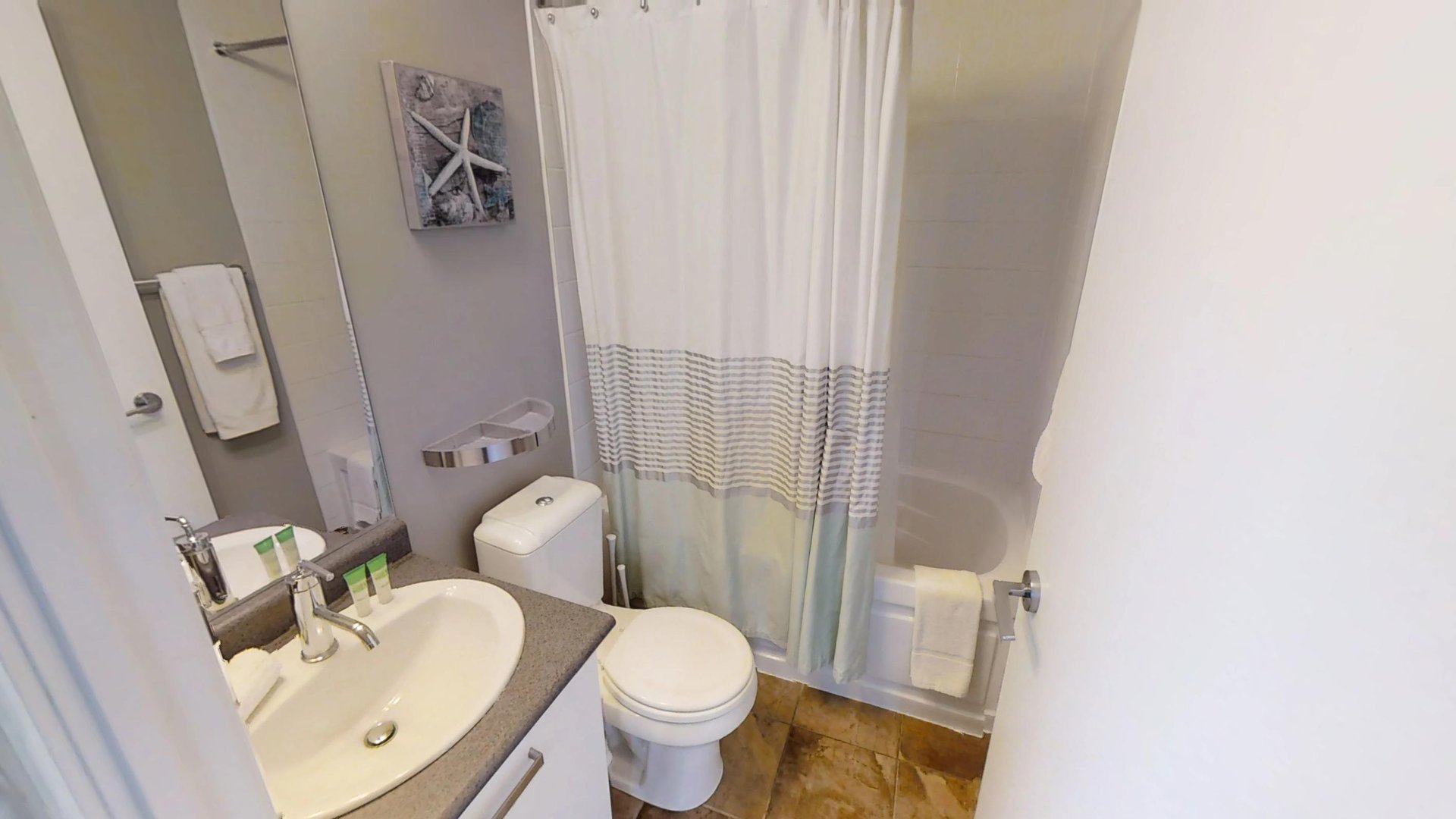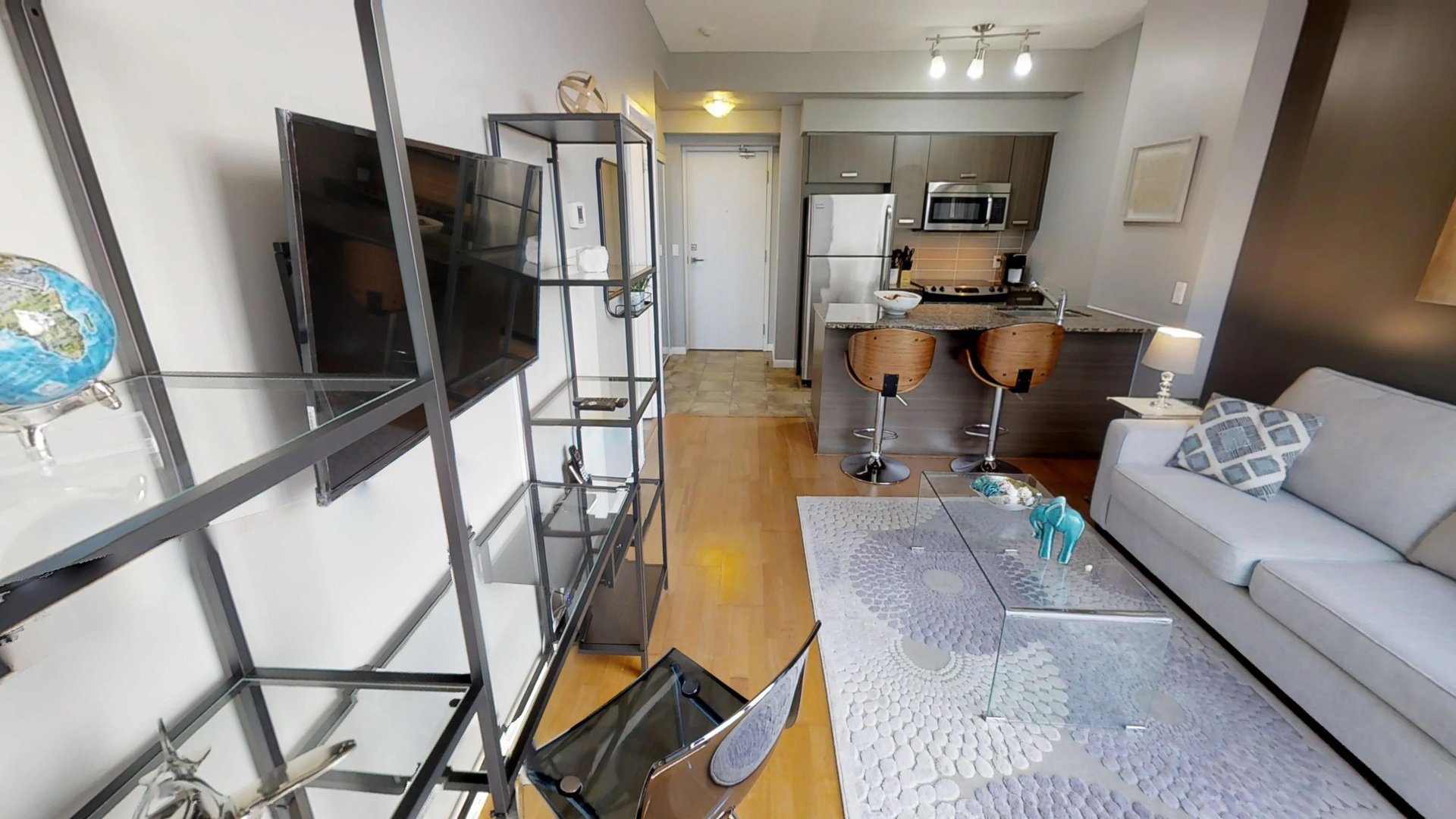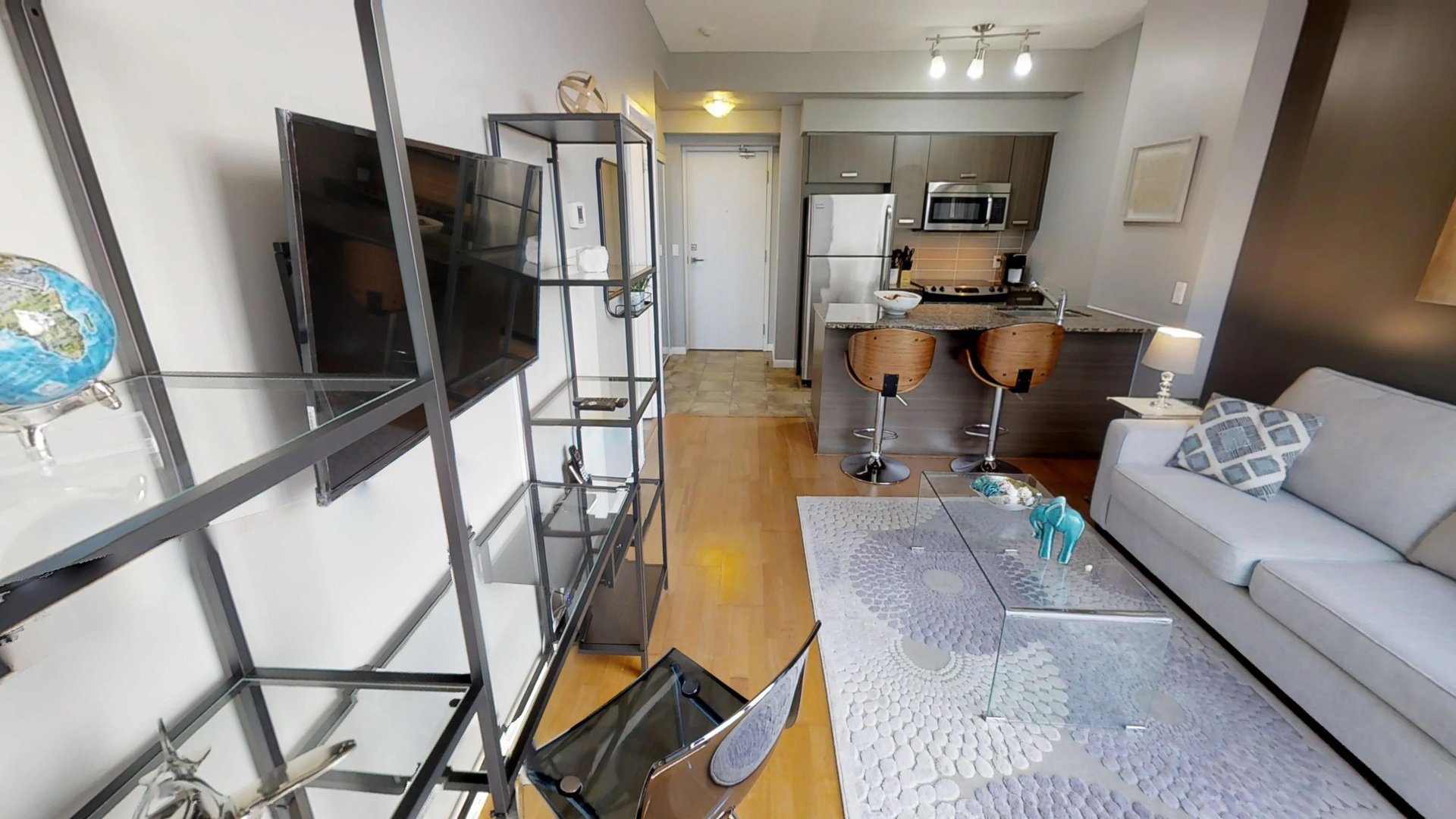 /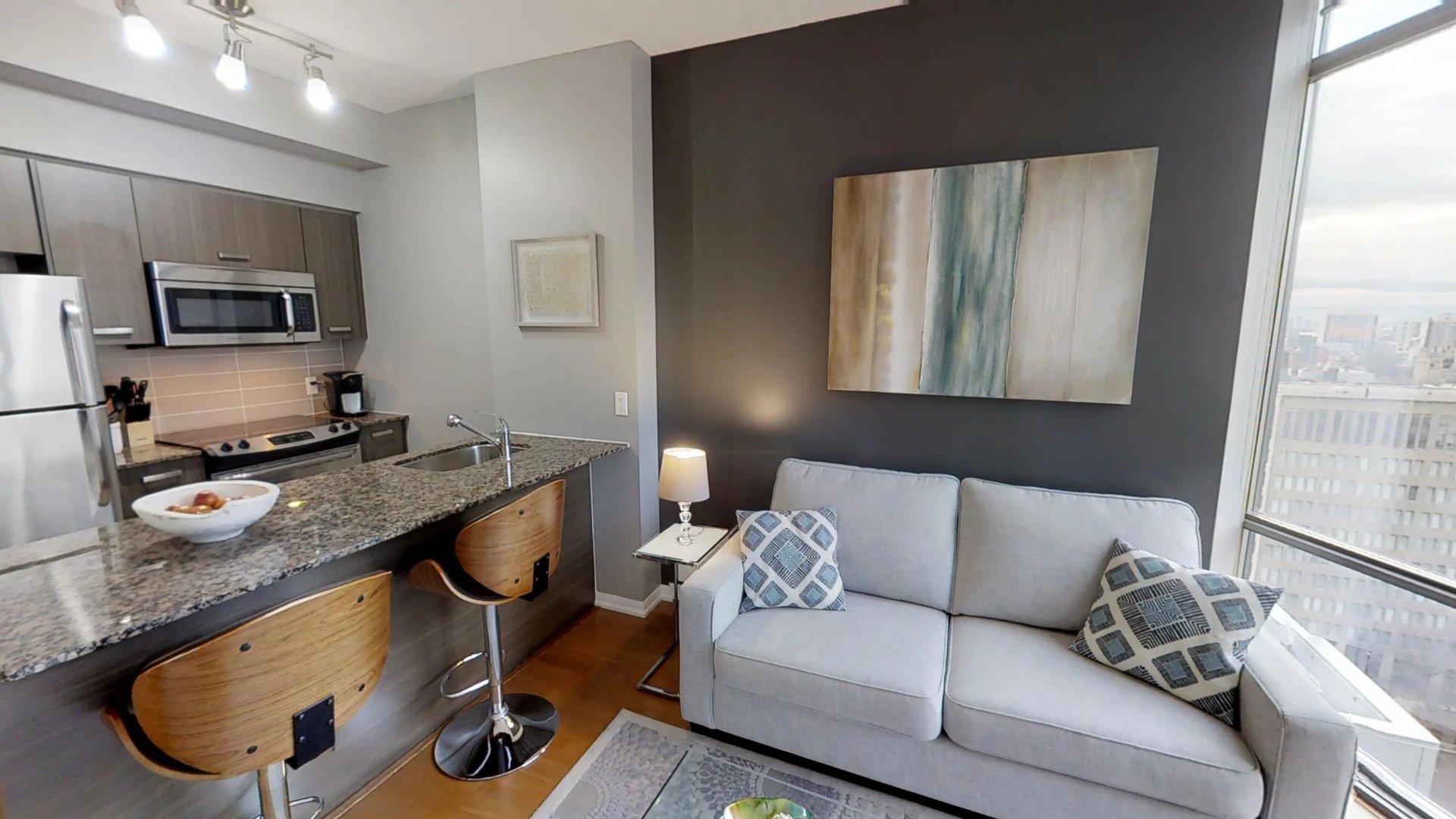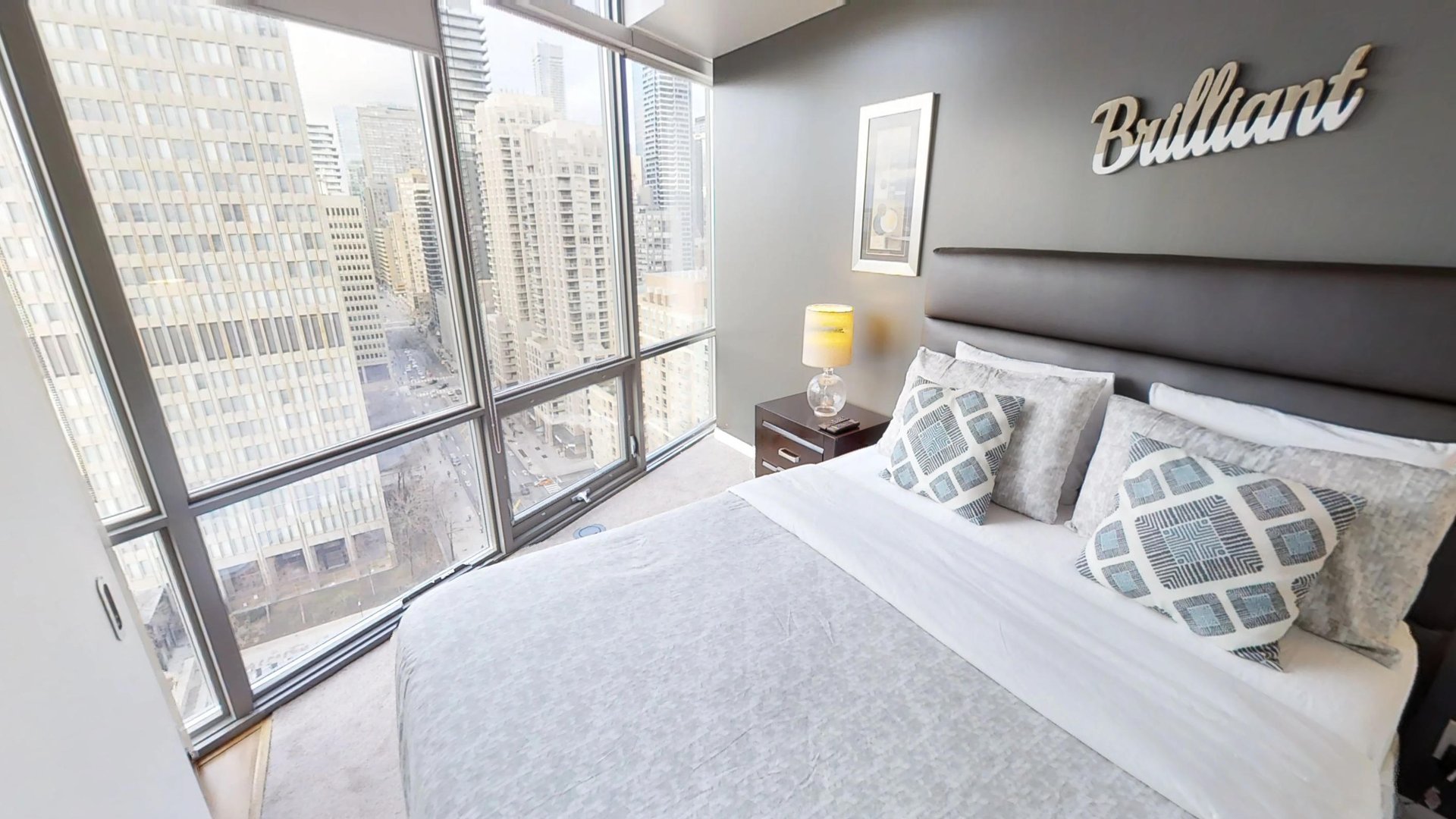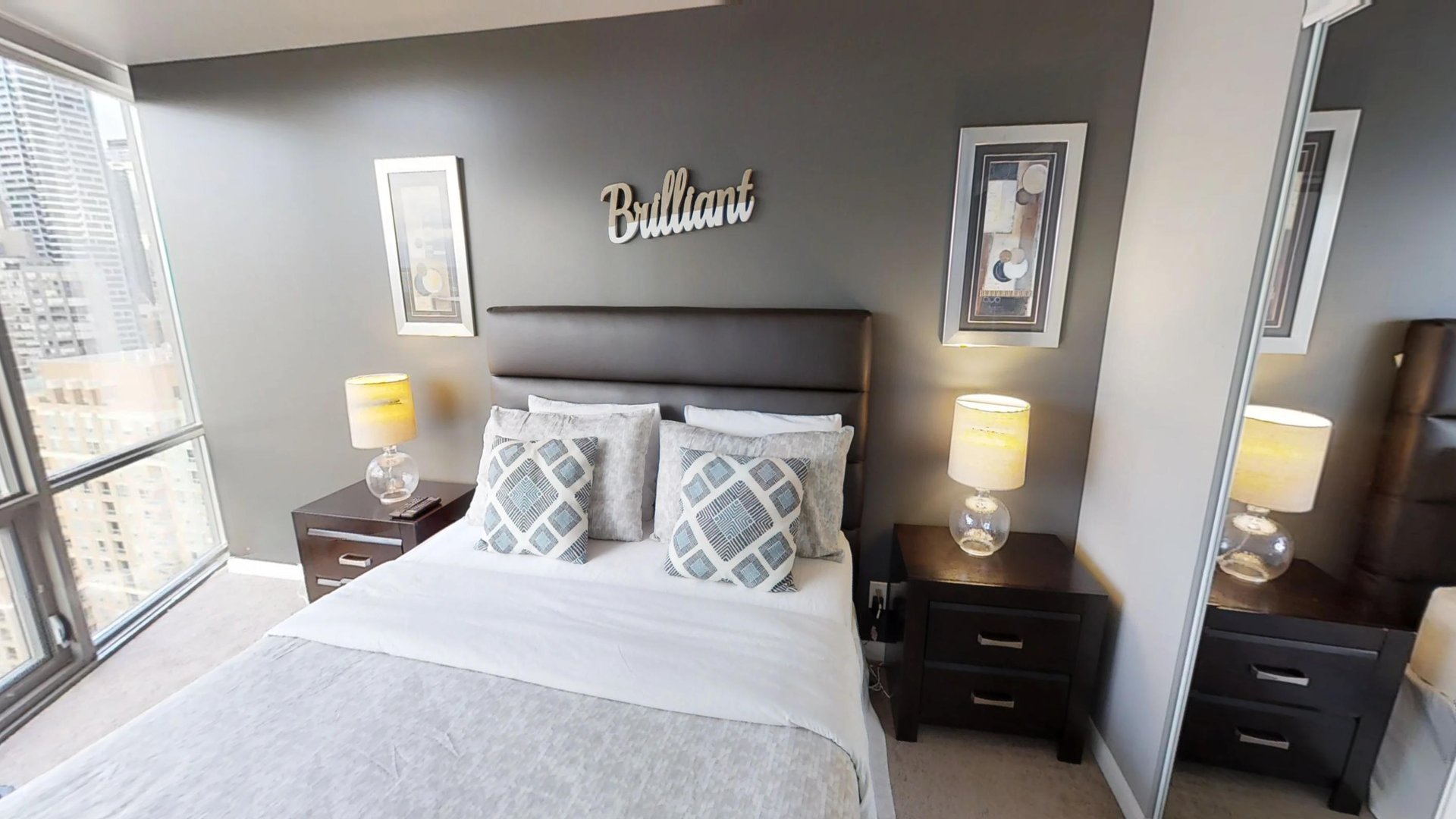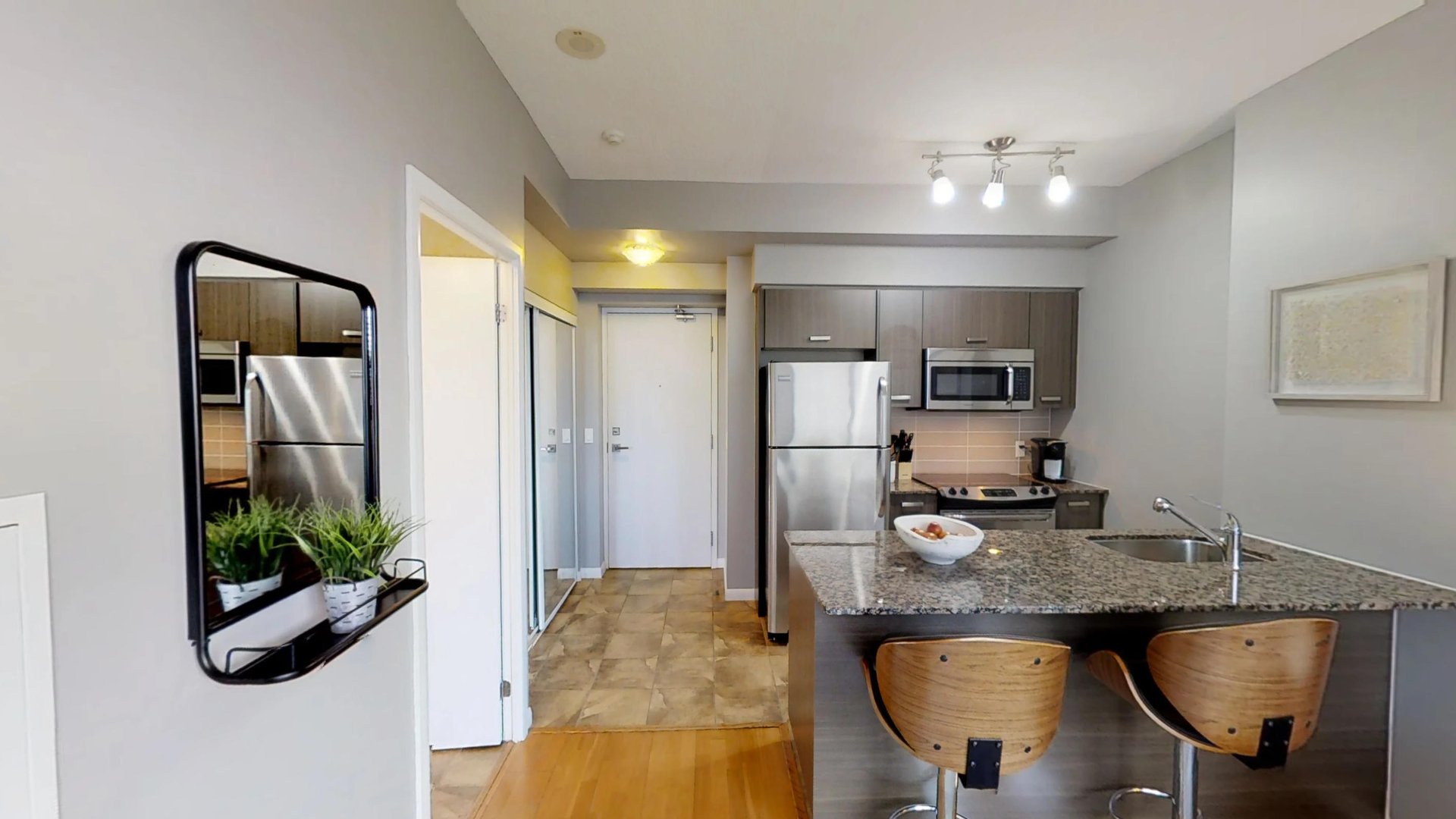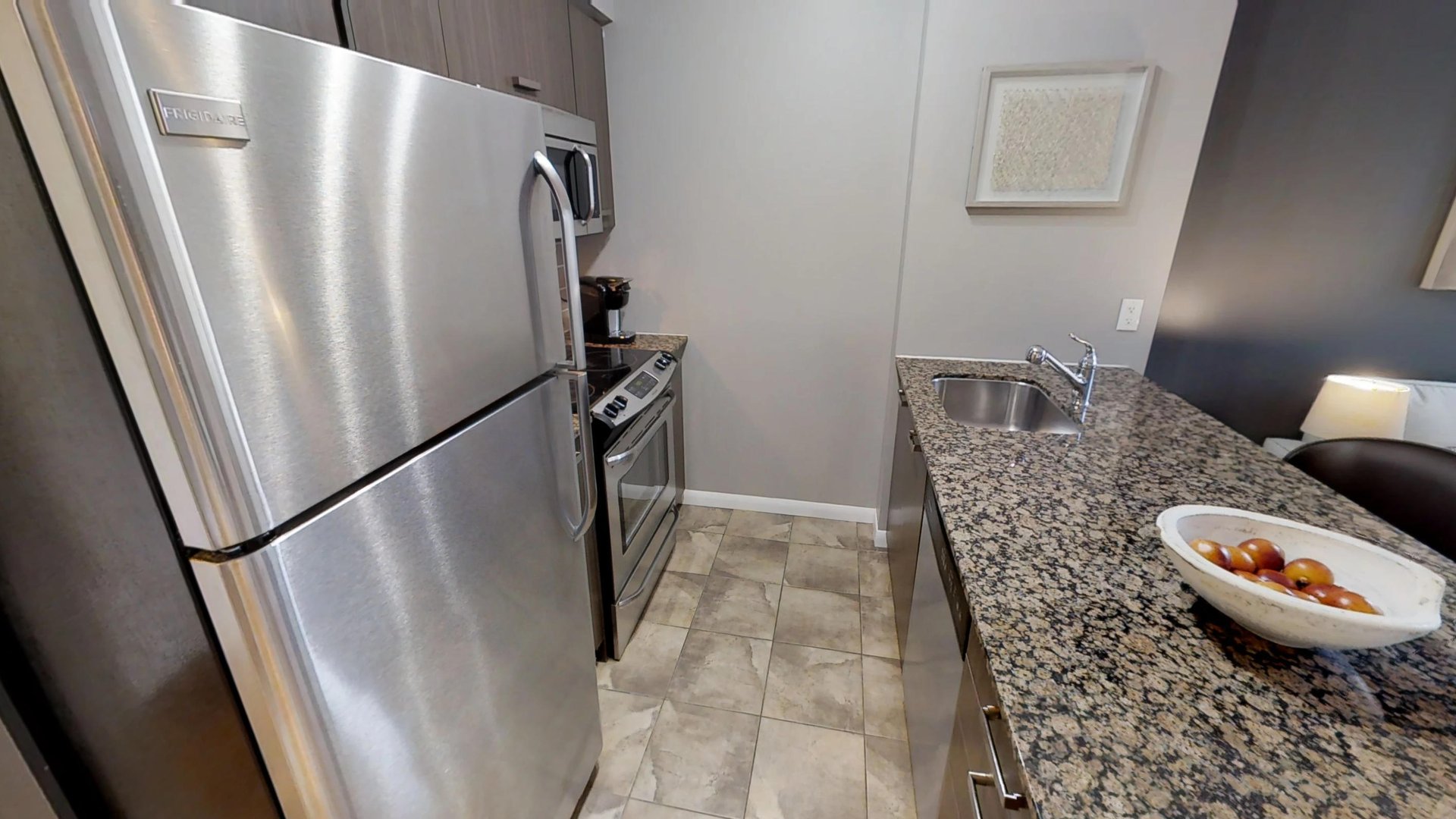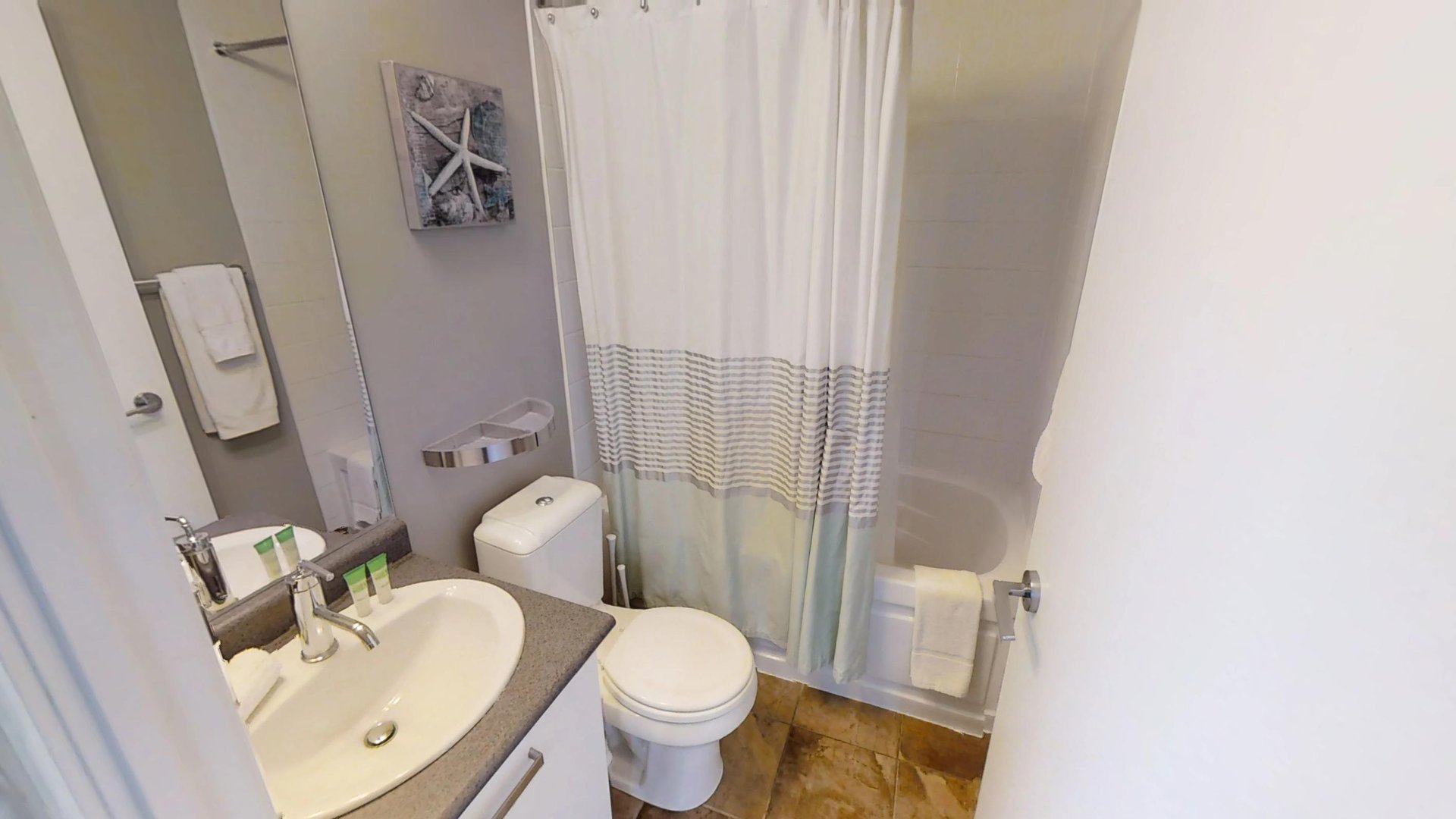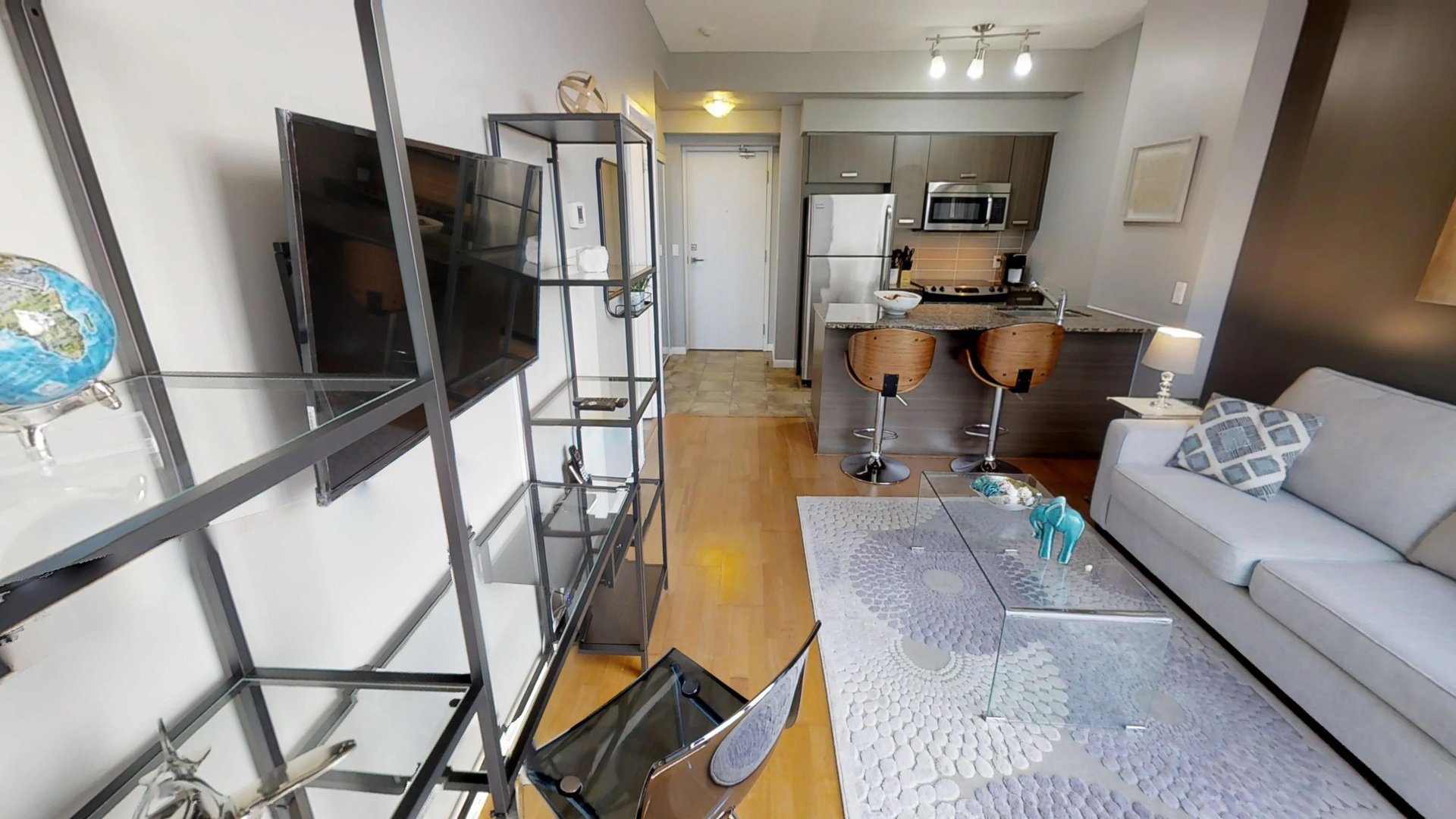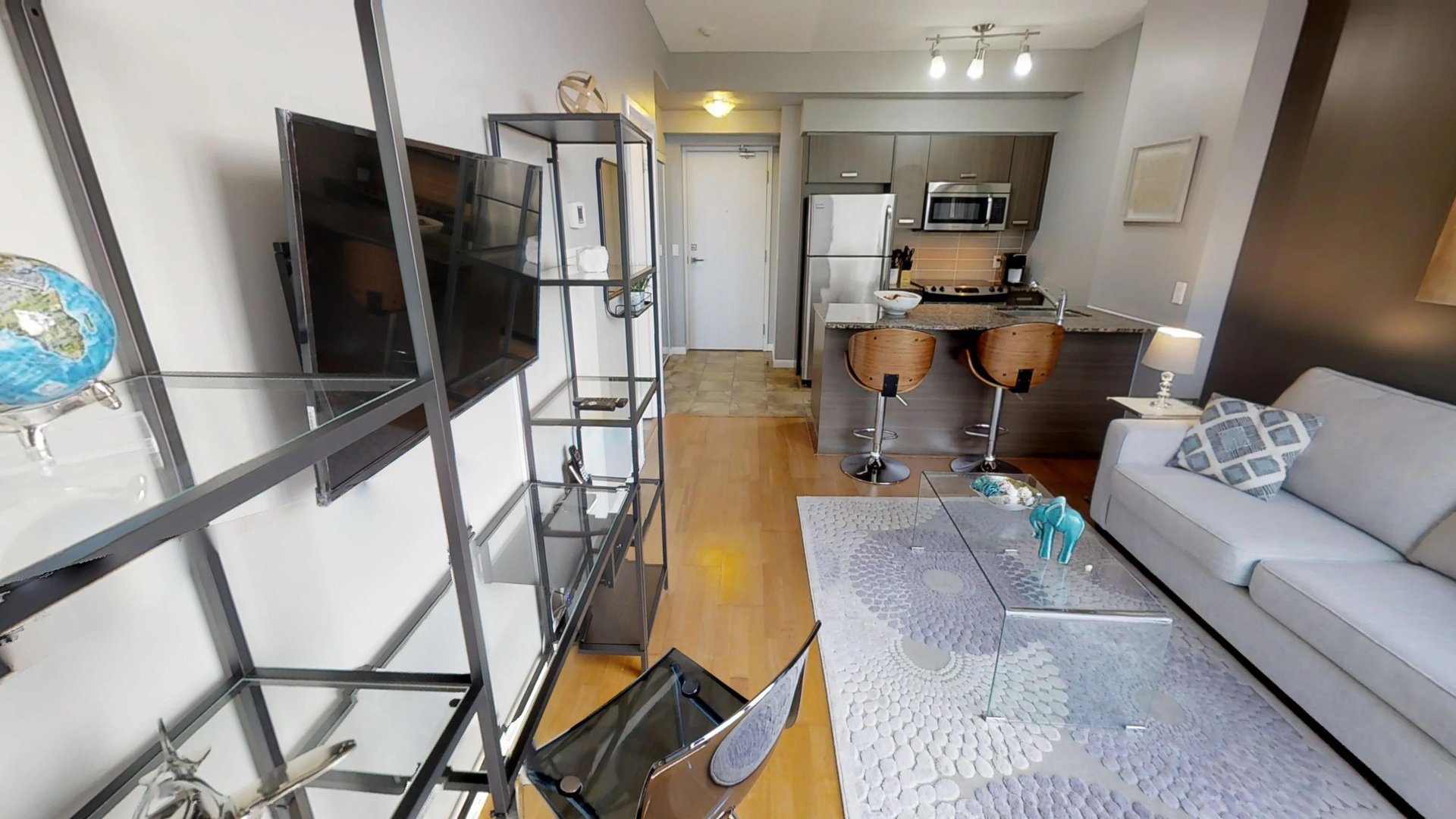 This stunning 1 bedroom furnished suite is situated right in the heart of Toronto's Bay and College neighbourhood. With modern finishes, comfortable furniture and a fantastic view of the city, this unit is sure to impress. Don't be fooled by its size because this unit has plenty of space for extended stay guests to unwind and relax.
When you enter the apartment to the left you will find a complete and modern kitchen set up. Framed by beautiful dark wood cabinets and sturdy granite counter tops, this space is perfect for preparing your daily meals. Guests will be pleased to know that this kitchen comes fully stocked with everything you may need during your stay. This includes all dish ware, glasses, utensils, cookware and all large appliances including a dishwasher and microwave. Having a full sized kitchen negates the need to eat out as you would need to do when staying in a hotel. Two sturdy high-top stools also face the kitchen and sit comfortably under the island counter top.
The kitchen is open to the inviting living room that features a plush grey love seat that faces a wall mounted entertainment centre. Every  unit comes with a cable package and DVD player so our guests can get the best entertainment possible. This area is decorated in cool blue tones and is the perfect spot to kick back and relax after a long day at the office or out in the city. While there is no balcony available for this unit, the beautiful wall of windows that defines this space provides guests with a plenty of sun and a view of the bustling city below.
Just off the main living room is the bathroom and bedroom of this Toronto furnished rental. The bathroom features a shower/bathtub combination and a single sink that has lots of storage beneath it. Like the living room, the bedroom has one wall that is entirely windows. If you like to sleep in complete darkness, do not fret as this room comes with two layers of curtains to block out the city and sun. The bedroom comes with a queen sized bed that comes with all the linens and pillows you might need to get a good night's rest. On either side of the bed there are sturdy tables with table top lamps that are perfect for proving light for a little reading before bed. If you prefer to watch TV from your bed then you are also in luck, as there is another wall mounted TV set in the bedroom.
The Neighbourhood
The Bay and College area is one of the busiest and most sought after areas in the city. Filled with students and working professionals this area is popular because of it's proximity to the city's hospital network, Universities and the financial district. There is plenty to see and do in this neighbourhood no matter your reason for staying in Toronto. Our Burano H unit puts you just a block away from the shops at College Park . Here you can find a selection of retail stores, restaurants and essentials like banks and grocery stores.
The Building
This furnished apartment is housed in one of the is one of the hottest condos in the Bay and College area. Standing 48 stories high and designed by revered architect Peter Clewes and developed by Lanterra Developments, the building is set to impress our corporate housing guests with refined modern amenities and gorgeous suite layouts.
Request this suite
Walk Score
Floorplan
How to Book
Request this suite
Request this suite
[contact-form-7 404 "Not Found"]
Walk In Score
Floorplan
How to Book
Instant Booking
Additional Info
Wireless Internet
Cable TV
Fully Equipped Kitchen
En-suite washer/dryer
Paid Parking
Non-Smoking
Toll-Free Help Desk Mon to Sat