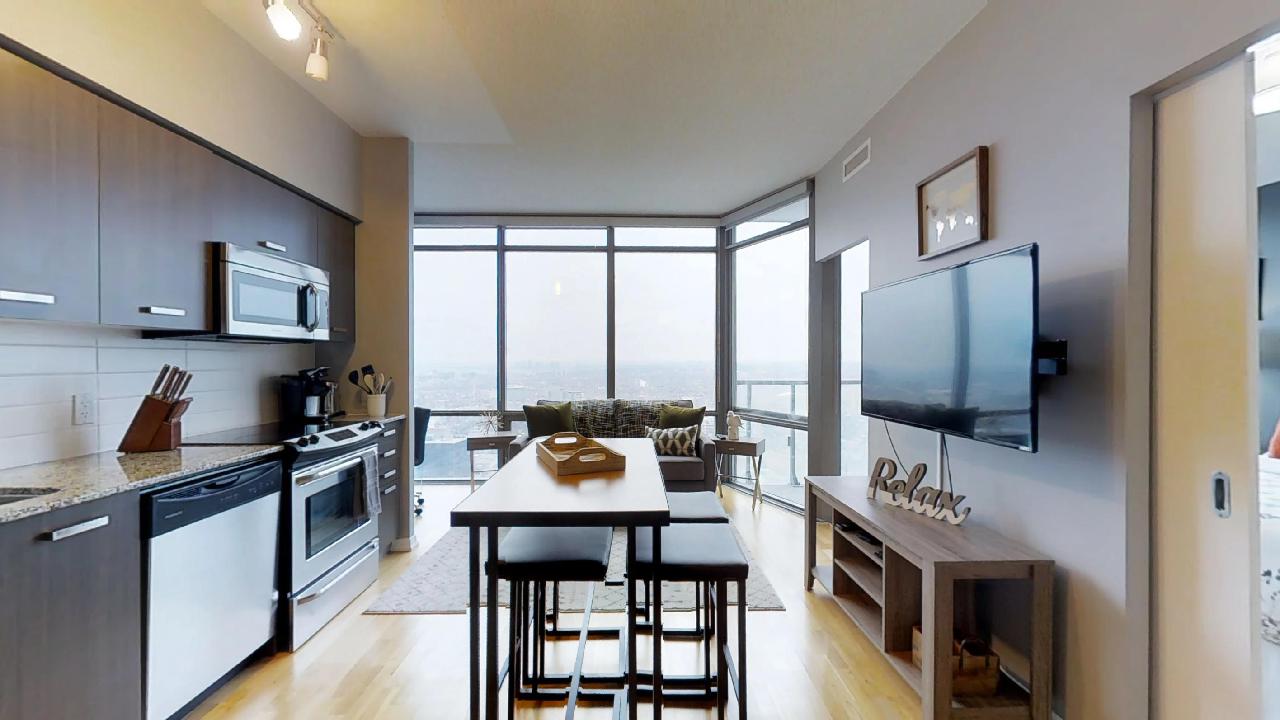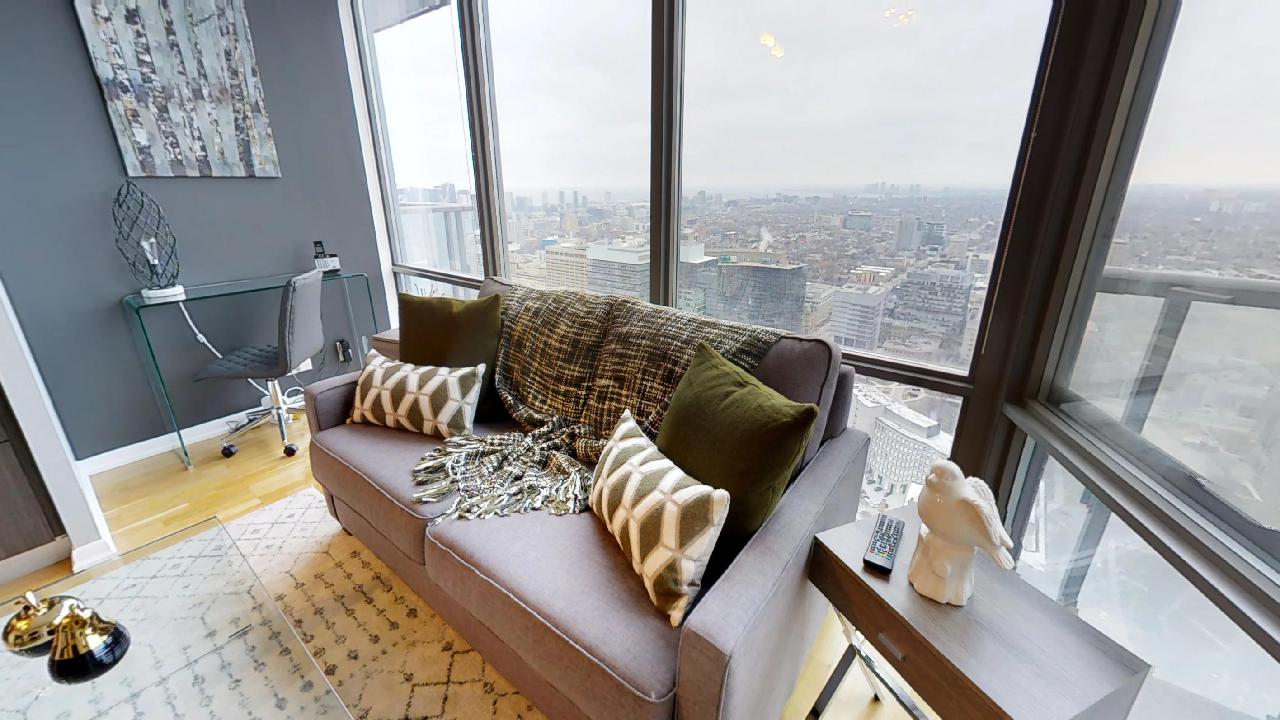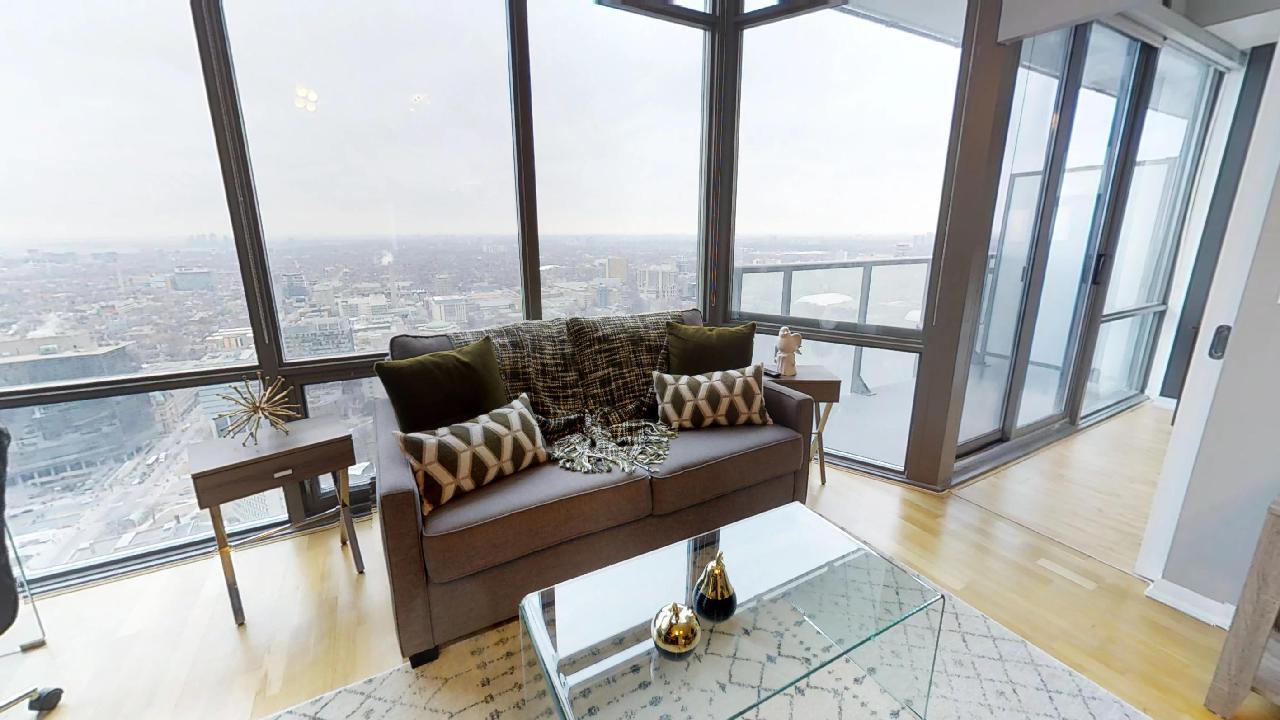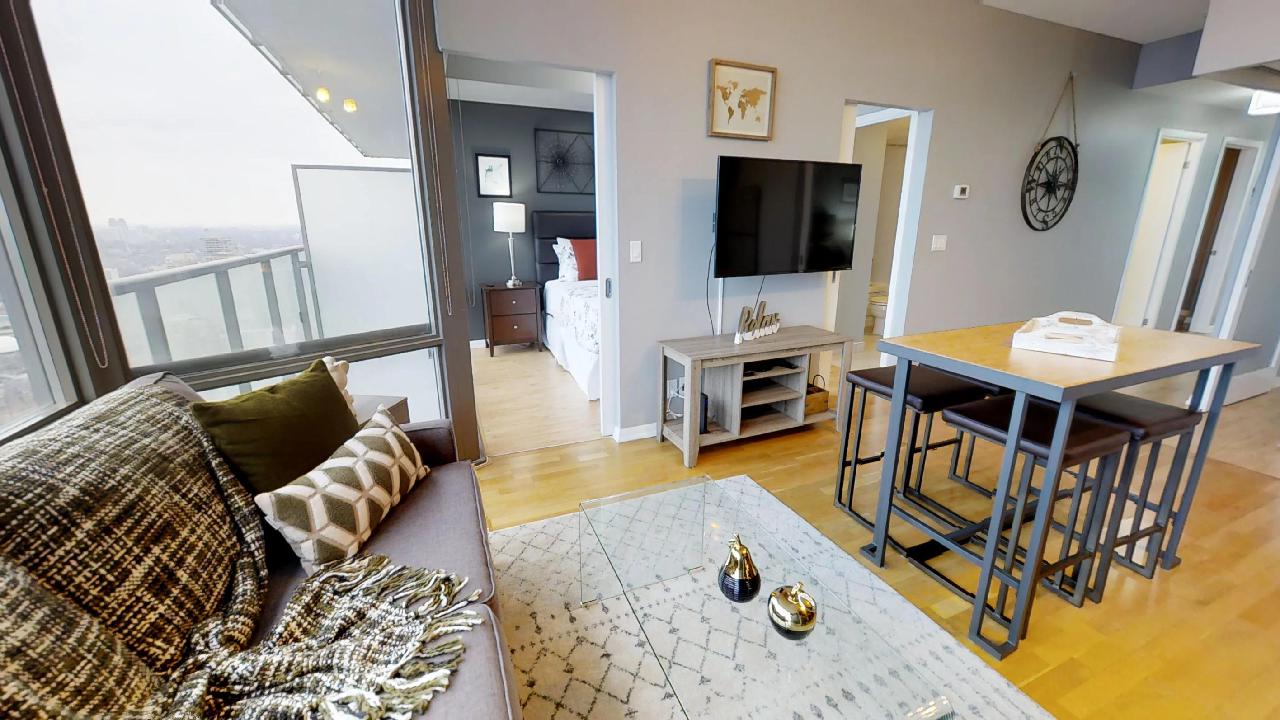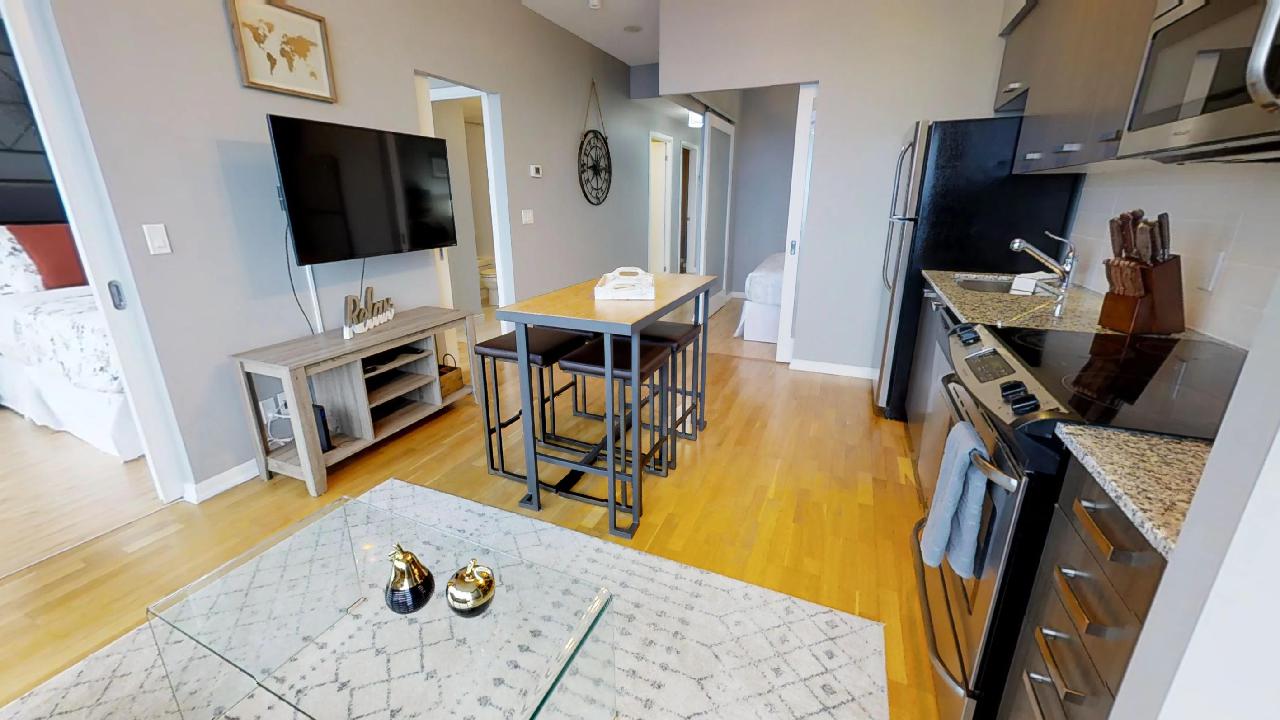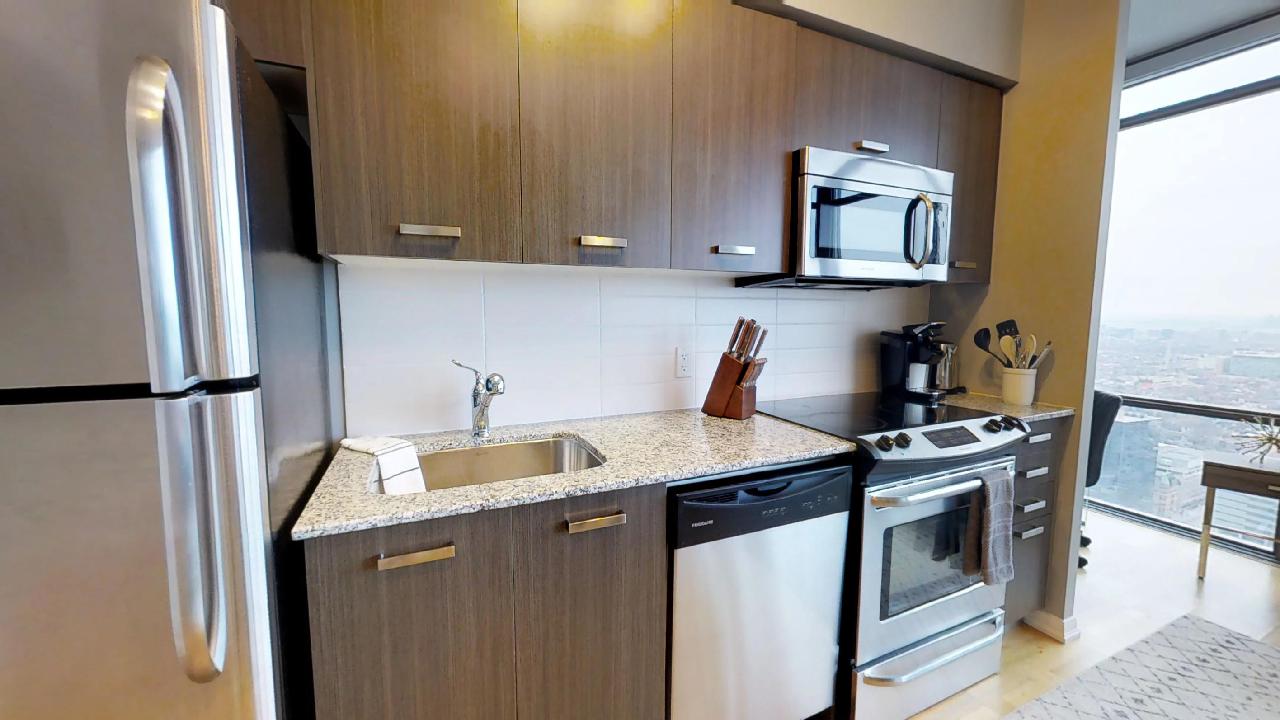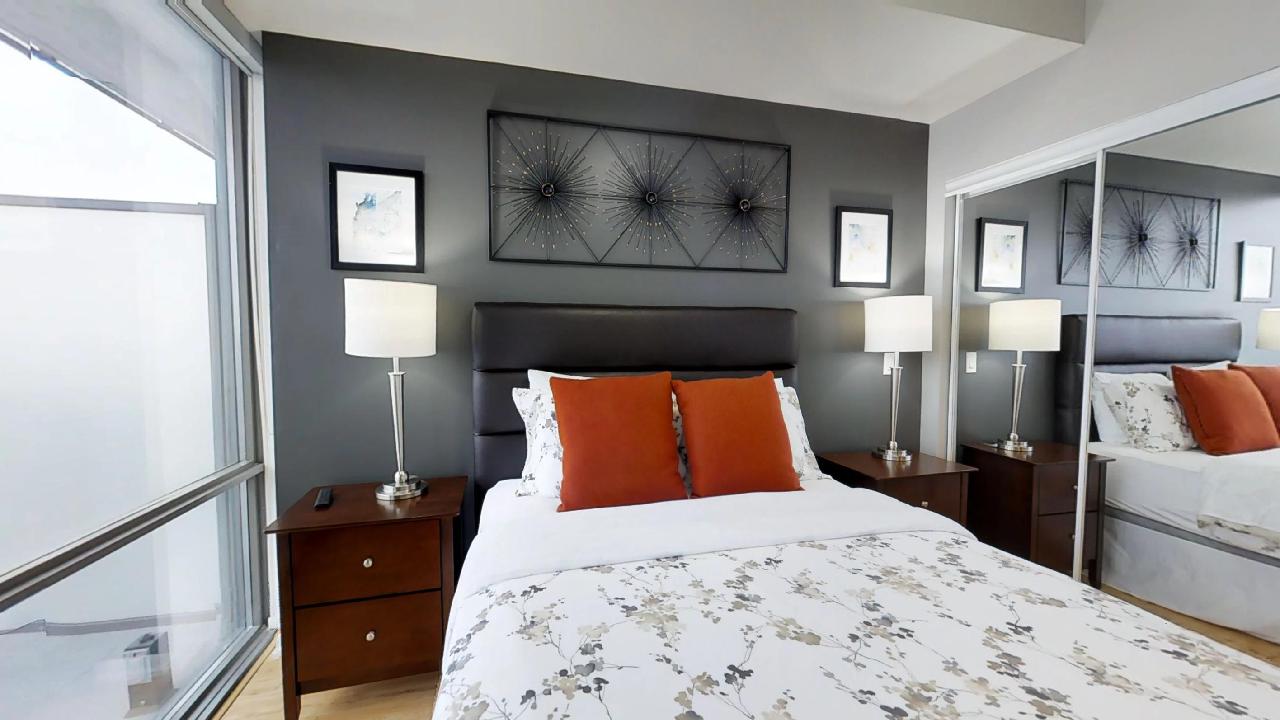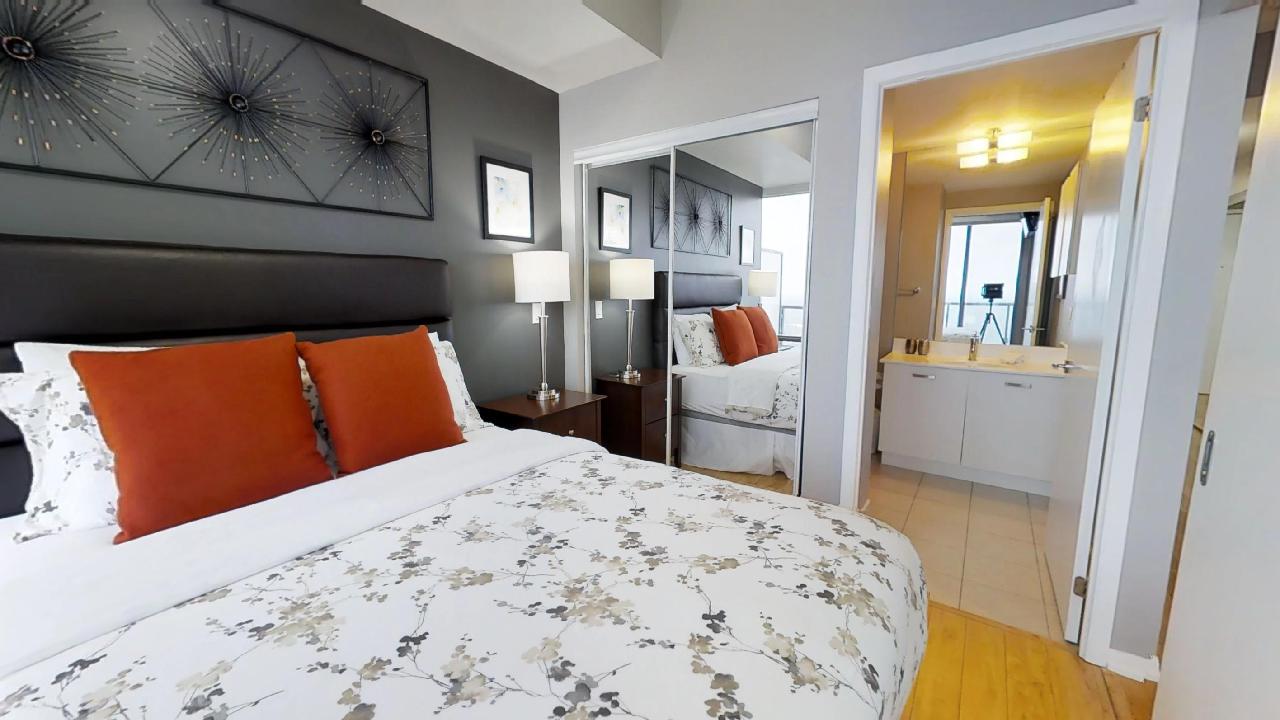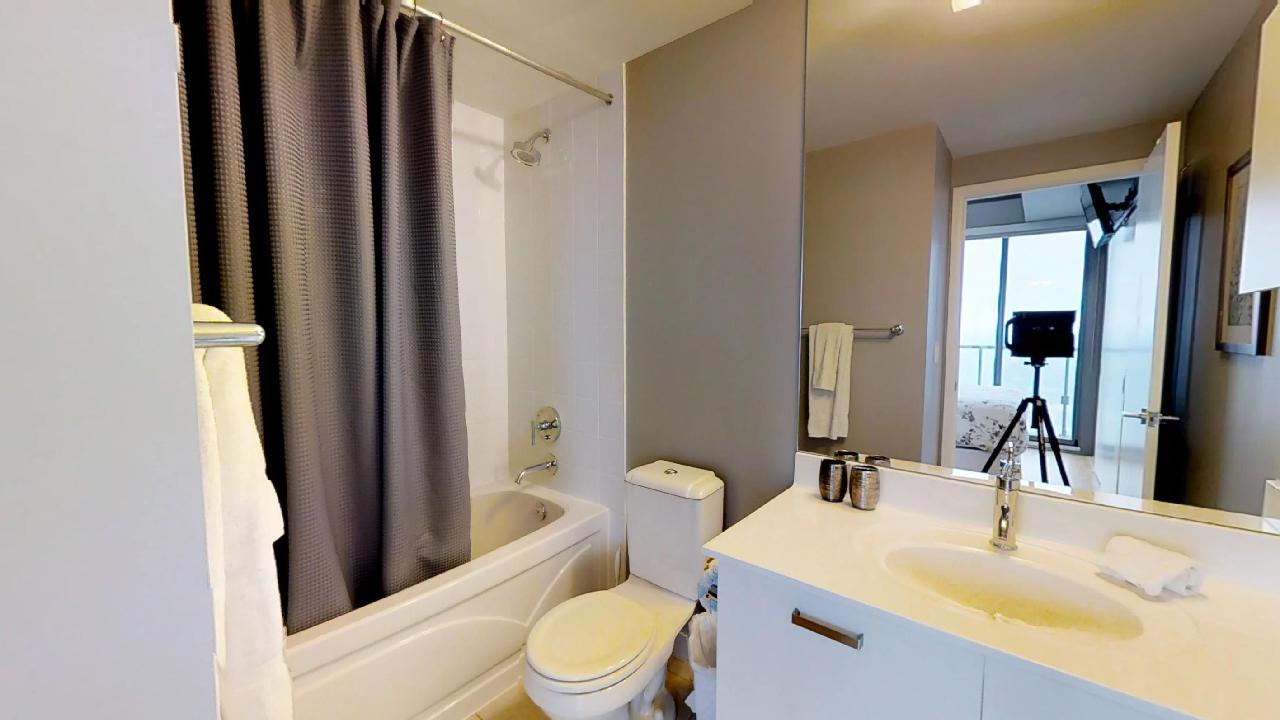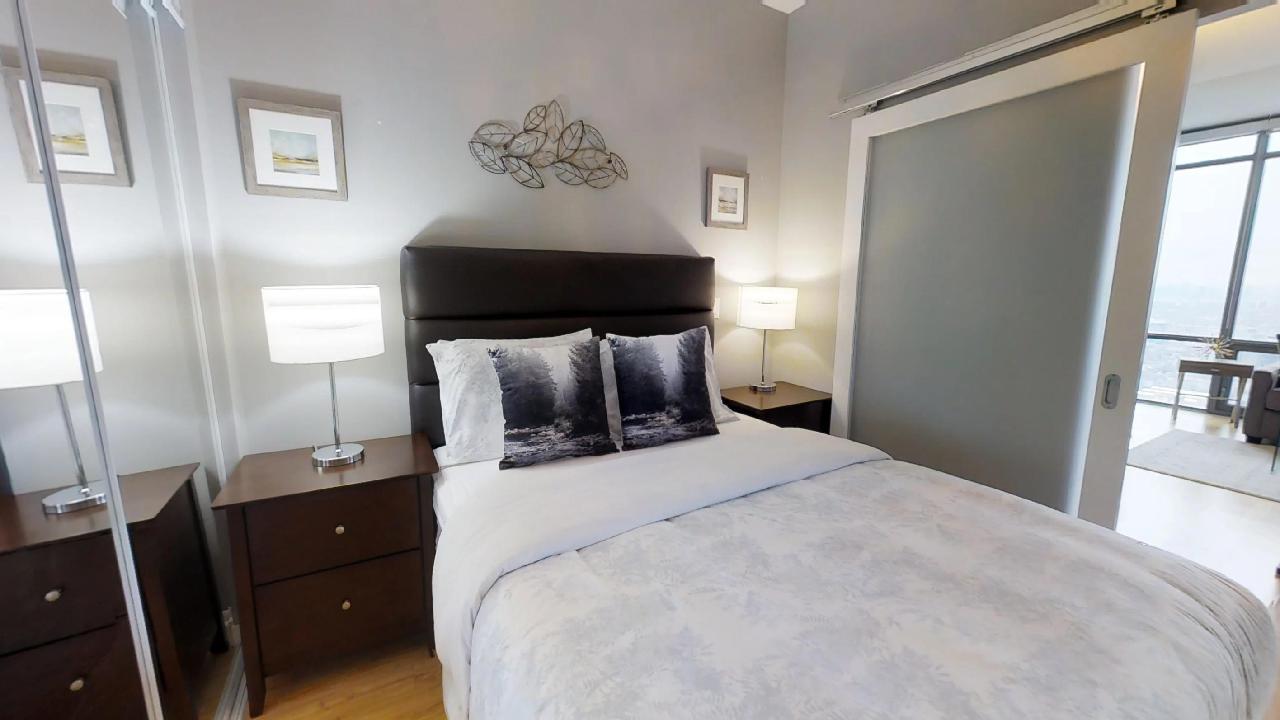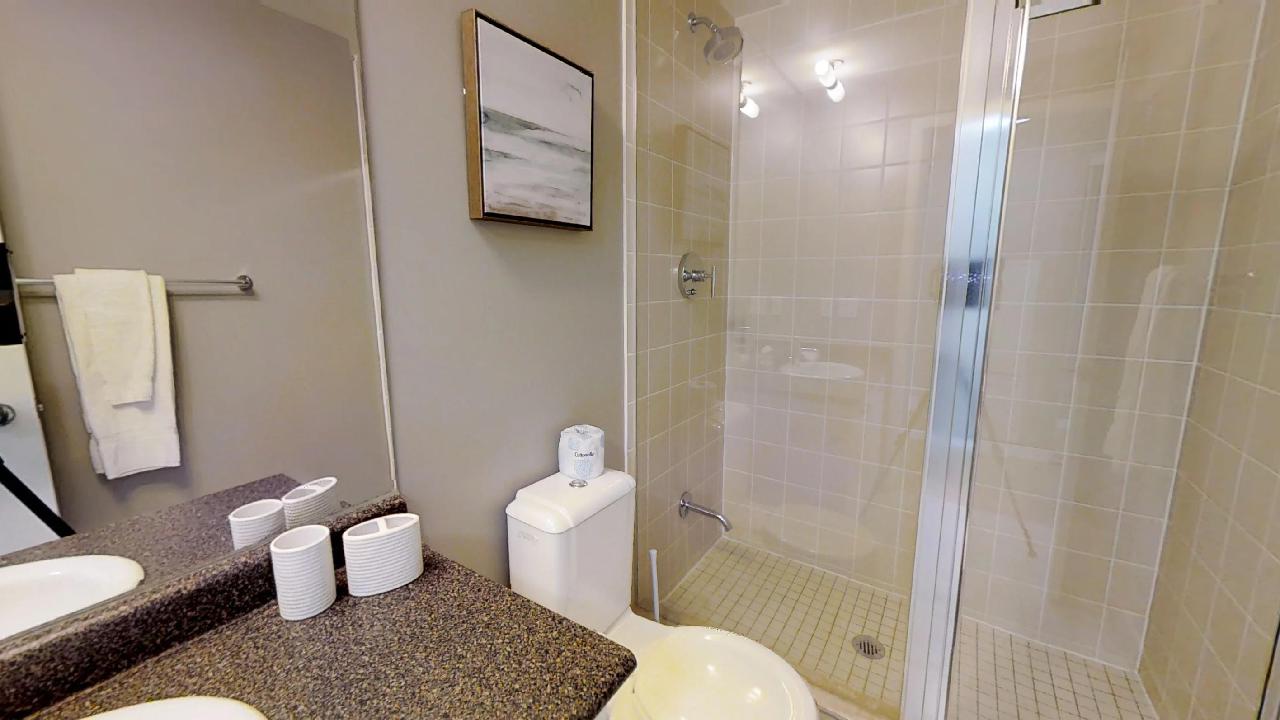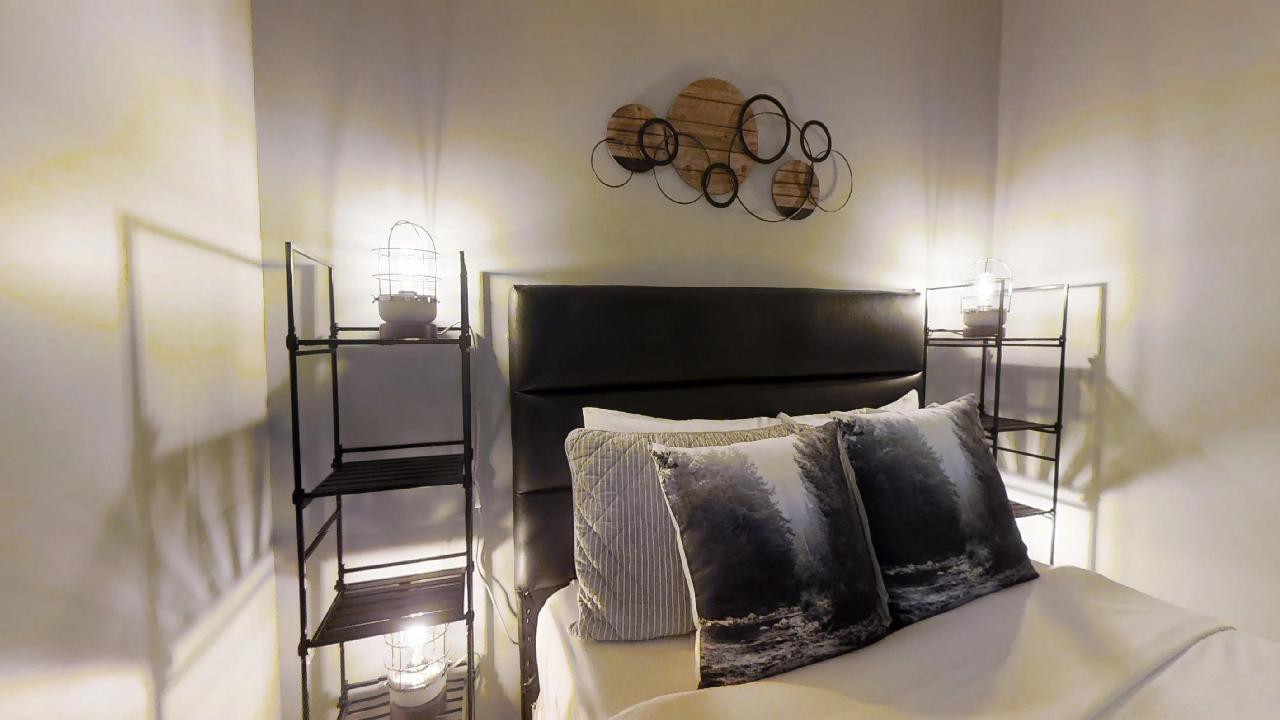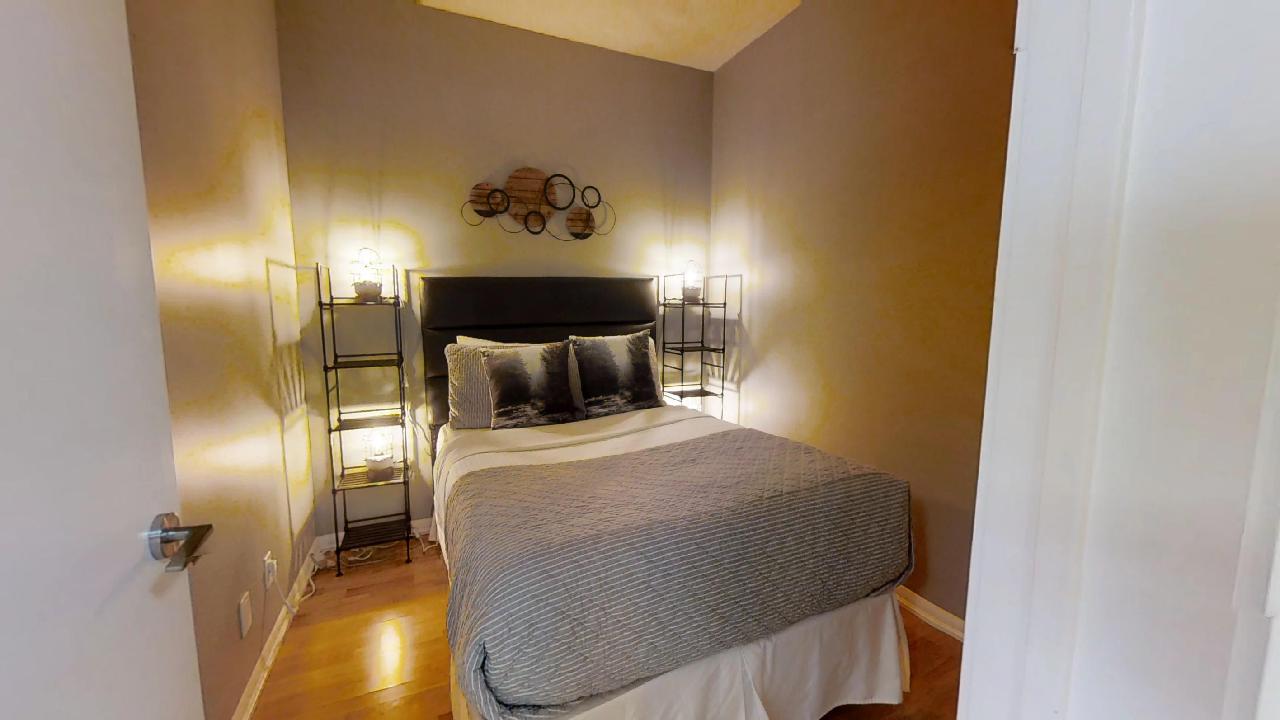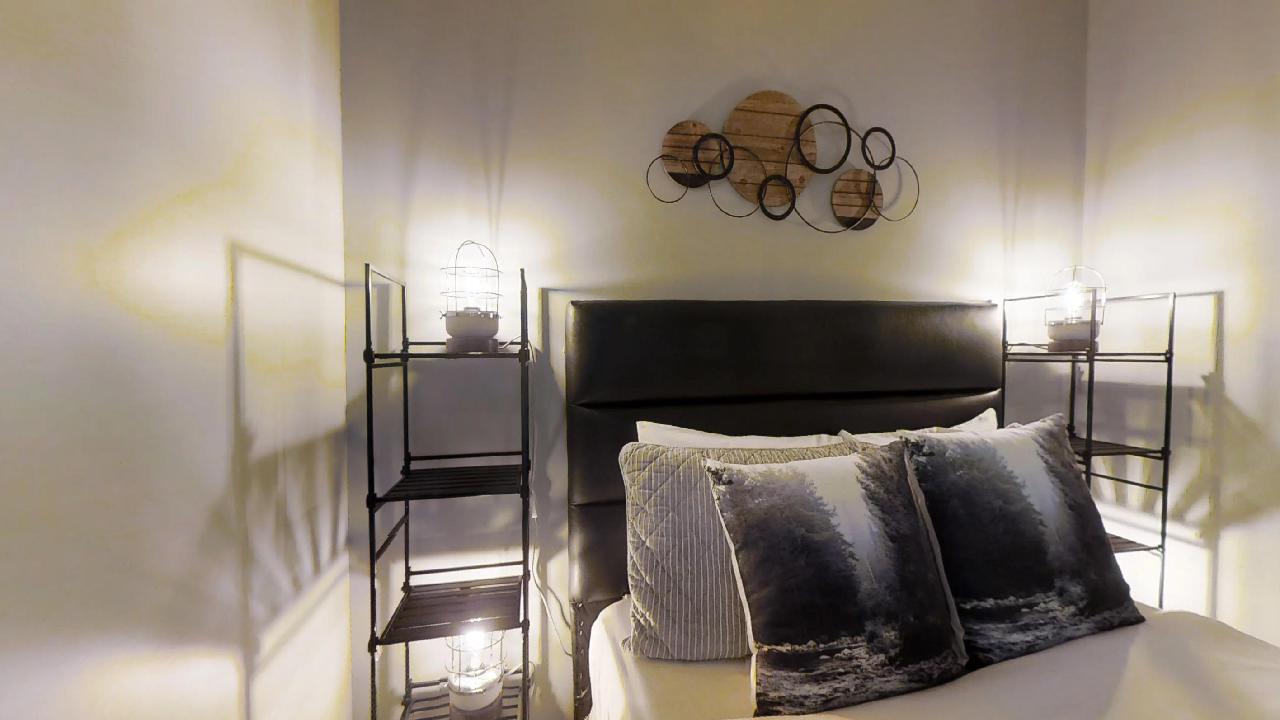 /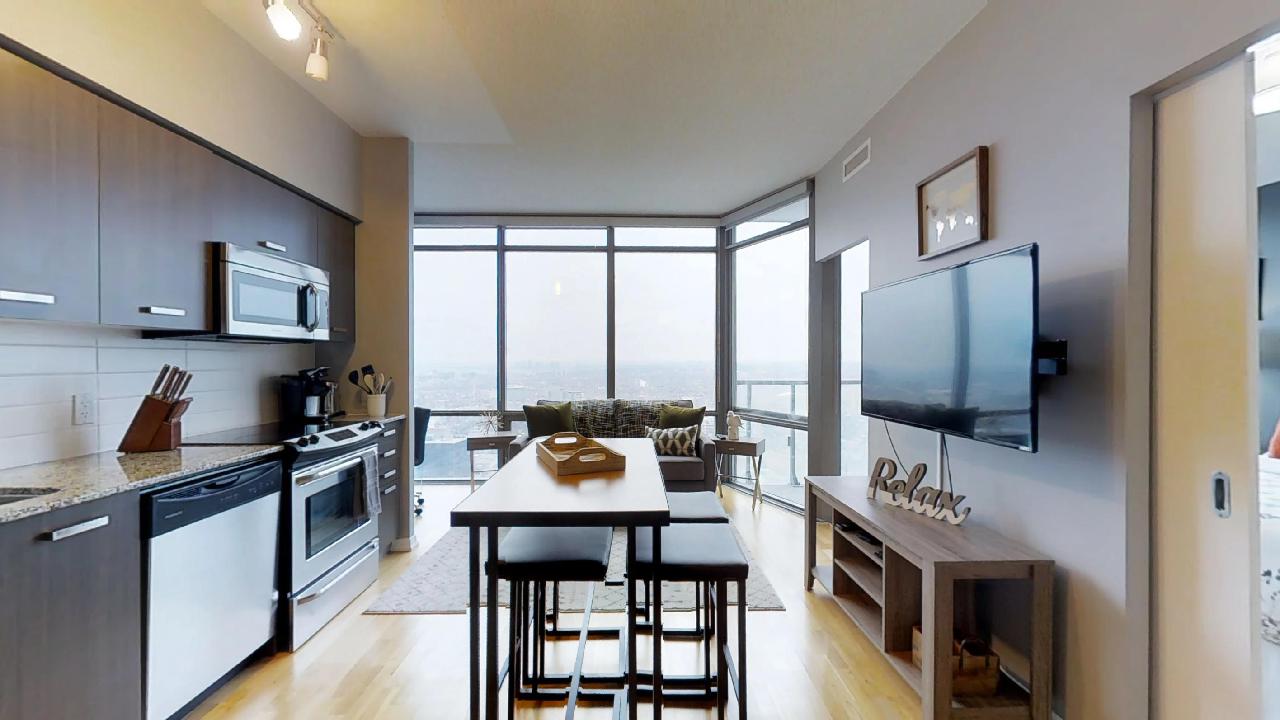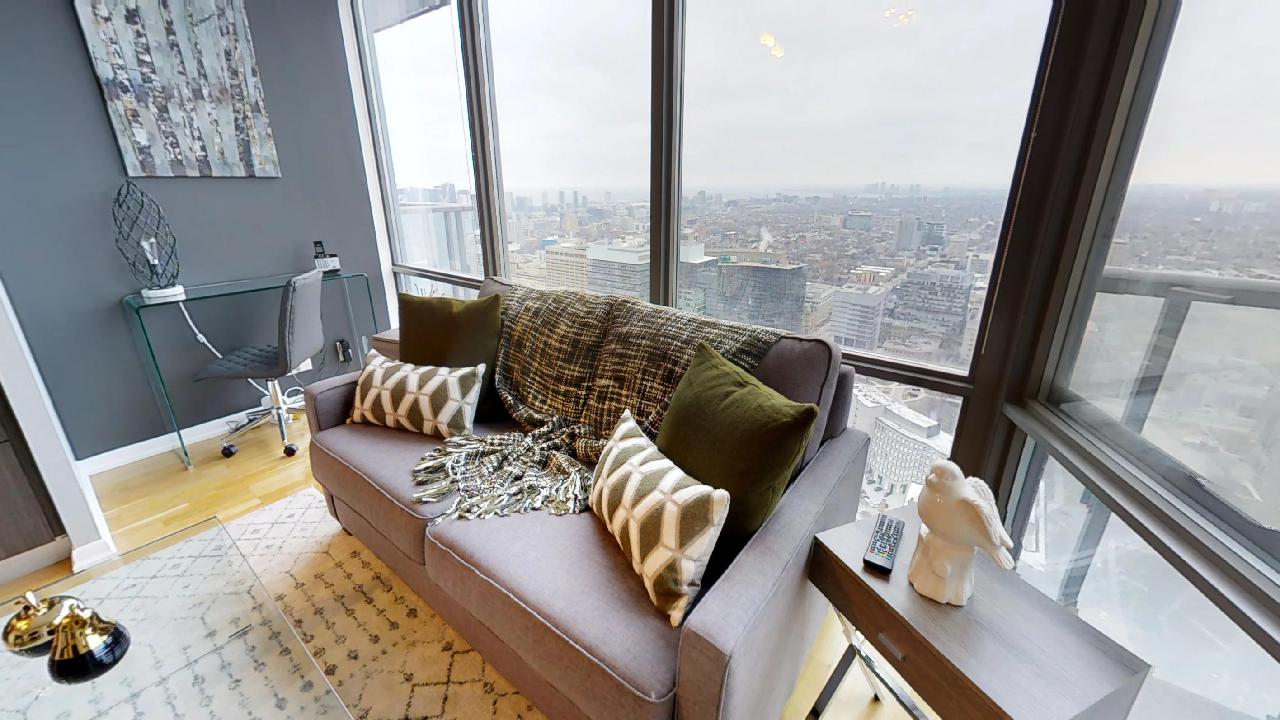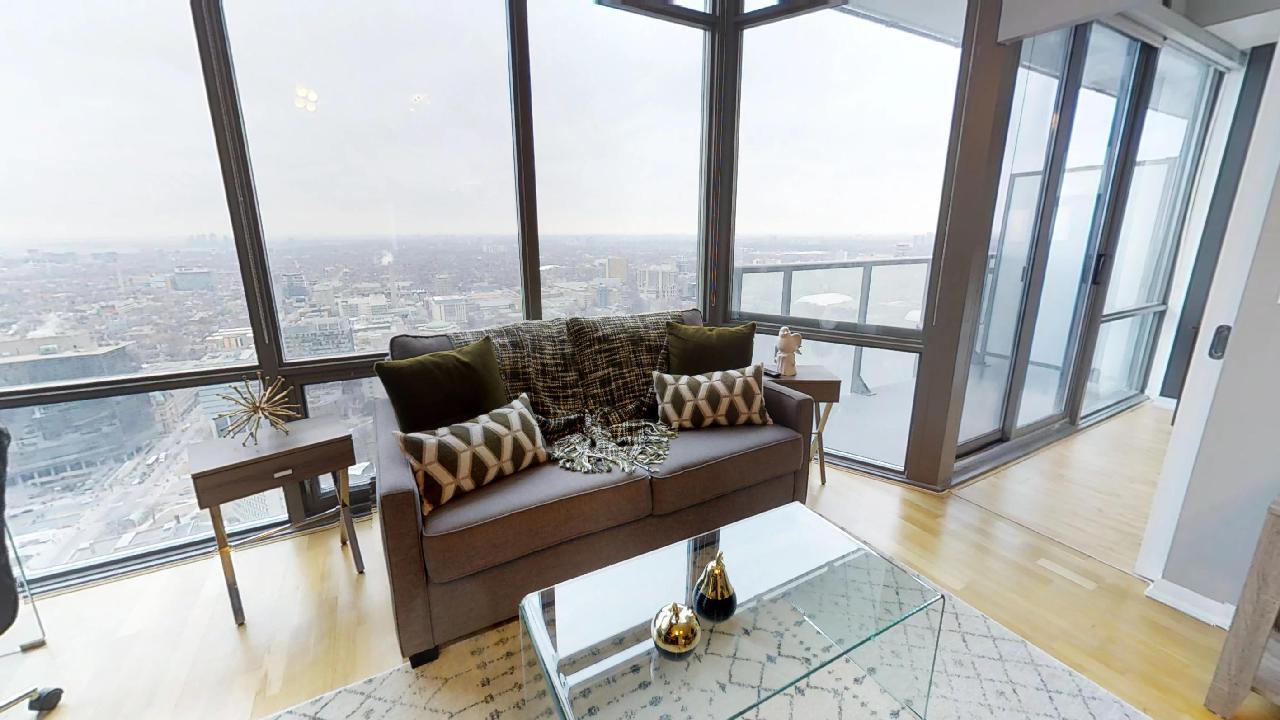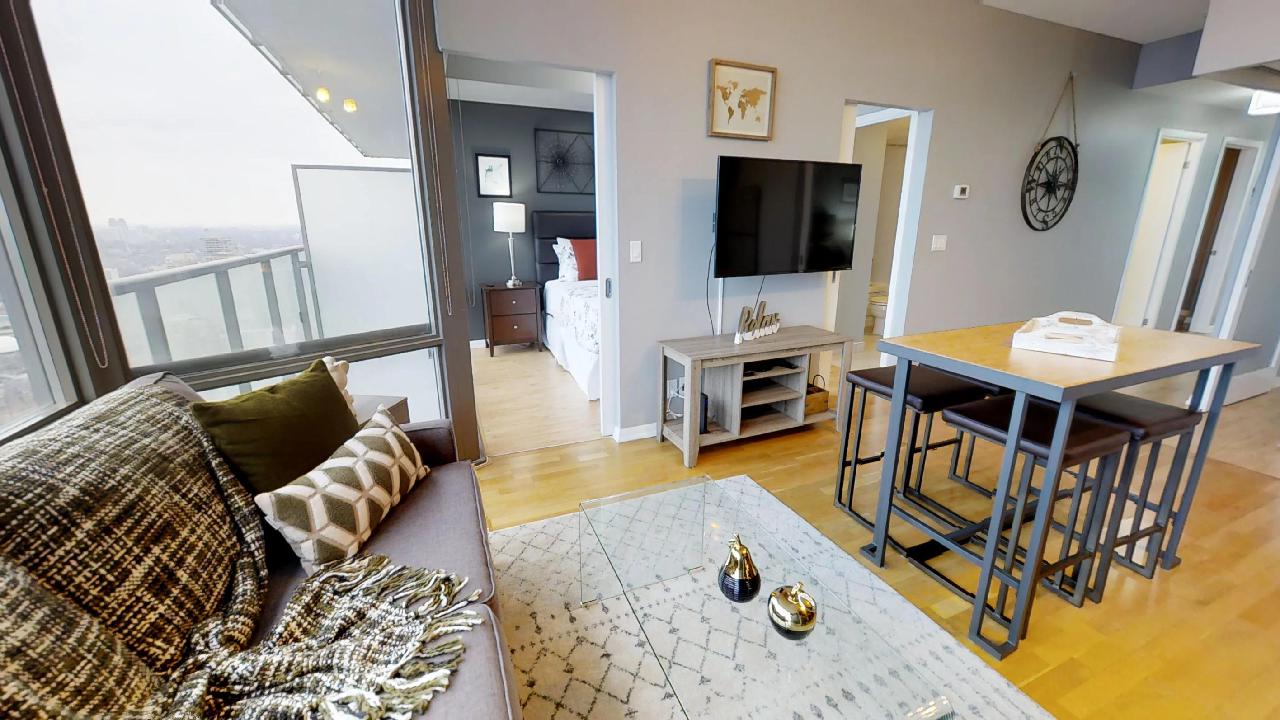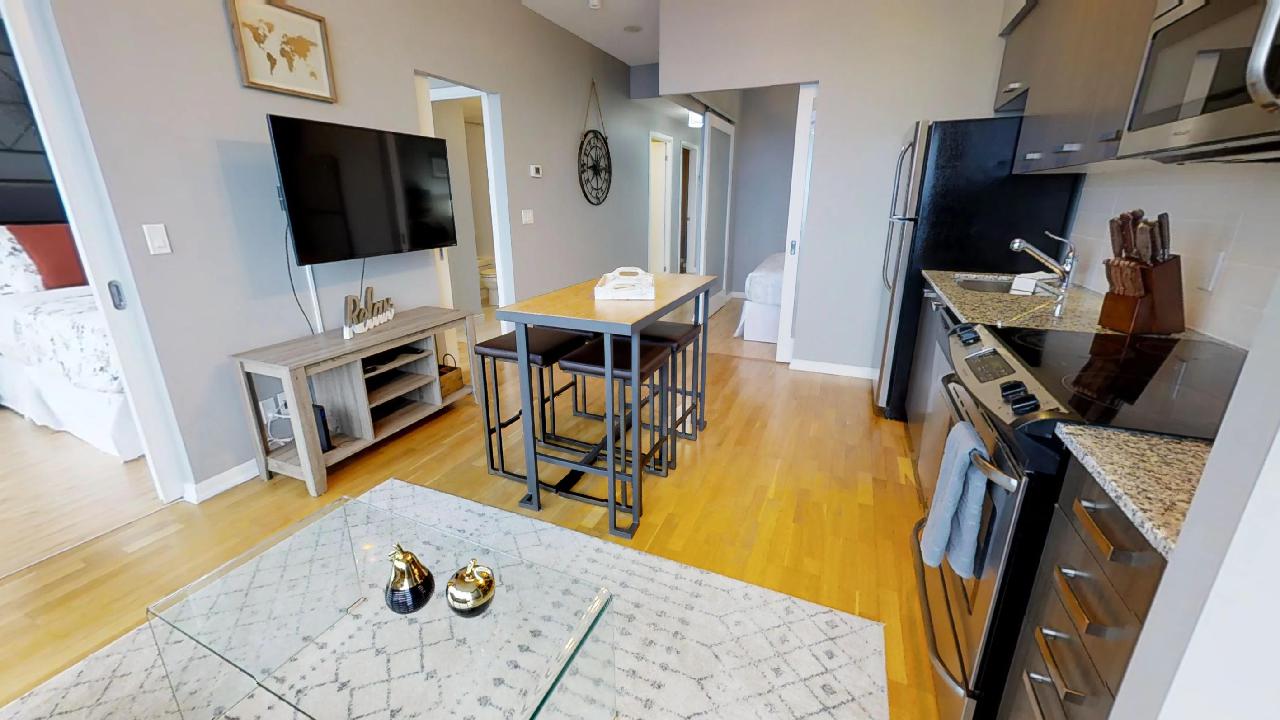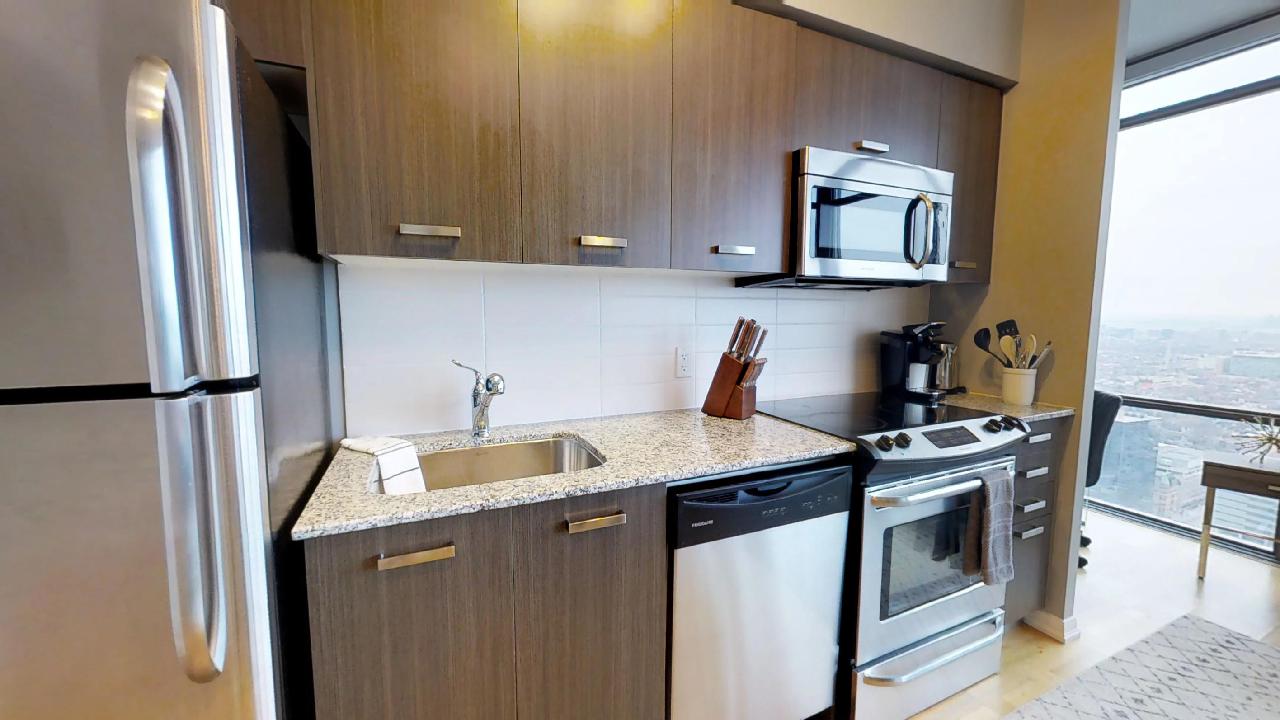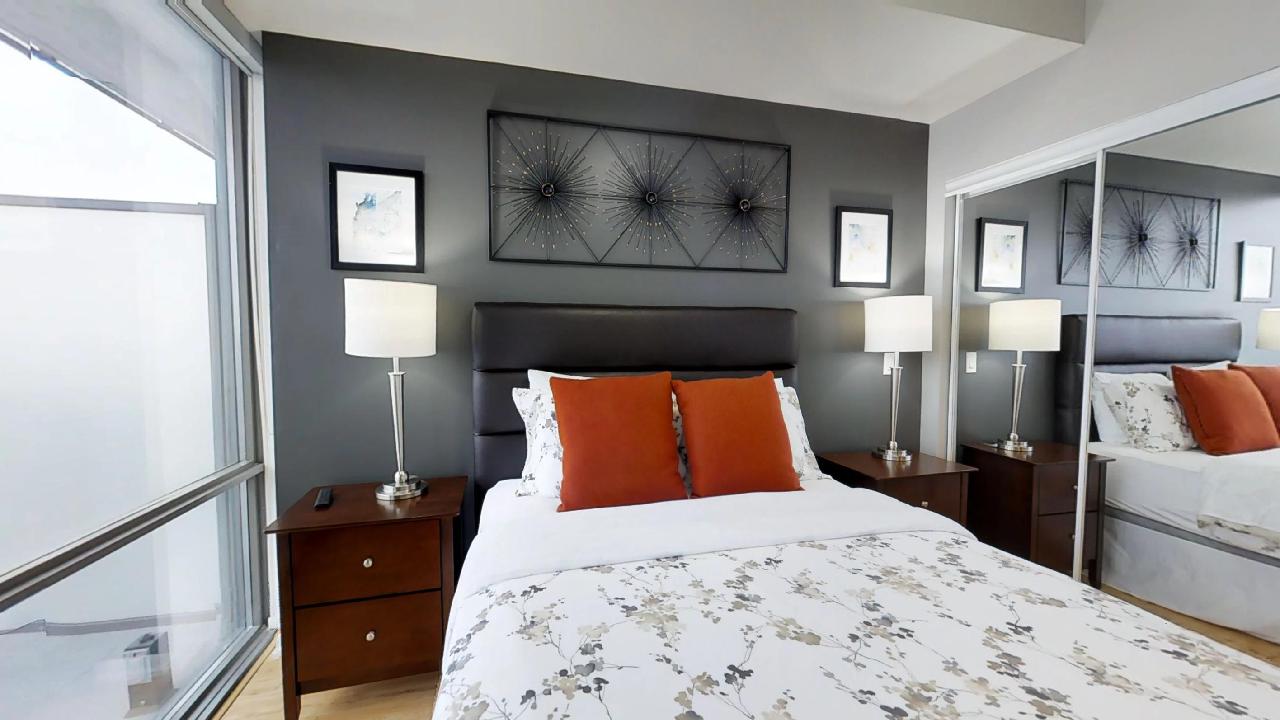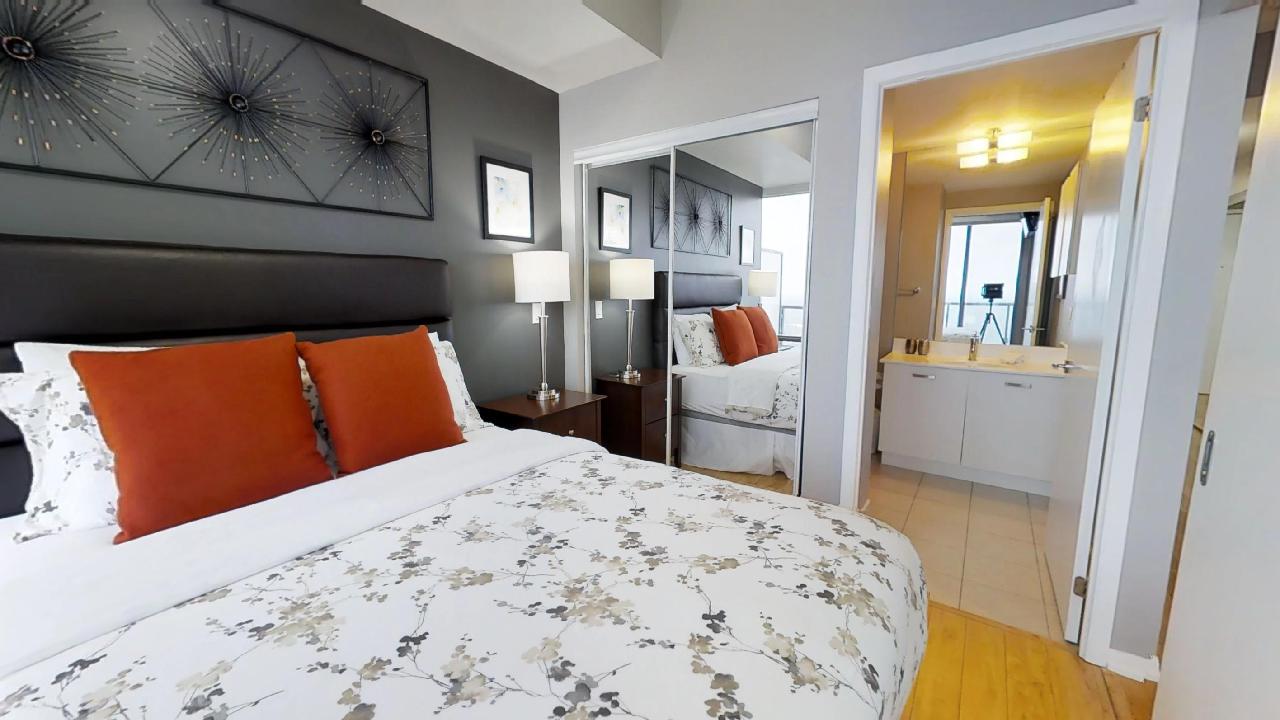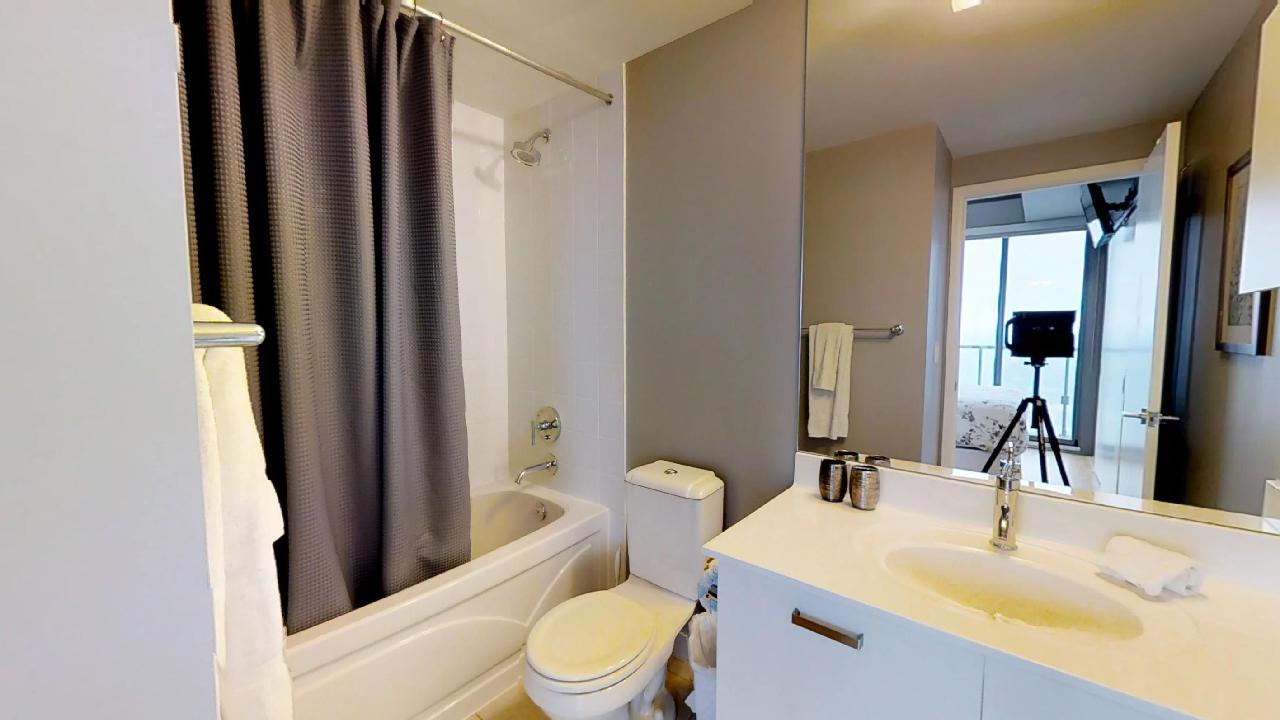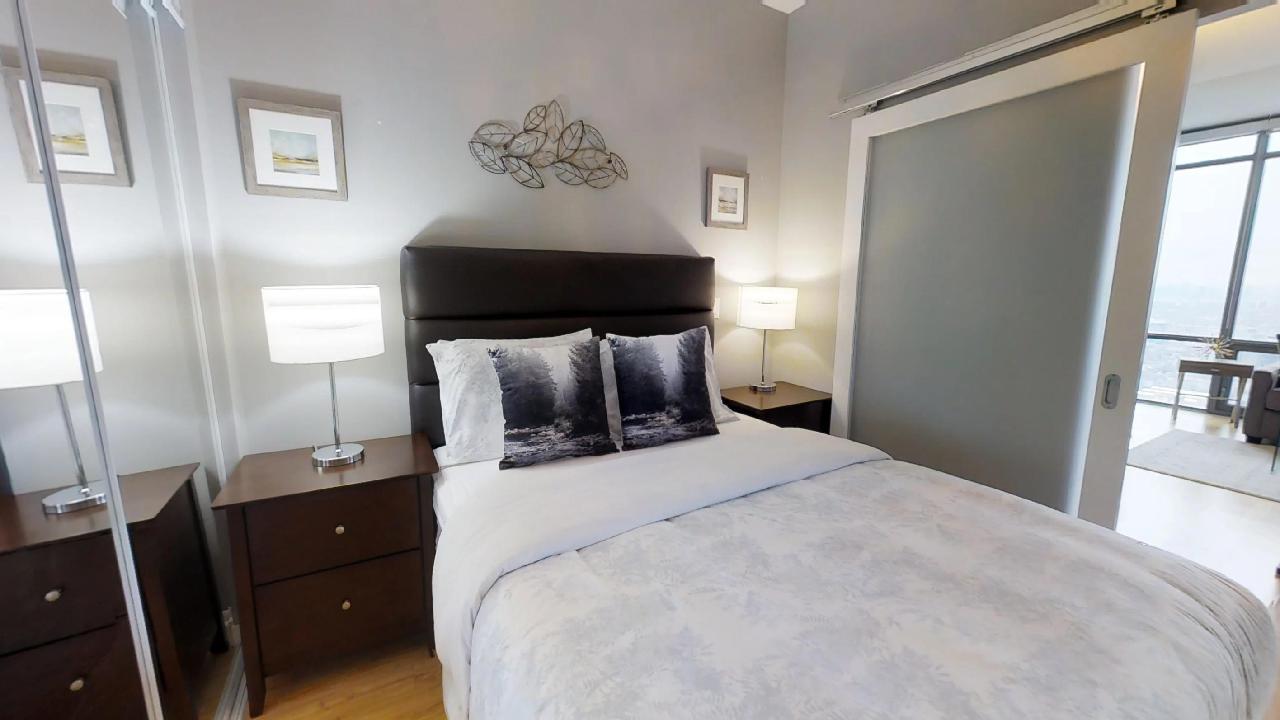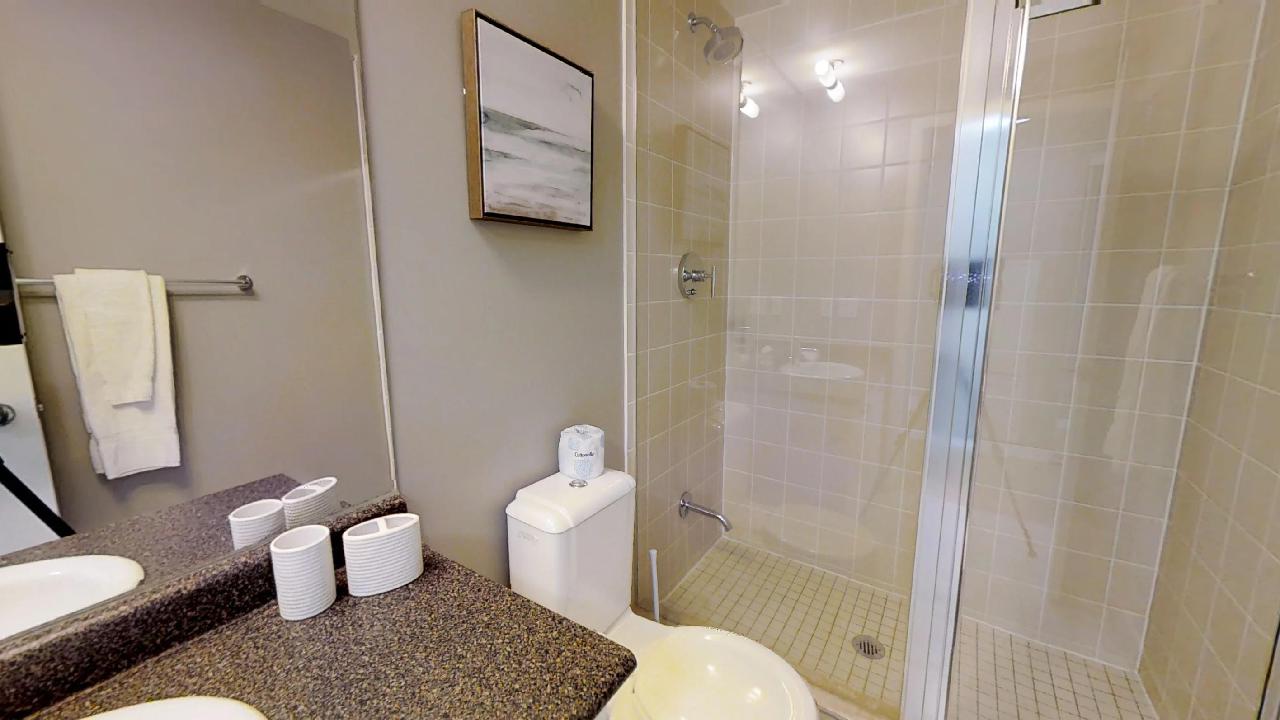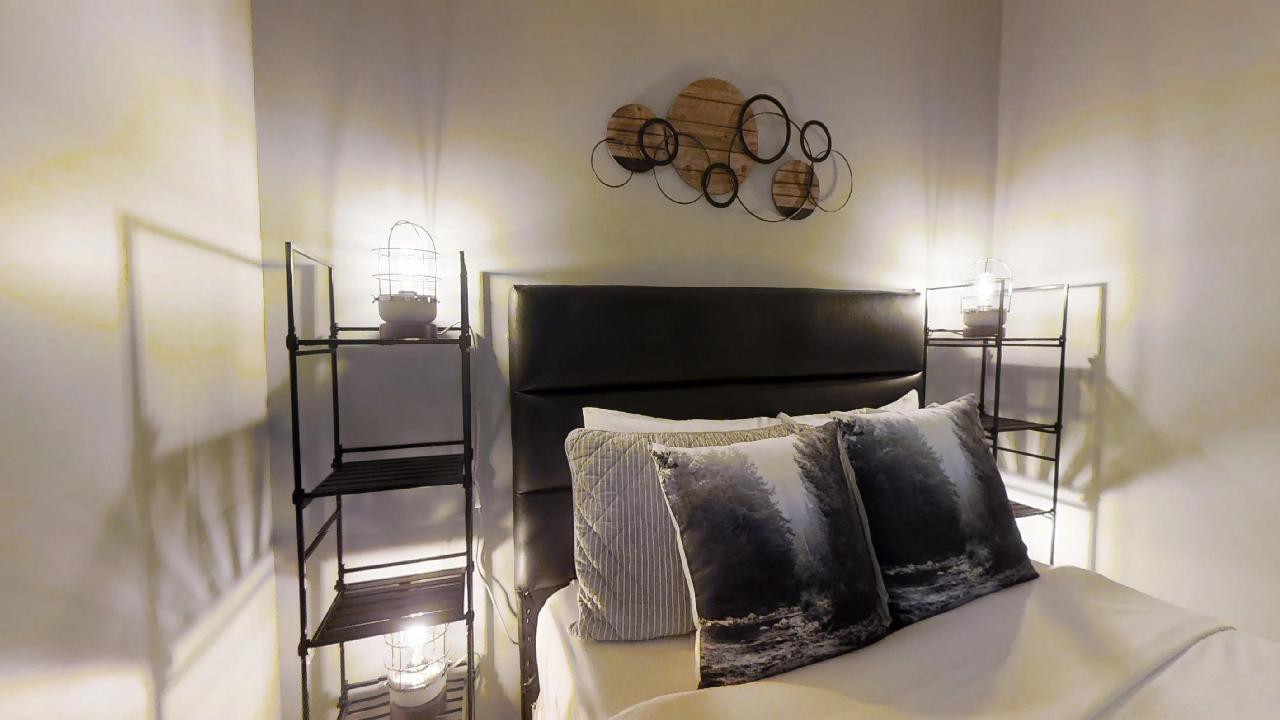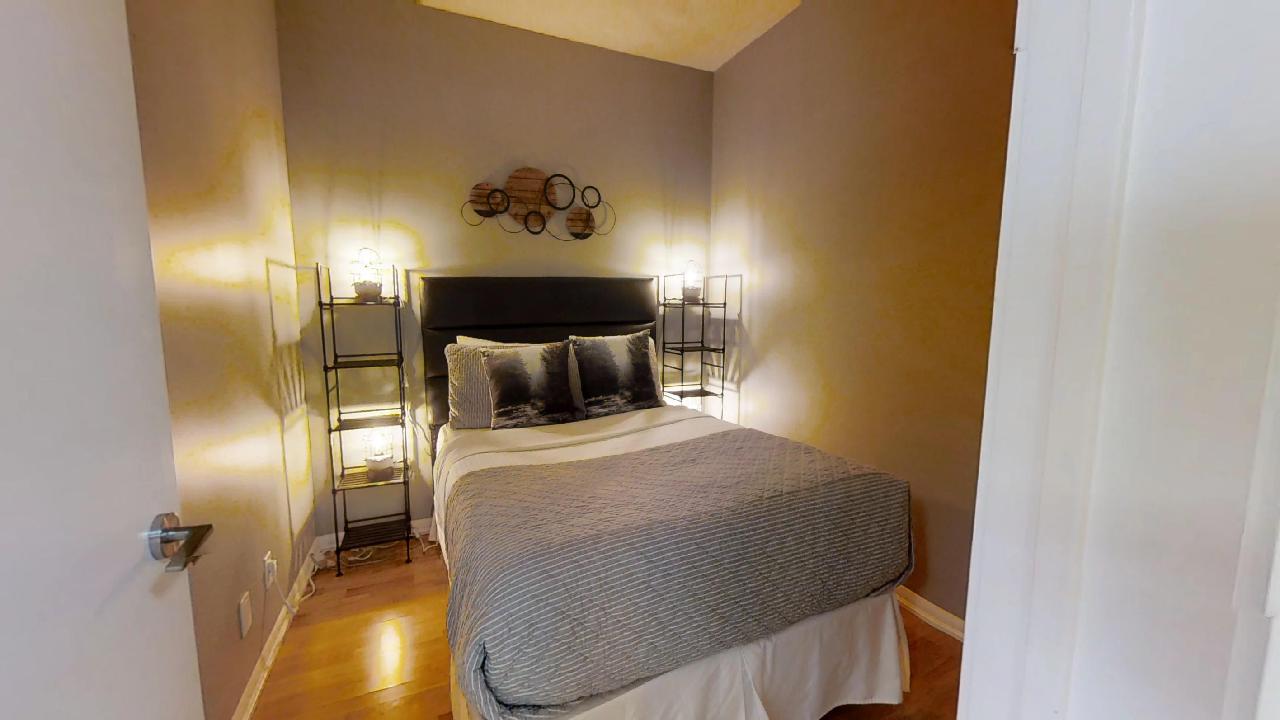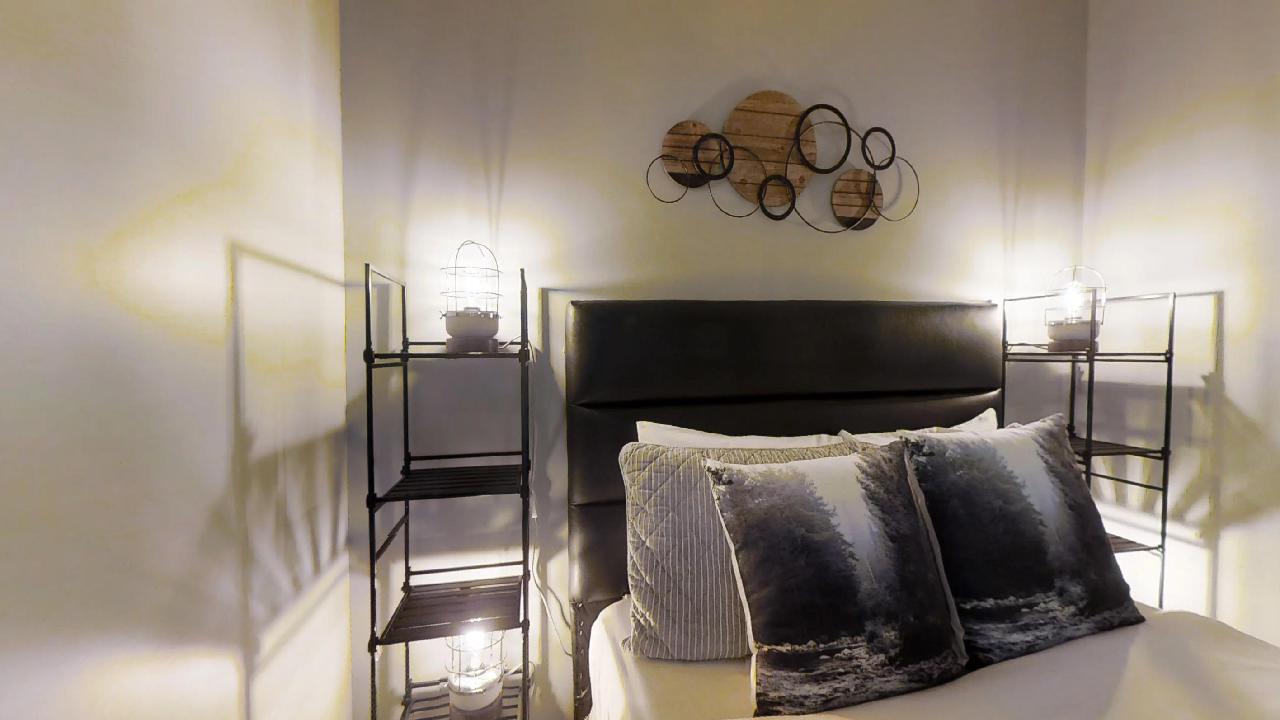 With a breathtaking view of the city and beautiful décor, the centrally-located Burano F suite is sure to impress. Features in this furnished apartment include hardwood flooring in the main living areas, wall to wall floor to ceiling windows and modern finishes.
Both master and second bedrooms have a queen sized bed with mattresses that offer superior comfort. The third bedroom features a double bed, and the living room features a pull out couch, meaning the suite is able to accommodate a large number of guests. The suite also has two full bathrooms, perfect for a corporate housing arrangement, or accommodations for a larger family/group. The master bedroom has an en suite bathroom, while the second bathroom is just off of the main living area. All linens for the bedrooms and bathrooms are provided in this furnished apartment.
Burano F features a balcony, a workspace, dining space and pull out couch. A flat screen TV is also in the living area, as well as floor-to-ceiling windows that features an amazing view of the University of Toronto campus, Queen's Park, the financial district, and more.
The kitchen, which is fully stocked with plates, pots & pans, flatware and small kitchen appliances, features full-sized stainless steel appliances and granite counter tops. Located in the front closet is a full sized washing and drying machine.
The Neighborhood
Burano F is located in the heart of Toronto's bustling upper downtown core, just a few minutes walking distance from College Park's underground path systems, Queen's Park, the University of Toronto, and many hospitals, this furnished apartment's location is perfect for just about everyone looking for a short term fully furnished rental in Toronto.
Steps away from the tower at the corner of Bay and College, our guests enjoy underground access to the shops in College Park's pathways. These retailers include grocery stores, cafés, pharmacies, banks, retail shops, restaurants, bars, and much more. If you can't find what you are looking for, there are multiple TTC stops outside of the building that offer access to the rest of Toronto. For access to the financial district in under 5 minutes, hop on the subway going south, or take the College streetcar heading west to reach Queen's Park in minutes.
Our furnished Toronto apartments at Burano are also located extremely close to the city's major downtown hospitals, such as Toronto General Hospital, Princess Margaret Cancer Centre, Mount Sinai Hospital, the Toronto Rehabilitation Institute, The Hospital For Sick Children (Sick Kids), and more.
The Building
The Burano building is modeled after the famous paintings and sculptures in the city of Burano Italy. The height and size of this building – Burano stands almost 50 stories tall – is muted by its graceful design. It's beautiful brick base is refreshing to see on a modern condominium.
Request this suite
Walk Score
How to Book
Request this suite
Request this suite
[contact-form-7 404 "Not Found"]
Walk In Score
How to Book
Additional Info
Wireless Internet
Cable TV
Fully Equipped Kitchen
En-suite washer/dryer
Paid Parking
Non-Smoking
Toll-Free Help Desk Mon to Sat