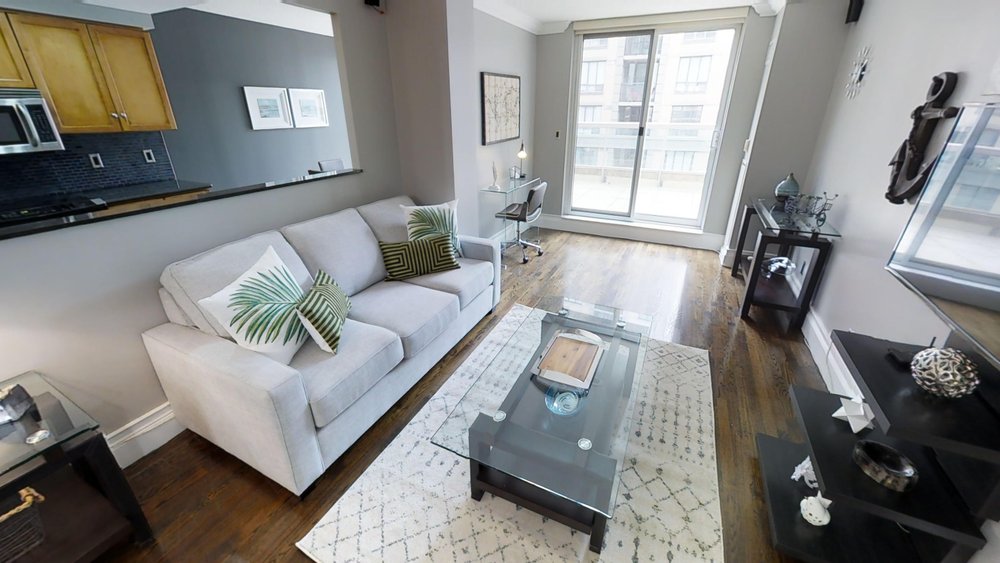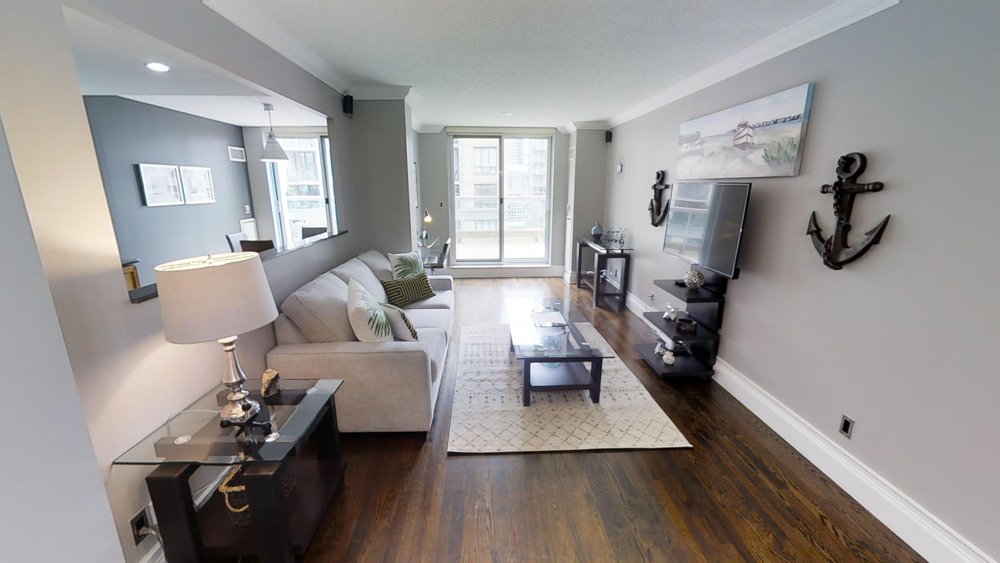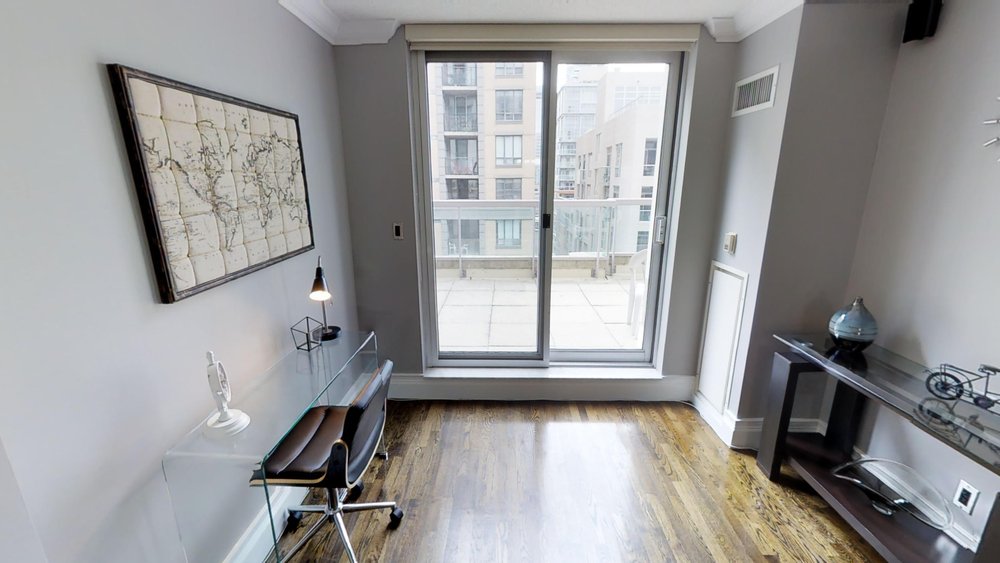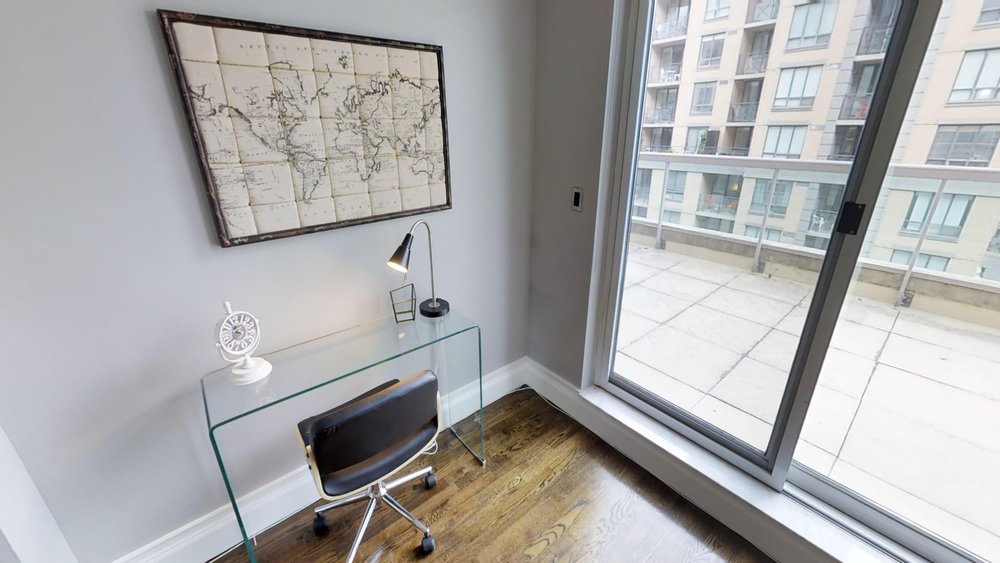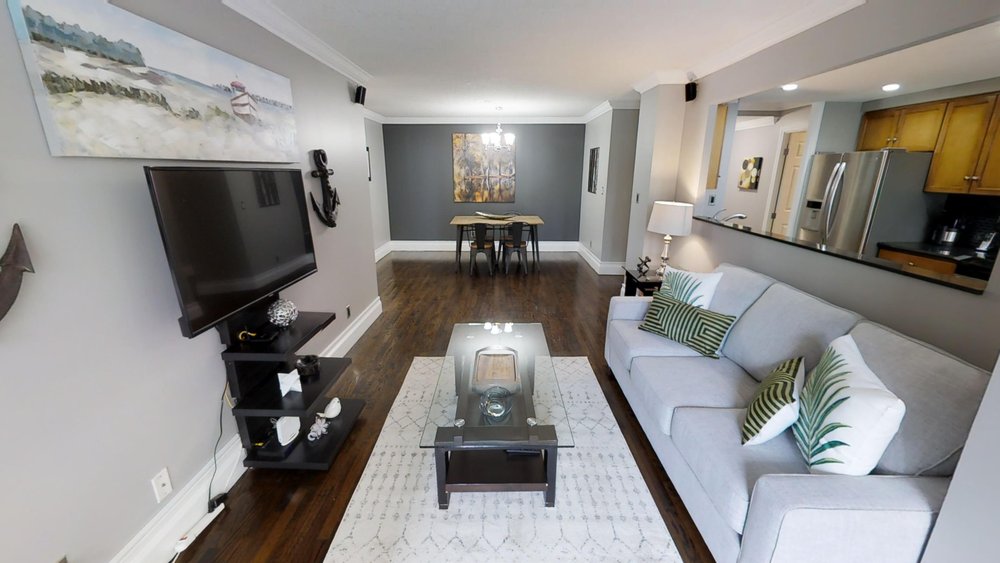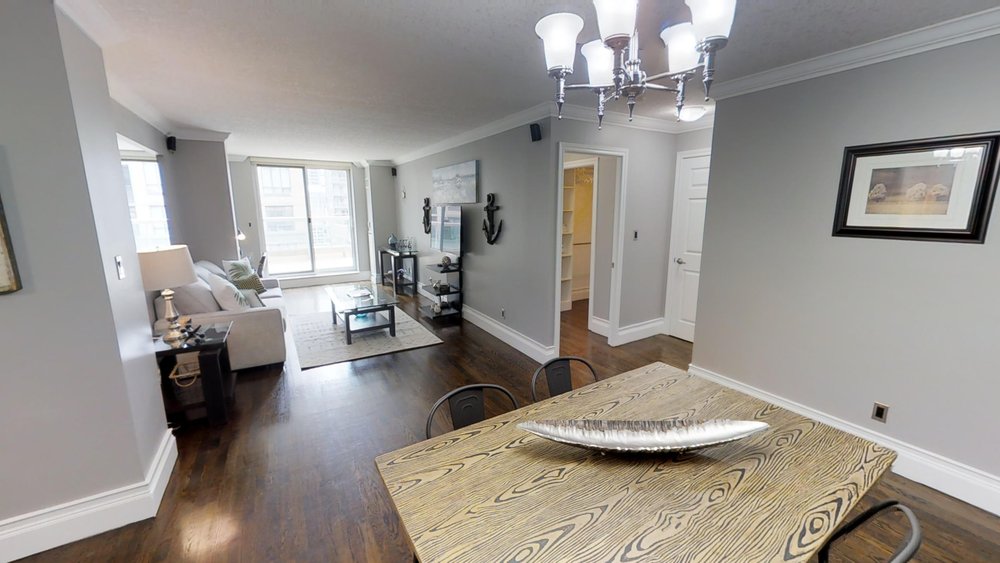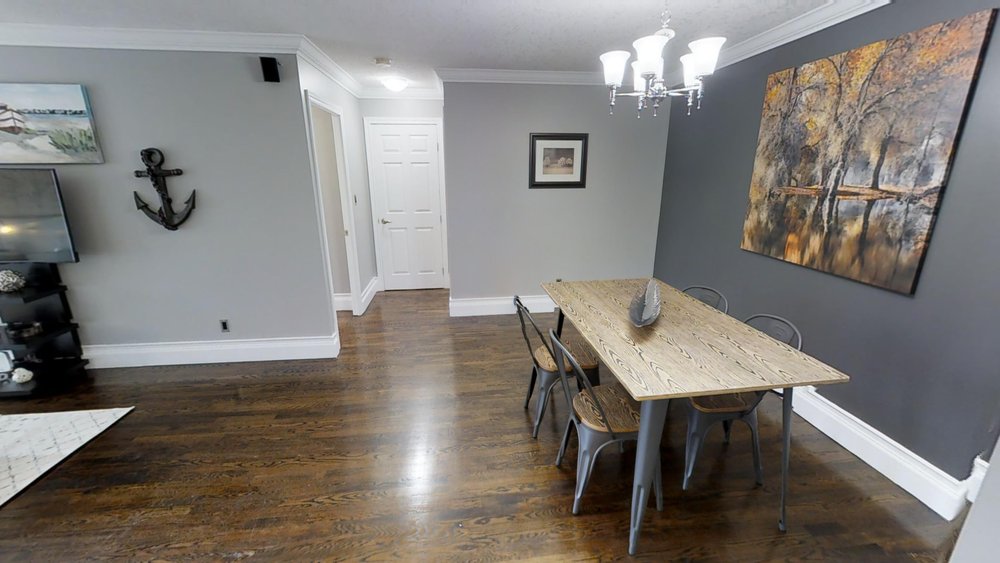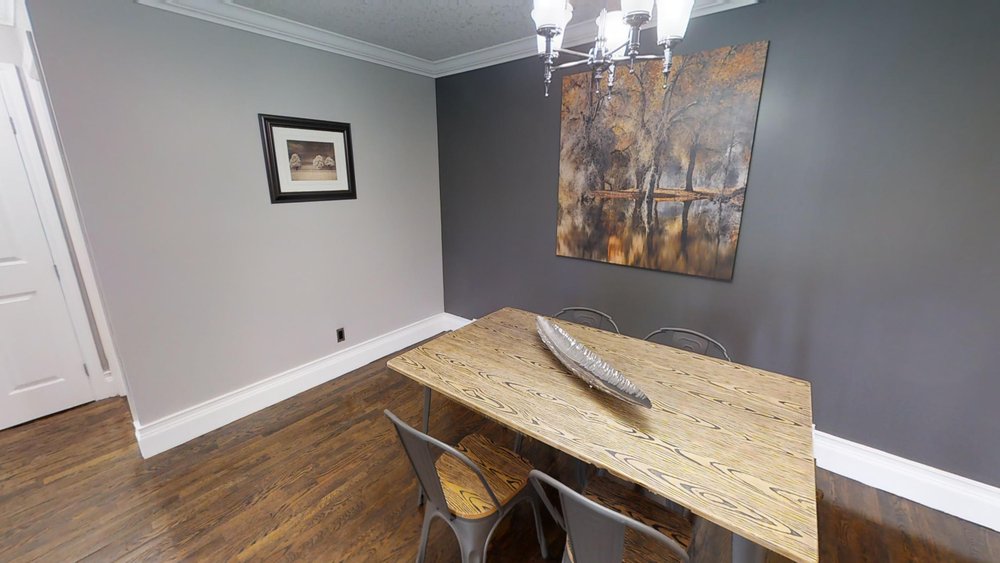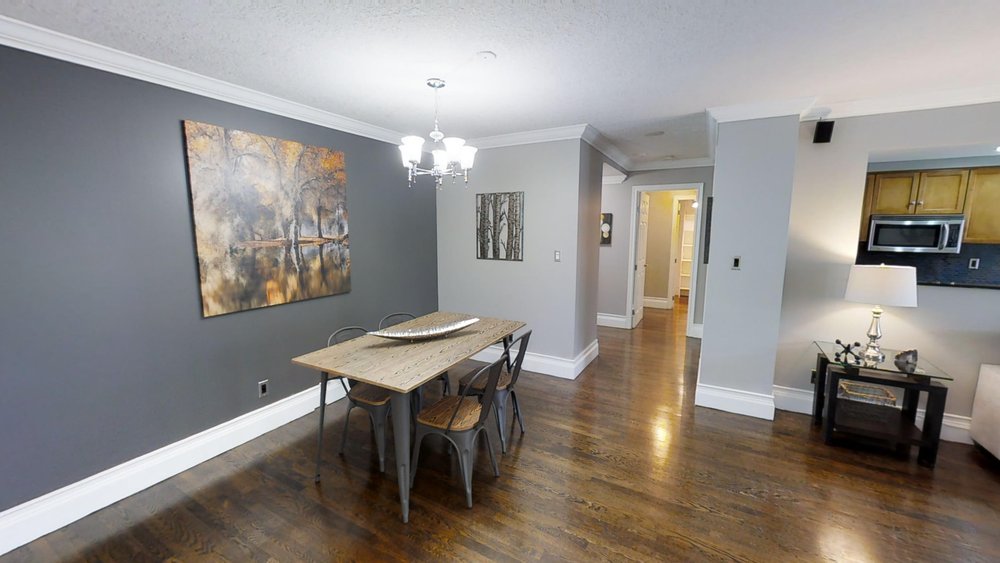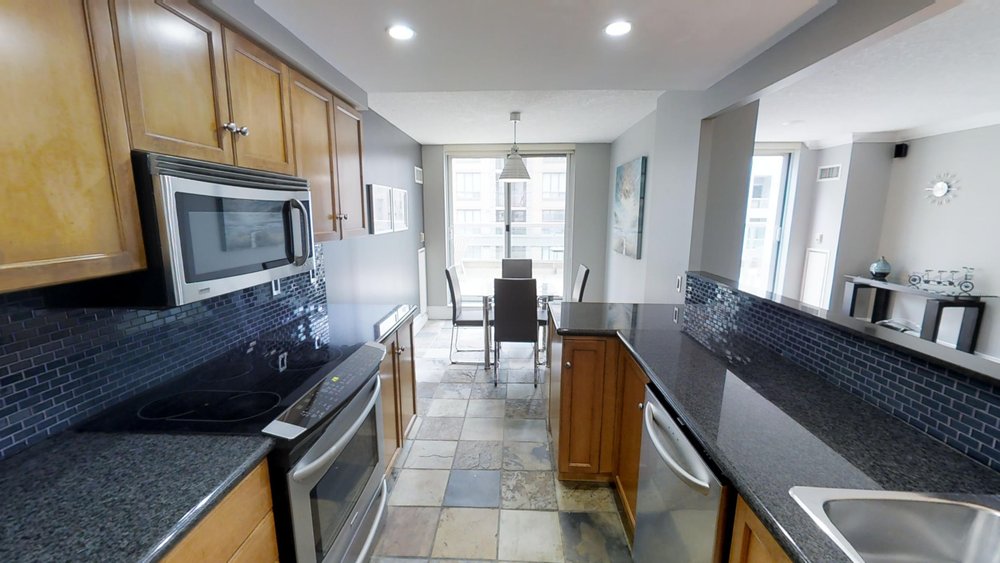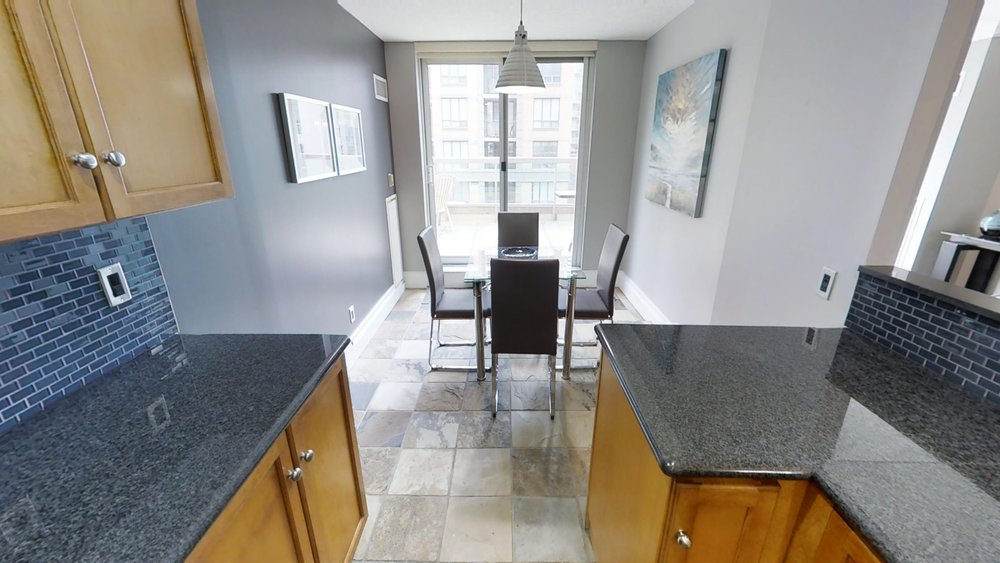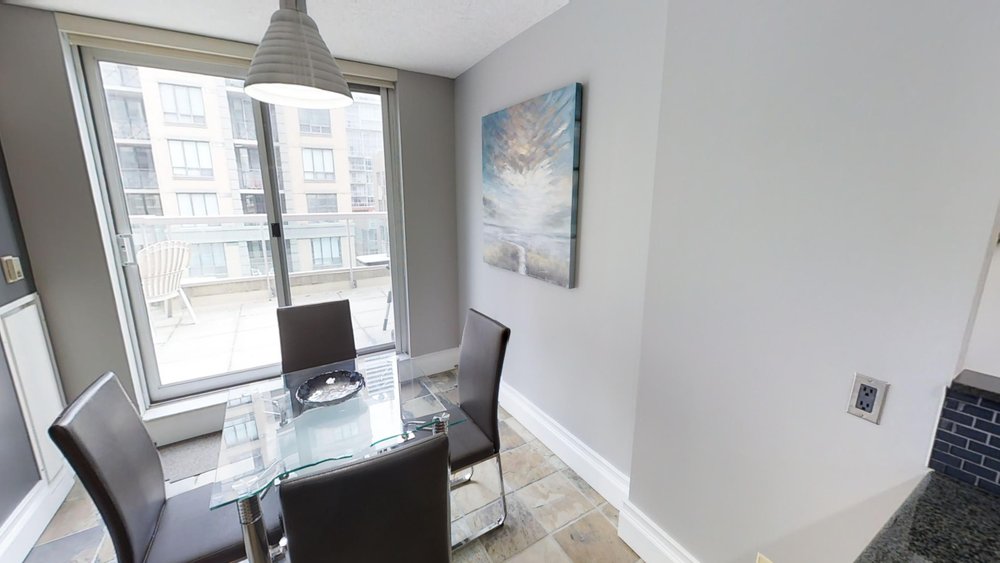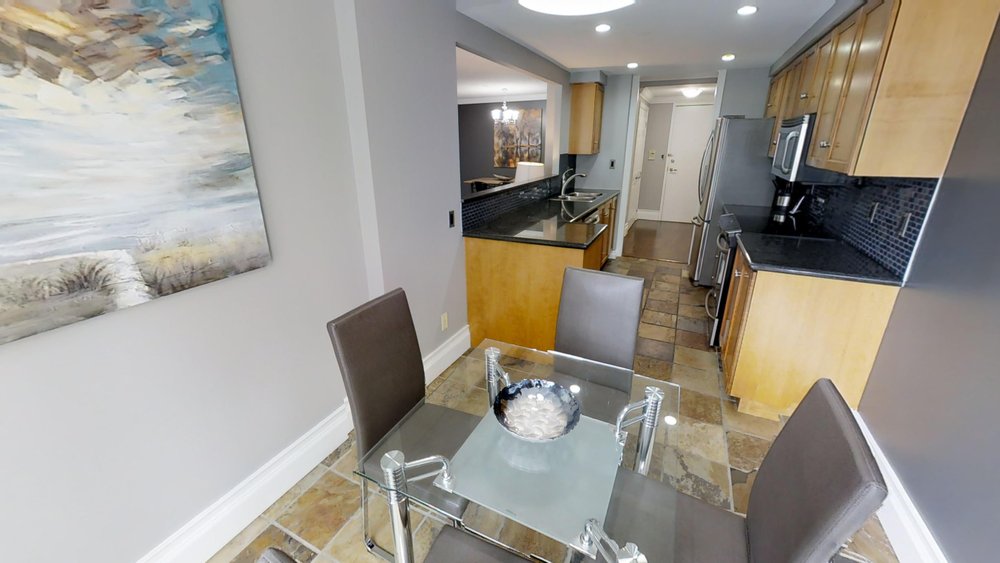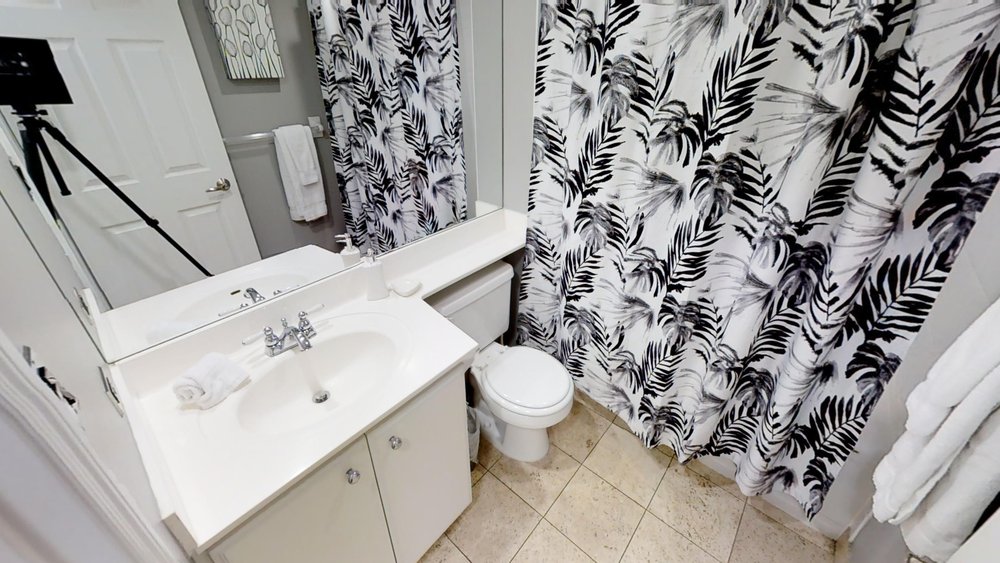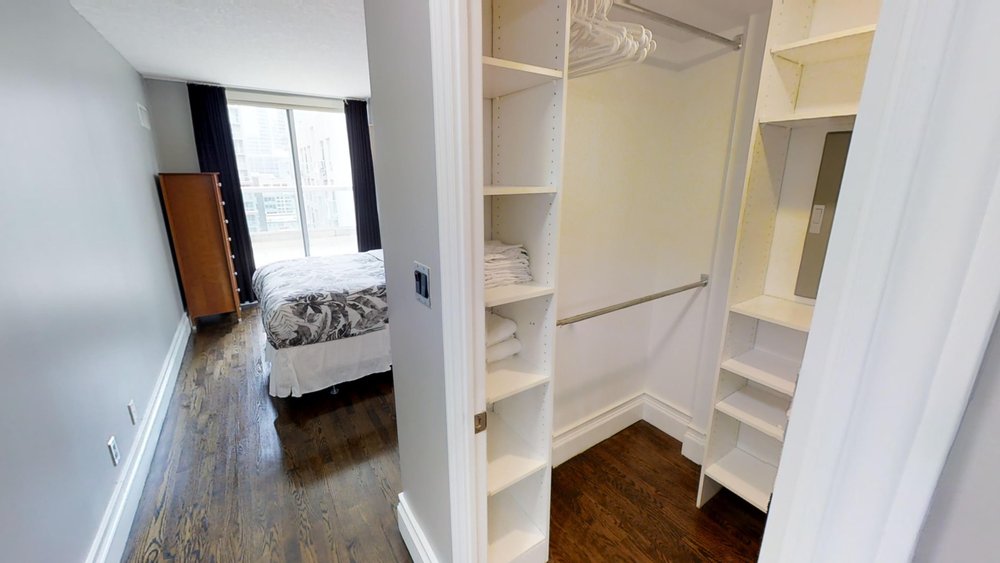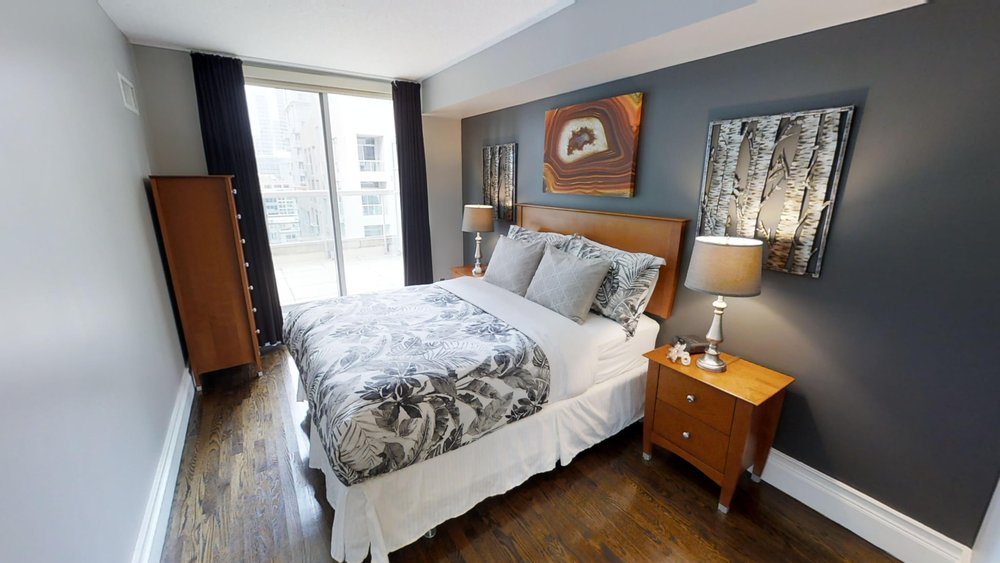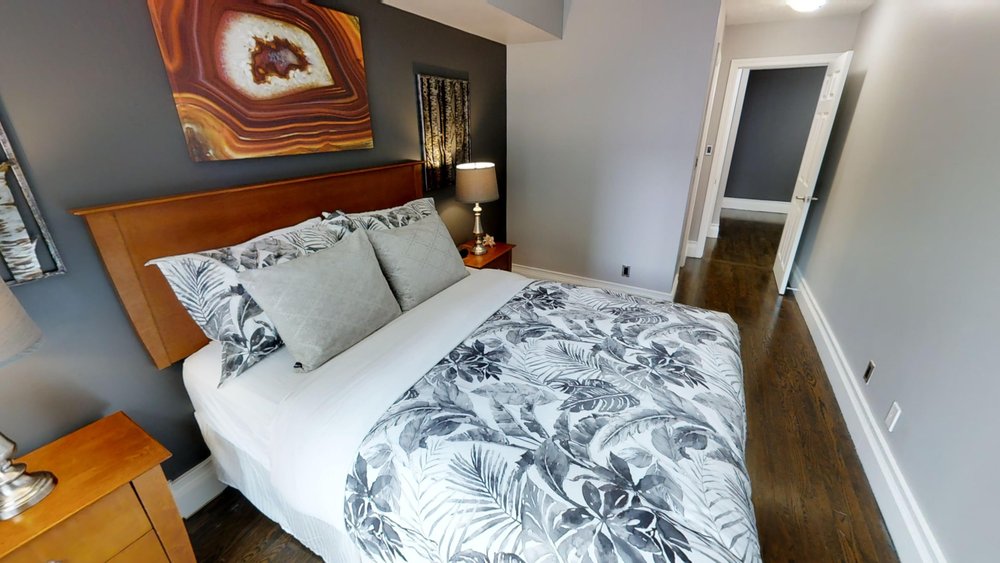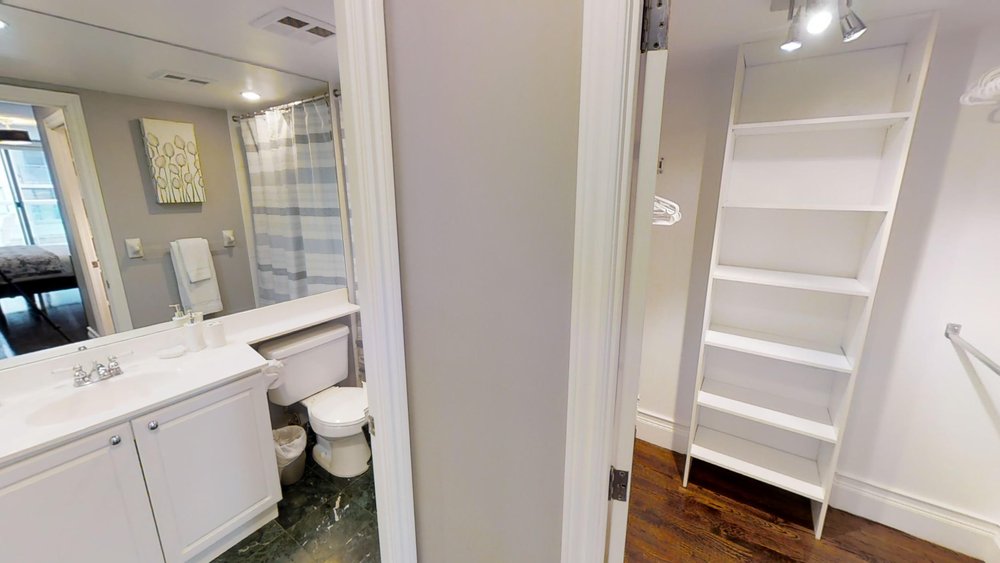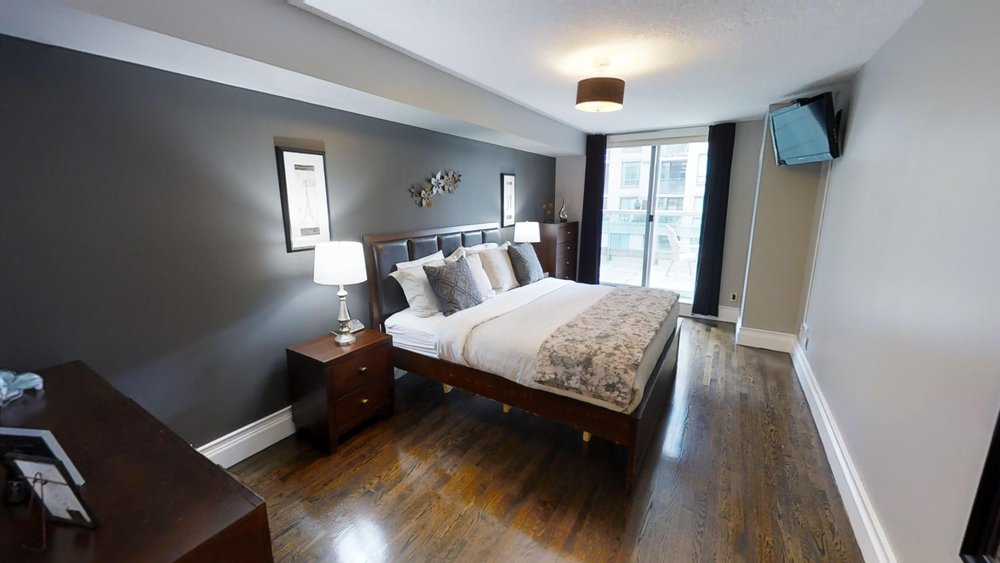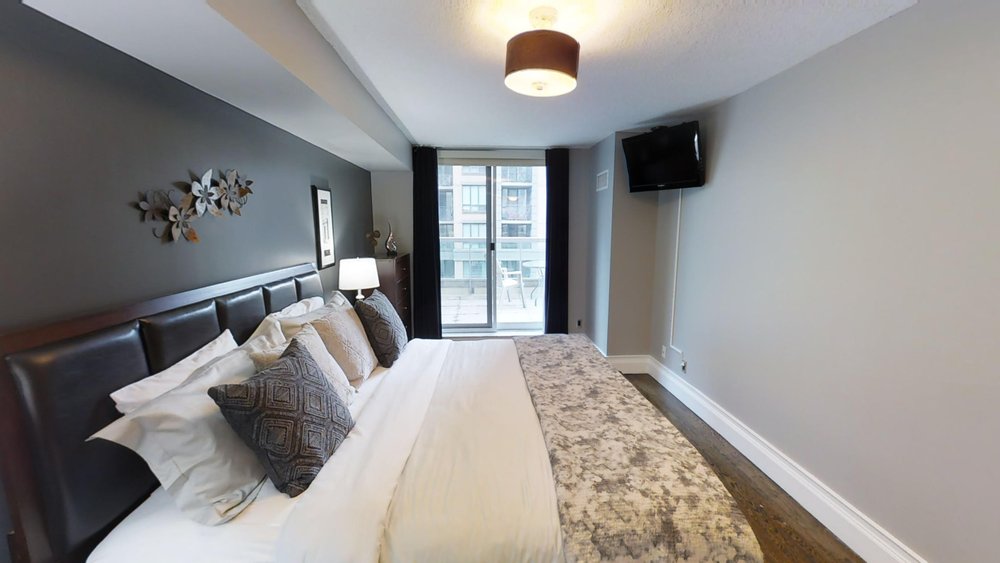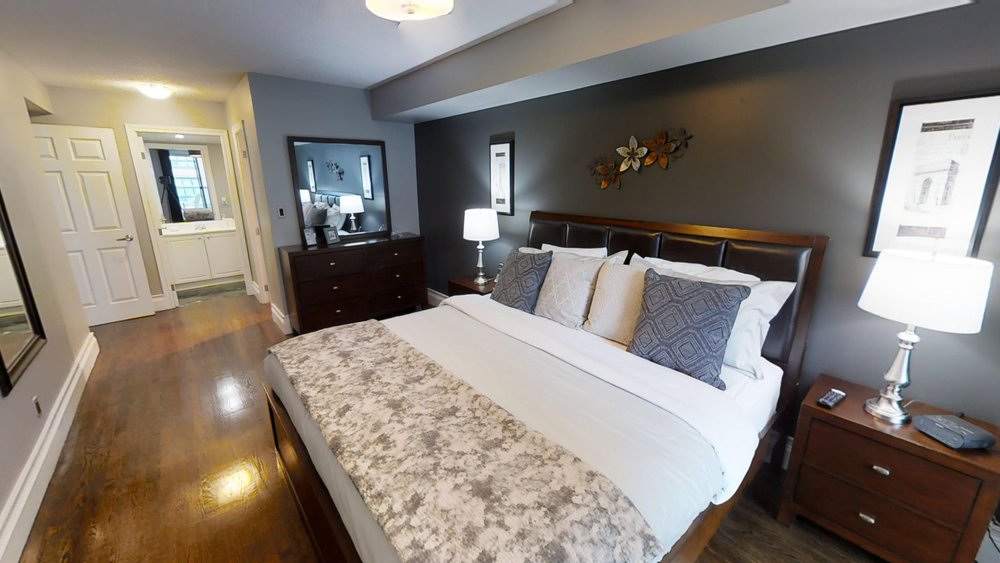 /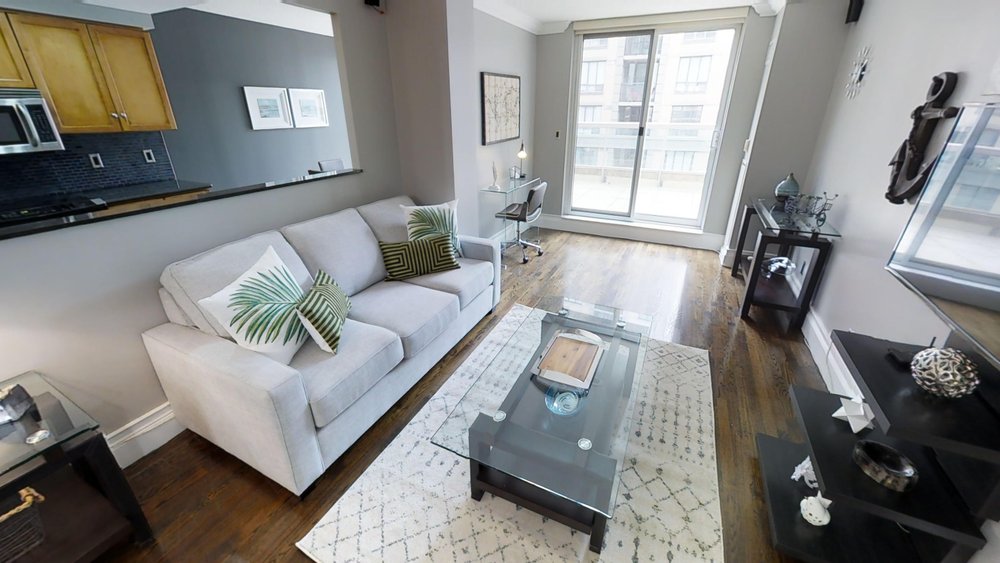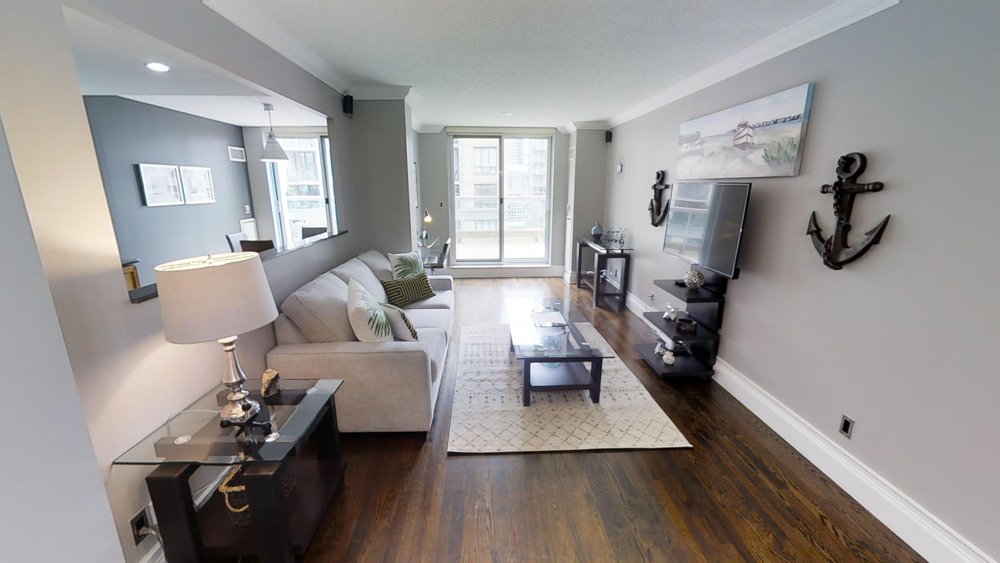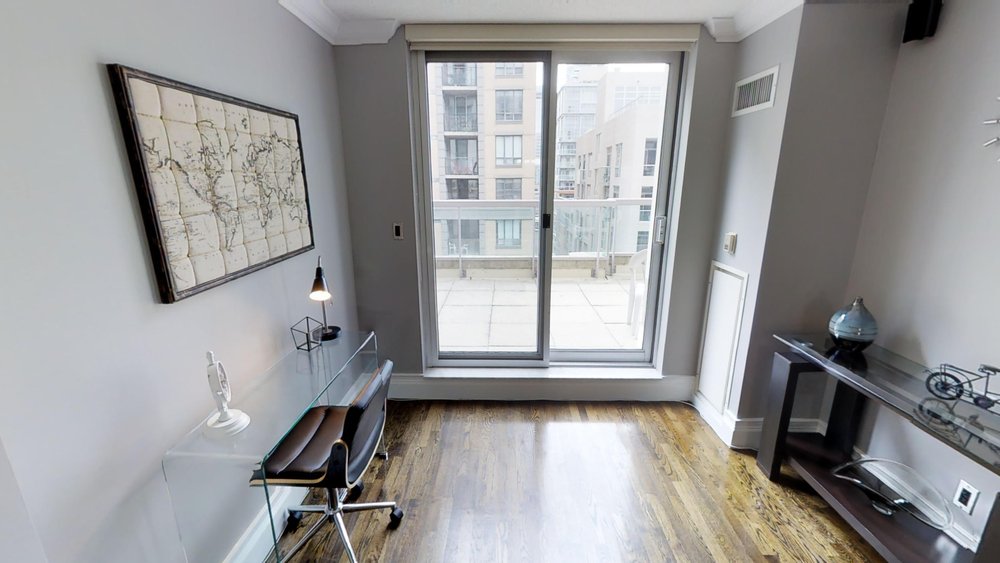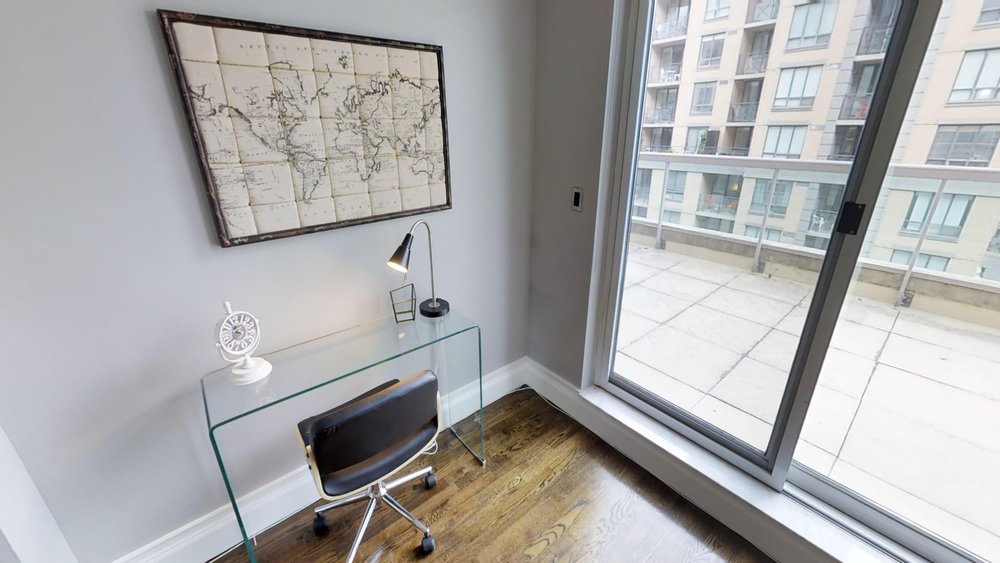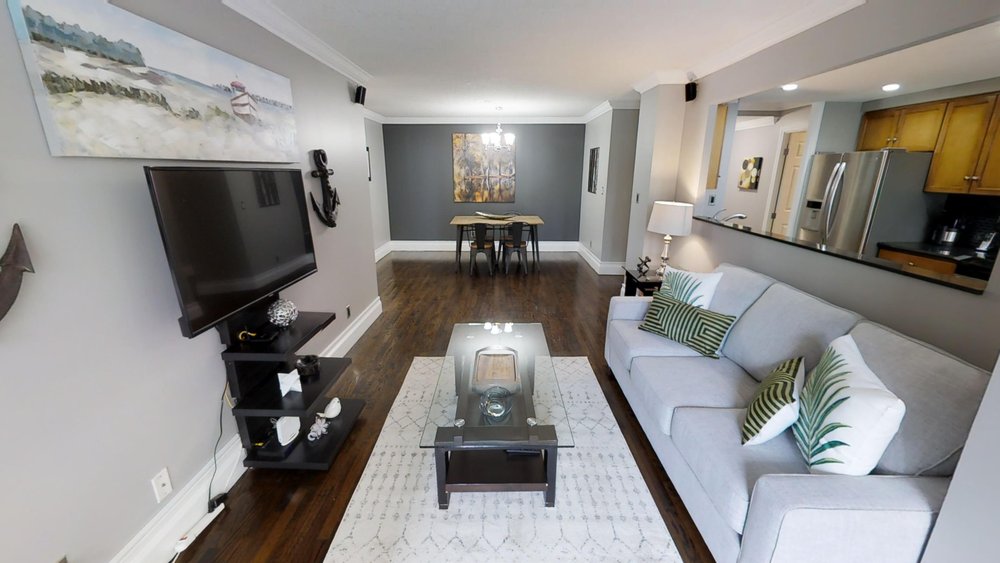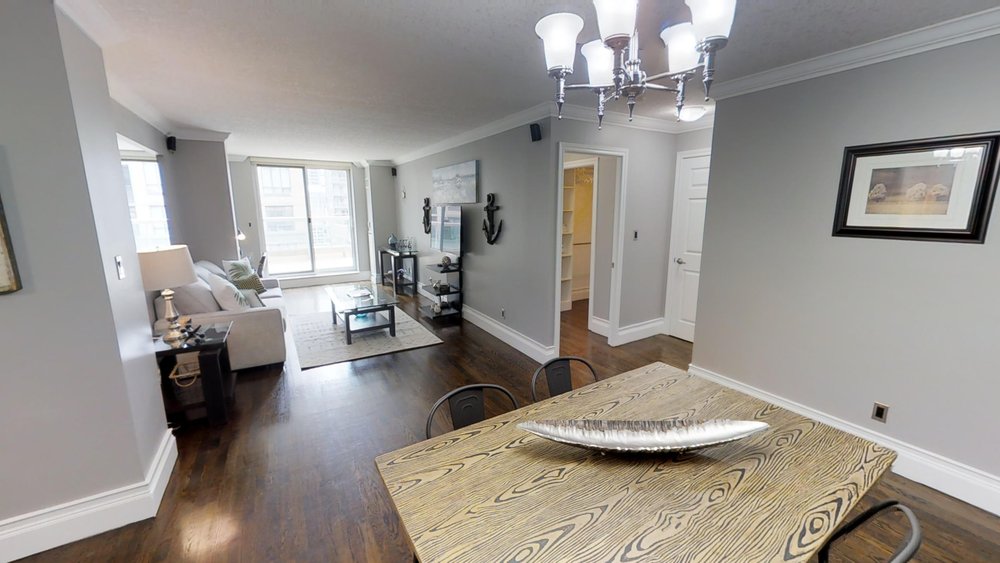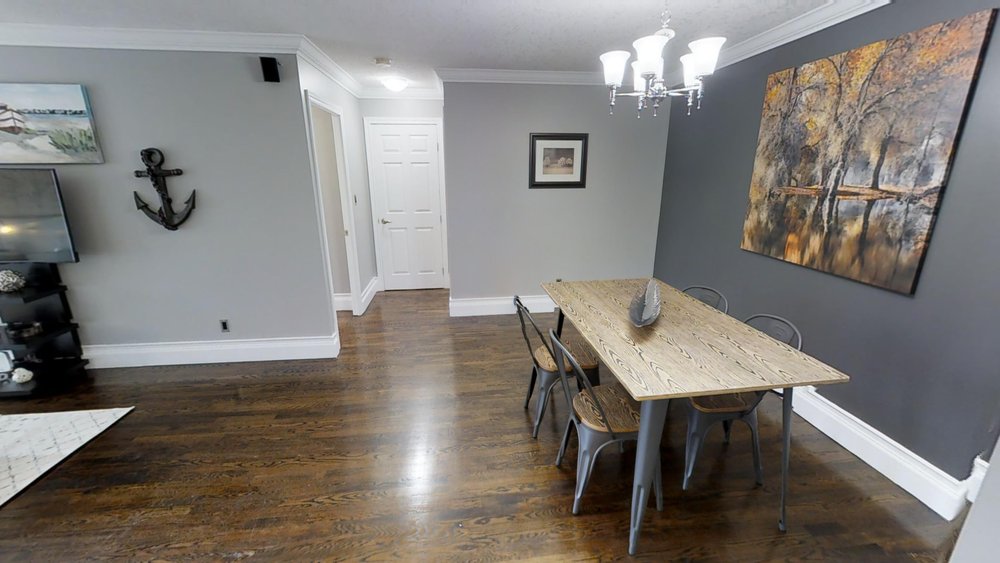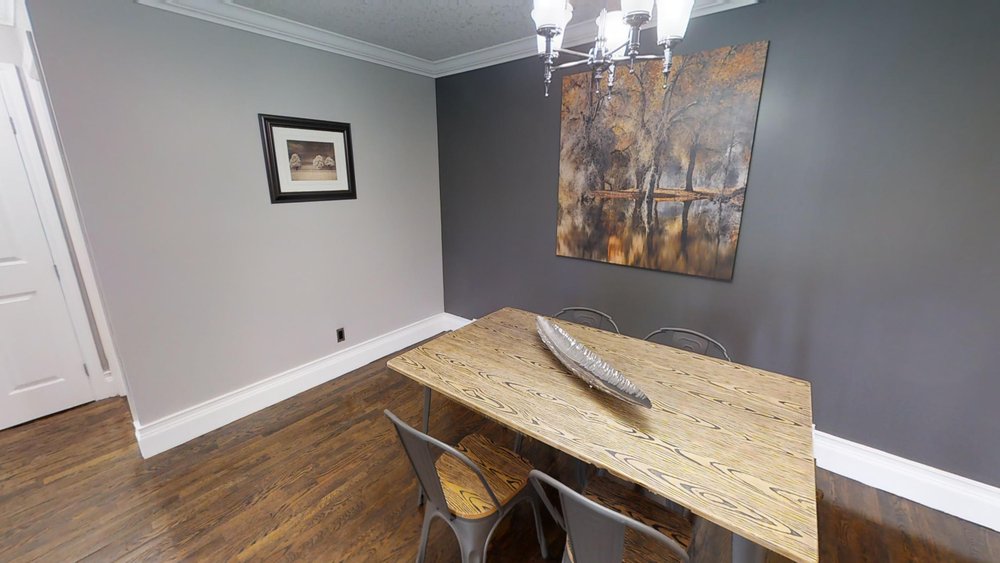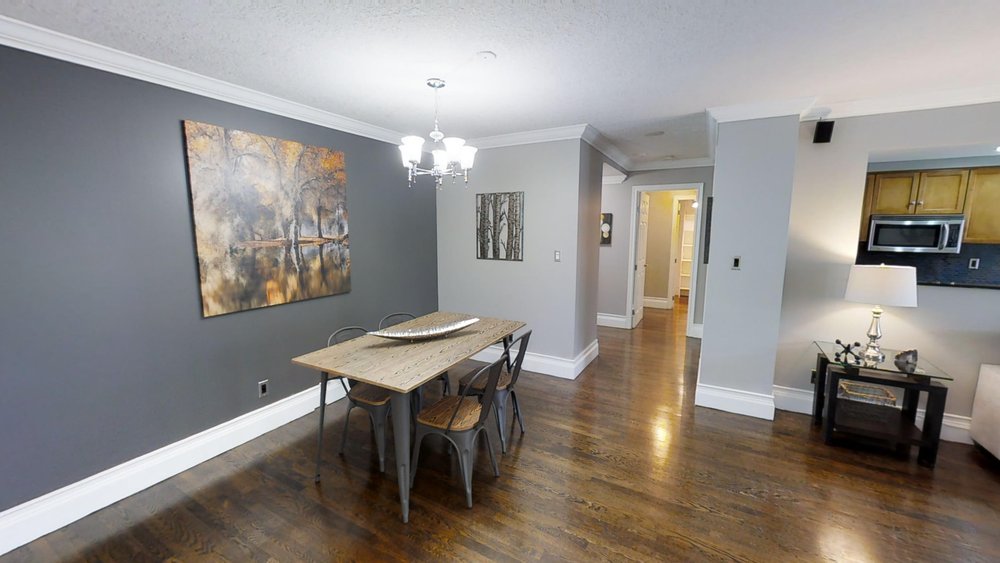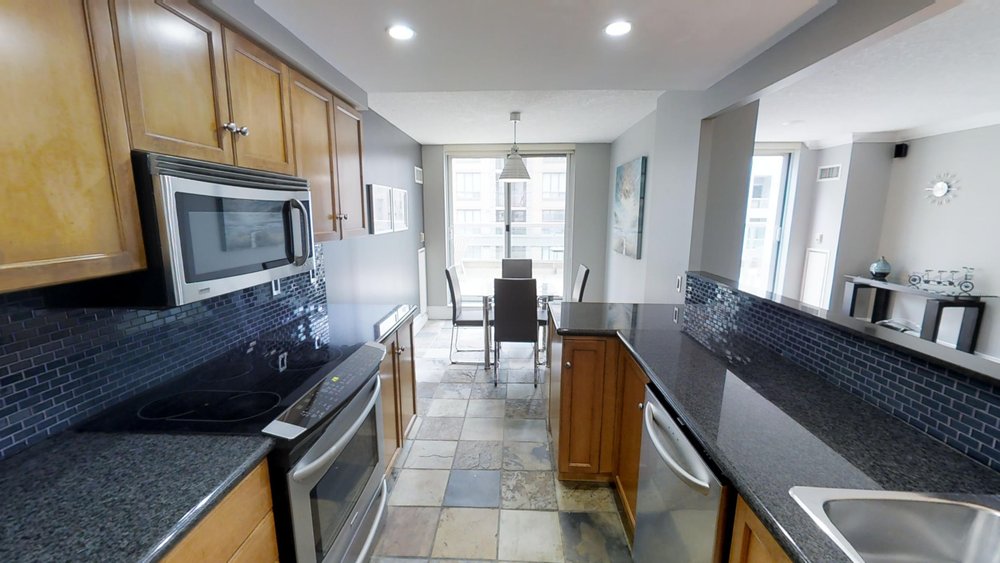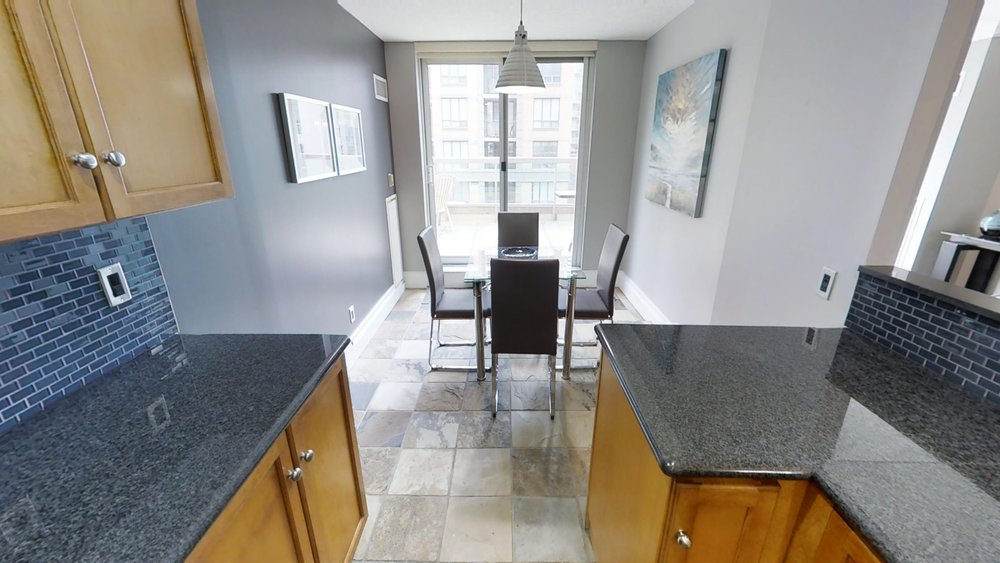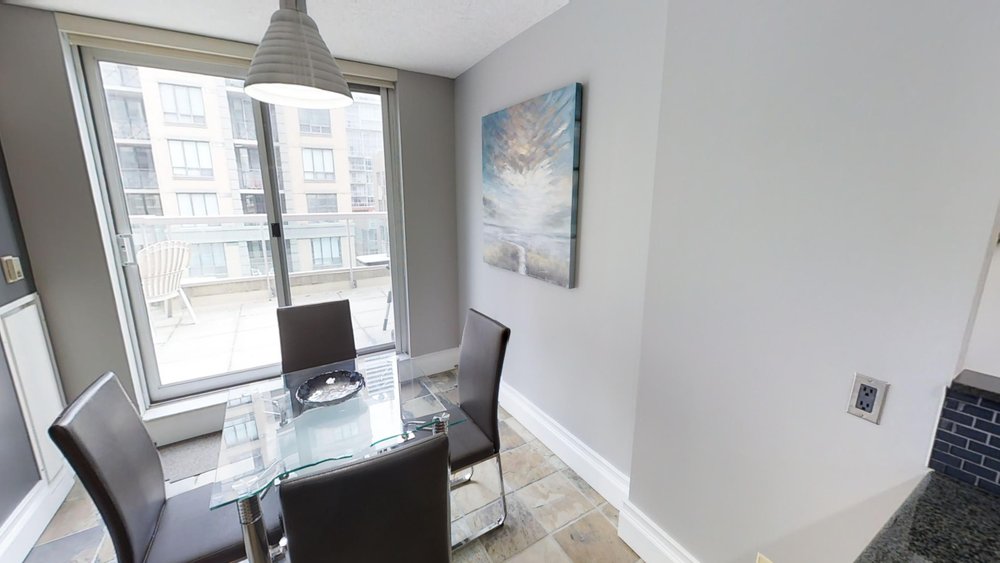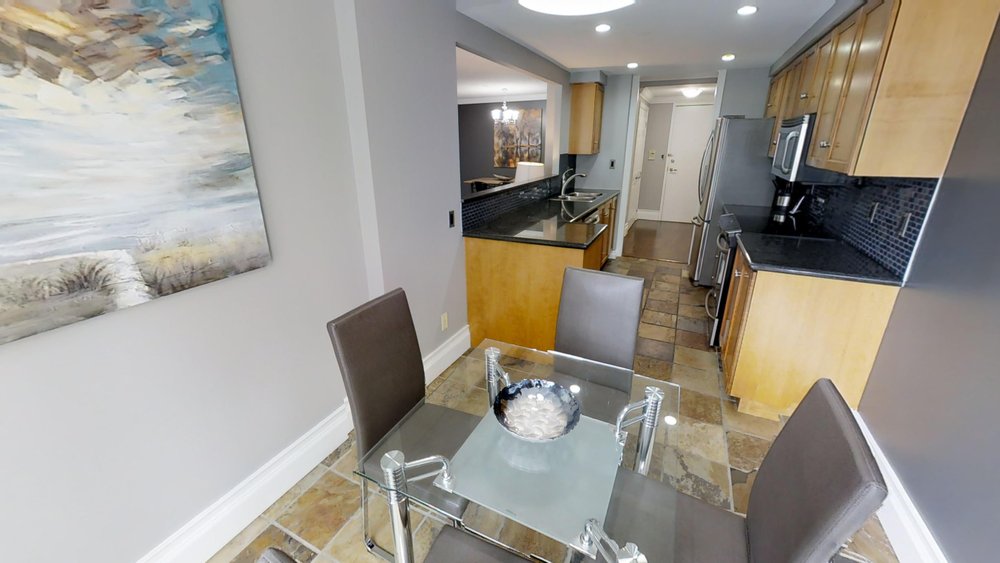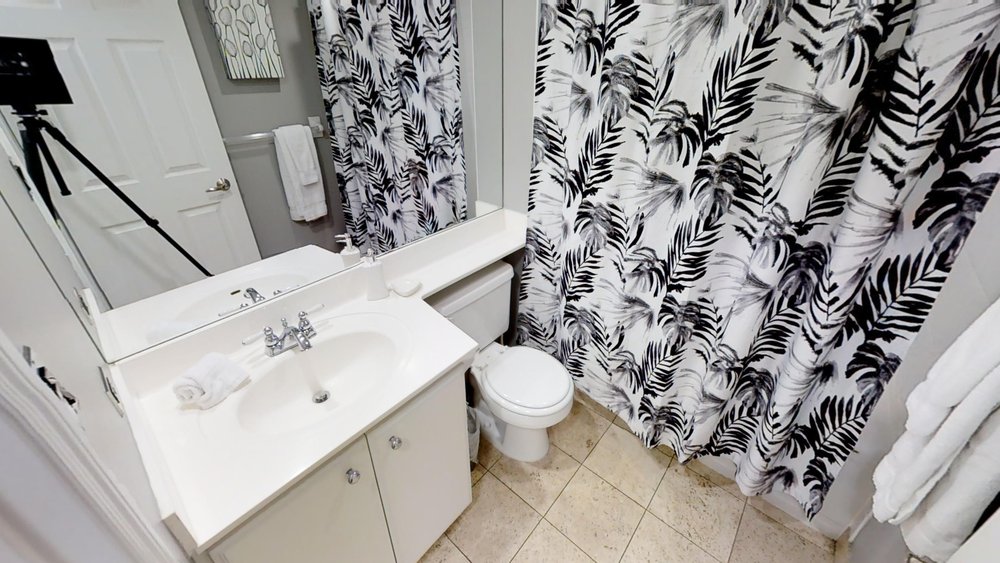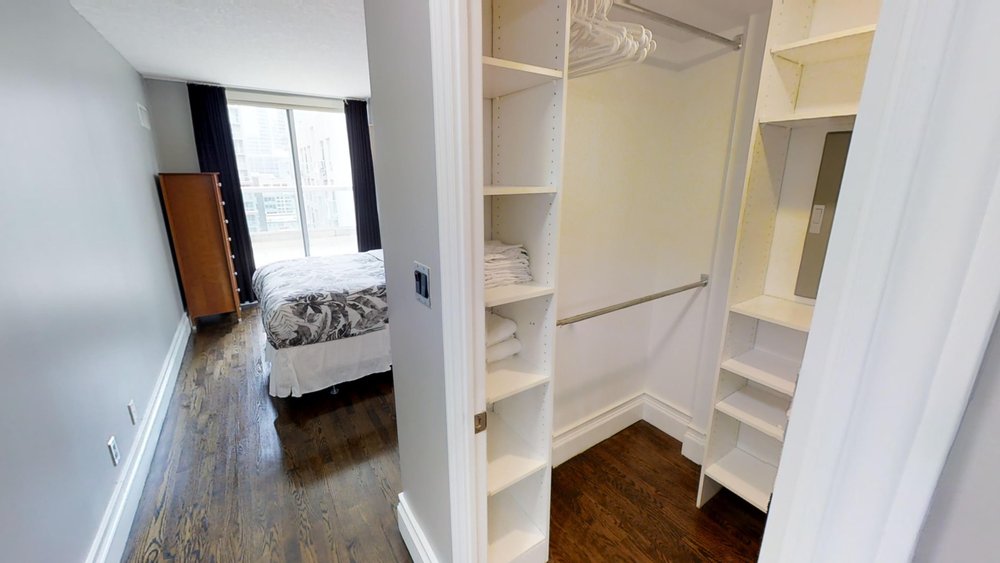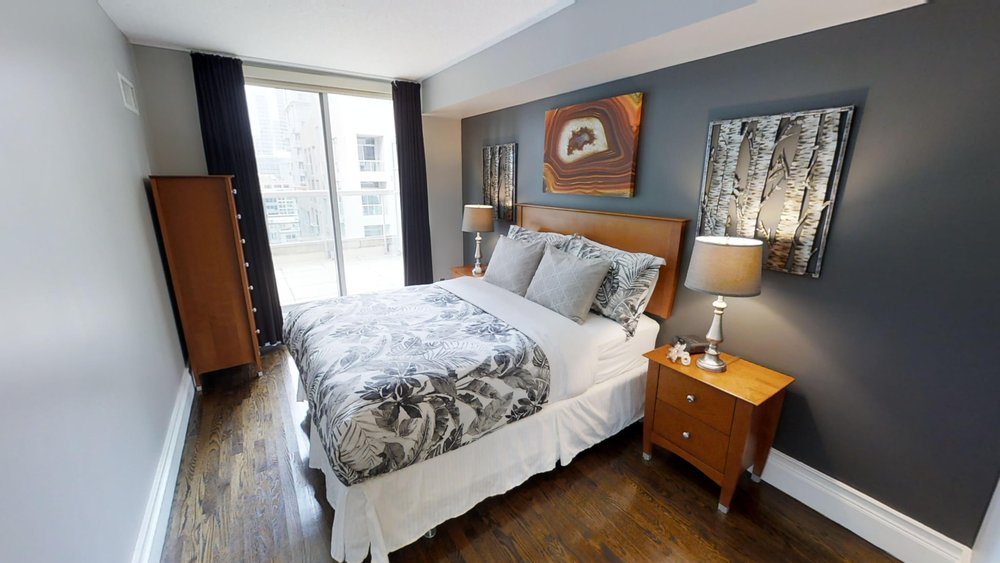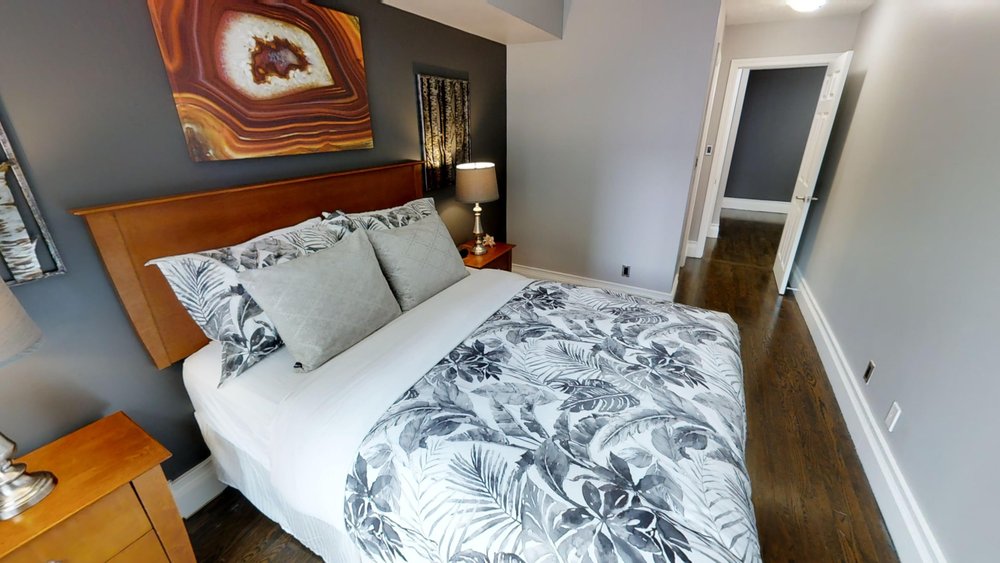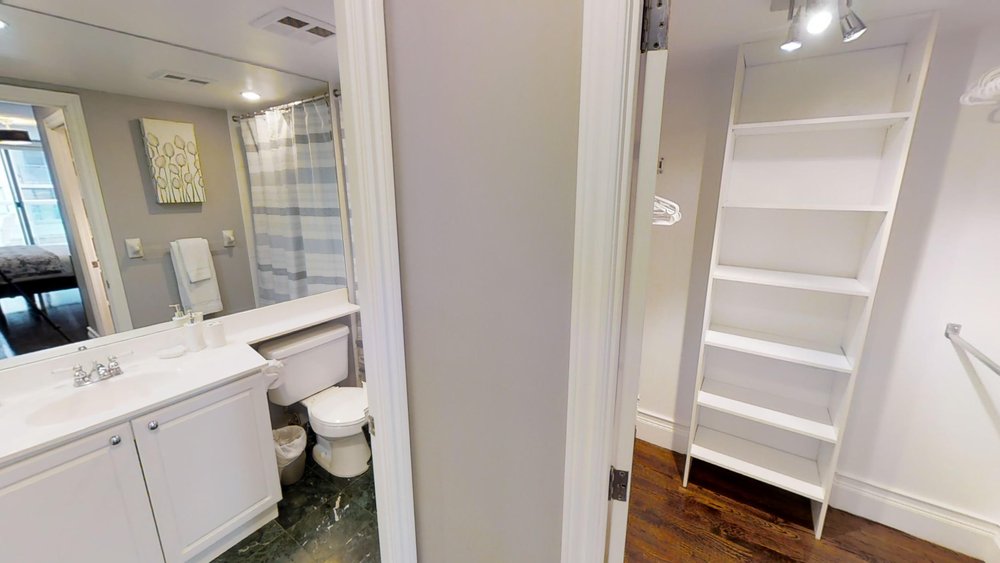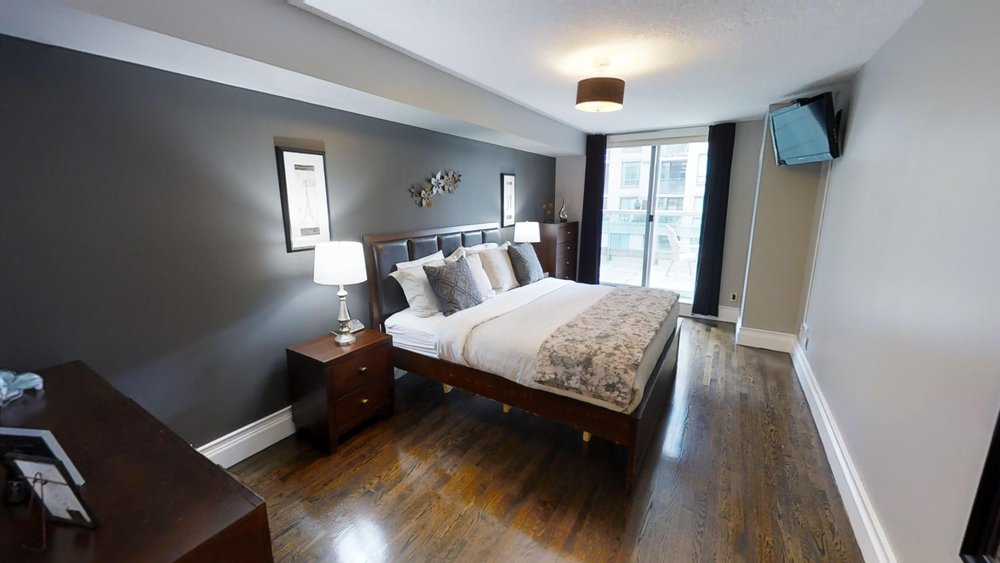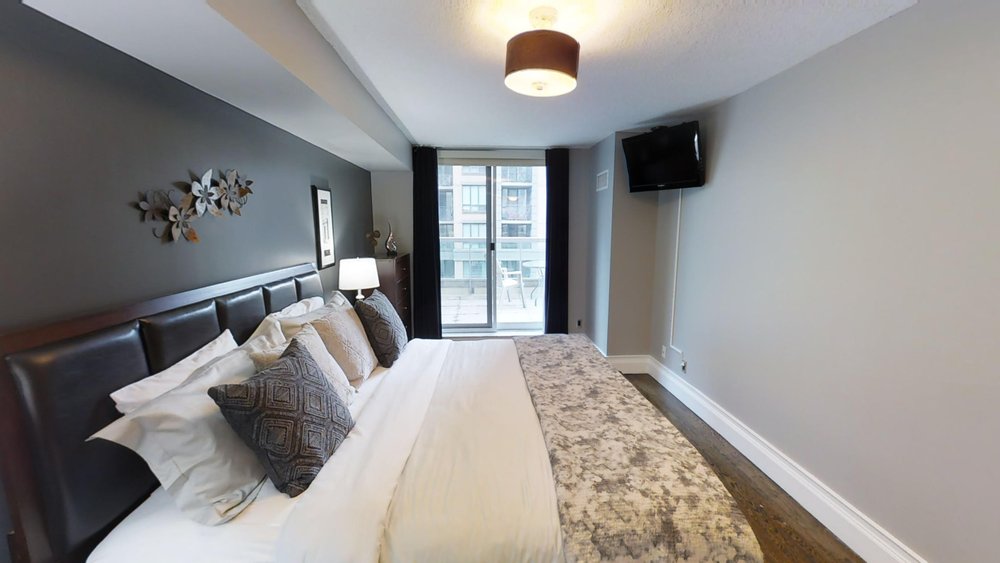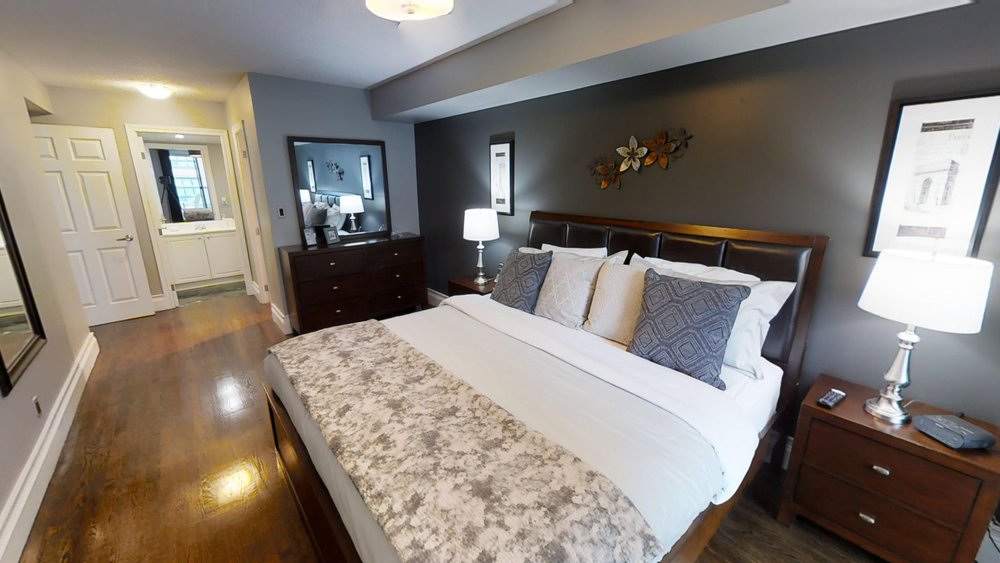 Guests who are looking for a modern, spacious and comfortable furnished apartment in the heart of downtown Toronto will love this suite. With a large floor plan, updated furnishings, and a great location, The Qwest N 2-bedroom furnished apartment offers everything you need during your extended visit to Toronto
The kitchen is edgy, modern and new. It was recently renovated and stocked to provide you with the top appliances and anything you might need during your stay with Sky View Suites. This includes a brand new designer marble countertop, state of the art fridge, stove, and dishwasher. Venturing further into the kitchen, you will find a glass dining table, with seating for 4 and access to a private balcony is found. To the right of the kitchen, you will find a large dining table in its own designated dining space. This unit also features an dining table, hosting anywhere from 4- 8 people.
Parallel to the kitchen is the living room. The main living space is visually demarcated by hardwood flooring, which continues throughout the rest of this furnished apartment suite. The living room comes complete with a comfortable sofa, coffee table, flat screen TV and entertainment centre. Guests will also have access to the private balcony from this room. Also tucked into this space is an elongated glass desk and chair for those who need to get some work done inside this suite.
he master bedroom features a spacious walk-in closet, two dressers and side tables giving the guest a massive amounts of storage space, access to the balcony, wall mounted TV, and ensuite bathroom. The second bedroom is similar to the master, however there is not ensuite bathroom. The second bathroom is located next to this bedroom. All bedding, linens, pillows, and towels are complimentary in this suite.
The Neighbourhood
The Qwest condominium is conveniently located at Simcoe and Richmond street, which straddles the border of downtown Toronto's Entertainment District and its Financial District, offering equal distance to both work and play. The Financial District is the city's main business centre and is also home to many great dining experiences, such as Drake One Fifty, Canoe, and JaBistro. The Entertainment District is the place to go for a night on the town. The neighbourhood features the historic Royal Alexandria Theatre for musical lovers; for the ballet or opera lover: the Four Seasons Centre for the Performing Arts is a two minute walk for your building, as is Roy Thomson Hall, which is home base for the Toronto Symphony Orchestra.
This neighbourhood is very well-situated for those using public transportation. In under 5 minutes from the doorstep of Qwest condominiums are two subway stops, streetcars that run along King and Queen streets, and bus stops.
The Building
The Qwest condominium is a cozy boutique building with under 20 floors serviced by 3 elevators and spacious rooms. The amenities include a fitness centre, party room, and rooftop patio which allow guests to access several barbecues and a great view. The building features 24-hour security to give you peace of mind in the city as well.
Request this suite
Walk Score
How to Book
Request this suite
Request this suite
[contact-form-7 404 "Not Found"]
Walk In Score
How to Book